Takeshi Koike's 2009 theatrical anime film about an intergalactic road race is still ahead of its time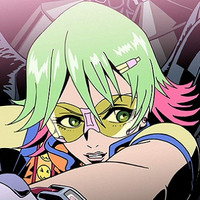 Directed by Takeshi Koike and animated by MADHOUSE, Redline is a film that sneaks up on you. It sounds deranged to use the word "subtle" to describe a movie that includes cyborg fascists, secret bio-weapons, funky-looking aliens of all shapes and sizes, a magic-wielding space princess, and a planet-spanning road race that's one part Death Race 2000 and three parts Wacky Races, but stay with me as we're in for a wild ride.
Redline begins quietly, with low-key scenes of spectators loafing around, snacking, smoking, and fumbling with their cameras, waiting for the final lap of the YELLOWLINE race on Planet Dorothy. In the background, a radio announcer drones on about the minutiae of this final qualifier for the coveted REDLINE race, dropping some exposition about the rules of the competition and the politics of this strange universe we find ourselves within.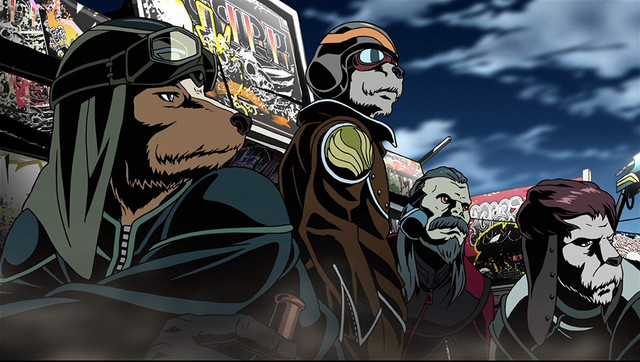 Then the racers rocket past, unimaginably fast, leaving wind-blasted spectators in their wake. A breath. A pause. The crowd loses it, erupting in wild cheers. The bass line hits. And WHAM! Just like that, the audience is plunged neck-deep into the action. The racers tear across Planet Dorothy in their high-tech cars, and we're not in Kansas anymore.
Redline is multi-layered. It's a racing movie, but it's also a romance between "Sweet" JP and "Cherry Boy Hunter" Sonoshee McClaren, two starry-eyed dreamers who both long to conquer the REDLINE and stand atop the racing world. It's a protest movie where the proletariat rises up against tyranny, throwing off their shackles with a combination of mockery, media exposure, and violence. It's a meditation on friendship and loyalty despite trying circumstances. It's an exploration of politics and aesthetics.
Redline is all of these things, because the visuals and the narrative come together as seamlessly as JP's duck tail pompadour.
The story of Redline is straightforward: "Sweet" JP is a racer with a checkered past, dragged into the shady business of race-fixing by his childhood friend and mechanic, Frisbee. Frisbee's meddling costs JP victory at the YELLOWLINE race, but a new opportunity arrives when the REDLINE is announced for Roboworld, a planet dominated by an army of mechanized, military goons in Hugo Boss uniforms. Despite the dangers posed by actively hostile troops, JP and the other racers compete to see who will be first across the finish line. That's the B plot.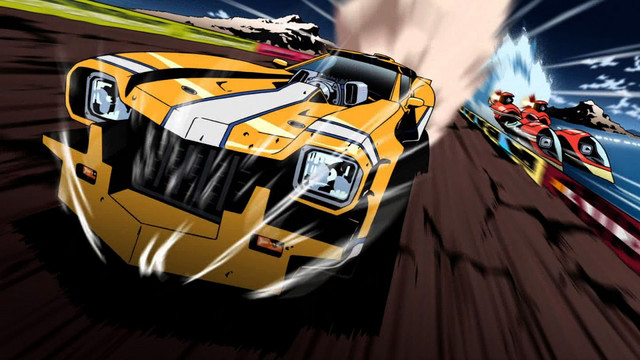 Wait, if that's the B plot, what's the A plot of Redline? The A plot, smuggled in underneath all of the glitzy visuals, painstaking production design, and intense action sequences, is actually a laid-back romance about a young man and a young woman falling in love, told mostly with flashbacks and visual cues such as body language. The C plot is about how Frisbee and JP stick by each other and follow their dreams, regardless of setbacks, betrayals, and the efforts of the mafia to muzzle their ambitions.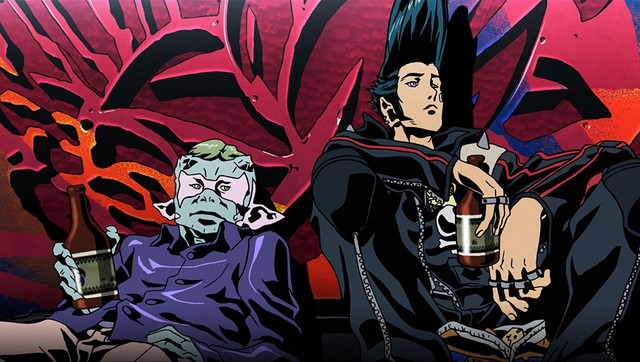 For a film that is renowned for its eye-popping visuals (which took some seven years to animate), Redline comes across as a surprisingly sedate story. This is partly because of the performances of actor Tadanobu Asano as Frisbee and actor / singer Takuya Kimura as "Sweet" JP; both men are known primarily as feature film actors, so their voice-acting roles don't conform to the typical patterns found in most anime.
But another reason that Redline feels understated rather than over-hyped is because director Takeshi Koike approaches the story with a light touch. JP's simple declaration of love at the conclusion of the film feels like an honest and obvious outcome because the emotional core of the film is so firmly grounded in the everyday lives of ordinary people, even if those ordinary people may also be bug-eyed extraterrestrials or interstellar idols in a transforming robot.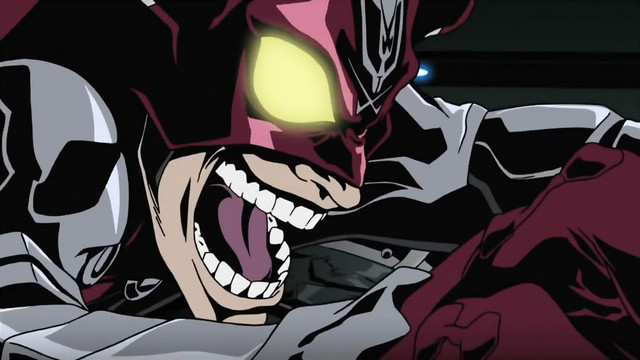 In addition to sight gags and references, Redline also leans on its visuals for story-telling purposes, providing the viewers with visual cues and allowing them to fill in the blanks for themselves. For example, in the scene where the racers dine at the OASIS lounge, it's heavily implied that Sonoshee is waiting for Machinehead, who may or may not also be Sonoshee's father. The conclusion of the REDLINE race, when both Sonoshee and Machinehead burn nearly identical Steamlight boosters, seems to confirm this theory, but if you blink, you could miss it.
Similarly, there are strong visual parallels between the unnamed racer whose swagger and style inspires JP to take up racing in the first place and the mafioso who coerces Frisbee into fixing races by booby-trapping JP's car. Are they the same person? Perhaps, but perhaps not. Ultimately, what's most important is what these two images – the ideal and the harsh reality – represent to JP and Frisbee in their journey together.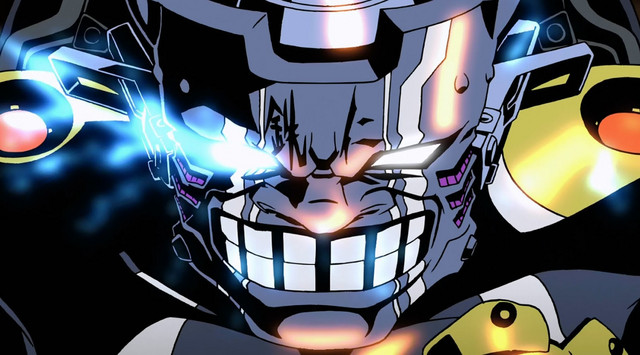 In Redline, outward appearance and inward identity are not always what they seem. Just as "Sweet" JP's rockabilly punk aesthetic belies his gentle and pacifistic soul and "Cherry Boy Hunter" Sonoshee McLaren's provocative nickname doesn't convey the passionate but modest racer's true personality, so too does Redline contain hidden depths.
Action-packed and wildly imaginative, Redline is also an emotionally and thematically satisfying journey that feels more relevant now than when it debuted at the Locarno International Film Festival in Switzerland one decade ago today. It's the kind of film that you can watch over and over again, and still notice new details with each viewing.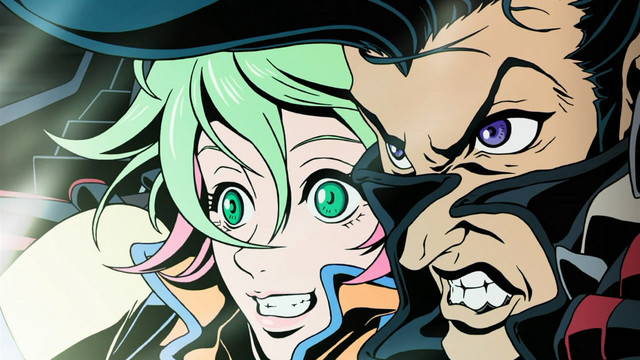 Released on Bluray and DVD in North America by Manga Entertainment, Redline is also available via streaming services such as Youtube Movies, Tubi, iTunes, and Vudu. If you haven't checked it out already, or if you're merely in the mood to revisit this strange and wonderful cinematic world, there's no time like the present to put the pedal to the metal and to experience this one-of-a-kind film.

---------
Paul Chapman is the host of The Greatest Movie EVER! Podcast and GME! Anime Fun Time.