The "Summer 2018 Revival" concludes with a look at the "Kaiji" spin-off about bad bosses and worse employees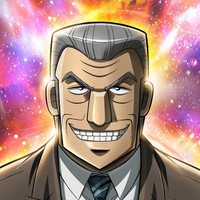 As both the summer and another anime season come to a close, here at "Cruising the Crunchy-Catalog", our minds turn from thoughts of play to thoughts of work. Of course, our work here is also watching anime, and we'd like to close out the "Summer 2018 Revival"—a look back at some of the titles that made last year's Summer anime season special—with a series that's brimming with professionalism.
That's why this week, we're focusing our laser-like gaze on a series about doing your best even in the strangest of situations, regardless of little things like ethics, morals, or laws. Hurray, capitalism! Hurray, crimes! We're talking about Mr. TONEGAWA Middle Management Blues.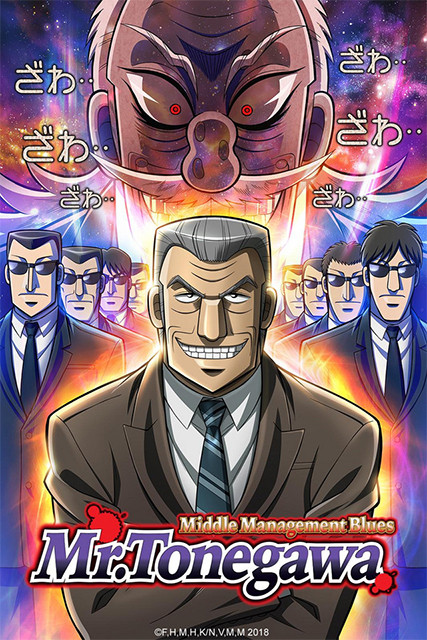 What's Mr. TONEGAWA Middle Management Blues?
Based on the manga written by Tensei Hagiwara and illustrated by Tomohiro Hashimoto and Tomoki Miyoshi, Mr. TONEGAWA Middle Management Blues is a Summer 2018 TV anime with direction by Keiichiro Kawaguchi and animation production by MADHOUSE. Crunchyroll describes the series as follows:
An executive at the Teiai Group, Tonegawa Yukio, is ordered by the company president Hyodo Kazutaka to plan out death games for debtors. Awaiting Tonegawa at these planning meetings are ordeals, agony, and despair! The demonic spinoff about the anguish inflicted on Tonegawa by the president and the company suits is now getting an anime adaptation!
Serving as both a prequel and a spin-off to Kaiji, the gambling manga and TV anime created by Nobuyuki Fukumoto, Mr. TONEGAWA Middle Management Blues plays fast and loose with the genre, swapping in situational office comedy in place of psychological suspense.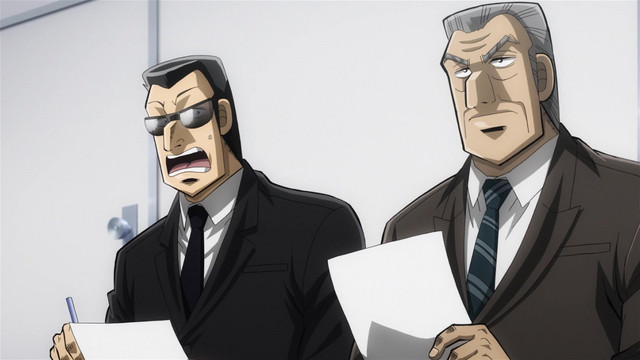 The Elephant (Debtor) in the Room
With such a drastic change in format, the million dollar question becomes: do I need to watch all of Kaiji in order to get the jokes in Mr. TONEGAWA Middle Management Blues? The answer, dear readers, is no. Much like its titular anti-hero, Mr. TONEGAWA Middle Management Blues stands on its own two feet in terms of bringing home the bacon and frying it up in a pan with regards to humor.
If you are nominally familiar with Kaiji, Akagi, and the rest of Nobuyuki Fukumoto's gambling manga ouvre, the jokes in Mr. TONEGAWA Middle Management Blues take on a deeper, more satisfying texture, but it's not a requirement to enjoy the show. In fact, even though voice actor Masato Hagiwara reprises his role as Kaiji Ito for this series, he doesn't have any significant lines. This is a Tonegawa vehicle, through and through.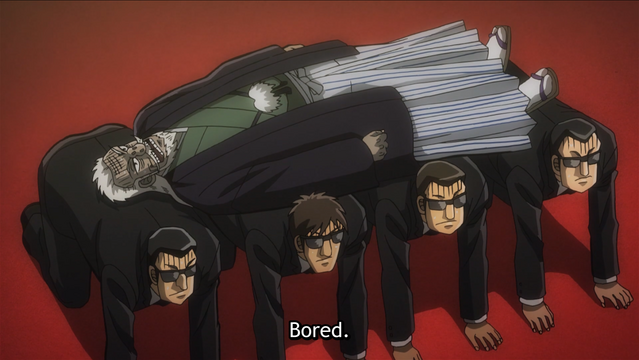 Another Normal Day at the Office
The central conceit in Mr. TONEGAWA Middle Management Blues is about the banality of evil, i.e. the idea that being a cartoon super-villain can be just as monotonous, bureaucratic, and soul-crushingly dull as any typical white collar job. For Kaiji and his fellow debtors, events such as Restricted Rock Paper Scissors and the Steel Beam Crossing of Despair are a harrowing, once-in-a-life time horror, but to the men in black of the Teiai Group, they're just another Tuesday.
Mr. TONEGAWA Middle Management Blues spins comedy gold out of Tonegawa's attempts to motivate his team of faceless goons and to appease the increasingly insane demands of his tyrannical boss, Hyoudou Kazutaka. That the heinous misdeeds of a criminal syndicate are so funny and relatable is a testament to the talents of the show's creators.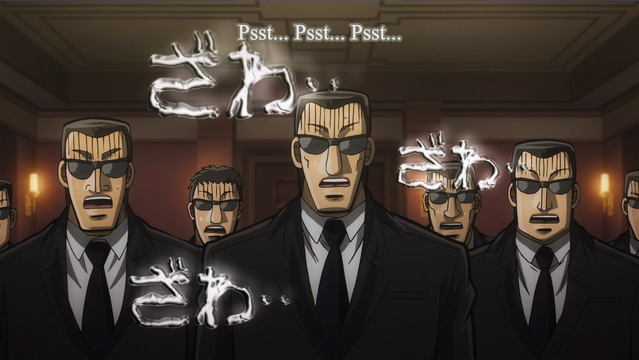 Hidden Humor
Although it generally lets the audience in on the joke, Mr. TONEGAWA Middle Management Blues also has gags that are hidden in plain sight. For example, Jay Kabira does an outstanding job providing a counterpoint to the famously dramatic style of narration in Kaiji, with the joke being that his overwrought delivery is invariably referring to something extraordinarily ordinary, such as a Power Point presentation, a Twitter post, or a mid-day meal.
One of the cleverest hidden gags involves involves the "Zawa Voices". In Fukumoto's work, the sound effect "Zawa Zawa!" represents the sound of a human psyche straining under intense emotional pressure, a sort of anxiety made verbal. Mr. TONEGAWA Middle Management Blues employs nearly a dozen voice actors as "Zawa Voices" to recreate this iconic sound effect, including Kana Hanazawa, Shiori Izawa, Ari Ozawa, and Masako Nozawa.
That's a pretty deep cut there, folks.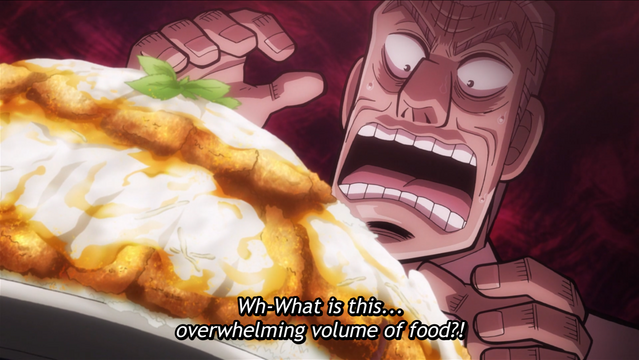 Hang in There, Tonegawa
Crunchyroll currently streams Mr. TONEGAWA Middle Management Blues in some 205 territories worldwide, and the series is available in the original Japanese language with subtitles in English, Spanish, Latin American Spanish, French, Portuguese, Arabic, Italian, German, and Russian. If you want more Tonegawa in your life, a Bluray release is coming from Sentai Filmworks on October 15, 2019, and the home video version also includes an English dub.
Both deadpan and grotesquely exaggerated, Mr. TONEGAWA Middle Management Blues is sure to appeal to any anime fan that's ever had to put their nose to the 9-to-5 corporate grindstone. If you're in the mood for an office comedy about bad people trying their very best, and if the series is available in your area, then please consider giving Mr. TONEGAWA Middle Management Blues.
Thank you for joining us for this final installment of the Summer 2018 Revival. Be sure to tune in next time when we kick off a look back at the autumn anime season of one year ago with the first episode of the Fall 2018 Review, in which we'll get into the Halloween spirit with a story of spooky, scary skeletons... working at a busy Japanese bookstore?

Is there a series in Crunchyroll's catalog that you think needs some more love and attention? Please send in your suggestions via e-mail to [email protected] or post a Tweet to @gooberzilla. Your pick could inspire the next installment of "Cruising the Crunchy-Catalog"!

---------
Paul Chapman is the host of The Greatest Movie EVER! Podcast and GME! Anime Fun Time.

Do you love writing? Do you love anime? If you have an idea for a features story, pitch it to Crunchyroll Features!