This set from VIZ Media and TMS Entertainment is every fan's dream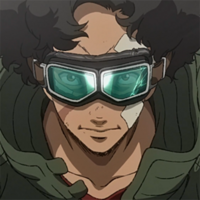 The world of Megalobox is equal parts desperate and desolate, and its lead character, Junk Dog, definitely reflects that in the beginning. He seems disillusioned with pretty much everything, a lost soul that can't even officially compete in the combat sport that he's good at due to not being a citizen. But through a chance encounter, this all begins to change, and soon we see Junk Dog aka Joe fighting through a series of awesome opponents in order to compete in the Megalonia, a tournament for the best gear-assisted Megalo Boxers. It's an emotional, hard-hitting journey, one that I've wanted to revisit since I watched it last year.
And now, thanks to a Blu Ray set from Viz Media and TMS Entertainment, I can. And what a beautiful set it is.
Look, I love a good Blu Ray set. It's why I always stay up to date with the releases of companies like Arrow Video and the Criterion Collection. A bountiful selection of special features and solid, colorful packaging can even make up for a mediocre movie, sometimes. Luckily, that's not the case here as Megalobox was one of my anime highlights from 2018, but it certainly helps that the artwork on the case (Junk Dog on the front and his rival Yuri on the back) is so detailed, placed against a background of vivid orange. This is not a cheap feeling release or a quick cash-in in the slightest, and I appreciate that immensely.
Inside the box, you'll find two different components. The first is a case with all thirteen episodes on two discs, each in 1080p with English and Japanese Stereo Audio and the option for English subtitles. This sci-fi homage to Asao Takamori's classic boxing manga Ashita no Joe contained no real visual errors to speak of, and I quickly binged both discs over three days. Yes, Megalobox has what's considered a very typical shonen action manga storyline these days, with a hero character fighting through multiple villains, rivals, and competitors on his way to some ultimate goal, but what makes Megalobox work so well is the intense "do or die" theme running throughout that is both physical and spiritual.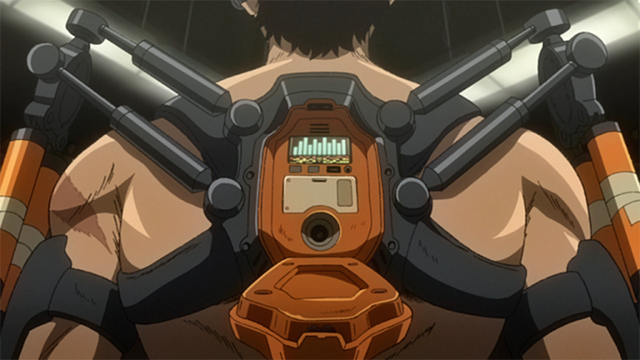 In Megalobox, Junk Dog's fight is not just about not losing to an opponent, but about not losing himself. To rise above having an aimless life and stepping back from the brink of internal nothingness. Usually boxing stories deal with a sympathetic, "loser" underdog attempting to prove their worth, but Megalobox is about finding that worth to begin with. And yes, there are many rad fights and cool action set-ups along the way, but Junk Dog's trophy at the end is tied into him discovering a reason for existing and for getting up off the couch just as much as him "wanting to win." And that story is laid out beautifully over the two discs.
When it comes to special features on the discs, you'll find an Art Gallery, an interview with Kaiji Tang (the English voice actor for Joe,) an interview with Jason Marnocha (the English voice actor of Nanbu), and interview with both of them, and audio dramas set in the Megalobox world. These are all pretty good, but I especially recommend the interviews to see the actors being so enthusiastic about their roles. On the second disc, you'll find a Clean Opening and Ending, three short documentaries detailing the creation of Megalobox, and a "More From VIZ" selection which is basically just a trailer for One Punch Man. I can't recommend the documentaries enough, as they amount to almost 90 minutes' worth of information and interviews with the staff and answer a few questions I had about the conception of the series.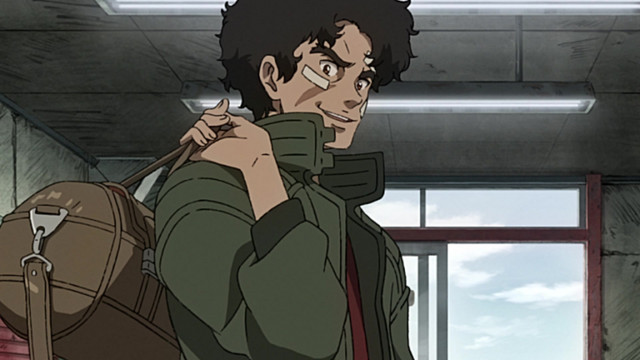 But with all those features, we must be nearing the end of the content, right? NOPE, as inside the box you'll also find a 128 page booklet filled with episode synopses, character and world location descriptions, production art, interviews with various members of the staff and even an essay derived from a conversation with Tetsuya Chiba, the illustrator of Ashita no Joe. It's a truly stunning amount of content, and it's emblematic of the time and care that it took for VIZ and TMS to produce this. Another bonus: I have no trouble fitting the disc case and the book back into the sleeve. I know that this doesn't seem like a huge concern, but if you collect enough special Blu Ray sets, you'll often find yourself saying "Well, the poster/booklet doesn't HAVE to go back into the box..." and just leaving it in sad pieces.
Overall, this Blu Ray set is just as much of a tribute to Megalobox as it is a release of all thirteen episodes. I'm literally excited to put it on my shelf as it's colorful packaging alone will probably be enough to inspire friends to say "Hey, what's this?" And then I can get them into watching Megalobox and soon the whole world will just be people talking about Megalobox. Ah, what a beautiful dream.
Review Roundup
+ Great series that works for both fans of sports and action anime
+ Loads of special features add hours of content to the experience
+ Beautiful packaging makes it stand out among other Blu Ray sets
+ 90 minute behind the scenes documentary is a fan's dream
You can pick up the Limited Edition Megalobox Blu Ray set from VIZ's website. And be sure to visit TMS Entertainment on Facebook and Twitter!
-----------------------
Do you love writing? Do you love anime? If you have an idea for a features story,

pitch it

to Crunchyroll Features!