Pro-wrestler Kenny Omega shares his thoughts on wrestling and anime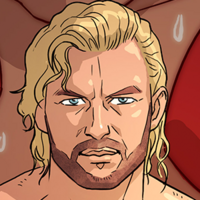 Anime fans come from all walks of life and in all shapes and sizes. Some are students, some are scientists, some are doctors, some are artists, and some are even nationally recognized professional sports figures! Crunchyroll All-Stars is a series of interviews highlighting elite professional athletes who harbor a passion both for their sport and for anime!
Today's profile is on Kenny Omega, a Canadian-born pro-wrestler currently competing in the new wrestling league, AEW. Omega spent a decade wrestling in Japan and has held numerous titles during his career, being the first non-Japanese wrestler to win the G1 Climax, leader of the Bullet Club, and, during his tenure in New Japan Pro-Wrestling, was the IWGP Heavyweight Champion. A fan from a young age, Omega's love of anime extends from classics like Astro Boy to contemporary favorites like Sword Art Online. Omega talked with us about how he first got into anime and the impact it has had on his life.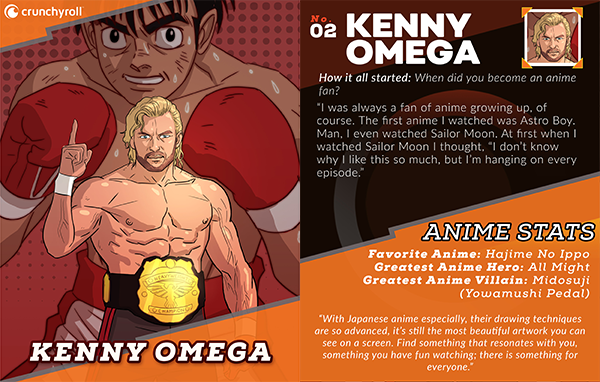 (click through for full size image)
When did you become an anime fan? Was there a specific moment that affected you or changed the way you felt about something?
I was always a fan of cartoons growing up, of course. The first anime I watched was Astro Boy. Man, I even watched Sailor Moon. At first when I watched Sailor Moon I thought, "I don't know why I like this so much, but I'm hanging on every episode." Not many people knew I was a big Sailor Moon fan. In Canada we didn't have too much, we had Astro Boy, Dragon Ball Z, and Sailor Moon. The first mature anime I watched was Ninja Scroll. I was 12 when I watched Ninja Scroll, and under 10 for Astro Boy.
Are there any ways you engage with your favorite anime series or characters aside from watching them?
I dress up in costume during my wrestling matches. During my first PPV for AEW (Double or Nothing) I dressed up as Kirito from Sword Art Online. Of course, I wear anime shirts as well.
Have you ever bonded with someone else over anime? If so, please explain.
I for sure have. The most recent example I can think of is Fighting Game Community (FGC) fans who don't watch anime at all, but gave High Score Girl a shot. I talked to them about Japanese arcade culture, and we were able to cross cultures. I even talked to the fighting game community in Japan, and asked them how it was in the '90s.
What's your favorite anime series of all time, and why?
Hajime No Ippo. Even though it's a boxing anime and not a wrestling anime, it really captures the spirit and life of a competitive athlete.
Who's your favorite anime character of all time?
That's a tough one, there are too many good ones for me to answer with just one.
Who would you rank as the top anime hero ever, and why?
It feels unfair because it's so current, but probably All Might. When you look at what it takes to be a hero, what it takes to be an inspiration to people, an everyday hero, an example of a good human being, All Might sums it all up.
Who would you rank as the top anime villain ever, and why?
I wouldn't say he's a top anime villain, but he's maybe my favorite, is Midosuji from Yowamushi Pedal. He's always so animated, and a real piece of garbage, but you still relate to him. He's the sports equivalent of Thanos.
Have you ever taken any elements or learnings from anime and implemented them into your daily life?
Absolutely. My favorite genre in anime is actually sports. So whether I'm watching Yowamushi Pedal, or Haikyu!!, or Hajime No Ippo, I learn something. I'm a multi-sport athlete, I always have been, and when you take these sport animes, you learn things about these sports at the highest level. You learn how to implement things into your training, and sports psychology of it. Sports anime have always taught me a lot. Even an anime like Initial D, I don't know anything about import car racing, but just by watching the show, it teaches you so much while watching a cool story.
It feels like more and more athletes are showcasing their love for anime — what's anime fandom like in professional wrestling? And what do you think it is about anime that attracts athletes?
I think certain people don't consider themselves anime fans, but every single wrestler I know has seen an anime that they've actually watched and enjoyed. Whenever they give something a shot, they found themselves definitely enjoying it. It's gained a following among wrestlers. Anime can attract athletes because you can learn something about competitive nature from it, while watching a great story.
Last question: what would your message be to someone who recently discovered anime and was thinking about getting into it?

Being able to animate something or draw something, you're able to create life on paper that you couldn't do with CG. With Japanese anime especially, their drawing techniques are so advanced, it's still the most beautiful artwork you can see on a screen. Find something that resonates with you, find something you have fun watching; there is something for everyone.