The creative team that led 'Toradora!' and 'Anohana' are back and ready to mess with our emotions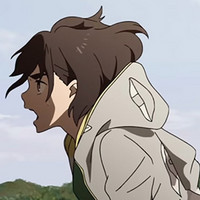 After their work on Anohana and Anthem of the Heart, Mari Okada, Tatsuyuki Nagai, and Masayoshi Tanaka are back with their newest tale set in Chichibu, Her Blue Sky. Our Japan Correspondent, Daryl Harding, was there on opening week in Japan to check it out.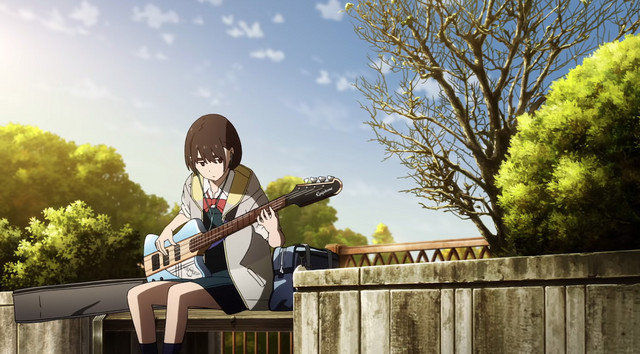 There's no doubt that the Super Peace Busters team – which consists of director Tatsuyuki Nagai, writer Mari Okada, and character designer/animation director Masayoshi Tanaka – are a talented bunch. After their first foray together adapting Toradora!, the three of them created the tearjerker Anohana: The Flower We Saw That Day, the excellent Anthem of the Heart, and Her Blue Sky, which was just released in Japanese cinemas. From Anohana onwards, each of the projects have been original and featured the town of Chichibu, putting the town on the map for anime fans worldwide.
Her Blue Sky centers around Aoi, a teenage girl who wants to follow in the footsteps of her older sister's ex-boyfriend, Shinnosuke, and become a professional musician in Tokyo. When Shinnosuke reappears alongside a famous musician, both as an adult, working a job, and as his teenage self, appearing in the band's old jam shed, Aoi must work together with the younger, ethereal version of the now jerk Shinnosuke to get him and Aoi's older sister, Akane, back together. Issues arise when Aoi can't help but fall in love with the younger Shinnosuke, all while hating the real, more jaded, adult version.
If there's a common theme between all the Super Busters Work, it's the lovely town of Chichibu (which I personally visited only a few weeks ago) and regret. If you live in Chichibu have any type of regret, they'll come back to haunt you, so live life to its fullest!
Her Blue Sky is another teenage coming of age story, retreading some of the same themes from Anohana. Unlike Makoto Shinkai using familiar themes in Weathering with You and improving on them, Her Blue Sky kind of just says the same things as Anohana, but in a mildly different way and with a shorter runtime. With the teenage story come very teenage like emotions and teenage like reactions from the characters. While incredibly well written in this regard, I couldn't help but get a little annoyed by Aoi being a moody teenager for a majority of the film.
Speaking about mood, the emotion of the film was all over the place. All the emotional points felt too much at times, laying emotion upon emotion until it culminated in the most dumbest dramatic way. The only times the film let me feel the emotions rather than let me feel them was during the musical segments and at the films climax.
The music in Her Blue Sky was superb. There were musical segments with the older high school band practicing and performing their music – which sounded too good for a highschool band in my opinion – and Aoi practicing in the present. All of it sounded amazing. I particularly loved the opening scene of Aoi on Old Chichibu Bridge just jamming on her bass. It set the tone of the film really well by showing us Aoi's character, rather than telling us.
I'm a sucker for great music over the climax of an anime, and the Super Peace Busters are the masters of the craft and the film's theme "Sora no Aosa wo Shiru hito yo" by Aimyon was perfect for what was happening on the screen. It wasn't as powerful as Anohana's climax, but it didn't need to be.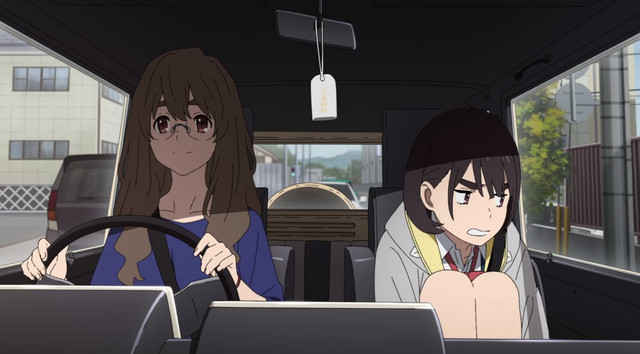 Too many times in anime, when a real place is being used as a backdrop for the story, the area looks clean and unlived in. That can work for some stories, but for grounded dramas like Her Blue Sky, you need a little edge. The background work in Her Blue Sky was absolutely perfect. The Old Chichibu Bridge was a little bit dirty, the concert hall had water stains on it, there was moss and mold in all the right places – common for a humid country like Japan. I was blown away by the level of detail and took me right back to being on the streets, biking around – which you should totally do if you ever visit, biking down those mountains are way too fun!
The character animation as well was on point, for the most part. The foreground animation wasn't as strong as the backgrounds, and the characters really stood out against them, but the level of character animation and emotion shown on everyone's face was incredably detailed. It helps that the characters designs are both very strong – shout out to Akane's design, she was perfect – and easily malleable for animation.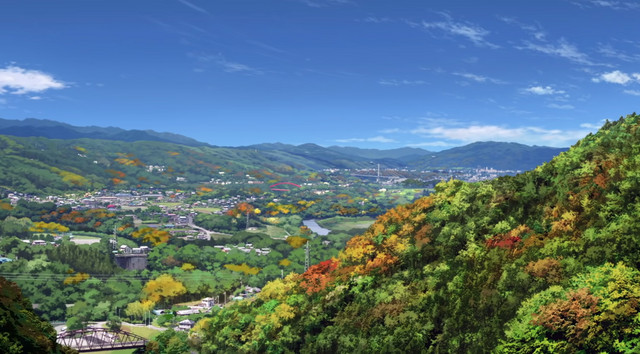 Due to the films runtime, the supporting characters weren't as fleshed out as they should have been. They were three quarters of the way to being fully fleshed out characters, like Aoi and Akane, but the film just didn't have that time available to it, which was a real shame because every character on the screen was a joy to watch, except Aoi when she was constantly, and justifiably, moody.
Sadly, Her Blue Sky just isn't as good as the team's other works, but that's okay, because the film is still an incredible watch in its own right and one that I wholly recommend for fans of the team's other works.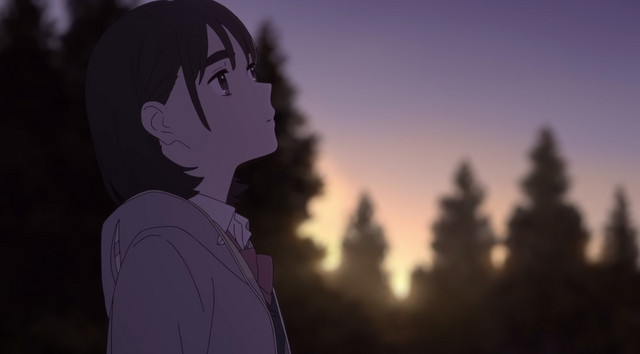 REVIEW ROUNDUP
+ In-depth and fleshed out main characters with a strong script conveying realistic emotions
+ Amazing music
+ Highly detailed and beautiful backgrounds bringing Chichibu to life
+/- Story was a bit haphazard and too overly emotional at times
+/- Supporting characters were so fun to watch, but not 100% realised
+/- Aoi was too much of a real teenager

----
Daryl Harding is a Japan Correspondent for Crunchyroll News. He also runs the YouTube channel about Japan stuff called TheDoctorDazza, tweets at @DoctorDazza and posts photo of his travels on Instagram.