In the shadow of Astro Boy, Osamu Tezuka's adult manga still continue to speak to us.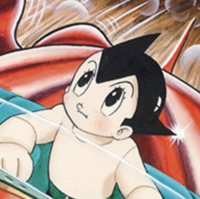 The legendary manga artist Osamu Tezuka was born today in 1928 in Toyonaka, a city in Osaka prefecture. For many, Tezuka is anime and manga himself—he has been called "the god of manga" countless times. However, like many artists, Tezuka took risks with his work. And Tezuka, despite endless comparisons to big-eyed cuteness of Walt Disney cartoons, truly embraced the uncanny, the adult, and the uncomfortably surreal—changing manga forever in the process.
A Brave New World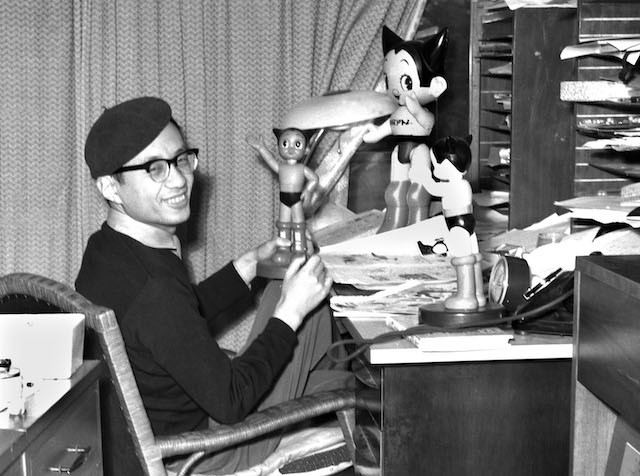 Tezuka at his desk in May 1963, surrounded by Astro Boy toys.
Most of Tezuka's work was aimed for children, primarily due to the methods of distribution manga in post-war Japan. Children's magazines, often produced cheaply and only occasionally with colorful images, was the perfect venue for Tezuka's first works produced in his early twenties. Tezuka's first major serialized success was with Kimba the White Lion, published in Manga Shonen, followed by the first introduction of Astro Boy and later Princess Knight during the fifties. Within ten years of finishing medical school Tezuka seemingly did it all—published three big hits and even began the foundation of what would become his own animation studio, Mushi Productions. But this glamorous rise to fame was only the beginning, the shiny overcoat of a much bigger movement happening in close-knit manga circles at the time. Enter the uncanny world of Tezuka's "gekiga," or adult manga.
The term "gekiga" originated from a group of manga artists intentionally writing stories for an adult audience. These comics, often regarded as avant-garde, often utilized innovative paneling and story-telling very different from the straightforward methods used in children's serialized stories. However, that didn't necessarily mean "gekiga" was for a niche audience—manga such as Golgo 13 by Takao Saito, for example, saw major mainstream success. "Gekiga" began to gain editorial traction during the sixties with the founding of the art magazine Garo in 1964, which inspired Tezuka to launch his own art-focused manga magazine COM in 1967. In COM, Tezuka began experimenting with manga—telling more ambitious stories without a mascot-ready protagonist, with work like Phoenix.
However, Phoenix was still primarily a story set in fantasy, not the real world. But it was during this period that Tezuka began experimenting with paneling and story arcs that didn't follow neat narratives or a strict A to B chronology. With this newfound appreciation for "gekiga" and Phoenix's success, Tezuka's began pushing the envelope with what stories manga could tell. In parallel with his unbridled success with Astro Boy and Princess Knight, Tezuka's work soon found itself appealing to college students, business men, and a growing audience of post-war manga readers eager to follow his latest. Growing up on his work and many of his contemporaries, for the first time since the war, there was a significant body of readers who knew the visual language of manga. Manga was ready for a big change.
Taste for the Adult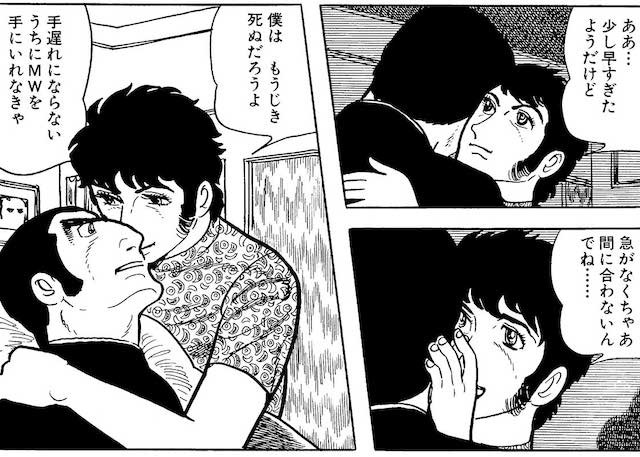 Panels from Tezuka's MW.
Tezuka's daughter famously uncovered a series of drawings of an erotic mouse character by her late father in 2016. While this discovery was a surprise to those mostly familiar with Tezuka's child-oriented work, several of Tezuka's manga explicitly deals with sex, trauma, and unsavory side of the human condition. Perhaps the most well-known is Tezuka's manga MW, serialized from 1976 to 1978 in Big Comic alongside "gekiga" contemporary Saito. MW, which follows a Japanese priest following the trail of a serial murderer, was one of Tezuka's most unnerving stories without dramatic fantasy elements. MW, with its fixation on US occupation of military bases on Japan and homoerotic relationships, was a major break in Tezuka's manga career. While dark and gritty manga had always existed, MW fully embraced the surreal uncanniness of history that Tezuka often referenced in his post-war stories. It wasn't just manga—it was literature.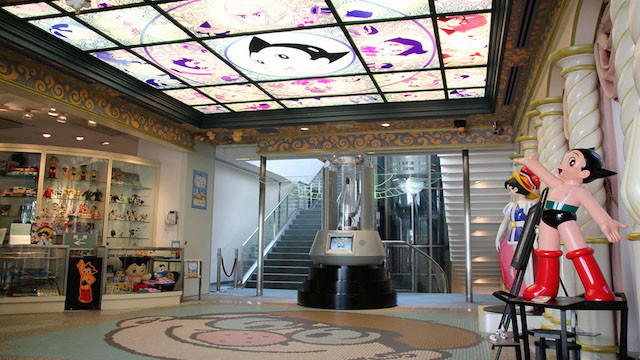 Inside the Osamu Tezuka Manga Museum located in Takarazuka.
Towards the end of Tezuka's career, he completed the serialization of Message to Adolf, perhaps his strangest historical tale. Centered on the lives of three men all named "Adolf" before, during, and after World War II, Adolf is a sophisticated and yet uncanny return to Tezuka's origins in WW2-centric manga compared to his very first published work, Diary of Ma-Chan in 1946. Ma-Chan and Adolf, which was completed in 1985 after running in the literary magazine Bungeishunjū, seemingly exist in two separate realities. One is a story about a child finding a way to make light of horrendous violence, which the other stares it dead in the face. Tezuka's penchant for unfurling the uncanny—combining both his skills as a fantasy and science-fiction writer with an interest in historical stories—only adds to the timelessness of his work.
Dark Fantasies and Legacy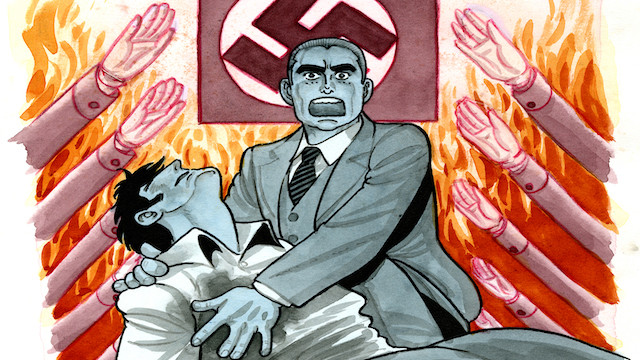 Cover illustration for Tezuka's Message to Adolf.
The canon of Tezuka has deeply informed how we talk about the basic building blocks of anime and manga. Tezuka created work that blurred genres lines, never quite excluding fantasies as separate from his work for adults. Tezuka's Black Jack, for example, succeeded on Tezuka's experience as a medical student and his developing interest in the macabre. Earlier, Tezuka's 1970 series The Book of Human Insects, accounted for the themes of murder, fantastical insects, and the role of women in Japanese society. This switch to the dark underbelly of Japanese society was also seen in his 1972 series Ayako as his approach the basic language of manga developed. However, this didn't mean he ever lost his flare for family-friendly work. Tezuka would later write the popular children's fantasy series Unico in 1976 shortly after MW—a dramatic shift in both mood and material only he could seemingly pull off. By the end of his career, Tezuka was flourishing in every possible genre for ever audience imaginable, including a series of experimental animated shorts alongside his written work.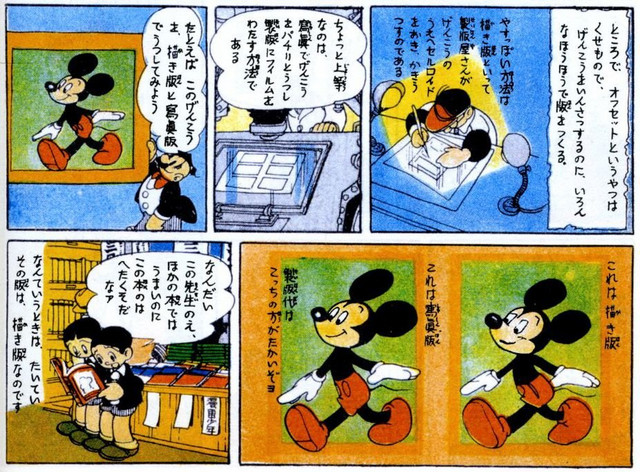 Mickey Mouse strip by Tezuka, from Manga College published in 1950.
Tezuka passed in 1989 of stomach cancer, leaving a legacy in manga that completely changed how serialized stories and fiction was read in Japan. In 1997, the Osamu Tezuka Cultural Prize was established, and has been awarded to promising new manga talent and industry veterans since its founding. Many of Tezuka's works have been adapted by other artists and writers, including Naoki Urasawa's adaptation of Astro Boy with his series Pluto, and the well-regarded 2001 film adaptation of Tezuka's 1949 manga Metropolis. Mostly recently, an anime adaptation of Dororo aired from January to June this year, continuing both the legacy of Tezuka's manga and the work of his Mushi Productions adaption from 1969. Dark, surreal, funny, fantastical—no matter how you want to describe Tezuka's most risk-taking stories or his most famous work, the world of Tezuka is always ready to be revisited and reimagined. No one really outgrows Tezuka. Tezuka grows with you.
Which Osamu Tezuka manga is your favorite? Let us know in the comments!
------
Blake P. is a writer who loves his cat. He likes old mecha anime, computer games, books, and black coffee. His twitter is @_dispossessed. His bylines include Fanbyte, Unwinnable, and more. His newsletter is Boy Toy Box.
Do you love writing? Do you love anime? If you have an idea for a features story, pitch it to Crunchyroll Features!