It's never easy saying goodbye, especially to people you admire that were needlessly taken from the world in which they helped make a better place.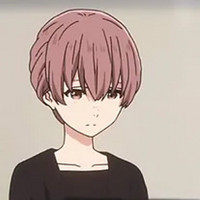 On July 18, 2019, beloved animation studio Kyoto Animation was attacked by an arsonist. The attack was the largest man-made killing in Japan since World War II with 36 Kyoto Animation staff members perishing in the days and months after the incident. Among those were director Yasuhiro Takemoto, legendary animator Yoshiji Kigami, and character designer Shouko Ikeda. These people⁠—as well as everyone at Kyoto Animation⁠—made the earth a better place by creating anime such as The Melancholy of Haruhi Suzumiya, Sound! Euphonium, Munto, Free!, and my personal favorite, K-ON!. These, as well as their entire back catalog of absolutely brilliant works, touched the hearts of many.
I've been watching Kyoto Animation produced series ever since I started being an anime fan. My first weekly anime was the convoluted second season of Haruhi Suzumiya, of which I still believe the Endless Eight arc was a stroke of brilliance. Kyoto Animation, indirectly, helped me learn who I was and helped me get to where I am today. My passion and respect for the studio and the people who work there is immense.
Living in Tokyo, it was hard for me to go to Kyoto and pay my respects to those who I admired, and before now I hadn't had the chance. That's why I jumped at the chance to travel west and go to The ceremony of Farewell and Taking over the Will (the Kyoto Animation Memorial) at the Miyako Messe in Kyoto on November 3 and 4. Not just to cover the event⁠, but to pay my respects, get closure, and tell my story.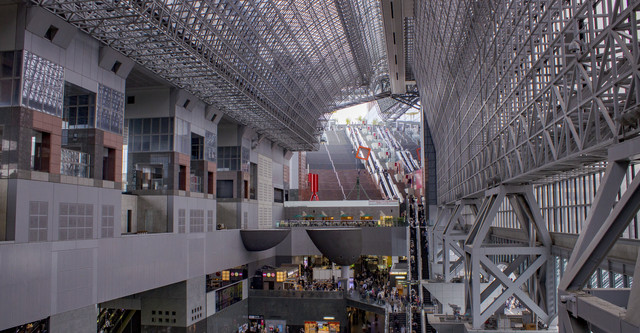 Kyoto Station
After getting off the Shinkansen at Kyoto Station, it felt like my body was doing everything in its power to not head to the Miyako Messe. First, I needed food, use the bathroom, get a coffee, maybe sit down for 5 minutes⁠—even though I sat down for 2 hours on the train. It felt like a barrier was in front of me and I needed to break through it. I pressed on and headed to Higashiyama Station.
Even though I was technically "outside" at Kyoto Station, it still felt like an extension of Tokyo. It's a modern-looking building, but with a JR logo of a different color. But after leaving Higashiyama Station, I was transported to the Kyoto you see on Instagram: Machiya houses lining the streets, people in kimonos, and, thanks to fall, the red leaves of the trees. Kyoto is like a whole different world outside the central business area.
I'm not as familiar with the layout of the Higashiyama area as I am Gion or Uji. Having never been to the Miyako Messe before, I was worried about finding my way. However, the city was prepared for someone in my position: There was an understated sign showing where to head to the memorial right as I exited the station gates.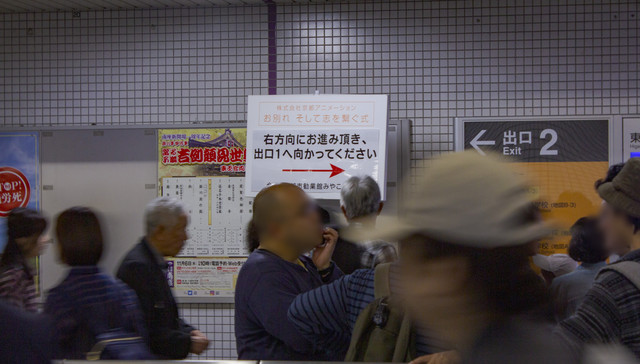 A sign pointing the way to the Miyako Messe
I followed the trail of signs leading to the Miyako Messe, but every time I passed one, I couldn't help but feel my heart sink further and further into my chest. My body wanted to run away again. My mind knew what was coming, the overwhelming emotion I was going to feel⁠—the same one I felt having to write another news article on the attack. But I soldiered on, partly in thanks to meeting a lovely English couple also going to the Miyako Messe and partly due to the lovely scenery, which was muted in color due to overcast⁠—surely reflecting the mood of Kyoto that day.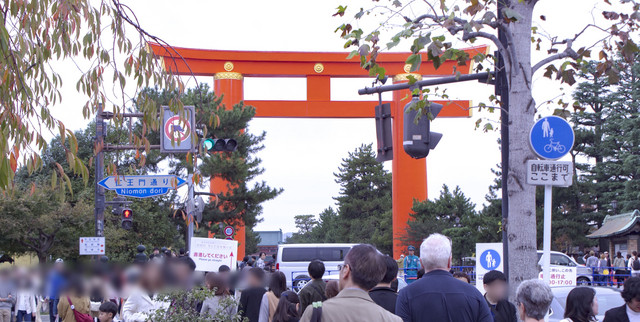 In front of the great Torii gate of the Heian Shrine, where the Miyako Messe was located, a final sign reads "please go straight."
You couldn't miss where the memorial was being held. There were so many police, bodyguards, and ushers that it made Comiket look understaffed. Understandably so, with the looming fear of a copycat attack. As soon as I walked in, I was led into a small area where my bag was thoroughly checked. While I heard that morning was very busy, there was only a steady trickle of people coming through when I was there, making for a quick entrance.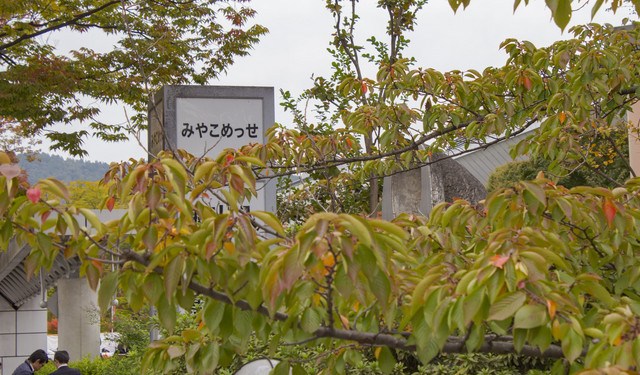 Outside of the Miyako Messe
There were no photos allowed inside the Miyako Messe, with Kyoto Animation explicitly stating on the memorial website and signs inside the center saying authorities would take your camera and delete the photos. There's usually an air of politeness with rules like this in Japan, but Kyoto Animation was quite direct in this regard. Kyoto Animation did provide photos from inside the hall on their webpage, which will be used for reference in this report.
The main hall—which held many KyoAni and Do Fan Days events in the past, and was supposed to host this years before the attack—was so big, it was actually daunting. On one end, as you walked in, there were tributes to Kyoto Animation from fans all across the world. If you sent something to the studio through an official channel or to the studio directly, chances are it was there. It was overwhelming seeing what looked like an endless sea of tributes. Sadly, I wasn't able to get close enough as the entire walkthrough was very coordinated. I could imagine the donated tributes will be set up at some sort of museum or memorial site in the future.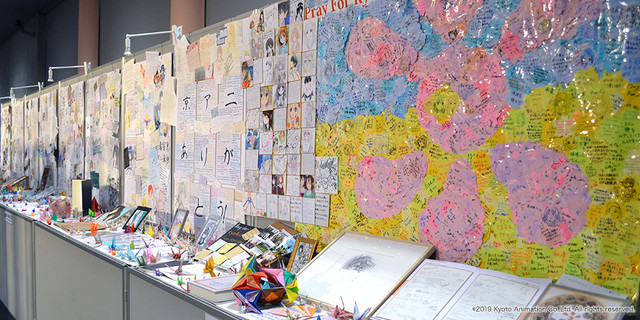 Via Kyoto Animation's memorial service site
Loudspeakers played slow instrumentals of songs from Kyoto Animation's past, low enough that they didn't distract from my thoughts and emotions, but loud enough to be heard. While I was there I heard music from Clannad and Liz and the Blue Bird. Others I spoke to heard A Silent Voice and Sound! Euphonium. The music felt like it was chosen carefully enough as to not overpower you, but to be used as a tribute for those who have passed and their roles in shaping those series.
At this point, I was sobbing. I couldn't help it. From the tributes, the music, to the bowing of every usher as you walked through the halls. It was all very surreal.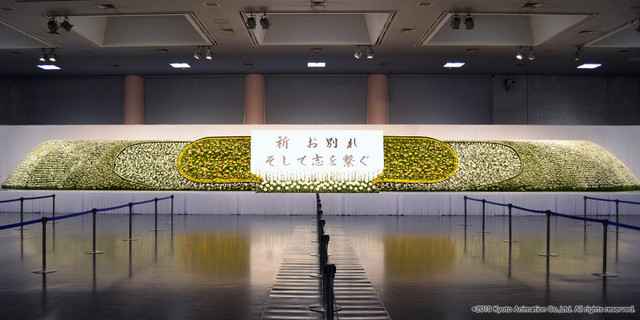 Via Kyoto Animation's memorial service site
Across from the tributes, on the other side of the hall was the alter. Surrounding the bright white sign was a forest of flowers. It was 30 meters wide and covered in lilies, cosmos, and chrysanthemums. In front of the alter, groups of ten lined up and offered prayers to those who had passed. For me though, it was kind of a blur. All I had running through my mind were scenes from works I loved, especially, for some reason, episode 13 of Miss Kobayashi's Dragon Maid and The Disappearance of Haruhi Suzumiya, both directed and storyboarded by the late Yasuhiro Takemoto.
After what seemed like an eternity, I was ushered back out of the hall and into a foyer. With people just sitting, crying, and collecting their thoughts, it really felt like a communal place for grieving. As a foreigner, with my eyes puffy and cheeks red, I stood out and attracted the attention of some people who also needed to heal.
I chatted with someone who traveled from Niigata for the memorial service. He was a fan of Kyoto Animation since Full Metal Panic! Fumoffu and had seen every series the studio had produced, his favorite being Sound! Euphonium. For him, Kyoto Animation represented the heart of the animation industry and created the best art Japan has to offer. We both agreed that our hearts just hurt being there with a pain that wouldn't go away. The staff member he admired most was the late Shouko Ikeda.
While speaking to others, the general consensus was that nobody could understand how a tragedy like this could have happened. One person commented that it was "unthinkable." We read through the postcard and messages from Kyoto Animation president Hideaki Hatta and Kyoto Animation that were handed to people who attended the service.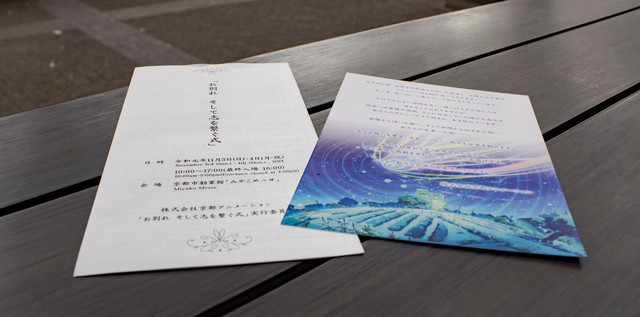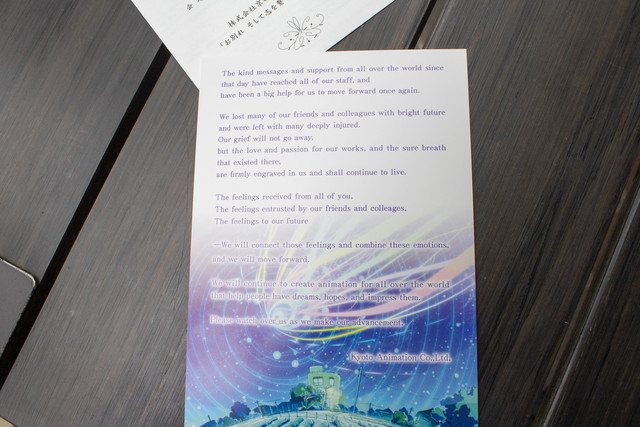 Postcard given at the Kyoto Animation memorial service.
The postcard reads:
"The kind messages and support from all over the world since that day have reached all of our staff, and have been a big help for us to move forward once again.
We lost many of our friends and colleagues with bright futures and were left with many deeply injured. Our grief will not go away, but the love and passion for our works, and the sure breath that existed there, are firmly engraved in us and shall continue to live.
The feelings received from all of you,
the feelings entrusted by our friends and colleagues,
the feelings to our future
—We will connect those feelings and combine these emotions, and we will move forward.
We will continue to create animation for all over the world that help people have dreams, hopes, and impress them.
Please watch over us as we make our advancements.
- Kyoto Animation Co., Ltd."
Just talking with others and sharing our love of Kyoto Animation and the memories of what each of their series meant to us really helped in the healing process. The memorial service was a way for everyone to move on from the tragedy and "take the will." Being able to say goodbye, especially like this, really helped me come to terms with my emotions. The service broke me, and those people in the foyer helped build me back up, just like Kyoto Animation has helped me over the years when I was going through a rough patch. One of my best memories was marathoning Clannad and Clannad After Story while I had the flu in high school. While I'm sure the medicine helped, the story's emotional journey broke me and built me back up to be a better person.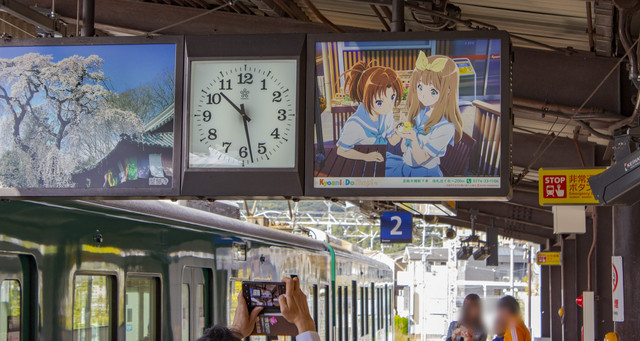 Rokujizo station
The next day, I attempted to go to Studio 1. I went to the building in March earlier this year, so I had this feeling that I needed to see it to help heal. After covering the story for the last few months, to come to terms with it, I felt I needed to see the building with my own eyes.
Rokujizo station, the nearest train station to the studio, still has advertisements for the KyoAni and Do Shop situated near the Kohata Studio with a picture of Natsuki Nakagawa and Yuuko Yoshikawa from Sound! Euphonium. Other Natsuki and Yuuko cut-outs used for a Keihan Railway collaboration with Sound! Euphonium stood just before the station gates. But alongside the cut-outs was a note from Kyoto Animation in Japanese and English saying to be as respectful as possible in the neighborhood surrounding the studio.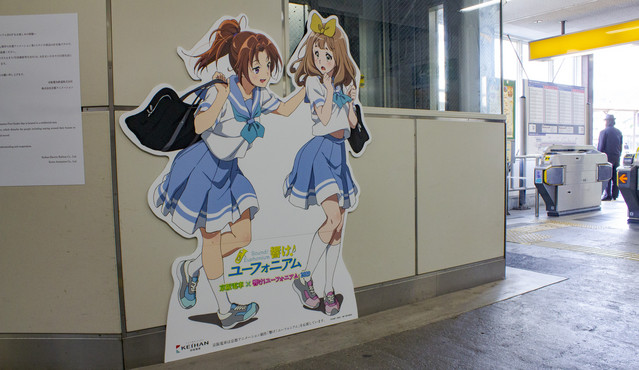 Advertisement for the Keihan Railway collaboration with Sound! Euphonium
You can't get close to the studio even if you tried. Like at the memorial the day before, bodyguards stood on every street corner leading up to Studio 1. As soon as I walked past Cafe Lapin, a sweet little cafe based on Alice in Wonderland frequented by Kyoto Animation staff, the bodyguard on the street stood to attention and watched me. I can't imagine what the neighborhood had gone through over the last 3 months, to have to live like this. They must have been so tired of it all. I can't help but be sad for a neighborhood that welcomed me just a few months ago. I chose not to press on.
But I did see the studio from an empty nearby parking lot. After being rebuilt the day before, seeing the charred remains of the studio where so many wonderful works were created didn't invoke as big of an emotion as I expected. After the memorial service, the weight of sadness I felt when I thought about Kyoto Animation was lifted. I finally had that closure I needed.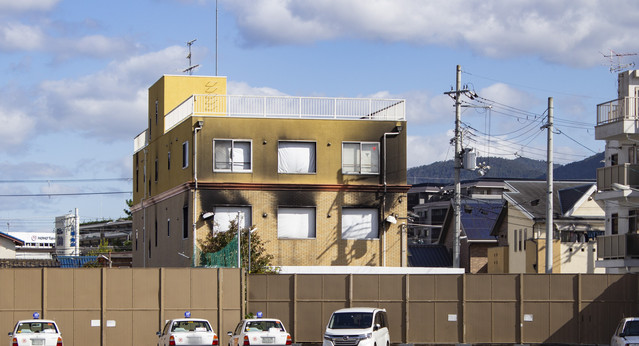 Kyoto Animation's Studio 1
This weekend has been one of the hardest moments of my life, but being able to get through this terrible tragedy and say farewell to those I've respected for over a decade has helped me move forward.
Thank you for everything Kyoto Animation, whenever you are ready, everyone awaits your next work.
----
Daryl Harding is a Japan Correspondent for Crunchyroll News. He also runs the YouTube channel about Japan stuff called TheDoctorDazza, tweets at @DoctorDazza and posts photo of his travels on Instagram.