The Fall 2018 Review continues with Studio Trigger's loving tribute to all things tokusatsu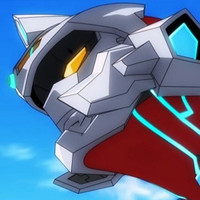 As autumn dwindles and the winter Holiday season looms ever closer with each passing day, what's old is new again, and "Cruising the Crunchy-Catalog" is getting ready for the Holiday crunch with the Fall 2018 Review, an exploration of some of the series that made the anime season of one year ago unique.
This week, we set our adolescent passions into overdrive with a look back at SSSS.GRIDMAN, a series that's part tokusatsu, part anime, and part meta-textual treatise on the nature of hero shows and their importance to healing the human heart. Suit up, folks, we're in for a wild ride.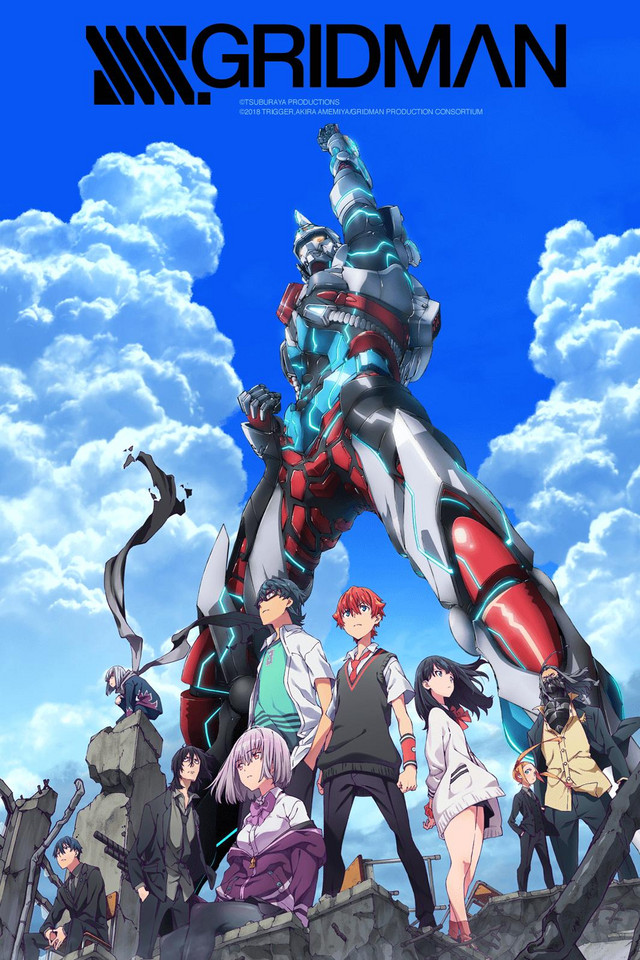 What's SSSS.GRIDMAN?
SSSS.GRIDMAN is a 2018 TV anime with production by Tsuburaya Productions, direction by Akira Amemiya, and animation production by TRIGGER. Crunchyroll describes the story of the series as follows:
Yuta Hibiki can't remember who he is, and now he's seeing and hearing things that others don't! A voice from an old computer tells him to remember his calling, and he sees a massive, unmoving creature in the distance. Nothing's making sense—until the behemoth springs to life! Suddenly, Yuta is pulled into the digital world, reappearing in the real one as the colossal hero—Gridman!
A spiritual sequel to the 1993-1994 live-action tokusatsu TV series, Gridman the Hyper Agent, SSSS.GRIDMAN is an animated love-letter to the subgenre of special effects superhero series in general and Tsuburaya Productions' hero shows in particular, but it's also an excellent action show that explores strong themes in its brisk run-time.
A Taste for Tokusatsu
One of the strongest elements in SSSS.GRIDMAN is its production design, which pays homage not only to live-action special effects shows but also classic mecha anime series like the "Brave" series of the Nineties. Gridman and his assistants have a distinctly toy-iffic flair, and the monstrous kaiju antagonists resemble actors in rubber suits captured in the medium of 3DCG anime.
In the medium of animation, you don't have to film from a low angle to create a forced perspective of gigantic size, you don't have to increase the camera's crank speed to create a sense of ponderous motion, and you don't have to create digital model buildings and computer-generated pyrotechnics that mimic their live-action counterparts in such painstaking detail, so when SSSS.GRIDMAN uses all of these techniques, it's a bold aesthetic choice.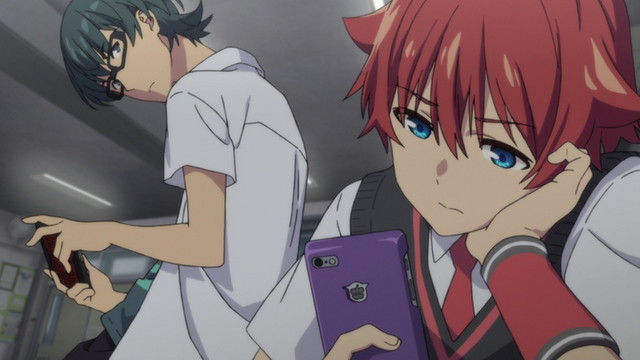 Paranoid World
I can't speak for all teenagers, but my adolescence was a rough and awkward affair, a jarring transition into adulthood where I was expected to put aside childish things, but I'd still wake up early every morning to catch the Power Rangers before school. For that reason alone, the tone of SSSS.GRIDMAN speaks to me.
SSSS.GRIDMAN establishes a worldview that is anxious and uncertain, and the perspectives of the main characters reflect the same frustrated romantic inclinations, the same desire for intimate friendships, and the same questioning of one's sense of self-worth that defined my teenage years. Growing up felt like living in a world filled with monsters that adults refused to see, and that description also encapsulates the universe of SSSS.GRIDMAN.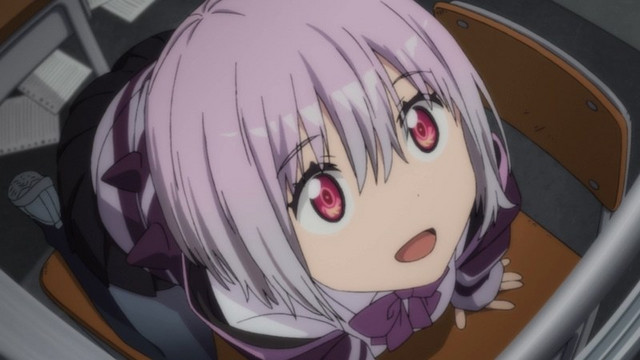 Tune In, Turn On, Log Out
Without getting into spoilers, there's a reason that—for its teenage protagonists—the world of SSSS.GRIDMAN feels both terrifyingly vast and impossibly cramped. The latter half of the series leans hard into an increasingly meta-textual examination of the nature of heroism, the perils of social isolation, the dangers of using fantasy as a means of escapism, and the ultimate value of art and entertainment in bringing clarity to the human experience.
That the series can explore these themes (dabbling in existential and psychological horror in the process) while staying true to its tokusatsu roots makes SSSS.GRIDMAN a powerful viewing experience. Even with such lofty aspirations and such surreal subject matter, SSSS.GRIDMAN sticks the landing in the end.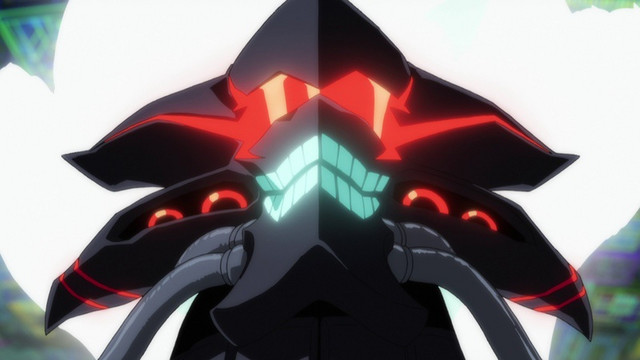 Re-aligning the Grid
Crunchyroll currently streams SSSS.GRIDMAN in the United States, Canada, the United Kingdom, Puerto Rico, American Samoa, Guam, the US Virgin Islands, the United States Minor Outlying Islands, Christmas Island, the Cook Islands, Denmark, the Faroe Islands, Guernsey, Heard Island and the McDonald Islands, Iceland, Ireland, the Isle of Man, Norfolk Island, the Northern Mariana Islands, Jersey, Norway, Sweden, Australia, New Zealand, and South Africa.
SSSS.GRIDMAN is available in the original Japanese with English subtitles. The series will also be released on home video in North America by Funimation on January 28, 2020.
SSSS.GRIDMAN is an outstanding little show, so if the series is available in your area, and if you're in the mood for some tokusatsu goodness that builds towards an emotionally satisfying and psychologically trippy conclusion, then please consider giving the series a try.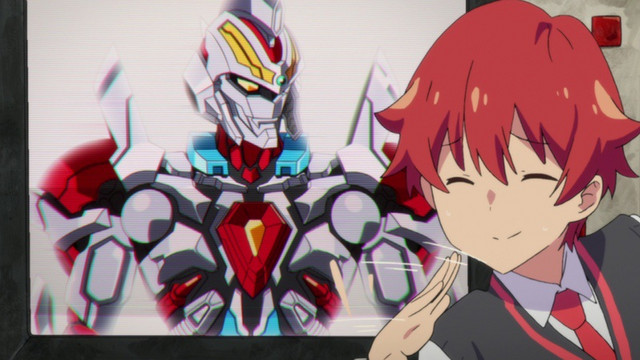 Thanks for joining us for this installment of the Fall 2018 Review by "Cruising the Crunchy-Catalog". Be sure to tune in next time when we check out a series that explores what slapstick comedy, improvisational humor, and psychic powers have in common.
Is there a series in Crunchyroll's catalog that you think needs some more love and attention? Please send in your suggestions via e-mail to [email protected] or post a Tweet to @gooberzilla. Your pick could inspire the next installment of "Cruising the Crunchy-Catalog"!

---------
Paul Chapman is the host of The Greatest Movie EVER! Podcast and GME! Anime Fun Time.

Do you love writing? Do you love anime? If you have an idea for a features story, pitch it to Crunchyroll Features!