Check out these real-world locations of Saekano!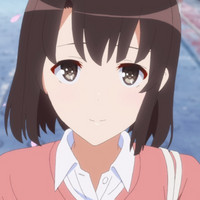 The story of Saekano -How to Raise a Boring Girlfriend- finally came to its grand conclusion with the recently released feature film in Japan, raking in over 500 million yen. Unfortunately, it looks like it'll still be a while until most of us will get to see whether or not Megumi finally turns into the main heroine that Tomoya always wanted her to be, and who ultimately wins the heart of our visual novel-loving main character. So until we finally get our answers, and to shorten the wait just a tiny bit, let's have a look at Saekano's real-world locations in this hefty edition of Anime vs. Real Life, with more than 70 comparison shots. There's plenty of eye candy to be found in Saekano after all, and also the anime's backgrounds are absolute lookers. Let's get to it!
We'll obviously start with Saekano's most iconic location. In an event tailor-made for one of Tomoya's visual novels, he one day has a fateful encounter with a mysterious girl standing atop a hill. That girl turned out to be the relatively dull Megumi and the location that kicked off the show's story is the Nozokizaka Slope. The location serves as a background for most of Saekano's promotional posters and several other major events in the show also happen on this picturesque slope, which is one of the steepest ones in all of Tokyo.
The slope is within easy reach of Zoshigaya Station. Gakushuin-shita Station is also close by, but you'd have to hike up the slope coming from that direction. Alternatively, you could just walk there from Ikebukuro Station, which is what I did.
Nozokizaka Slope is called Tanteizaka Slope in the anime, which translates to Detective Slope, since according to Tomoya, there's supposedly a detective agency nearby, but that's not the case in real life.
Should you ever visit the place yourself, be extra mindful of the traffic. Because of the steep incline, the drivers tend to go a little faster here, and nobody likes to stop on a hill with a 23% incline.
Unfortunately for me, despite hoping so, I did not end up having any fateful encounter myself here, but who knows, you just might? And if not, don't worry, the extremely steep slope is actually quite charming and scenic in itself. So much actually, that the slope also makes an appearance in Makoto Shinkai's latest movie, Weathering With You. But that might also just be because Shinkai has a knack for animating slopes, and seemingly loves to depict real-life places in his works, from where you can spot the NTT Docomo Yoyogi Building (the tall, pointy building to the left) looming in the background.
The nearby Fujimizaka Slope is where Eriri has her mansion.
Let's move on to the next location, which is the the railroad crossing from the anime's first opening. The closest station to the crossing is Gakushuinshita Station, which is served by the Toden Arakawa Line (now rebranded as Tokyo Sakura Tram), one of Tokyo's last two remaining streetcar lines. I wanted to recreate the photo with one of the older tram models, but unfortunately never saw one pass by.
The sharp curve after crossing the Kanda River is a popular photo spot for the Tokyo Sakura Tram, and has also been featured in other shows like BanG Dream!
Omokagebashi Station
Let's move on to a completely different part of Tokyo. Utaha always meets up with her editor around Wakoshi Station, which is about a 20 minutes train ride away from Ikebukuro Station.
And thanks to her feisty editor, Utaha even gets to spend a night together with Tomoya at the Toyoko Inn near Wakoshi Station. Incidentally, this very hotel was also the same one where Maho Hiyajo from Steins;Gate 0 stayed at. Who knows, this might all be a genius marketing ploy by the Wakoshi Station Toyoko Inn.
I usually prefer to have nice weather when I'm out and about tracking down anime locations, but sometimes it just works out.
The small Chibikko Park is only a minute away from Wakoshi Station. It's here where Tomoya is reunited with his old childhood friend Izumi, who hands him a ticket for Summer Comiket, telling him he should visit her circle's stand.
The park itself really is nothing to write home about, but it's still amazing to see just how much detail and care went into recreating it in the anime.
The Tokyo Big Sight convention center, which is the venue for Comiket, the world's largest dojinshi fair, is naturally also a often recurring location in the anime. While Tomoya's "Blessing Software" circle was only a bystander at Summer Comiket, they already released their first game "Cherry Blessing" at the following Winter Comiket, and obviously, the release of their next game "How to Raise a Boring Girlfriend" for the next Summer Comiket, will most likely play a big role in the movie.
Just as a little tidbit on the side, the large building you can see in the background on the left hand side here, is actually the model for How Heavy Are the Dumbbells You Lift?'s silver gym in the anime.
And finally, let's top of this article with another important location for the show, and what else could it be than the forefront of Otaku culture itself, Akihabara.
Volks Hobby Paradise is just outside of Akihabara Station, and is one of the area's most standout buildings. All eight floors of the building are dedicated to anime merchandise.
And last but not least, let's close this article with the last location of Saekano's first season, the Mogra night club. The club is located a short walk north of Akihabara Station, and is known for playing a variety of anime songs. In the anime, Michiru's band reveal themselves as an anime cover band by playing a cover of Sorairo Days, the opening of Gurren Lagann.
And now, for the lifelong question, who do you think is the true best girl of the show? (The correct answer is Utaha btw)
➡️ Watch Saekano -How to Raise a Boring Girlfriend- right here! ⬅️

---
Wilhelm is an anime tourist, who loves to search for and uncover the real-world spots he sees in anime. You can talk with him on Twitter @Surwill or on Instagram wilhelm_donko.
Do you love writing? Do you love anime? If you have an idea for a features story, pitch it to Crunchyroll Features!