I've done the math. Every one is great

There are few things more disappointing to an anime fan than a lackluster opening. It comes out of nowhere, bursting into the front end of your favorite show and instantly making you consider skipping ahead a few minutes. And you continue this habit until the end of the arc, hoping beyond hope that maybe the next opening will be better and will wash the taste that the previous opening left out of your, umm, ears. But for right now, you're stuck with it, so you sit at your laptop, anime trigger finger poised, ready to refuse the opening the slightest chance at infecting your precious series.
Luckily, this is a problem that Black Clover fans have never had to deal with.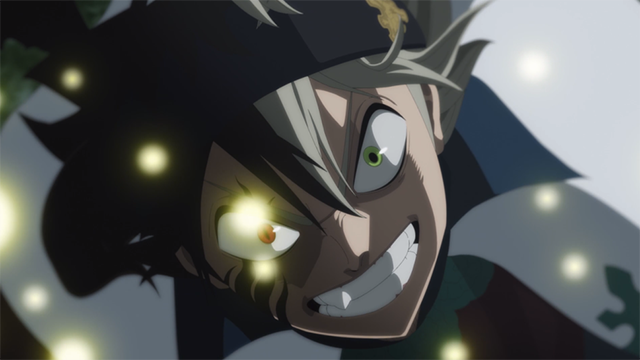 If you are a Black Clover fan, you apparently don't have to worry about a lesser opening or a clunker that might earn a skip. Because every single opening that Asta, Yuno and the gang have ever appeared in is fire. And that's saying something. We get a new Black Clover opening about every other day. Statistically, one is bound to be at least slightly disheartening. One is destined to make us one day think, "Ah, I am not as hyped to watch the Wizard Knights now as the last opening made me feel." But today is not that day.
Consider "Haruka Mirai" by Kankau Piero. Rather than gently introduce you to Black Clover's atmosphere, it throws you face-first into the show. "BY THE WAY, THE CLOVER REFERS TO THE SHAPE ON...the cover of...the grimoire...." you hear, as you sail away into one of my favorite current shonen series.
Or "Guess Who Is Back," which is a real flex of an opening. Usually, shows have to go on for years before they do their "Hey, this opening is about how excited you are to see these characters again" opening. But Black Clover and Koda Kumi were like, "Nah, this show isn't even a year old and you're just as excited to see the Black Bulls this week as you were last week. GUESS WHO IS BACK."
Then listen to "sky & blue," which sounds like it's from the soundtrack for Spike Jonze's Where The Wild Things Are movie (but in a really good way) and is packed with all of the rad fight scenes and moodiness that flows through the blood of every Black Clover opening.
And finally, check out the latest opening "Black Catcher" by Vickeblanca which somehow manages to combine the gravitas of the latest arc (Please watch Black Clover, everyone. It's great) with this rootin' tootin' piano that feels straight out of a Western. And that's my kinda Western. "Hey piano man," I say, wearing spurs on my boots and a Digimon t-shirt. "Play me some of that good ol' anime soundtrack."
Anyway, if you're not sold yet, feel free to listen to the six other openings and marvel at how Black Clover has a perfect batting average in anime openings. It's an astounding achievement, and just one of the many reasons to love Black Clover.
What is your favorite Black Clover opening? Are there any other anime series that you think have nothing but perfect openings? Let me know in the comments!
-------------------
Daniel Dockery is a Senior Staff Writer for Crunchyroll. Follow him on Twitter!
Do you love writing? Do you love anime? If you have an idea for a features story, pitch it to Crunchyroll Features!