From Re:ZERO, to Evangelion, Wonder Festival is back to showcase all the upcoming figures from Japan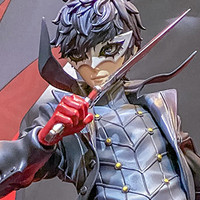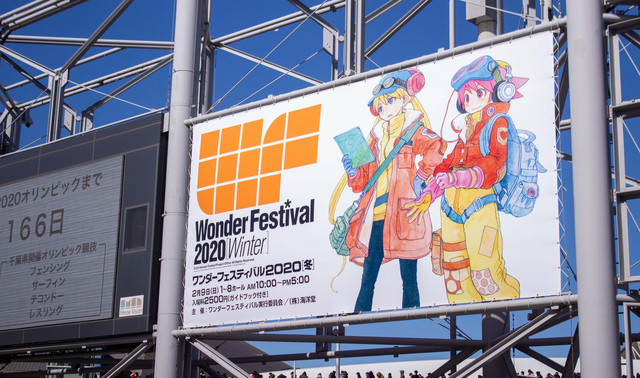 Wonder Festival is one of the biggest figure events of the year, showcasing all the latest and upcoming figures from all the major creators in the space. Held twice a year—once during the summer (of which you can read 2019's report here) and once during the winter at Makuhari Messe outside of Tokyo—you'll be astounded by the level of detail in some of these figures—I sure was! This year's event took place on February 9.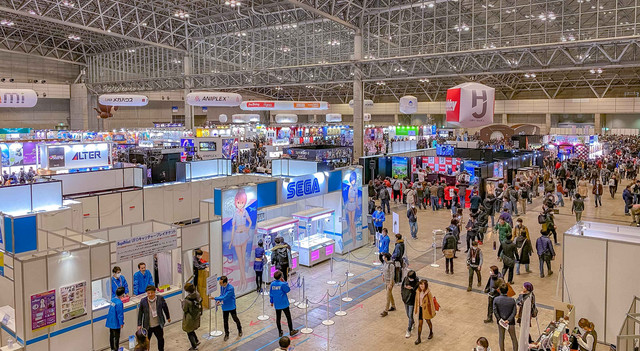 Before we take a look at some of the best figures on show, there was something more serious overshadowing the festival this time 'round. Wonder Festival in winter is supposed to the bigger of the two events, due to the milder weather and time of the year, but this wasn't the case. With the coronavirus currently sweeping through the world, and Japan being one of the biggest outbreaks outside of China, tensions felt high and attendance felt low. The official Twitter account for Wonder Festival even outlined the precautionary measures the festival was taking to help combat anything that could go wrong, and discredit any rumors. Masks and hand sanitizer were provided at all entrances, exits, and many other locations.

After last year's lack of figures from the hit anime and manga series, Demon Slayer: Kimestu no Yaiba was out in full force with figures everywhere, including some prototypes that weren't allowed to be photographed! To start with are the above SegaPrize figures of Tanjiro, Inosuke, Zenitsu, and Nezuko, meant for UFO catchers in the arcades. Nezuko's isn't painted yet, but I'm sure she'll be ready for the upcoming film, Mugen Train, when that releases.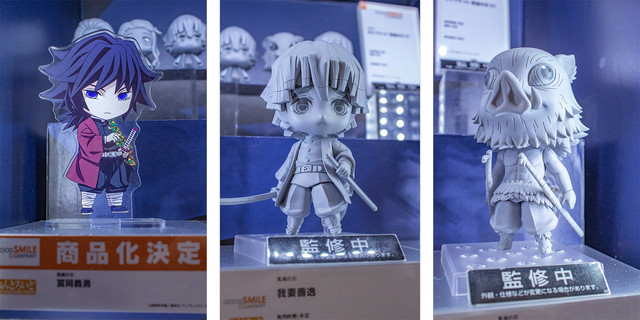 The newly announced Giyu figure had his acrylic prototype on display next to the in-production models of Zenitsu and Inosuke, both unpainted. Release dates for all of these figures haven't been announced yet, but they should be popular when they do.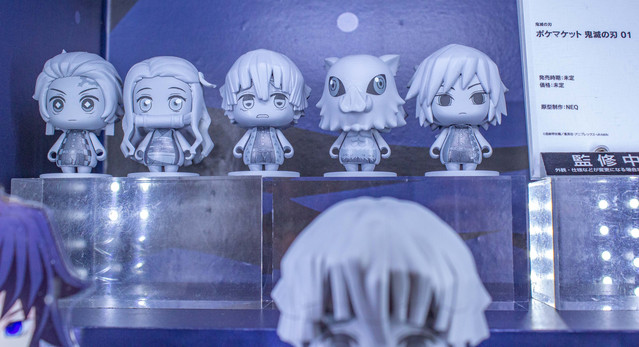 Behind the Nendoroids were in-production models of the first Pocket Maquette Demon Slayer collection. These will be mainly sold as capsule toys or as a set in the future.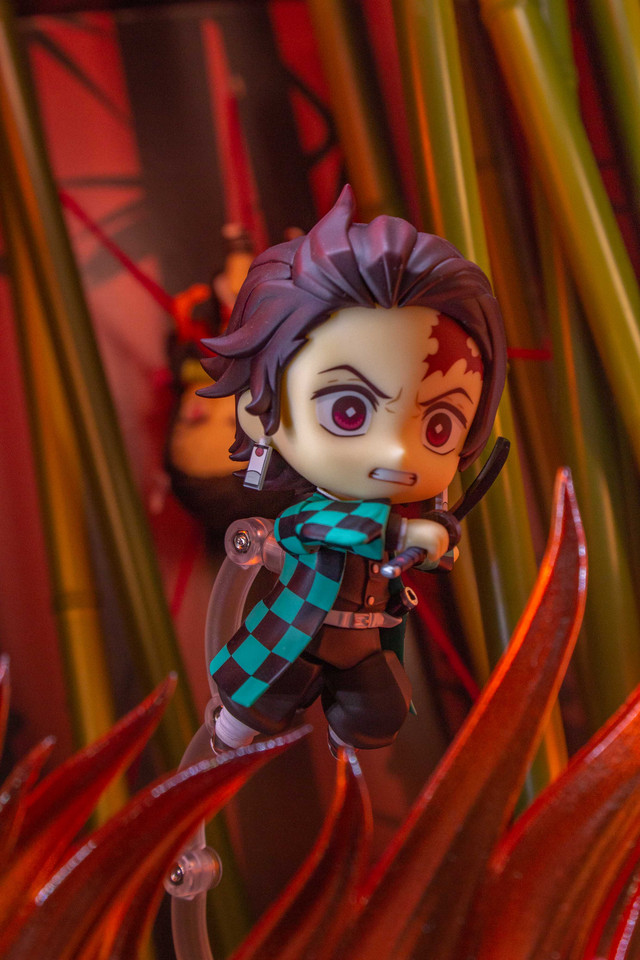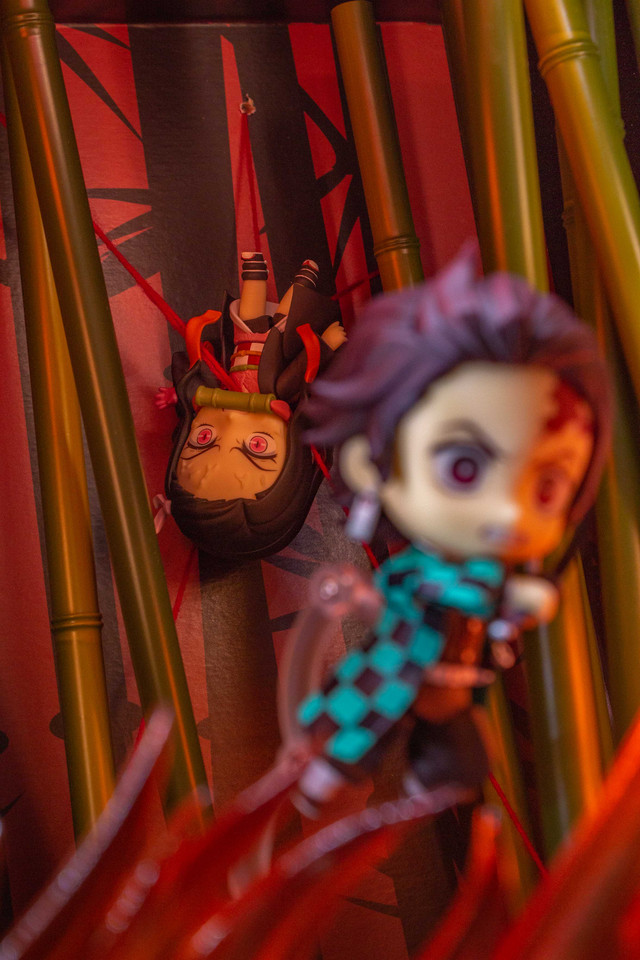 To celebrate the series, and the upcoming release of the Tanjiro and Nezuko Nendoroids, both were used in this action set that was just so much fun to photograph!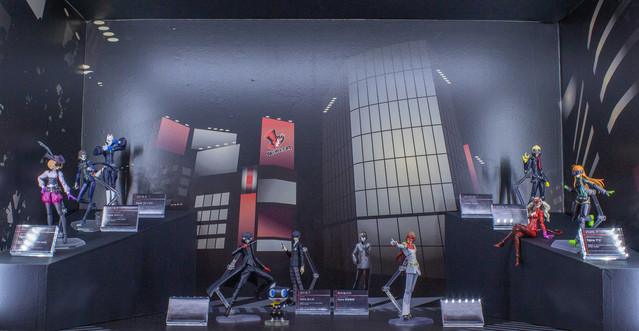 On display at the Good Smile booth was a collection of all the Persona 5 figmas that have been released, or will be released—including an acrylic prototype of Akechi!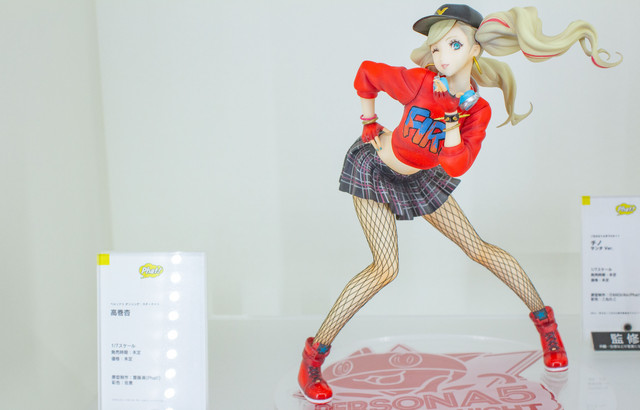 In the same area was an in-production, uncolored model of Kasumi from Persona 5 Royal in her school uniform from Phat!. Behind Kasumi was a Persona 5 Dancing All Night Ann, in her dancing outfit from the game. At one of the closed-off 18+ booths, they were also showing off an Ann figure in her dominatrix outfit from the same game, though they weren't allowing pictures.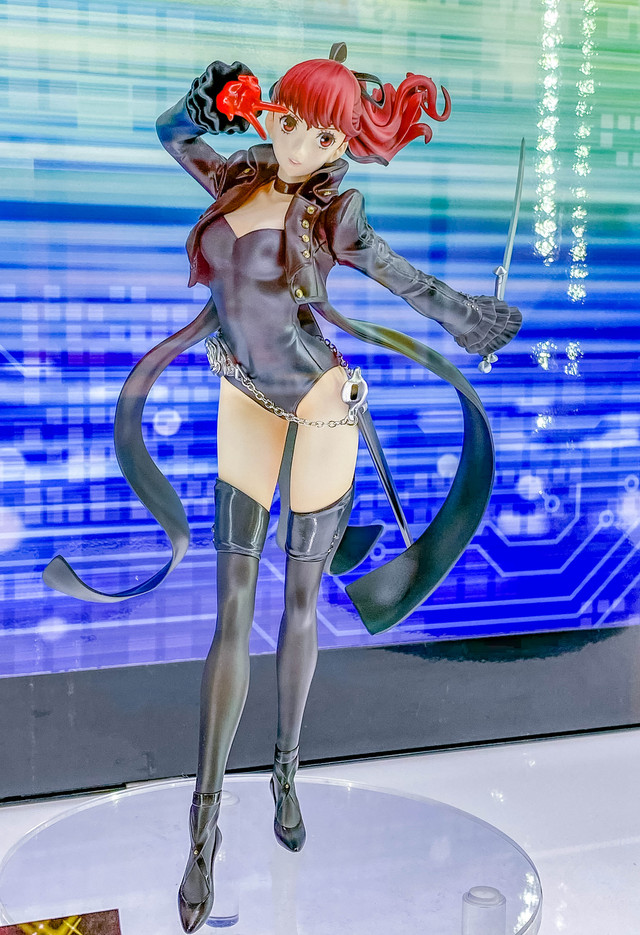 Fans of Kasumi in her Phantom Thief gear would be happy to know that there is a figure of her in the outfit coming, and it looks spectacular.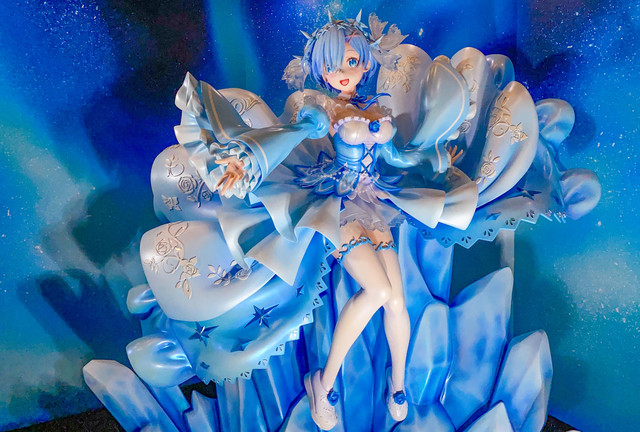 What else was spectacular was the amount of Re:ZERO -Starting Life in Another World- figures and statues on the show floor, with the above being the biggest.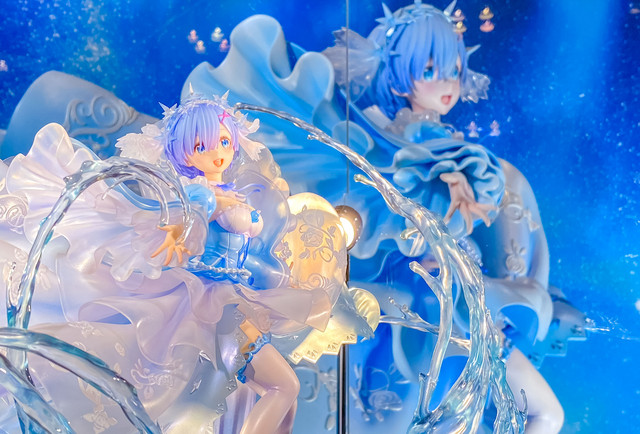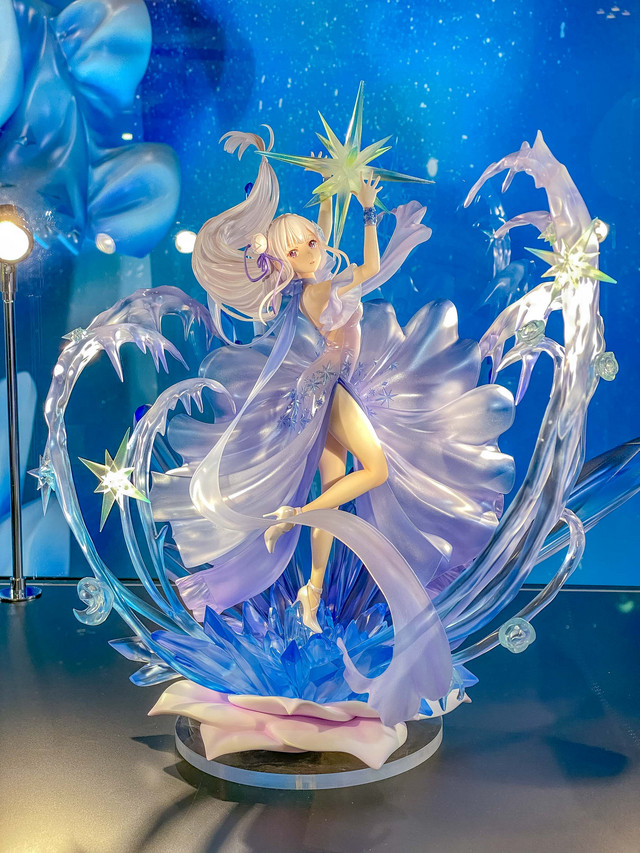 Don't worry, though, because the majestic Crystal Dress Rem also comes in a more manageable figure size. Both it and the Crystal Dress Emilia (above) are from the new Shibuya Scramble Figure line, named after the famous crossing in Shibuya. While they fetch a hefty price tag of over 30,000 yen (US$280) each, by the looks of them, they're worth it.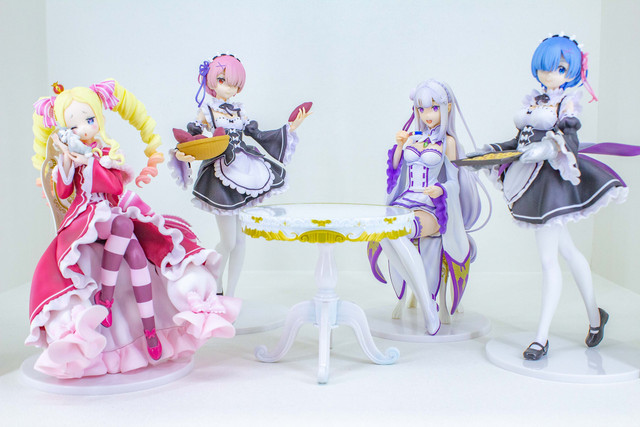 Not to be outdone, these Tea Party Re:ZERO figures from KDColle were some of the nicest on show. They were even shown in two places on the Wonder Festival floor! The Beatrice figure is brand new and was only shown in KDColle's main area.
KDColle announced a few weeks ago these birthday versions of Rem and Ram, initially used as part of the visual for their birthday celebrations at Shibuya Marui this year. The figures, as a set, won't be released until November so being able to see them here was a nice surprise!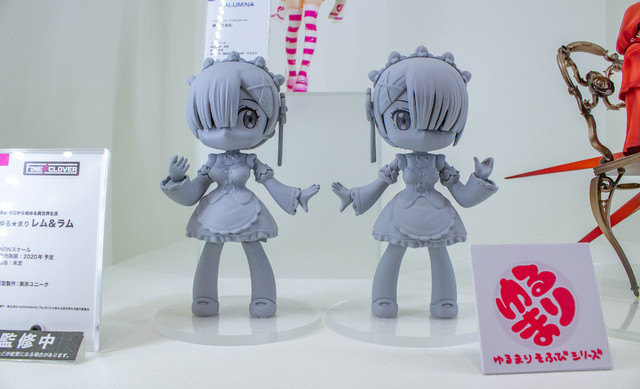 Alongside them were these newly announced prototypes of Rem and Ram yurumari figures, the first of a new line of chibi-style figures from Fine Clover (in partnership with Good Smile).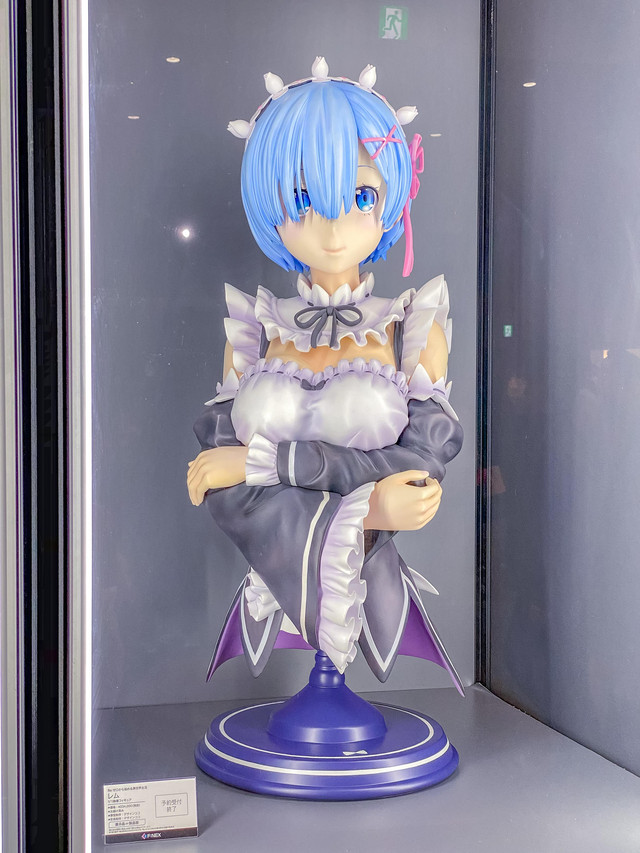 Keeping up with the Rem and Ram theme were these two 1/1 scale busts of the girls from Re:ZERO from F:NEX. The Rem bust was released in October, but this is the first proper showing of the Ram bust, which was supposed to be released in January before production was delayed to March.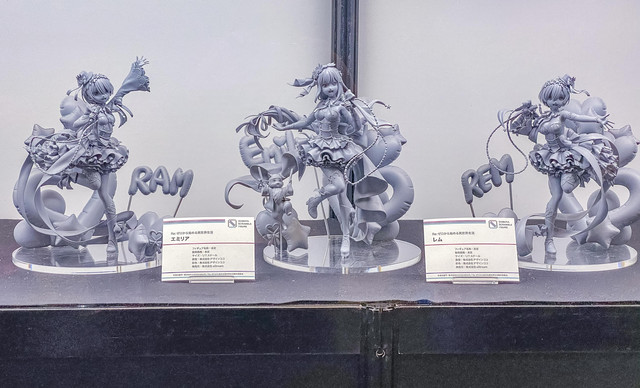 Other than the Crystal Dress versions of Rem and Emilia, Shibuya Scramble Figures brings in Ram and creates an idol figure formation group with all three characters from Re:ZERO, in some of the best-looking prototypes I've ever seen.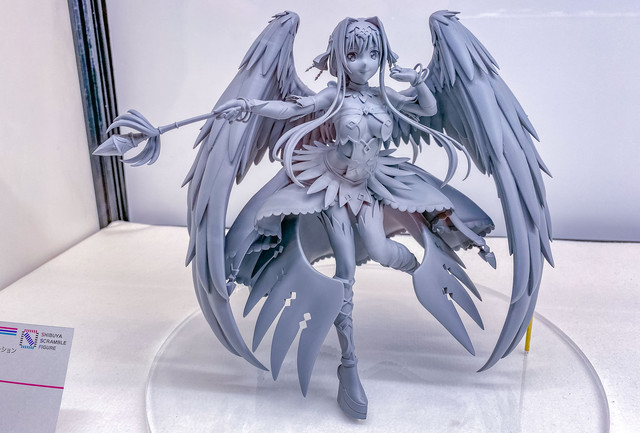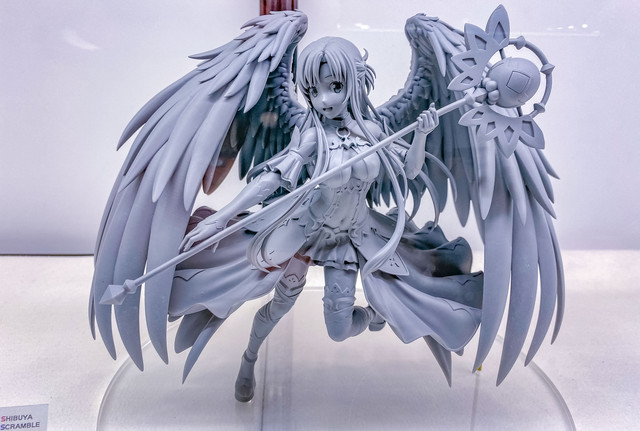 Shibuya Scramble didn't stop there with some of the best looking figures on the show floor, with them flexing hard with how detailed their Alice and Asuna from Sword Art Online Alicization War of Underworld prototypes are. It's crazy how good these figures look!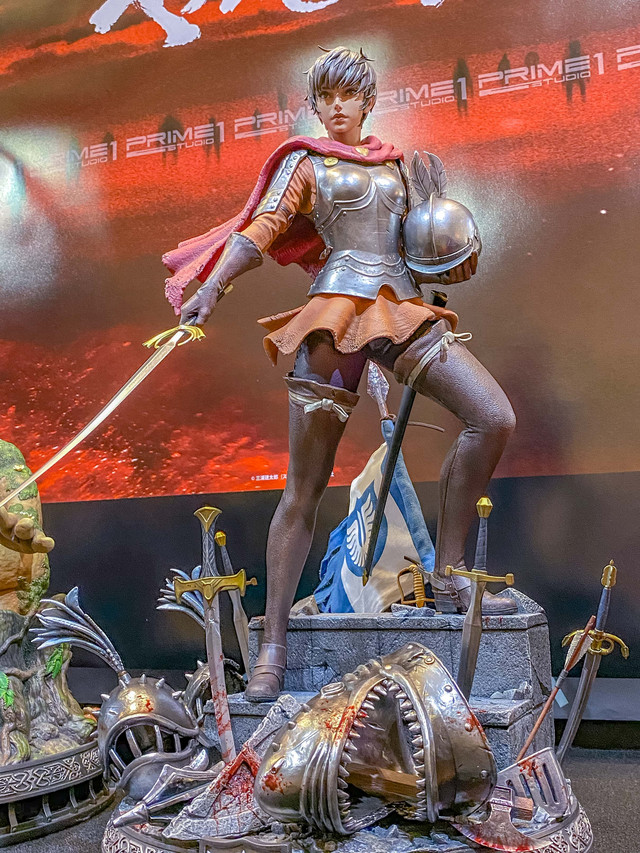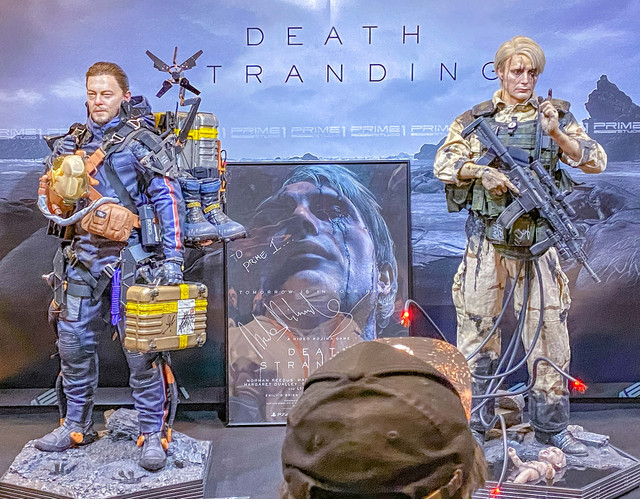 Though those figures have nothing on the above figures of Casca from Berserk and the guys from Death Stranding, both being exhibited by Prime Studios near the start of the festival.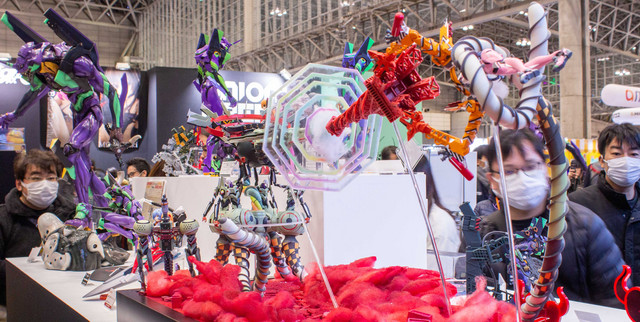 But by far, my favorite display in the entire hall was the recreation of the scene shown off for the upcoming Evangelion 3.0+1.0 film, with Mari's pink Evangelion unit being attacked whilst throwing what looks like the Eiffel Tower at an AT Field. Of course, this was only a display and sadly won't be for sale.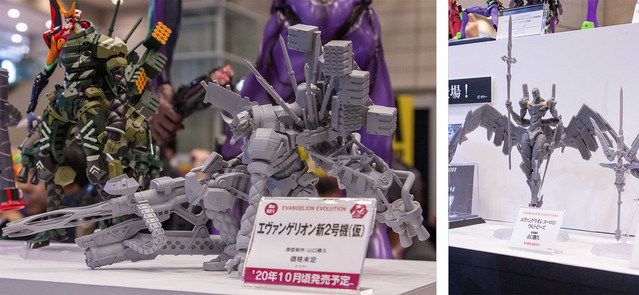 What will be for sale are these two newly designed Evangelions. I'm not sure what they're for, or if they'll appear in the upcoming film, but for prototypes, they're incredibly detailed.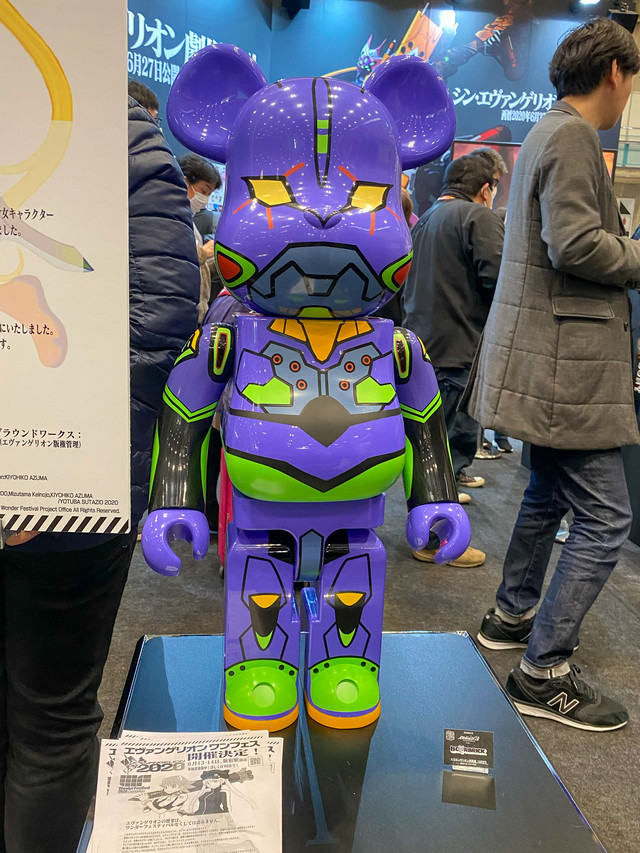 And this unbearably adorable, and quite large, Lego-like Bearbrick Unit 01 that was showcased at the Evangelion booth!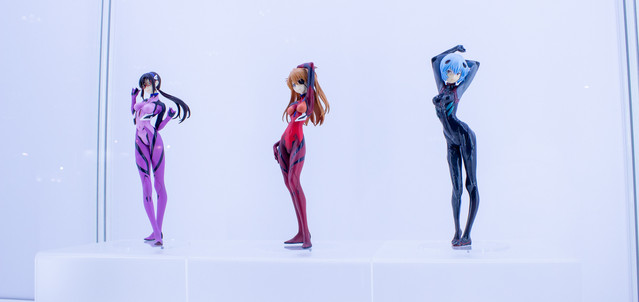 SEGA is getting in on the Evangelion craze that'll sweep Japan later this year with new releases of what looks like Evangelion 3.33 versions of Rei, Asuka, and Mari, which will appear in arcades over the coming year as a series. Though I could be wrong and they could be new...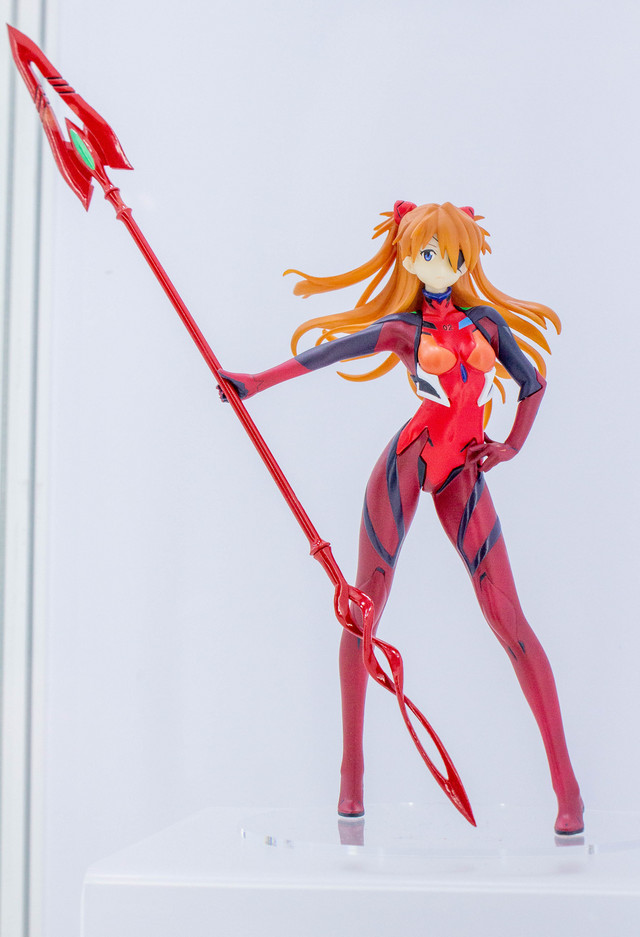 Separate from the above series is this Asuka SEGA price figure, on her own, as she likes it, with a spear.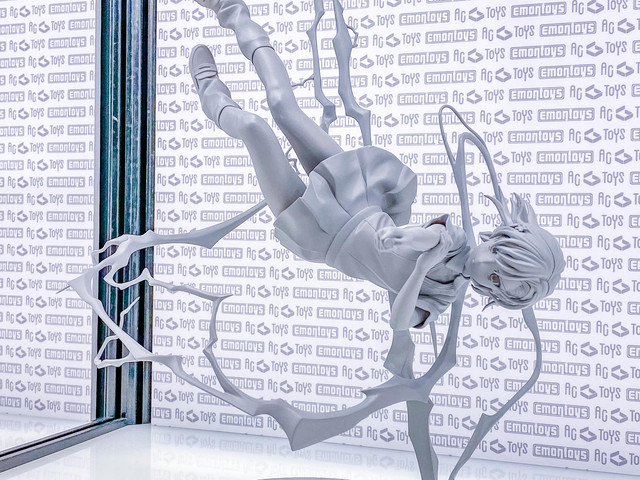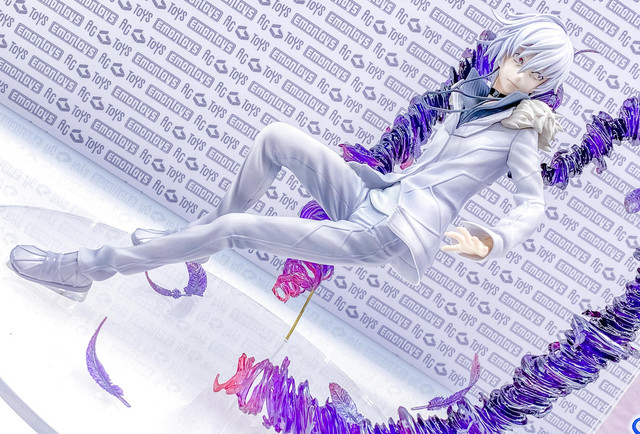 EmonToys sparked my interest with these figures from the A Certain Magical Index anime franchise, showing off an in-prototype version of Misaka Mikoto from the currently airing A Certain Scientific Railgun, in her signature pose, and Accelerator in his winter outfit as seen in the latest A Certain Magical Index series, posing with his vectors.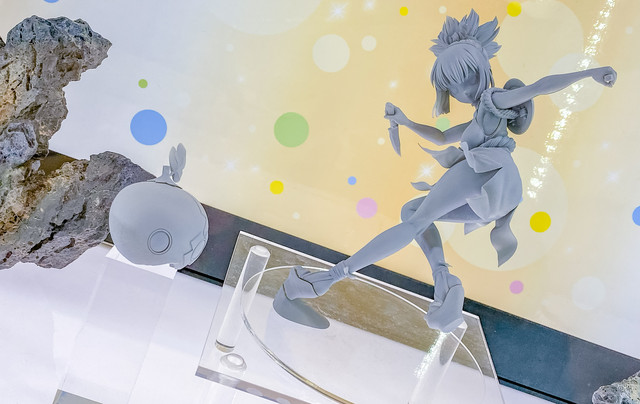 Finally, I looked high and low for a figure from one of my favorite series from last year, Dr. STONE, and the only one I was able to find was the above figure of Kohaku with Suika's melon. While it was the only figure I could find, I'm in love with the pose she's making and cannot wait to see the full painted figure.
I always love wandering around Wonder Festival and seeing the creativity on display. You can feel the heart (and sweat) that goes into designing some of these figures, and while I know they're made mostly to be sold commercially, you can feel the care and thought that goes into the creation of them. It's also really sweet seeing some of the designers walking around the show floor going gaga over different figures.
The next big Wonder Festival showcase this year will be a special Evangelion themed festival on June 13 and 14, just before Evangelion 3.0+1.0 is released in cinemas!
So, Crunchies, are there any of the above figures that sparked your interest? Maybe another that was announced? Let us know on social media, or down in the comments below!

----
Daryl Harding is a Japan Correspondent for Crunchyroll News. He also runs the YouTube channel about Japan stuff called TheDoctorDazza, tweets at @DoctorDazza and posts photos of his travels on Instagram. He needs more money to spend on all these figures!