Sometimes love is wine and roses. Sometimes it's saliva, judo, and the occasional baseball bat...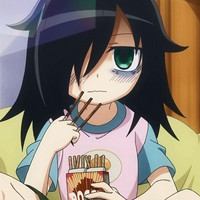 Valentine's Day is fast approaching, love is in the air, and the stores are filled with heart-shaped boxes of chocolates and crimson greeting cards expressing all levels of romantic passion. But even though anime is a medium that is filled to bursting with romance, some of us fans realize that falling in love isn't always bouquets of roses and dancing beneath the stars.
Sometimes love is toothpaste stains on the bathroom mirror and cold, bony feet poking you from the other end of the blanket, and frankly, that sentiment deserves some recognition, too. Below you can find a curated list of awkwardly romantic and romantically awkward anime titles, the perfect sort of thing to throw a kink into your typical Valentine's Day viewing.
Whether you've got a yen for mismatched couples, a hankering for romantic miscommunications and similar shenanigans, or a burning desire to pluck Cupid's wings and cut his bowstring in half, we've got a series or two that might be right for you.
Odd Couples
MY love STORY!! (2015)
Kicking things off with a cuter, cuddlier entry, MY love STORY!! features a primary romantic pairing between Takeo Goda, a big and burly high school student with a penchant for judo, and Rinko Yamato, a petite girl who likes to bake. Their romance is initially complicated by Takeo assuming Rinko is attracted to his best friend, the traditionally handsome Makoto Sunakawa, but once this misconception is ironed out, My love STORY!! is an excellent if unconventional look at romance.
MY love STORY!! does a great job dealing with issues of communication and consent while also skillfully navigating the conflicts caused by friendships and romantic rivalries. The series gets bonus points for Takeo being one of the sweetest, most pure-hearted protagonists in the genre, and for the positive qualities expressed through the relationships of other characters, such as Takeo's parents.
MY love STORY!! is available via streaming on Crunchyroll and on U.S. home video via Sentai Filmworks.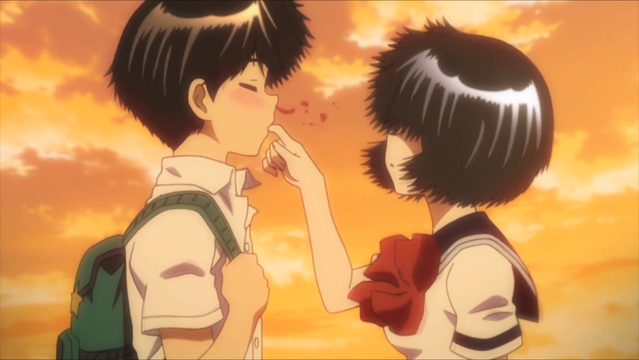 Mysterious Girlfriend X (2012)
On the other end of the spectrum we've got Mysterious Girlfriend X, a story about the unusual high school romance between Akira Tsubaki and Mikoto Urabe, a boy and a girl who share an almost psychic connection brought about by Akira consuming Mikoto's saliva on a regular basis. The central idea sounds kinda revolting at first, but if you give Mysterious Girlfriend X a chance, you'll discover that the show is way brainier and more sophisticated than the premise would appear at first blush.
Mysterious Girlfriend X is available via streaming on Crunchyroll and on U.S. home video via Sentai Filmworks.
Other "Odd Couples" options for the discerning viewer: Sakura Trick, Rascal Does Not Dream of Bunny Girl Senpai
Missed Communications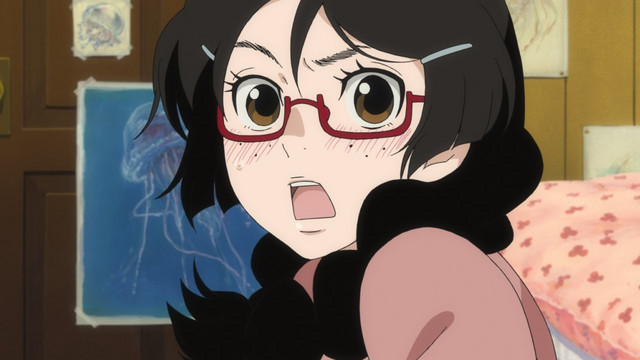 Princess Jellyfish (2010)
If you like a little romance mixed with a gigantic portion of self-pity and Impostor Syndrome, then Princess Jellyfish is the show for you. Centered on a group of geeky ladies living in a rundown boarding house, Princess Jellyfish focuses on the unlikely love triangle that forms between Tsukimi Kurashita, an aspiring illustrator with severe self-confidence issues, Kuranosuke Koibuchi, a young man whose love of fashion and cross-dressing annoys his rich and powerful politician father, and Shu Koibuchi, Kuranosuke's strait-laced elder half-brother.
Of course, no one is able to express their true feelings without coming across like a complete goober, but that's the charm of Princess Jellyfish. The original manga by Akiko Higashimura (available from Kodansha Comics) is also outstanding.
Princess Jellyfish is available via streaming and on U.S. home video from Funimation.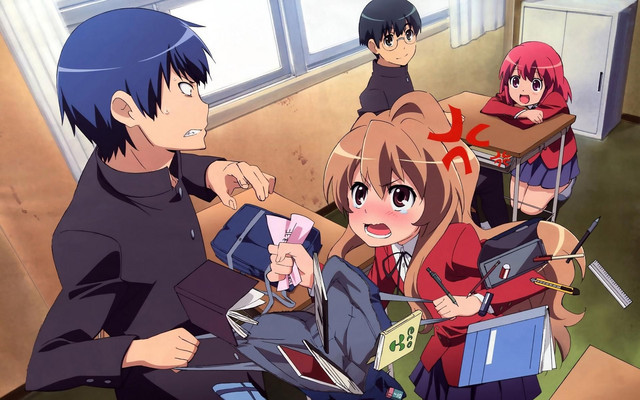 Toradora! (2008 - 2009)
The classic pattern in romance is often paraphrased as "boy meets girl, boy loses girl, boy gets girl back again", but Toradora! is more along the lines of "boy meets girl, girl attempts to pummel boy to death with a baseball bat, hijinx ensue".
In Toradora!, Ryuji Takasu and Taiga Aisaka team up in an effort to pursue their mutual crushes, but the sharp-eyed boy with the gentle-demeanor and the pint-sized dynamo girl eventually fall in love despite initially aiming for relationships with other people. Along the way it plumbs the depths of adolescent romance with a surprising degree of pathos and nuance, so if you like your relationships feisty and complicated, give Toradora! a try.
Toradora! is available via streaming on Crunchyroll and on U.S. home video from NIS America.
Other "Missed Communications" options for the savvy viewer: Monthly Girls' Nozaki-kun, KAGUYA-SAMA: LOVE IS WAR
General Misanthropy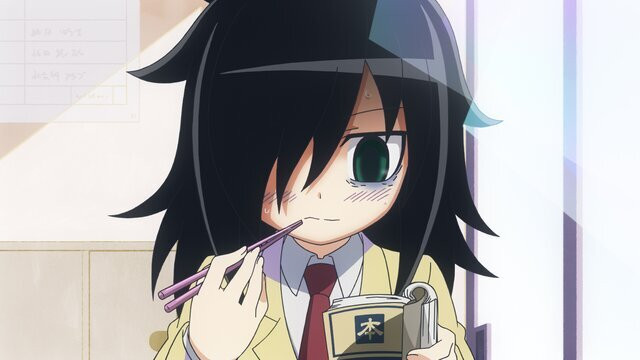 WATAMOTE ~No Matter How I Look at It, It's You Guys' Fault I'm Not Popular!~ (2013)
Even people who are currently involved in happy, well-adjusted romantic relationships can probably remember what it's like to look for love in all the wrong places, and that describes Tomoko Kuroki, the extremely anti-social heroine of WATAMOTE, to a 'T'.
While Tomoko suffers from crippling social anxiety, she's also kind of a terrible person, and her conceptions of love and friendship have been terminally poisoned by a non-stop diet of otaku pop culture and online discourse. Despite everything, Tomoko just wants to be loved, but she's also her own worst enemy, and who among us can't identify with that?
WATAMOTE ~No Matter How I Look at It, It's You Guys Fault I'm Not Popular!~ is available via streaming on Crunchyroll and on U.S. home video via Sentai Filmworks.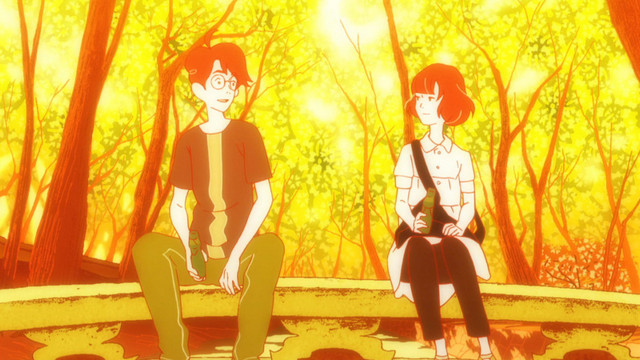 The Tatami Galaxy (2010)
Sometimes it takes a Groundhog Day-like scenario for the so-called "nice guys" to realize that often they're not really the heroes of their own romantic epics, but rather they're the villains. The unnamed protagonist of The Tatami Galaxy loops through numerous college-level curricula, joining different clubs each time in an effort to find his ideal "raven-haired beauty" and to live the "rosy college life" of his dreams.
Needless to say, nothing goes according to plan, and one of the highlights of The Tatami Galaxy is when "Watashi" and his partner-in-crime, Ozu, declare themselves to be "black Cupids" and subsequently dedicate their free-time to monkey-wrenching the dates of happy couples. It's perfect Valentine's Day viewing for the romantically disinclined.
The Tatami Galaxy is available via streaming and on U.S. home video from Funimation.
BONUS ROUND!
Baki (2018)
The 2018 Baki anime on Netflix is less interested in romance and more interested in taking big beefy dudes and smacking them together like a toddler playing with a handful of G.I. Joe action figures. When the baby-faced protagonist Baki and his girlfriend Kozue finally consummate their relationship, what results is both mind-blowing hilarity and head-scratching peculiarity as the audience is subjected to a galaxy brain-level X-ray vision vignette, Baki's new-found sex-blessed martial arts prowess, and a lecture from Yujiro Hanma about the birds and the bees. 11/10 stars, would "apply damage" again.
Baki is available via streaming on Netflix.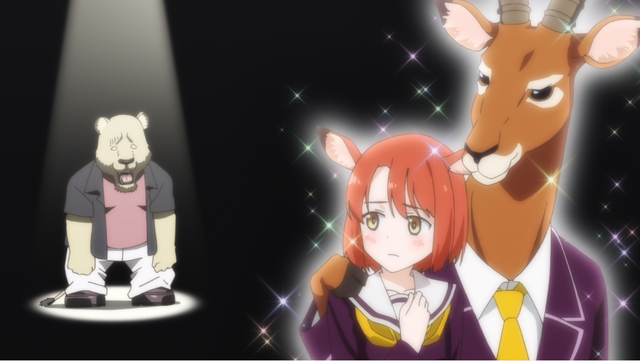 Well, there you have it: a selection of anime titles that look at the concepts of love and romance from a slightly askew angle. Some are life-affirming, some are off-beat but uplifting, and some of them aren't nearly so optimistic, but all in all it's a heaping helping of atypical romance, just in time for Valentine's Day.
The above list is not meant to be exhaustive. Anime is a vast and varied medium, so there are sure to be other series that make for ideal Valentine's Day programming for those of us that want a little more cringe in our festivities. What are your favorite anime with weird angles or awkward romances? Be sure to let us know in the comments section below!

---------
Paul Chapman is the host of The Greatest Movie EVER! Podcast and GME! Anime Fun Time.

Do you love writing? Do you love anime? If you have an idea for a features story, pitch it to Crunchyroll Features!