Bayonetta and Vanquish are back on PS4 and Xbox One to celebrate their birthday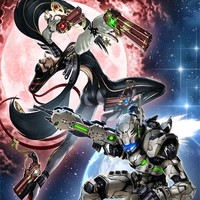 When PlatinumGames first appeared in 2009, gamers didn't know what to expect, but we knew to expect something wild. Over 10 years out, that legacy continues to live on, as PlatinumGames has become one of the foundations of modern takes on quirky action games, with titles like Bayonetta, Vanquish, NieR: Automata and Metal Gear Rising: Revengeance standing out amongst their library of titles for being unapologetically frenzied and challenging. Building on many of the staff's history with games such as Okami and Devil May Cry, it's easy to see where the pedigree comes from, and for a time, PlatinumGames were the only people on the block willing to dip their toes into the single-player action adventure genre (can you believe that it was ALSO 10 years between Devil May Cry 4 and 5? Crazy!).
While PlatinumGames has continually pushed the envelope and explored newer takes on action games, Bayonetta and Vanquish remain memorable as two of their first major forays into the game market (with the Wii's weirdo Mad World being the third, seemingly lost to time part of the founding trio of games). In time for the 10th anniversary of PlatinumGames' founding and the creation of Bayonetta and Vanquish, our friends at SEGA sent us an early copy of the dual re-release for the PS4, and it was an interesting trip down memory lane, warts and all.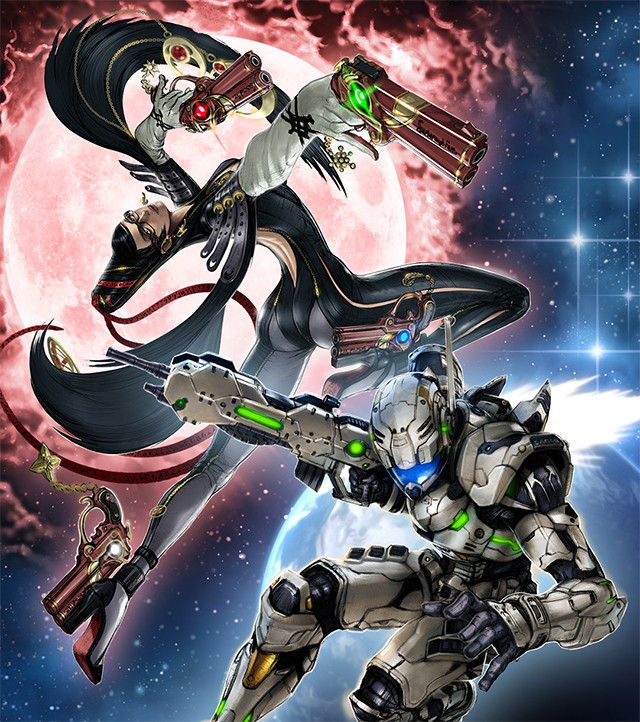 Starting with Bayonetta, players find themselves again in the tall, tall shoes of the Umbral Witch herself on her first ever adventure. Something that stood out immediately in this version of Bayonetta is that the load times are essentially non-existent; I barely ever found the ability to use the loading screen practice menu at all, actually, which honestly surprised me. What this really did was create the fast, action-packed pace that Bayonetta seems to desire, allowing you to seamlessly attack chapter after chapter, challenge after challenge.
Visually, the game didn't get much of an upgrade, but it did get a bit of a facelift, with 4k visuals and 60fps enhancements that really help the game "pop." Even on a regular PS4, though, it still looks and plays great with no slowdown to speak of. While the visuals look cleaner and sharper, the textures do show their age a bit, but generally the game looks and plays smooth, which is where the real focus of one's attention is likely going to be; it's probably easy to say that Bayonetta's never looked as sharp as she does right now!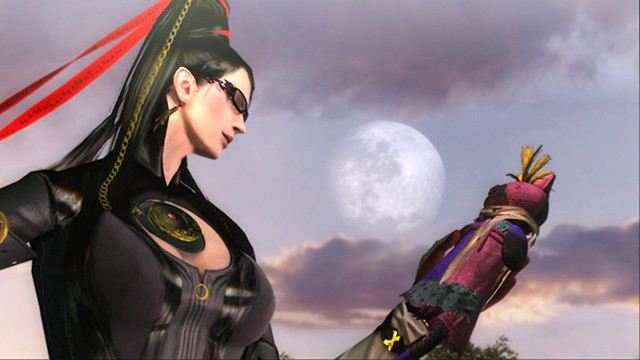 Control wise, Bayonetta still has that focus on timing-perfect dodges and combo-focused combat, both of which work well and that I generally had little trouble with. I actually found that some of the quick time events were a bit easier too, either because I've played the game so many times and just expect them now, or they've been retooled to be a little less sudden and game ruining. The camera is, well, still the same camera, and that has all of the frustrations of mid '00s era design choices one might expect.
Obviously, as an update and not a remake, that's to be expected, but getting used to the fixed-angle perspective in Bayonetta after games like DMC5, Revengeance, or Automata certainly took a little readjustment. In the end, it isn't a big deal at all, and I never felt like the camera was getting in the way of my succeeding or failing at a section of the game, just that occasionally I'd find myself in fairly inopportune views that I would work quickly to get out of (and, honestly, that first fight with Jeanne and the Witch Walking is still… probably one of the worst parts of the game, mostly due to camera issues). If anything, I found myself surprised at just how clean and snappy the controls of Bayonetta were on the PS4 version, and I started to remember that they were always like this; PlatinumGames has always known how to make great controlling action games, and Bayonetta feels fresh and easy to control in a way that makes it fairly timeless.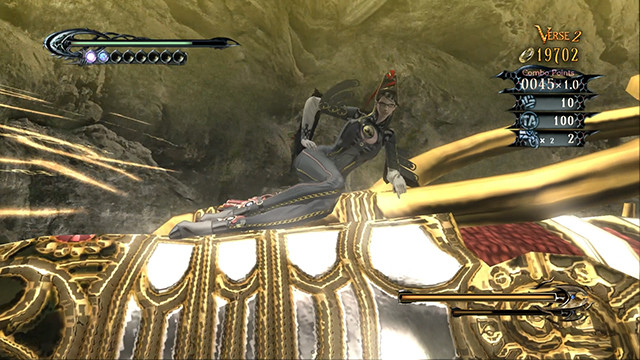 Other than that, though, this is basically the same game as it was in 2008; Bayonetta never got any form of DLC, so there isn't really anything new here. If you've played and mastered the game before, you may want to keep that in mind; there are all new trophies to get, however, and as most Bayonetta fans know, the real fun of the game comes from mastering various difficulties and getting the coveted Pure Platinum trophies, so just look at this PS4 version as a brand new way to get your chance to do that all over again.
As far as a definitive version of Bayonetta is concerned, there are a few things I'd probably offer: this is probably the best looking and best running version of Bayonetta on the market right now, but… Bayonetta 2 and 3 are Nintendo exclusives, meaning if you want the full Bayonetta package, you may want to track down the Switch copy of Bayonetta 2 that comes with the first game, as well. Really, that's depending on what you're looking to get out of this game; if you want a gorgeous steelbook and 2 great games, this is a fantastic choice, but if you are looking to get into Bayonetta and play all of it, you may be better off directing your attention to the Switch copy of the game (depending on availability, anyway). Personally, I found myself getting sucked into trying to get my score juuuust a bit better, getting that trophy I didn't get, trying to push myself against difficulties of a game I've played four times now, so, you know how it is!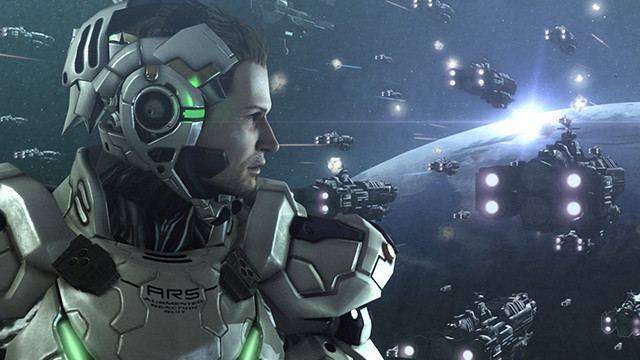 Moving to Vanquish, I personally feel that this is the real star of this release. While Bayonetta achieved success in a cult classic way that's helped it get 2 sequels, Vanquish feels like a bit of a forgotten gem of a game. When it was initially released, a lot of reviewers didn't seem to know what to make of the game, with it's seemingly short playtime being a fairly large complaint against it. Vanquish remains a bit of an odd bird, but with time comes wisdom, and many gamers may now appreciate the game for what it really is: one of the most frantic, score based shooting games ever made.
Vanquish is not a game that is going to win you over with a good story, developed characters, or really anything else other than what it presents you: tough as nails shooting galleries based around the slide/boost mechanic and limited bullet-time power. Ostensibly a game about a future in which military battles are fought in space, players take on the role of Sam and his DARPA created super-suit, giving him amazing reflexive abilities to zoom around battlefields, shooting guns in all sorts of crazy poses, and giving you one of the greatest set of "wow did you see how cool I was" gameplay segments possible, mixed with countless, countless deaths and retries.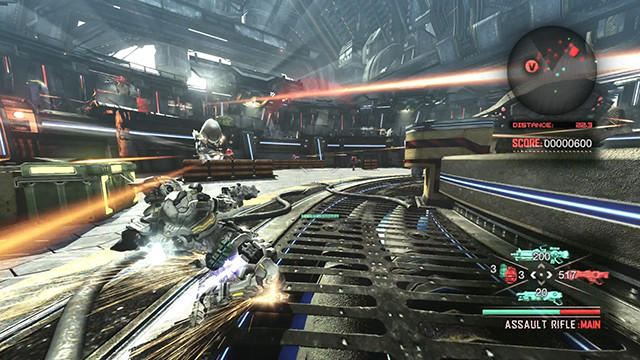 For those who are new, Vanquish is indeed a game you can "beat" in maybe 5-6 hours, if you're good, but that isn't really the point of Vanquish. The point is to constantly get your score up, to get better at each gallery, to try new weapons and strategies while looking as stylish as possible. If Bayonetta and Devil May Cry were games in which melee combat was made to look stylish and crazy, Vanquish is the cover-shooter equivalent of that, and honestly it still feels fresh and exciting ten years later, as very few games present an experience remotely close to what Vanquish does.
Much like Bayonetta, Vanquish has almost no load times, making the blisteringly fast pace of the game even faster, and between the two titles, seems to have benefitted the most from the next-gen facelift; while cutscenes still look very early PS3, the in-game action looks and feels great, with no slowdown (other than the bullet time feature in the game), and really helps smooth out the crazy firefights going on all around. I'll be honest: I wasn't a huge fan of Vanquish when it originally came out, but this updated re-release won me over, making me appreciate a game I maybe didn't give enough attention to, and hopefully now we'll see even more fans give this hidden gem the appreciation it deserves on newer platforms.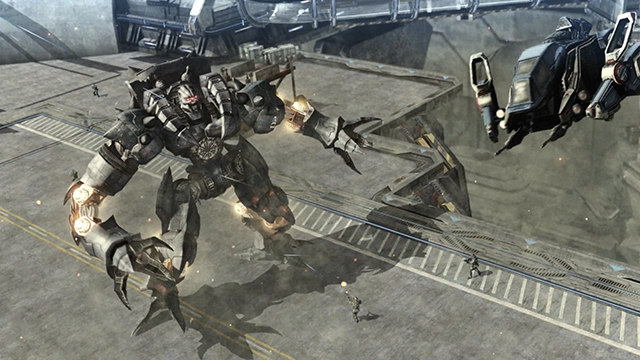 For the price tag ($39.99 USD), the physical copy of both of these games is an amazing bargain, essentially $20~ per title with great new graphics and smoothed out load times and gameplay. Even if you're considering getting them digitally, both games are great, but Vanquish feels like the real star here, a game that maybe most people didn't give a fair look back in 2009 that would certainly deserve a second chance today. Personally, I'm curious to see what types of crazy combo vids and score based runs people are going to post, but in the meantime, I'll be upping my own game. As I typed this, I got the PlatinumGames bug again, so it's time to go work on my scores!
REVIEW ROUNDUP
+ Great package of 2 classic PS3-era games with new graphic updates.
+ Modern tech means lower load times, and both games play like a dream now.
+ Controls in both are smooth and responsive, and feel great.
+ The start of PlatinumGames' charm, these titles really do hold up to newer games still.
+/- That said, there isn't really anything "new" here, so don't buy in expecting new content.
Are you a PlatinumGames fan? Got any challenge-based stories from your time with their games? Let us know what you think of these two and more in the comments!
Do you love writing? Do you love anime? If you have an idea for a features story, pitch it to Crunchyroll Features!