What Wikipedia and our anonymous browsing habits say about the anime we love the most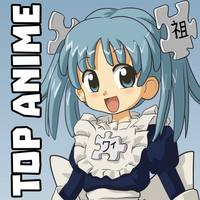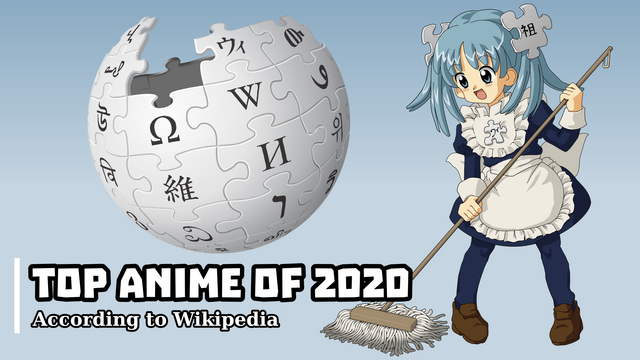 How can you tell what anime is actually popular? Your Twitter feed is a bubble, curated by people you've chosen to show up. Most anime fans don't use a service like MyAnimeList or AniChart to broadcast what they're watching, nor are those who do necessarily representative of the broader community. Crunchyroll may be the largest anime service for most of the world, but its own "Popular" ranking doesn't capture any viewership from anime licensed or watched elsewhere.
However, our curiosity is more honest — and, potentially, more representative. You can fake interest on a survey or a Discord channel, but if you've landed on a Wikipedia page, there must be a certain sincerity to your action. Like a Google search for symptoms or snooping on an ex's Facebook, when people query Wikipedia, they're doing it in a semi-private sphere. Today, we'll be using that candor to count down the most popular anime of 2020 so far…based on page views on the English version of Wikipedia, the web's 11th most popular website.
Using Wikipedia's internal tools, your reliable author examined and compared viewership between all 9,848 pages within the website's "Anime" category, year-to-date as of February 19th. Below, you'll find the top 10 most-read pages related to anime on Wikipedia by this standard, regardless of how sensical the results may have been. Let's jump in!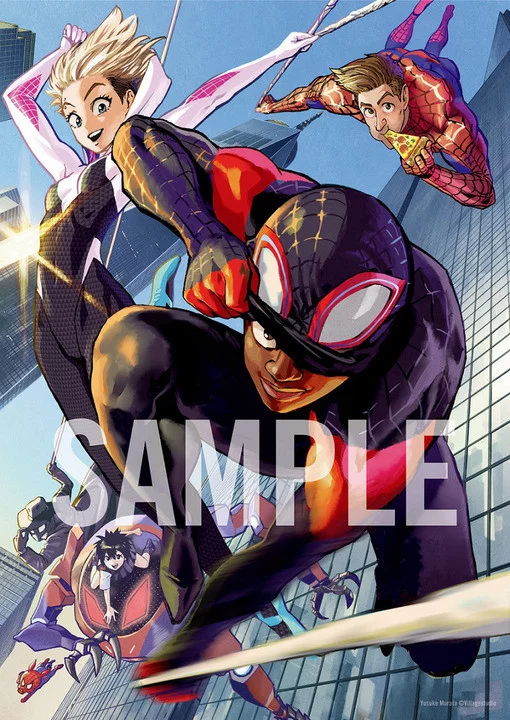 Yusuke Murata (One-Punch Man, Eyeshield 21) Illustrated the cover for Spider-Man: Into the Spider-Verse's Japanese Home Video Release
10. Spider-Man: Into the Spider-Verse
The 2018 film Spider-Man: Into the Spider-Verse is a sensation, and was inspired by anime as well as coming full-circle to serve as an inspiration to creators in the medium as well. Yoshiyuki Tomino called Spider-Verse "a really weird anime" during a 2019 lecture, but just because the creator of Gundam says so, is this really an anime? A quick "CTRL + F" of the Spider-Verse page indicates that the film was grouped within the category on Wikipedia due to it being included as one of 199 entries listed as an "Anime-influenced Western animation". So Spider-Verse isn't really an anime, but since Wikipedia classifies it as such (and so would many of your favorite creators), we're not going to editorialize this list. Its inclusion speaks to the growing bridge between animators in Japan and overseas, as well as the high level of excitement for the film and anticipation of its sequel planned for 2022, and I for one am thankful this is the one true non-anime page that made the top 10, particularly compared to other contenders like 4chan (Rank 18).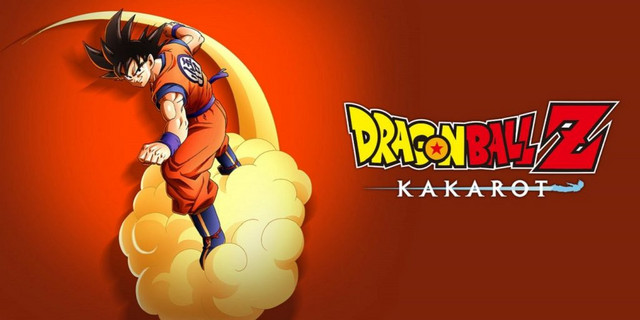 Promotional art for Dragon Ball Z: Kakarot
Our next entry is much more closely aligned with anime, but rather than being an anime series or film itself, Dragon Ball Z: Kakarot is a new video game based on the Dragon Ball manga franchise for the PS4, Xbox One, and PC released just last month. Of the 262 pages directly associated with Dragon Ball on Wikipedia, it makes sense that fans in 2020 would flock to this more than the rest, since Kakarot is the only new adventure of Goku and friends released this year. The parent page of the franchise "Dragon Ball" is the next most-read page on the list at rank 22, with approximately 4,150 readers every day. Dragon Ball Z and the most recent TV anime, Dragon Ball Super, follow shortly behind.
What's most impressive to me about Dragon Ball Z: Kakarot's spot on this list of Wikipedia's most popular anime-related pages is not how high it is, but rather, how low in the ranking it's found. Kakarot was the best-selling video game in the United States for the month of January, and the US makes up more of the English-language traffic for Wikipedia than any other country. Yet, the Kakarot game only gets half the traffic on the platform as the most recent Call of Duty game, which is several months past its peak Wikipedia interest and isn't moving as many copies in stores. This disparity speaks to the varied reasons one would go to Wikipedia to learn more about a game, but it also may represent the relative staying power of Goku's latest console outing.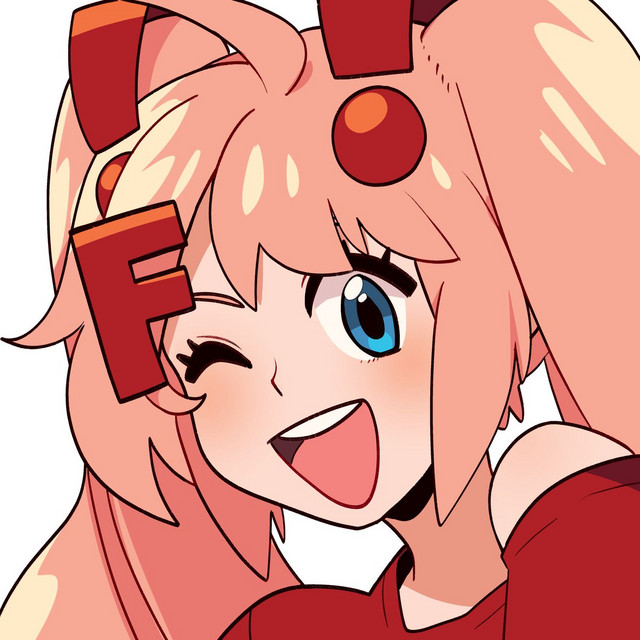 Momoka, the mascot of FAKKU (NSFW), the largest English-language platform for hentai
8. Hentai (Warning: This link includes NSFW content)
Hentai, which Wikipedia encourages us not to be confuse with Hentaigana, is defined by the platform as "anime and manga pornography" - at least when the term is used outside of Japan. While not all fans of anime are also compelled by anime pornography, certainly, judging by Wikipedia traffic and Google search data, many are. That said, with a Google search, one would expect most of the queries would be made with the intent to consume hentai content. On the Wikipedia platform, that may not be the case - whether it's a confused parent or friend, investigating an encyclopedic page for hentai may feel like the safer way to understand the topic.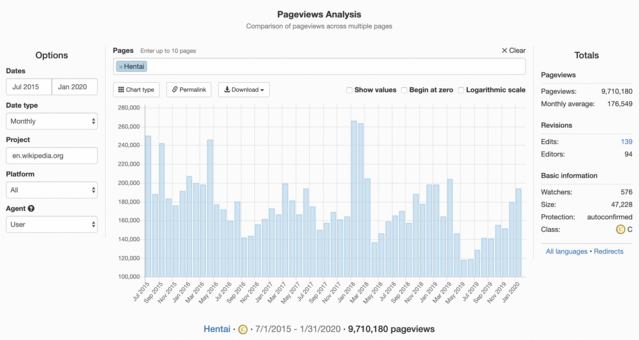 Hentai Page Monthly Traffic on Wikipedia
Interestingly, 2019 was the weakest year on record for the Hentai page of Wikipedia - had it continued at its rate from last year, the topic would barely miss a top 15 list of anime pages. But in 2020, there seems to be a resurgence, though with no particular inflection point your author could discover, no major article about the topic that would inspire further curiosity from those not "in the know". It's worth noting that popular hentai related terms did not show similar dips in 2019 on Wikipedia, and the largest English-language hentai distributor, Fakku, saw its best year on the platform to date.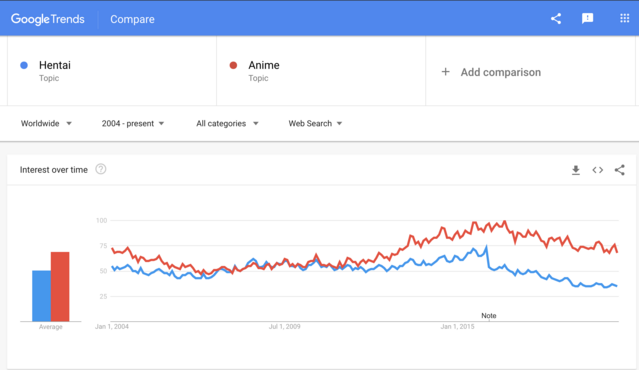 A comparison of international search traffic for the topics "Anime" and "Hentai" via Google Trends
However, in investigating this strange downturn, I re-discovered something else that I've always considered a novelty of data. "Anime" and "Hentai", as topics, are incredibly strongly correlated on Google search. When one goes up on search, the other follows - and likewise for downturns in traffic. There's a meaningful exception at the end of 2015, when hentai and its related terms saw a huge drop-off, but that may be more related to Google's update to the Trends data collection method. That said, it's hard to argue that anime has outpaced hentai these last five years, and that hentai's downturn can be found both on Wikipedia and Google. While I don't believe there's any less interest in the subject than before, as anime becomes more accessible to broader audiences, and more people are on the internet in general, I would imagine a slightly smaller proportion of those who love anime are also interested in the style applied to pornography now as compared to 10 years ago…but that's a topic for another day.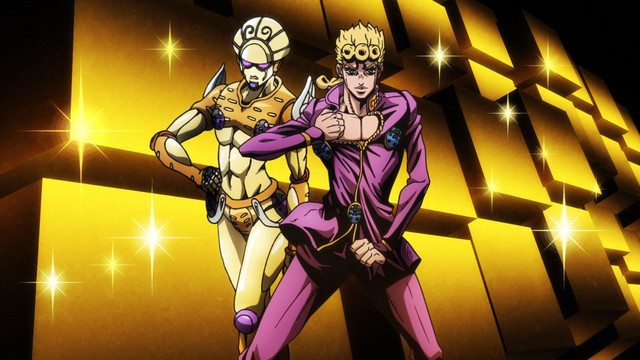 Giorno Giovanna and his stand, Golden Wind from JoJo's Bizarre Adventure
Finally, taking the number seven slot on our list is the first actual anime series, and it's a good one: JoJo's Bizarre Adventure. My instinct would be to assume that the meme of "watch jojos" has led many a curious Wikipedia users to this page. While technically this page is the parent page for the manga (and the franchise at large) and not any particular part, the growth in the franchise over the last few years has exploded overseas.
Starting with the anime adaptation of Part 4, JoJo's Bizarre Adventure has transcended from one of the most meme'd anime to one of the most watched. From this author's perspective, Part 4 represented a critical mass in the English-speaking JoJo's fandom, where it became just the right size that the unengaged finally relented to watch this crazy anime that had been recommended to them with the intensity of a road roller for years before. Part 5 only ramped up this effect, a much more accessible story for those unfamiliar with the years of mythos that led up to Giorno Giovanna's adventure in Italy.
There's no particular cause for JoJo's high readership on Wikipedia so far this year — no announcement of a Part 6 (sadly), no major shakeups in the manga, no more memes than usual — JoJo's Bizarre Adventure has simply become an unstoppable force in the world of anime, and that's a good thing by my judgement. The best thing I could ask for, even. Please, watch JoJo's Bizarre Adventure on Crunchyroll.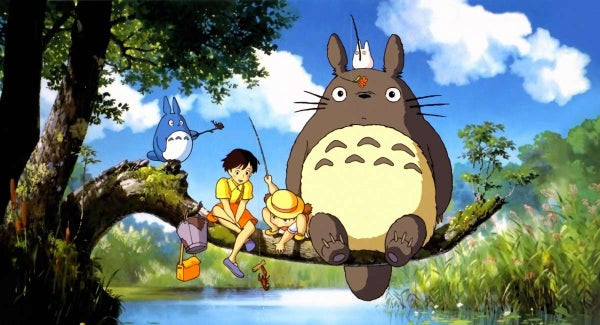 Studio Ghibli's My Neighbor Totoro
After our first actual anime series of the list, we return to another more meta-relevant anime page with Studio Ghibli, undoubtedly the most famous production house in the industry. Started by Hayao Miyazaki and the late Isao Takahata and famous for films like Spirited Away and Princess Mononoke, Ghibli has won at the Oscars, won our hearts, and given Miyazaki endless excuses to never actually retire.
In January, the Studio Ghibli page reached a 4-year high for monthly Wikipedia pageviews due to the announcement that the 21 films previously announced as part of HBO Max's service at launch in May would also be included on Netflix outside of the United States, Canada, and Japan. According to Comparitech data on subscribers from December 2019, that would mean that even with their top country out of the running, approximately 55% of the service's subscribers would have access to these beloved films.
The top-performing Ghibli works when it comes to Wikipedia traffic are Spirited Away (rank #18), My Neighbor Totoro (#29), Grave of the Fireflies (#67). Not surprisingly, these are also 3 of the top 5 most-watched films from the studio according to imDB, with Princess Mononoke and Howl's Moving Castle ahead of Grave of the Fireflies in the list.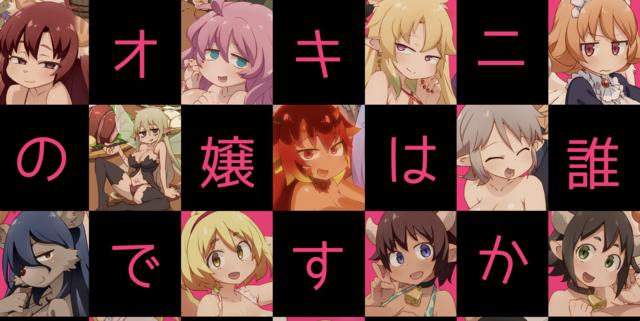 Various Characters from Interspecies Reviewers
Interspecies Reviewers is an anime about a human named Stunk and his friends as they explore the world of prostitution via a series of brothels run by succubi of various fantasy races and species. The series, from its premise, sounds like it has more than enough potential to cross some lines in regards to what is allowed on television…and according to multiple Japanese TV stations and streaming services, that's exactly what happened.
On January 31st, Funimation was the first licensee to stop broadcasting Reviewers, stating, "After careful consideration, we determined that this series falls outside of our standards." Amazon, Wakanim, Tokyo MX, and SUN soon followed suite.
The reaction within the anime community was…vibrant. The news spread quickly— there's not much better way to draw awarenesses to something than to tell people that they can't have it. While some fans made the anime a rallying cry for various causes, the interest faded quickly after the engagement on various YouTube videos started to flag. In fact, it's worth noting that Interspecies Reviewers is not particularly popular on any major pirate site that lists viewership, falling far outside the season's top 10 on each of the sites sampled by this author. Had this article been written about January traffic alone, Interspecies Reviewers would've topped the list, but at the rate Wikipedians are trafficking the page now, it won't stay in the top 10 for much longer.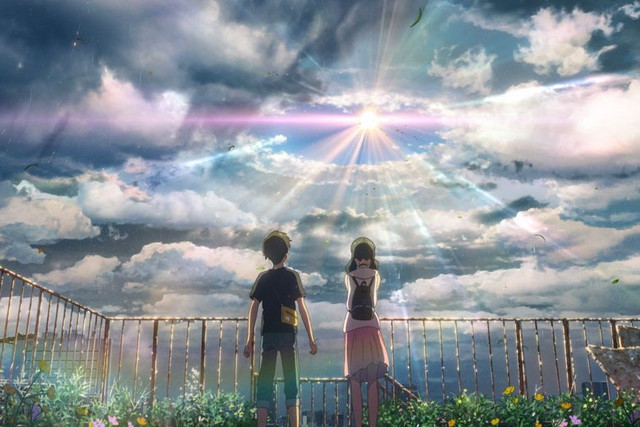 Makoto Shinkai's Weathering with You
Next on our list is the film Weathering with You. Makoto Shinkai's visually stunning follow-up to your name. came in #2 last year at the Japanese box office and has since surpassed Aladdin to become the country's top earner of a film released in 2019. Being able to wrestle anime theatrical dominance from Detective Conan in its native country isn't enough to get this film onto the top 5 of an English-language Wikipedia-based anime list, though: Weathering with You has been opening in theaters around the world, with its impressive US release on January 15th.
With $7,710,749 in US box office as of writing, Weathering with You is one of the top-earning anime films in the country in history at #11 not adjusting for inflation, just behind Dragon Ball Z: Resurrection 'F' and Digimon: The Movie. Going by the average movie ticket price in North America as reported by The Hollywood Reporter, that means about 846,000 people have gone to see the film in the United States - nearly twice the amount of people who looked it up on Wikipedia.
Thanks to an excellent marketing campaign from the people at G-KIDS and a 90% "Certified Fresh" rating from Rotten Tomatoes, the hype for Weathering with You was real enough for its Wikipedia page to interest more folks browsing Wikipedia than even a controversy surrounding a fantasy race prostitution rating anime.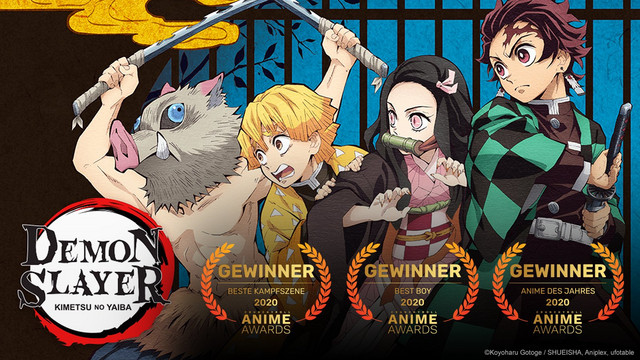 Demon Slayer: Kimetsu no Yaiba Wins the Crunchyroll Anime Awards (via Crunchyroll Germany)
3. Demon Slayer: Kimetsu no Yaiba
Say "Hello!" to the 2020 Anime Awards winner for Anime of the Year, Best Boy, Best Fight Scene, it's Demon Slayer! Demon Slayer became one of the most popular franchises in the world of anime and manga in the last year, with its manga breaking sales records, its opening song still topping Billboard Japan, and its unbelievable fan power around the world.
It's been nearly five months since the TV series for Demon Slayer ended, but the excitement around the exploits of Tanjiro, Nezuko, and their friends has not slowed down. With an upcoming movie coming soon, it would be surprising to see this franchise lose steam any time soon.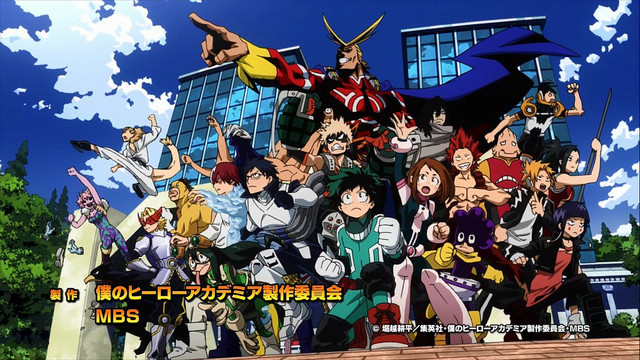 There's not much to be said about My Hero Academia here; since its second season, the show's popularity has skyrocketed all around the world, and has only started to slow down recently now that nearly every anime fan out there has given the Weekly Shonen Jump standout a chance. Whether it's topping Toonami's viewership numbers or ramping up for its next international theatrical release, it's hard to imagine My Hero Academia any lower on this list while new episodes are coming out every week!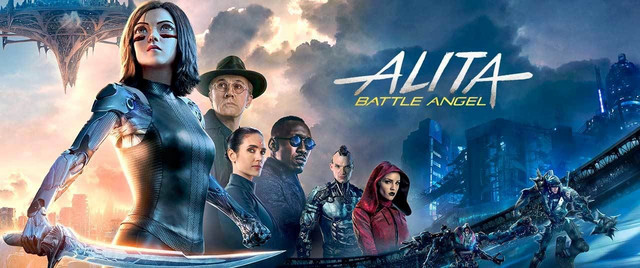 Alita: Battle Angel Promotional Image
Last year, audiences around the world were treated to the biggest Hollywood adaptation of a manga to date - Yukito Kishiro's Gunnm was released as Alita: Battle Angel, a passion project of James Cameron's that came to life under the leadership of director and JoJo's Bizarre Adventure fan Robert Rodriguez. Now, in 2020, the film's Wikipedia page tops the list of anime-related pages for a second year in a row — thanks to diehard fans.
If you looked at the rankings in January, Alita would still make the top 10, but just barely. However, an online group known as the #AlitaArmy started a kickstarter late last year to get enough funds to fly a plane over the Oscars requesting a sequel to the 2019 film. The quote for the banner was originally $1,810 USD, and all further funds raised were set to go to Open Bionics, a prosthetics company that worked with Fox to help create the look and feel of those featured in the Alita movie with a mission to "make beautiful bionic limbs more accessible." The #AlitaArmy ended up raising $15,599 as of February 20th, and is in the process of passing along the excess funds to Open Bionics.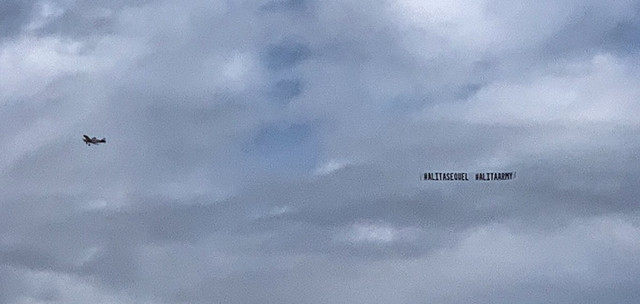 The #AlitaArmy Plane Petitioning for an #AlitaSequel at the 2020 Academy Awards
The airplane's message was heard loud and clear: outlets from Indiewire to IGN covered the story, and staff and cast alike shared their excitement about the stunt with fans on social media.
John Landau, Producer of Alita: Battle Angel, sharing his support of the fan campaign on Facebook
Rosa Salazar, who plays the titular Alita in the film, celebrates the fandom on her Instagram.
It's incredible to see that a fan campaign was able to both bring such attention to this franchise with a single stunt that Wikipedia traffic for the page even exceeds that of the top airing simulcasts, but if that doesn't speak to the power of fandom, I'm not sure what does! Alita: Battle Angel was recently added to HBO, HBO Now, and HBO Go, so if you haven't had a chance yet to see the biggest thing in anime (at least according to Wikipedia), give it a shot! Your author was enthralled by the movie as well, and here's hoping to an #AlitaSequel!
And that's our list! I hope you all enjoyed diving into Wikipedia's analytics to help better understand part of the larger interest around anime. While including all pages, regardless of whether they're actually a show, studio, genre, or not really anime at all may not have told the specific story you were looking for, I've also gone through the effort to collect the top 10 currently-airing anime by Wikipedia pageviews. Enjoy!
1. My Hero Academia (466,536)
2. Interspecies Reviewers (428,338)
3. Toilet-Bound Hanako-kun (213,930)
4. Keep Your Hands Off Eizouken! (201,656)
5. BOFURI: I Don't Want to Get Hurt, so I'll Max Out My Defense (199,691)
6. One Piece (196,166)
7. Black Clover (171,645)
8. Haikyu!! (156,525)
9. Darwin's Game (154,975)
10. Plunderer (123,129)
Thanks for reading - let me know what you think of the results in the comments below!