The Winter 2019 rewind looks back at the sleeper hit anime based on Aka Akasaka's high school romcom manga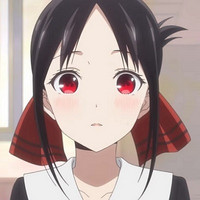 Winter is winding to a close, and so too is the Winter 2019 Rewind by "Cruising the Crunchy-Catalog", an on-going series that showcases some of the stand-out titles from the Winter anime season of one year previous in an effort to prevent cool anime from fading from the fandom conscious.
This week, we turn our thoughts to romance and to the never-ending battle of the sexes as we look at a high school romantic comedy where passions run hot but the would-be wooers try to play it cool. This week, we're taking a look at KAGUYA-SAMA: LOVE IS WAR.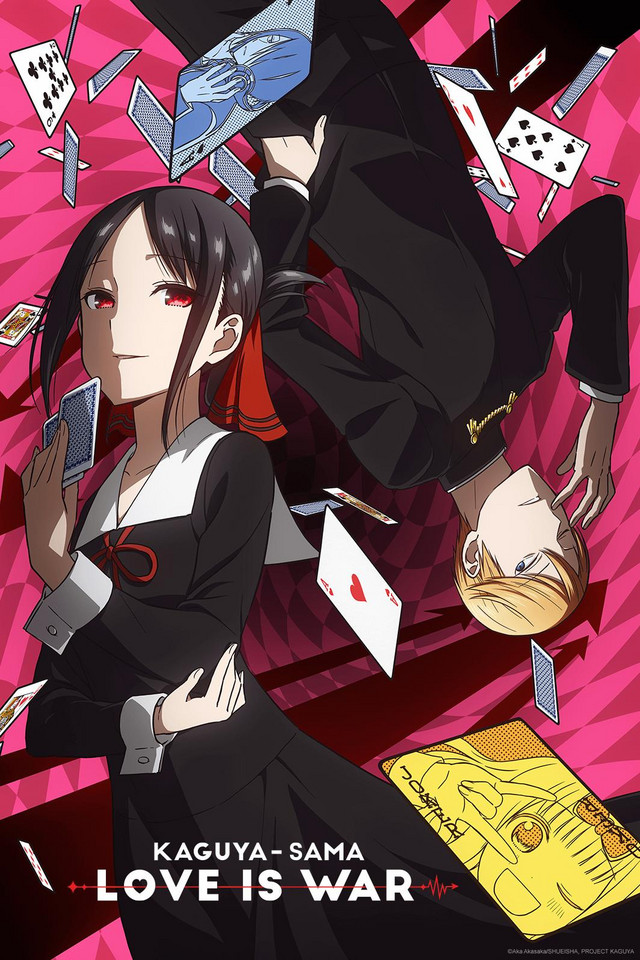 What's KAGUYA-SAMA: LOVE IS WAR?
Based on the manga by Aka Akasaka, KAGUYA-SAMA: LOVE IS WAR is a 2019 TV anime with direction by Mamoru Hatakeyama and animation production by A-1 Pictures. Crunchyroll describes the story of the series as follows:
From a good family? Check! A good personality? Check! Shuchiin Academy is where all these elite students with bright futures flock to. As the two leaders of the student council, Kaguya Shinomiya and Miyuki Shirogane have supposedly fallen in love… But after almost half a year, nothing has happened!? They both have too much pride and can't be honest. Things have gotten troublesome, and they are now caught in a war of "How to get the other to confess their love first." This is a whole new romantic comedy, following an outbreak of cunning warfare between two elite students in love.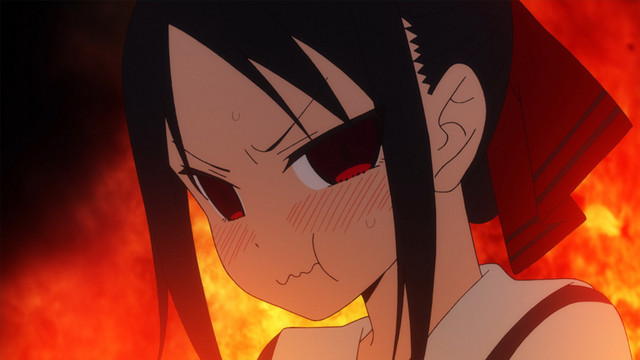 All of the tension and comedy in KAGUYA-SAMA: LOVE IS WAR swirls around the central conceit that young love is like a never-ending struggle for power between rival nations where strategy and guile are the primary weapons and where the prize—true romance—is secondary to the satisfaction of crushing your enemies, seeing them driven before you, and hearing the lamentations of their heartfelt confessions.
Schadenfreude
One of the primary pleasures of KAGUYA-SAMA: LOVE IS WAR is the sense of satisfaction that it conveys through witnessing the main characters sabotage themselves at every opportunity. Despite their protestations to the contrary and their differences in terms of socio-economic class and academic standing, Kaguya Shinomiya and Miyuki Shirogane are clearly infatuated with one another, but both are too stiff-necked to admit it.
While some of their troubles stem from their young age and inexperience, their biggest barrier to finding happiness together are their rotten personalities. Both Kaguya and Miyuki are conniving and obsessed with their status and how others perceive them. It's fun to watch them concoct increasingly elaborate and absurd plans, only for those plans to blow up in their faces, Wile E. Coyote-style.
Hyperbole
The sense of schadenfreude in KAGUYA-SAMA: LOVE IS WAR is greatly enhanced by the show's emphasis on comedic hyperbole and over-exaggeration. In KAGUYA-SAMA: LOVE IS WAR, every potential scenario for romantic expression is a crisis of epic proportions, every imagined slight is the rankest betrayal, and every fumbling faux pas is a DEFCON-level disaster.
Much of this extreme drama results from the perspective being buried deep within the head-space of Kaguya and Miyuki, and these two teens are completely bonkers in their respective quests to conquer while remaining unconquered. The presence of supporting characters such as eternal third wheel Chika Fujiwara and eternal punching bag Yu Ishigami aids in reinforcing how warped the main couple's perspective truly is, and hilarity ensues.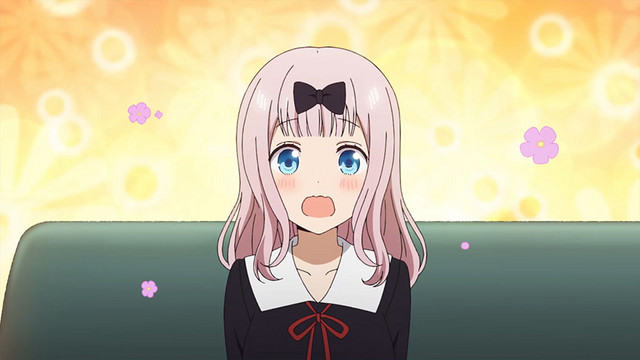 Aesthetics
The narrative hyperbole in KAGUYA-SAMA: LOVE IS WAR is matched by the visual hyperbole, where scenarios as simple as following someone on social media or arguing over who should eat the last slice of cake are transformed into world-shaking conflicts through the use of striking compositions, exaggerated video and sound effects, and eclectic color design. Just as the situational comedy scenarios are constantly turned up to 11, so too are the production values, and the series looks and sounds great as a result.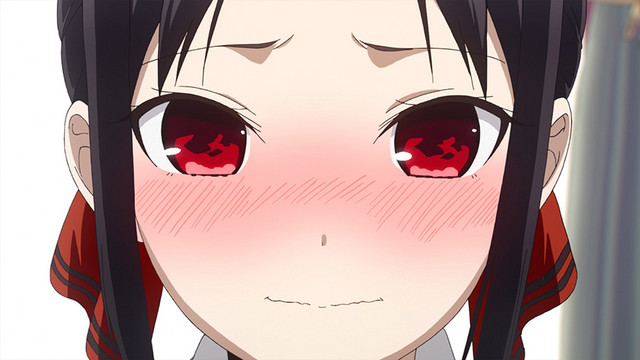 Shots Fired
Crunchyroll currently streams KAGUYA-SAMA: LOVE IS WAR in 66 territories worldwide, and the series is available in the original Japanese languge with subtitles in English, Spanish, and Portuguese. The series is also available on Blu-ray in the U.S. from Aniplex of America, and an English language version of the original manga is published by Viz Media. If that's not enough romantic warfare for you, a sequel series will be kicking off in Japan in April of 2020.
Supremely silly but also with a little bit of seriousness and sentimentality to even it out, KAGUYA-SAMA: LOVE IS WAR is a great choice for fans that like their high school romances messy and full of drama. If peace was never an option on the battlefield of love, and if the series is available in your area, then please consider giving war a chance with KAGUYA-SAMA: LOVE IS WAR.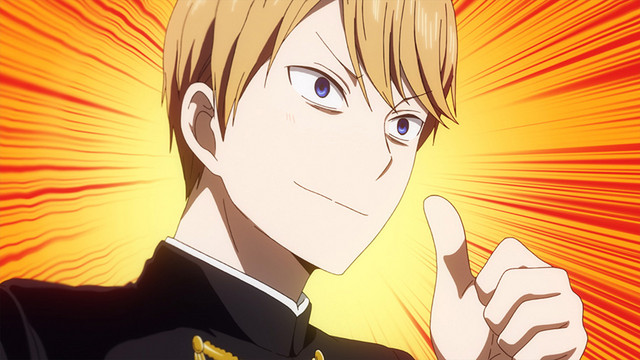 Thanks for joining us for the penultimate entry in the Winter 2019 Rewind by "Cruising the Crunchy-Catalog". Be sure to tune in next time, when we close out our coverage of last year's winter season with an entirely different take on love and war involving a concept that is just "plane" crazy.
Is there a series in Crunchyroll's catalog that you think needs some more love and attention? Please send in your suggestions via e-mail to [email protected] or post a Tweet to @gooberzilla. Your pick could inspire the next installment of "Cruising the Crunchy-Catalog!"

---------
Paul Chapman is the host of The Greatest Movie EVER! Podcast and GME! Anime Fun Time.

Do you love writing? Do you love anime? If you have an idea for a features story, pitch it to Crunchyroll Features!