That was a pretty solid debut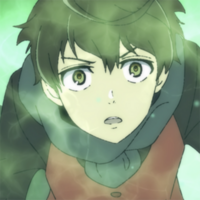 SPOILERS AHEAD FOR THE FIRST EPISODE OF TOWER OF GOD
Tower of God is pretty rad.
The music was great and the animation had a cool, fluid roughness to it, like it was being sketched in real-time before our eyes. And that's kinda what I want when being dropped in the middle of a new shonen anime world. I want to open my eyes and behold the expanse and lore of it as the protagonist does. Tower of God drops you into itself, delivering enough information that you're not overwhelmed by the events but also making it very clear that you don't know what's on the horizon of the location or the story. Unless you've read the WEBTOON series, of course. Then you're probably aware.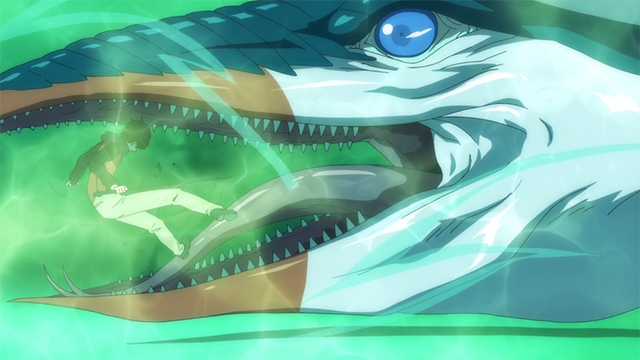 Some cool stuff? More series need to introduce their protagonist by having them basically subdue an icthyosaur. That's a dude I can trust. If I see you take down a water monster, I'm on your side. And from what I've seen with Rachel and Bam's relationship, I know that I'm gonna cry about it within the next few weeks. And when Bam made it to the next floor and everybody was taking each other out in this cool game of anime Fortnite that reminded me of the clown thugs offing one another at the beginning of The Dark Knight, I was officially sold. A guy with a sword got shot by arrows, and that guy got sniped, and then the sniper got taken out by Rak, a dude that appears to be half crocodile and half Hulk Hogan.
Oooh, y'all. Gimme Episode 2.
Of course, that is just one over-excited fool's opinion. I could go on the internet to discover that everyone had watched Tower of God and given it a deafening chorus of "MID." But luckily, a lot of the reactions I found were pretty positive, and I'm gonna share a few of them here:
Can't thank you all enough, this is amazing. pic.twitter.com/ZBOM7P37j6

— Tower of God (@tog_anime) April 1, 2020
Tower of God - Animation on Point and Unique, Characters on Point and Fun. The Story is... going somewhere, definitely not the kind i can sum in a sentence. On the whole, a really good start to the season. Might have the front runner before we even begin.

— Seta Masters (@SetaMasters) April 1, 2020
Tower of God first episode was 10/10 I love the animation

People need to go on Webtoon and start reading like I did recently #TowerOfGod pic.twitter.com/KusC4MgVxp

— Liam [Spade Kingdom]♠️???? (@LiamWC_97) April 1, 2020
The aesthetic for #TowerOfGod animation is amazing I love it soo much already!!! I can't wait for next week !!???? pic.twitter.com/uRs6142hyL

— ???????????? ☾ (@Pandre115) April 1, 2020
Thank you @Crunchyroll!! Thank you Thank you Thank you. my babies looks so good. The art and animation for the first episode was beautiful.The music was awesome, the voice acting was great. Everything i could have hoped for was there. #TowerOfGod #toganime #bam #khun #rak #yuri pic.twitter.com/zs7isePrNV

— Tower of God Lockdown (@staranimee) April 1, 2020
this is visually pleasing !!! enjoying the first episode of Tower of God ???? i love crunchyroll pic.twitter.com/KWeRW6mb4H

— Turbo (@Treysouls) April 1, 2020
Top 5 first eps all time.

— 黒の剣士 (@Elitealice2) April 1, 2020
Perfect - the VO, the music, the animation but mostly, the art style, captured the essence of the WebToon to a T.
Nothing but praise! More please!!!!! pic.twitter.com/787XM8zVpJ

— CaedesEnder (@CaedesEnder) April 1, 2020
I love how the @tog_anime fanbase are respectibg new comers to the series by welcoming them and not spoiling anything.

TOWER OF GOD BEST FANBASE
Loyalty for years gets rewarded with an anime????????#TowerOfGod #anime https://t.co/ekZkjGWmu3

— Eduard (@3du4rdBu3n0) April 1, 2020
Perfection. Looks wonderful. Webtoon brought to life <3 if this quality is kept, I want this on fkin BDs. Had Evangelion vibes :)

— RandomMofo ApocalypseCracker (@qoureno_michal) April 1, 2020
baam being so smol in the first episode really takes you back to the start of tower of god ????

please watch this series! ✋???? pic.twitter.com/M6Br4h7yIP

— lucio (@tinytantei) April 1, 2020
mood after tower of god's first episode pic.twitter.com/IP5DPfszU9

— milosh (@dumbyuu) April 1, 2020
omg tower of god ???????? this first episode was everything!!! The opening and ending are good too!! Idk who stray kids is/are but the songs are good too. Omg my cute bois Bam and Khun ???? finally get to see this WEBTOON animated!! #TowerOfGod

P.S. read the WEBTOON too!! pic.twitter.com/DvBplR5ScS

— Nina⁷ (@springs_loves) April 1, 2020
LOOK AT HIM. WATCH TOG FOR MY GOAT KHUN#TowerOfGod pic.twitter.com/PftbFnpeck

— Drako Nux (@DrakoNux) April 1, 2020
Loved the first episode of #TowerOfGod! ???? Great OP, great ED, great background scoring, great art, good enough animation & most importantly, I liked the story. I hope we get to see many more epic showdowns and stuffs throughout! 10/10 start for me! ???? pic.twitter.com/XVNMyZNEb9

— Ayush Basu (@abasu0819) April 1, 2020
What did you think of the debut episode of Tower of God? Let me know in the comments!

----------------
Daniel Dockery is a Senior Staff Writer for Crunchyroll. Follow him on Twitter!
Do you love writing? Do you love anime? If you have an idea for a features story, pitch it to Crunchyroll Features!