"Cruising the Crunchy-Catalog" looks back at an enchanting Spring 2016 TV anime about living in rural Japan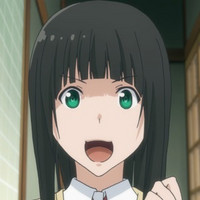 With the current state of the world and the resulting delays in production in the Spring 2020 anime TV season, now is an ideal time to catch up on some anime from yesteryear, and "Cruising the Crunchy-Catalog" is here to help with a little catalog curation to aid anime fans in making informed picks on what to watch next.
This week, we revisit a laid-back tale from the Spring season of 2016 with a look at Flying Witch, a story of a young witch from the city moving to the Japanese countryside and experiencing the charms of rural living with her extended family.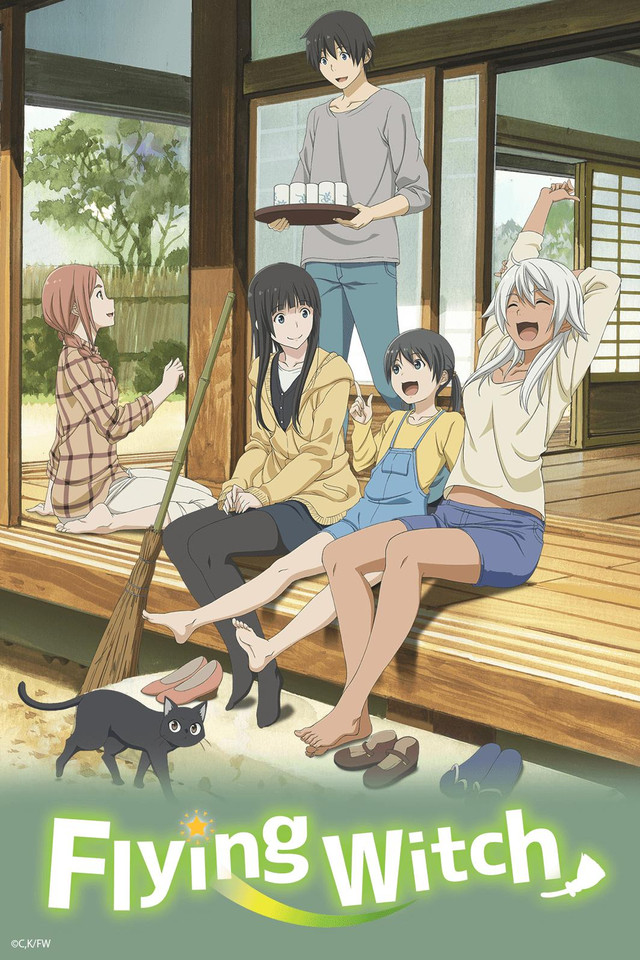 What's Flying Witch?
Based on the manga by Chihiro Ishizuka, Flying Witch is a 2016 TV anime with direction by Katsushi Sakurabi and animation production by J.C. Staff. Crunchyroll describes the story of the series as follows:
Aomori, Japan. In a land blessed by nature's bountiful beauty, bizarre things begin to take place. Makoto Kowata, 15 years old, is a professional witch. She left Yokohama with Chito, her black cat, to live in the house of her relatives in Aomori. This is where she begins to train as a witch. Even though Makoto's powers are still limited to just flying through the sky, she and her second cousins Kei and Chinatsu surely make the most out of each and every day.
A low-key, everyday comedy mixed with whimsical fantasy and pastoral pastiche, Flying Witch is less about big thrills and supernatural set-pieces and more about the joys of camaraderie and country living.
Magical Realism
Flying Witch is a very chill show, and part of its laid-back attitude comes from the framework of magical realism that the series creates. Magical realism means that potentially strange and spooky elements such as witchcraft, ghosts, and spirits are presented as an extension of the mundane and otherwise ordinary world.
When Makoto's friends and family are confronted with elements of the supernatural — whether they be an enchanted cafe, a murderous root vegetable, or a cat familiar with a penchant for anthropology — they take it in stride, and many of the shows most humorous moments involve normal humans under-reacting to the uncanny.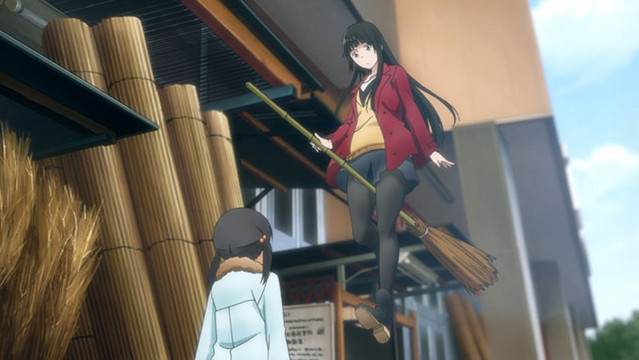 City Witch, Country Witch
Another aspect that makes Flying Witch appealing is how it highlights the unique charms of living in the Japanese countryside. While Makoto and her cousins enjoy modern technological conveniences such as smartphones and cable TV, they also engage in activities that aren't as easy to experience in an urban setting, such as gardening and gathering wild herbs.
Flying Witch is a show that finds joy in the simple pleasures of an agrarian lifestyle, with an emphasis on gourmet cooking and food preparation (Makoto loves to pickle vegetables, for example). There's also plenty of room for appreciating nature and wild-life ... even if that appreciation is best expressed by wildly chasing after a pheasant for no particular reason.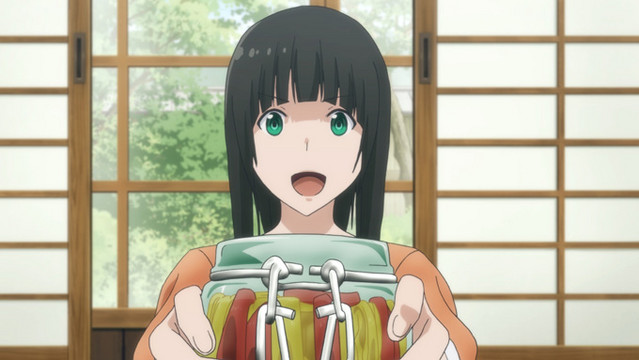 Hexes and Healing
With no real source of dramatic conflict aside from Akane's occasional meddling — and no dangers greater than Makoto bonking her head on an apple bough or being bitten by a hornface bee — Flying Witch can best be described as an iyashikei (healing) anime. Its sole purpose is to entertain while making the viewer feel warm and fuzzy inside. And so it's a great choice for audiences who need to unwind with a little light entertainment.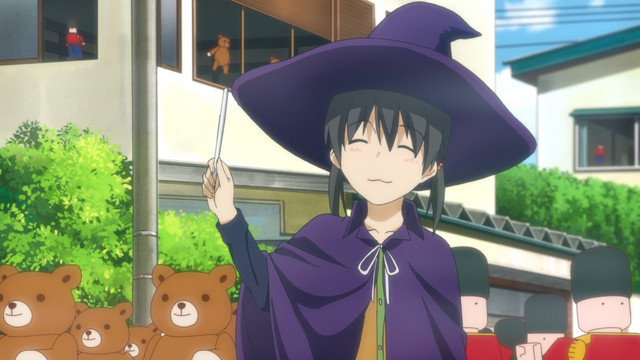 Further Lessons in Apprentice Witchcraft
Crunchyroll currently streams Flying Witch in 150 territories worldwide, and the series is available in the original Japanese language with subtitles in English, Spanish, Latin American Spanish, French, Portuguese, Italian, Arabic, and German. The series is released on home video in the United States by Sentai Filmworks, and an English language version of the original Flying Witch manga is also available from Vertical Inc.
Few series mix fantasy with a wry sense of humor as well as Flying Witch does, so if you're in the mood for a gentle viewing experience, and if the series is available in your area, then you owe it to yourself to give Flying Witch a try.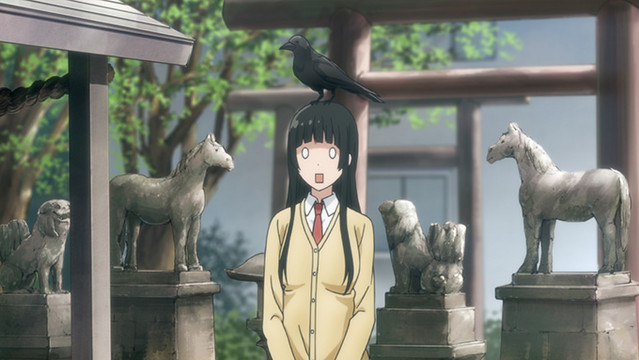 Special thanks go out to Jim (@bardinbrief), whose suggestion inspired this installment of "Cruising the Crunchy-Catalog." Thanks for joining us this week. Be sure to tune in next time when we'll continue waiting for the arrival of summer with a look back at an original anime TV series from the Winter season of 2012!
Is there a series in Crunchyroll's catalog that you think needs some more love and attention? Please send in your suggestions via e-mail to [email protected] or post a Tweet to @gooberzilla. Your pick could inspire the next installment of "Cruising the Crunchy-Catalog!"

---
Paul Chapman is the host of The Greatest Movie EVER! Podcast and GME! Anime Fun Time.

Do you love writing? Do you love anime? If you have an idea for a features story, pitch it to Crunchyroll Features!