A translated interview with the Art Director and Background Artist for SING "YESTERDAY" FOR ME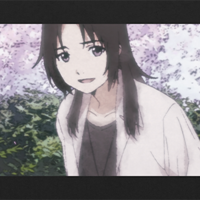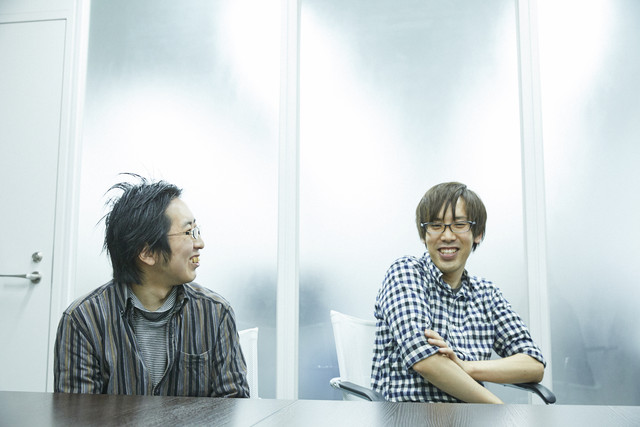 SING "YESTERDAY" FOR ME, the anime adaption from Doga Kobo of Toume Kei's manga of the same name, tells the story of four young adults right outside of Tokyo trying to find their purpose in life. Through their personal struggles, they try to better themselves, but more importantly, the people around them in their time of personal uncertainty.
One of the highlights of the show is its attention to detail, capturing the feeling of a Japanese suburb with the concrete and developing landscape of 2001 Japan. Crunchyroll was offered the opportunity to publish a translated version of a two-part interview series featured on the SING "YESTERDAY" FOR ME website to highlight how the team brought that world to screen.
Part one of the original Japanese interview with Usami Tetsuya and Fujii Yuta can be found here. The translated text follows.
Part two of the translated interview can be found here.
---
One of the essential parts of the anime SING "YESTERDAY" FOR ME is the background art. The ones in charge of the background art are the art director Usami Tetsuya-san and Fujii Yuta-san, who's in charge of the art design. Both are from STUDIO EASTER and we asked them a few questions looking back on the production of the series.
01: Please tell us about your jobs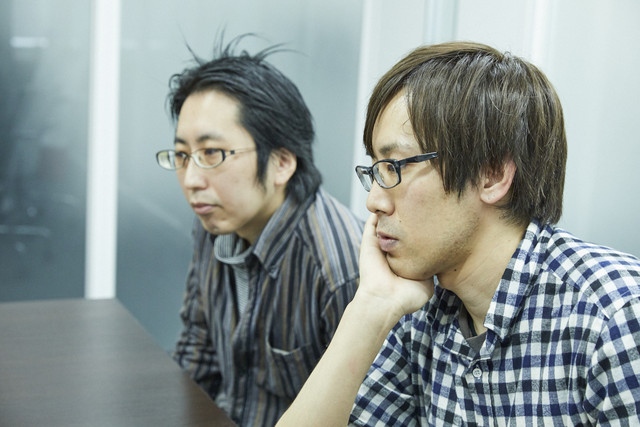 Usami Tetsuya (left) and Fujii Yuta (right)
Fujii: My jobs are art design, 3D modeling, and 3D layout. Being in charge of the art design means that I'm in charge of all the designs for things other than props ... For example, the rooms, the outside of buildings, what the town looks like, etc.
Once the script is done, I will do art design so that the director can do the storyboards. They'll tell me what kind of scene they want to do and what they need and then I'd create that for them. The director actually did the initial design of the town, and then with the photos I receive, I put all that together and add details to go along with the script and the scenes.
Usami: As the art director, once the storyboards and the art design are done, I would work on bringing the director's requests together like what colors they want to use or where they want the light coming from in certain scenes. I believe it's the art director's job to create the "atmosphere." I add color to the world that art design created and then think like, "Older looking wood would look better here." It's up to me to decide what the atmosphere of the room, the city, and basically everything is going to look like, and it's up to the art design to work on all the details up to that point.
Fujii: My world is black and white. The art director's world is filled with color.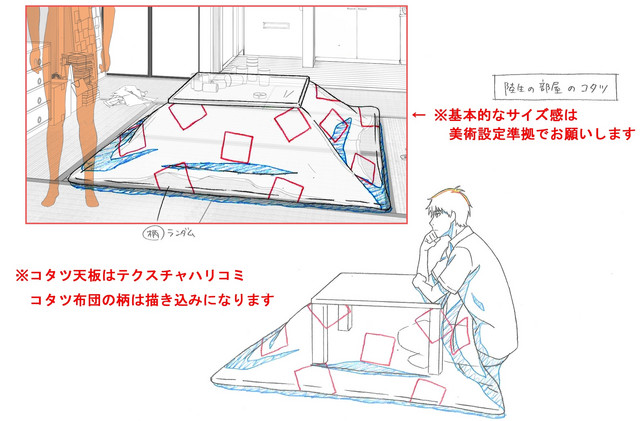 The kotatsu in Rikuo's room.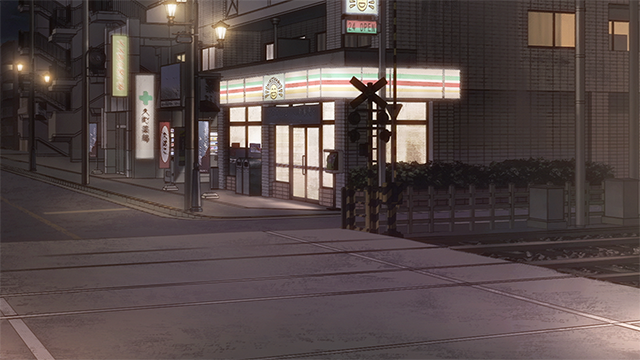 02: What did you concentrate on when recreating what Tokyo looked like 20 years ago?
Fujii: The story takes place in 2001 and around the Setagaya Line. The director loves the original story and definitely wanted to make sure we made it obvious that the story took place along the Setagaya Line. (From Episode 2, the story takes place from 2002 and on.)
At first, the director was having a hard time putting everything together, so we went to find locations together and would interview people who actually frequented through those locations. That helped him figure out how he wanted the animation to look to express the world of the original story along with some trial and error. Watching him work all of that out still comes to mind. He also talked about how he wanted the TVs, traffic lights, and LEDs all to look older like they did back then.
Usami: Yeah, or like erasing "taspo" [Note: a smart card used for buying cigarettes in Japan introduced in 2008] from the cigarette vending machines. And he wanted the cigarette packs to look more like they did back then. It may not be that far back, but it was actually very hard finding references for all of this.
I was reading this series as a student, and simply as a fan, I totally understood why the director wanted things to look this way. We mostly work with cells, but I did create a 3D model for an old school game. (lol)
Fujii: I heard we were doing cel animation so it definitely wasn't that detailed. (lol)
Usami: I thought, "Man, this series really likes to concentrate on the little details." (lol) Is it okay for a TV series to worry this much about minor details?
Fujii: It really does almost feel like we're making a movie. (lol)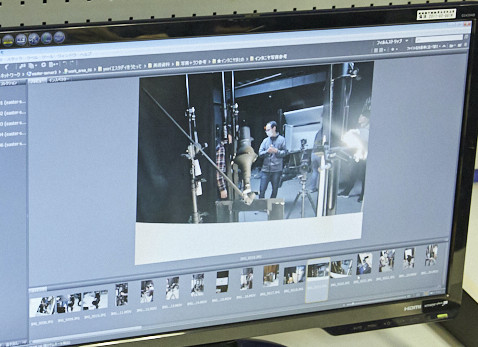 Director Fujiwara looking for a reference for the photography studio that Rikuo works at.
The director was also seen talking to the studio staff so he could figure out how the studio would look different in the anime.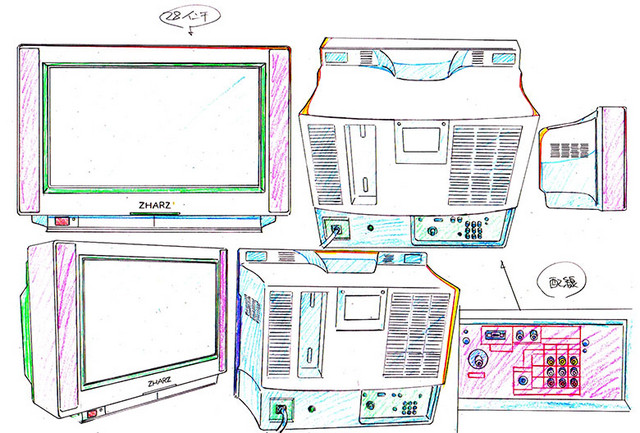 The design for the analog TV in Shinako's condo.
03: The town that exists between reality and realistic graphics
Fujii: The director had decided the initial layout of the town, so he'd give me some stairs and ask me to just create a certain part of the stairs, or like for the outside of a building, he'd give me a photo of a building and ask me to expand certain parts of it. I created everything under his direction. I had the director do the initial design of how he wanted the inside of the room to look and then I would fine-tune it, trying to make sure everything was within the limits of reality.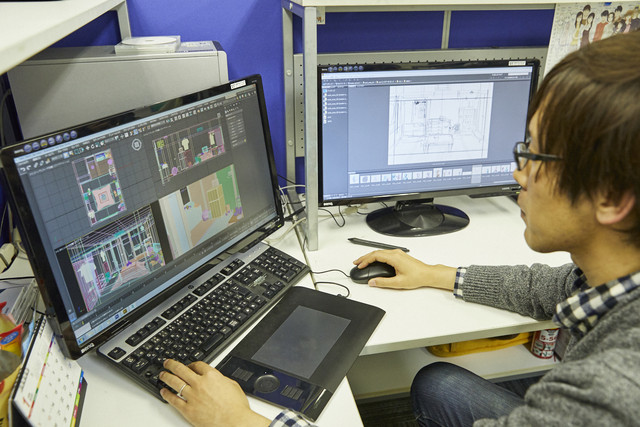 The original sketch and 3D model of Rikuo's room.
Fujii: You can do some pretty extreme things in anime if you really wanted to, but I didn't want that to happen, so while keeping the director's vision, I did my best to make sure all the art design and 3D models all looked realistic still. Because all the characters live near each other, we do reuse the 3D model of the town. Depending on what the characters do in their daily life, we add and subtract things from the scene and adjust as needed. For example, with the convenience store, I was asked to create a back entrance because they wanted to do some scenes there. I then show them an example of what it'd look like and go from there.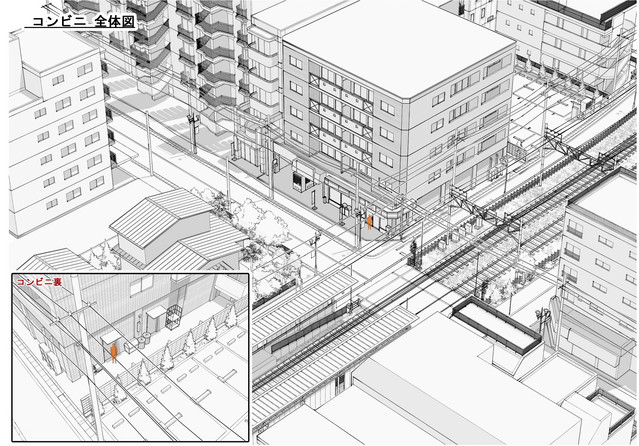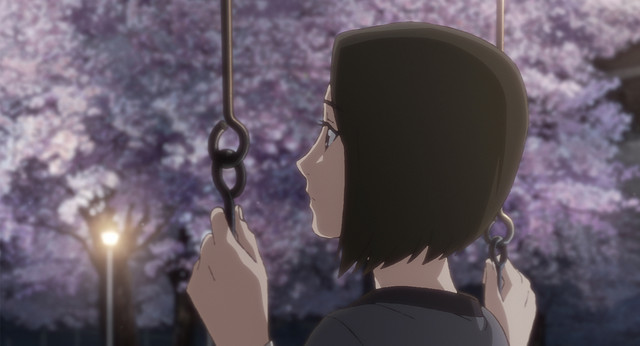 04: The art of SING "YESTERDAY" FOR ME that balances reality and the story
Usami: At first, I was asked to keep things as realistic as possible, as if we were looking at photographs. But if we went too far, we'd lose the hand-drawn feel of SING "YESTERDAY" FOR ME, which was a problem that we discussed. So how do we balance the two?
So the more realistic we make it look, the more the hand-drawn feel seems to stand out in a way that we don't want it to. So I'd look at the director's storyboards and think, "I should add a bit more of the brush here," or "If I mess with this anymore, it won't look as realistic." While I kept asking myself those things, I'd add a few extra touches and take some away. I basically kept trying to find a happy medium.
First, I thought about what kind of "brush" I would use. I wasn't sure if I should use a brush that would make things look a bit more hand-drawn or more like watercolor. In the end, I wanted things to look like they were done in pencil.
When I tried that and we agreed that it looked pretty good, so we went with that. My biggest reference was Toume Kei-sensei's artbooks. The director was really attached to the flashback scenes, so we went heavier with the hand-drawn feel there.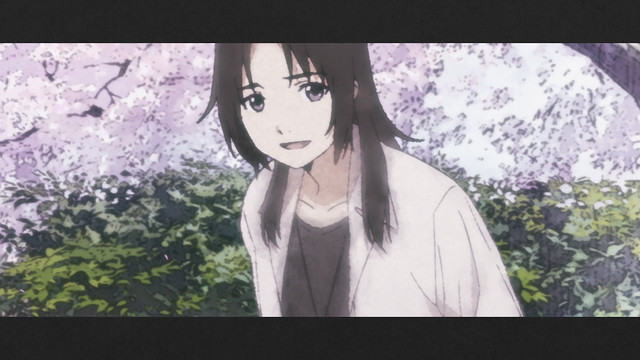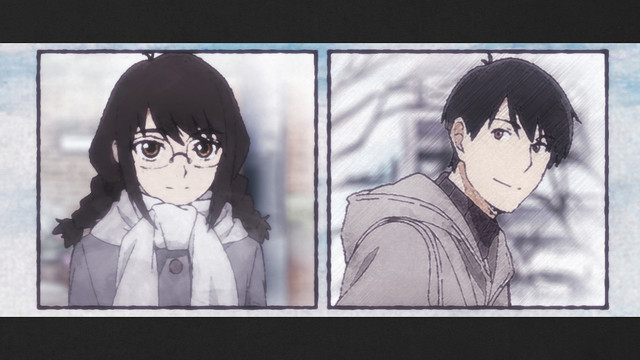 Usami: With more recent series, they try to lay on more realistic textures to make everything look more realistic, but we decided not to use as many textures this time, and I was asked to make everything look more hand-drawn. If we just use wooden textures, you can make trees look like trees, but we decided to use brushes instead. Or like using textures for the tatami mats would look too detailed, so we used brushes. There were a lot of times where I blurred some of the details in this series.
In this day in age, efficiency is top priority in this industry, so I wondered if my job would be okay at times... (lol) A lot of our staff were first-timers when it came to hand-drawn animation, so they said that this series was harder to work on and different. (lol)
What's difficult is when you try to add some finishing touches to something, you can't let it look "dirty." A lot of the staff grew up in the digital age so there are a lot of them who have never done any paintings, so there were some who couldn't tell the difference between touching up and something just looking dirty. But through trial and error, all of them made SING "YESTERDAY" FOR ME the best it could be. Normal series would usually only have 4 to 5 people to do all the art department stuff, but this time, we had 15. So basically 2 to 3 times more than usual (lol).
I think the whole company worked very hard on this project.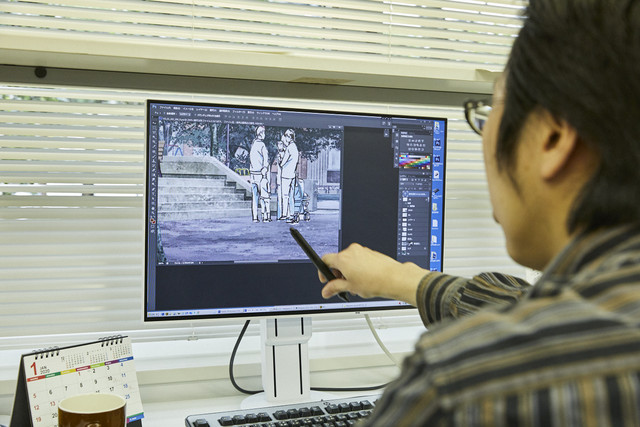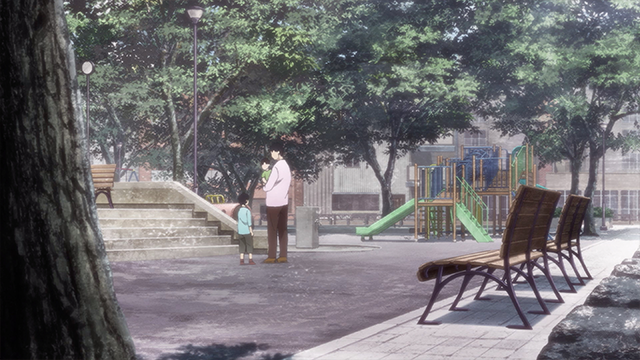 The scene from episode 1 with Rikuo and Haru talking at the park.
If you look closely, you can see that some hand-drawn nuance has been added to the ground and stairs.
Next time, we ask them how they used art to craft this multi-character story!

---
Kyle Cardine is an Editor at Crunchyroll. You can find his Twitter here!