Is everyday life nothing but flowers?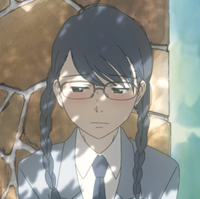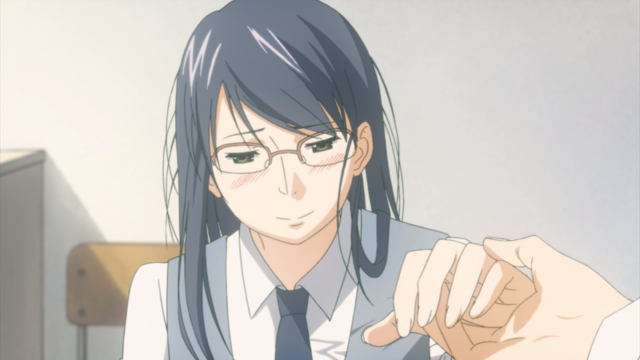 Fumi takes Sugimoto's hand
When I was a teen, I wanted stories that "represented me."
Or — let's say it differently. I was growing up and my tastes were maturing with me.
I never really considered myself much of a fan of slice-of-life anime. To be honest, I didn't see the appeal in watching characters do the same things I could in real life, right now. But that quickly changed when I became familiar with the work of Takako Shimura.
Shimura's manga mostly centers on the lives of LGBTQIA+ adolescents. Tonally, her work draws heavily from the slow burn of classic novels like Jane Austen's Emma or Higuchi Ichiyo's Takekurabe. Despite writing about children and teens, Shimura's stories are rife with psychological richness and an acute attention for age-appropriate sensibilities. That's to say that before I read any of Shimura's manga, I didn't see much value in stories that, on the surface, didn't have any world-shattering stakes.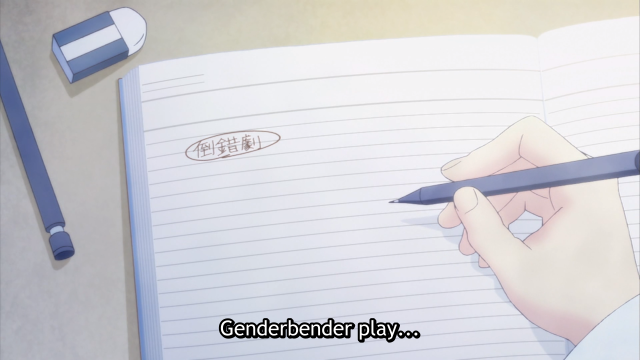 Nitori writes notes for Romeo and Juliet late at night
Of Shimura's manga, two have been adapted into anime so far: Sweet Blue Flowers and Wandering Son. Adapted in 2009, Sweet Blue Flowers is a yuri series following two teen girls as they navigate their feelings for each other and their peers. Wandering Son, adapted in 2012, is a coming-of-age story about two transgender adolescents in middle school. Shimura simultaneously published both manga series, with Wandering Son beginning in 2002 and Sweet Blue Flowers in 2004. Both concluded serialization in 2013.
What are the stakes in telling these otherwise mundane slice-of-life stories with queer characters? Under their pastel and watercolor aesthetic, I quickly learned both of these adaptations promised something far more fulfilling than pure warm fuzzies: realistic, and emotionally poignant portraits of a fully realized queer childhood.
"Heathcliff, it's me, I'm Cathy"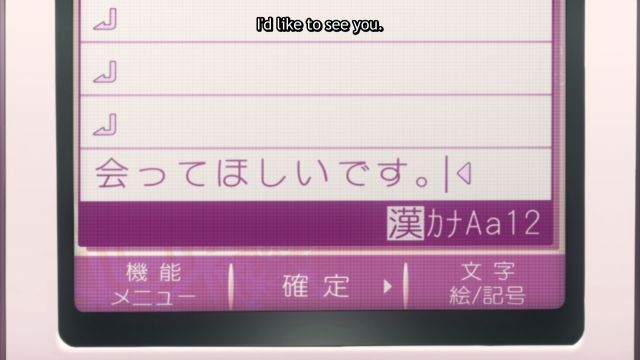 Sugimoto texts Fumi
Emily Brontë's Wuthering Heights is a classic novel all about tragic love. Sweet Blue Flowers is a similar story: sensitive and bookish Fumi Manjōme comes to the world-changing realization she is a girl who likes girls. And her dear childhood friend, Akira "Acchan" Okudaira, who attends the prestige Fujigaya Girls Academy, doesn't have the slightest clue. Fumi is tall and has a soft voice; Akira is short and can be heard from miles away. Set in historical and beautiful Kamakura, Sweet Blue Flowers has a cozy literary vibe that reminds me of curling up with Louisa May Alcott's Little Women as a kid. Literature itself is a recurring theme throughout the series — with Wuthering Heights and The Little Prince constantly referenced, it's hard not to feel like this high school puppy love tale has something bigger to say about the world at large.
Sweet Blue Flowers only covers parts of the manga, so you will have to read the series to find out how and if Fumi and Akira get together. But the anime wonderfully covers one of my favorite arcs: Fumi's relationship with the heartthrob senior Yasuko Sugimoto, who is cast as Heathcliff in Fumi's school play. For as much as the series is implicitly about Fumi and Akira, Sugimoto's strenuous relationship with her family and her sexuality get lots of compelling screen time. The two have a dramatic kiss in the school library and lots of pining. But Sugimoto is hopelessly capricious and after Fumi falls for her, both get humiliated by Sugimoto's family after she attempts to introduce Fumi as her girlfriend.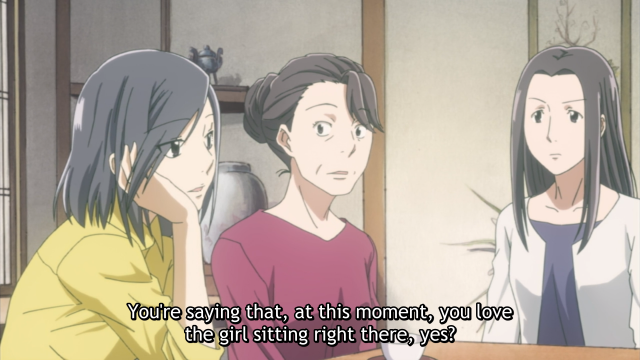 Sugimoto's sister chides her for relationship with Fumi
It's a complicated scene. Fumi and Sugimoto are sitting while one of Sugimoto's three sisters backtracks Sugimoto's confession and asks if she really is a lesbian — if she really loves Fumi right now, really. Fumi is embarrassed and Sugimoto is scandalized, rushing up to her room to sulk and eventually breaking up with Fumi right then and there. It's about as bad of a family introduction as you can get, and frustrated and confused, Fumi leaves and wonders what such a disastrous outcome could possibly mean for her romantic life.
To be honest, I was a little shocked. Rather than take the easy and escapist route, Sweet Blue Flowers isn't afraid to take the reality of discrimination and family disapproval head-on. Thankfully, it isn't so tragic that Fumi gives up on dating forever. We see real character growth from Fumi, who at a later point builds up enough confidence to tell Sugimoto that her behavior was wrong and that she's much happier without her. There are even hints that Fumi and Akira might date. Shimura's depiction of Fumi gradually becoming aware of her identity as not only a lesbian — but as a young adult capable of maturely advocating for her own needs — is one of the most exciting things I've seen in an anime about young LGBTQIA+ life.
"What's In a Name?"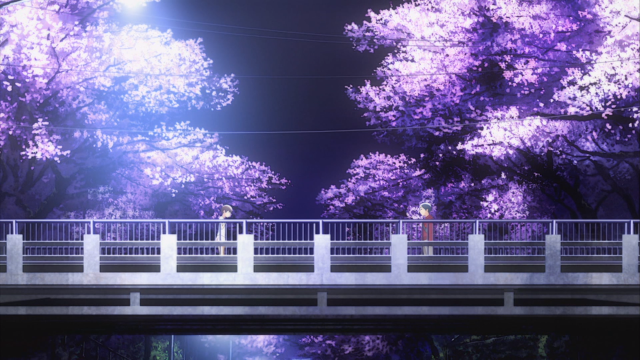 Nitori accidentally runs into Takatsuki on a bridge after running away
Wandering Son is sometimes clumped together with a genre called "gender-benders" — a story where the protagonist is a boy who becomes a girl or vice versa. That comparison has always been both funny and fascinating to me. Funny, because older series like Ranma ½ definitely have something to say about gender in their own roundabout way. But fascinating and true to the spirit of Wandering Son as well. This idea of one day "switching genders" is the only way young protagonist Shuichi Nitori can even begin imagining a future as a girl. It's the wonderful opening of a door.
Unlike Sweet Blue Flowers, which draws from a well-established tradition of conventional yuri tropes, Wandering Son is an anomaly simply for being about transgender life in Japan. The anime adaptation picks off with Nitori and friend Yoshino Takatsuki, a masculine "girl who wants to be a boy" entering middle school. Early in the series, Takatsuki and Nitori have already made a habit of going on day trips into the next town over in clothes suiting their chosen gender identities. Takatsuki makes friends with Yuki, an adult trans woman who inevitably ends up becoming a mentor for both Takatsuki and Nitori. They shop for cute clothes, browse at gender-affirming underwear, and just hang out. Up to this point, the two middle schoolers are oblivious of the LGBTQIA+ community and innocently enough, frame their coincidental feelings as simply wanting to "switch genders" — a sentiment at odds with the realities of nearing puberty.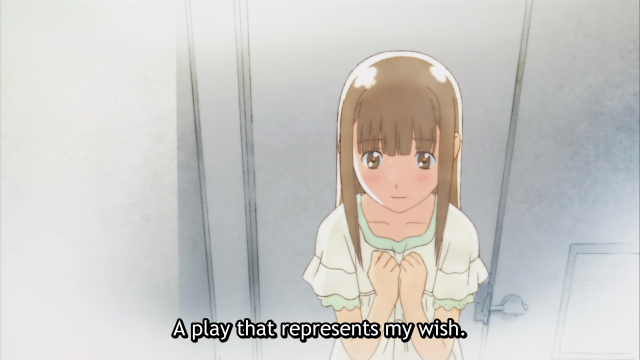 "It's a play where you and I are the stars ... A play that represents my wish. Where a male Takatsuki and a female me live happily ever after with the people we care about."
All the while, Nitori and classmate Saoirin are busy writing a "gender-bent" school production of Romeo of Juliet. This plot point is a loving reference to the Takarazuka Revue, Shimura's love for literature, and Nitori's colorful conceptualization of gender identity. I like to think this is a means appropriate for middle schoolers who don't have an adult's vocabulary to address the fantasy of "gender-bender" stories versus actual lived realities. It's an incredibly smart way to simultaneously navigate the story from these character's ages, and to ask the older viewer directly: What assumptions do you make about gender and what do you take for granted about it?
Even though Wandering Son doesn't capture the entire scope of Nitori and Takatsuki's adolescence, I think that's okay. The real sweetness of slice-of-life anime is exactly what it says on the can. The series makes no overt gestures as to whether or not these kids will transition, leaving it ambiguous and open-ended. But besides that, it's also a story about navigating temperamental middle school friendships, siblings, and getting into petty classroom fights. At the end of the day, Wandering Son is a deeply sympathetic but not overly idyllic or nostalgic depiction of childhood. For as much saccharine Nitori and Takatsuki have to offer, they are both anxious and afraid about what their future holds. They are learning just like us.
Dream A Little Dream Of Me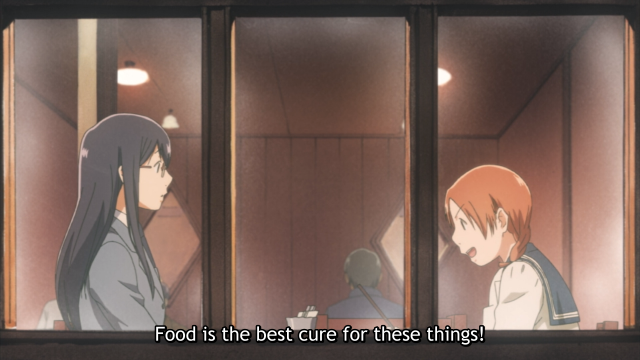 Acchan comforts Fumi
What can we get from shows essentially about doing homework, being in the school play, getting dumped by your first girlfriend, and going through puberty? Not some otherworldly enlightenment but something far more mundane: learning that most of us, regardless of sexuality or gender identity, are just normal people. Even more — that there isn't anything inherently scandalous or "adult" about being an LGBTQIA+ youth. Everyone's story deserves to be told.
Shimura's world is exactly the kind of fiction I wish I had access to as a fed-up teen. Sure, there's something widely liberating about seeing yourself depicted in the media, but it only begins there. Seeing protagonists like Nitori and Fumi gradually become more confident in themselves helped me realize the real stakes of slice-of-life dramas: even if we think we're grown-up, we always have a little bit more growing to do.

---
Blake P. is a weekly columnist for Crunchyroll Features. He likes old mecha anime, computer games, books, and black coffee. His twitter is @_dispossessed. His bylines include Fanbyte, VRV, Unwinnable, and more.
Do you love writing? Do you love anime? If you have an idea for a features story, pitch it to Crunchyroll Features!