Crunchyroll News interviews the people bringing the virtual Crunchyroll-Hime's Cosplay Cup together!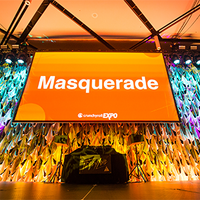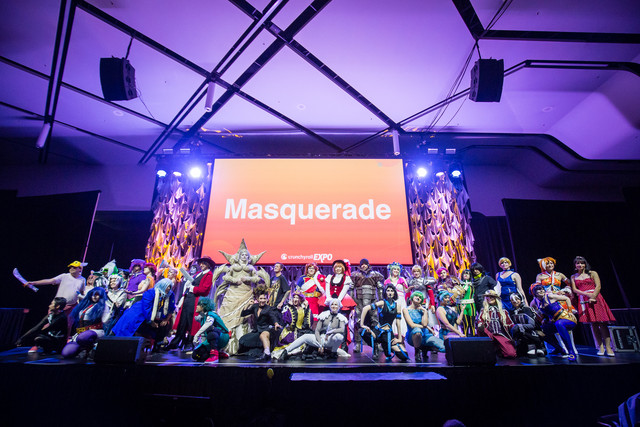 The cosplay masquerade is a highlight of anime conventions across the world, but this year presents a new set of challenges. As Crunchyroll Expo, and many conventions across the country, go virtual, there are many questions as to how such an event could even implement one of the most notorious spectacles of the event. For Virtual Crunchyroll Expo 2020, currently scheduled for September 4-6, a team is coming together to accomplish exactly that.
Charlene Ingram, Judy Grivich, and Jez Roth are coming together to bring Crunchyroll-Hime's Cosplay Cup, a cosplay masquerade open to all levels of cosplayers that will take place on Saturday, September 5. Crunchyroll News had a chance to sit down with the three leaders of the event to see how exactly they plan on bringing the virtual competition together.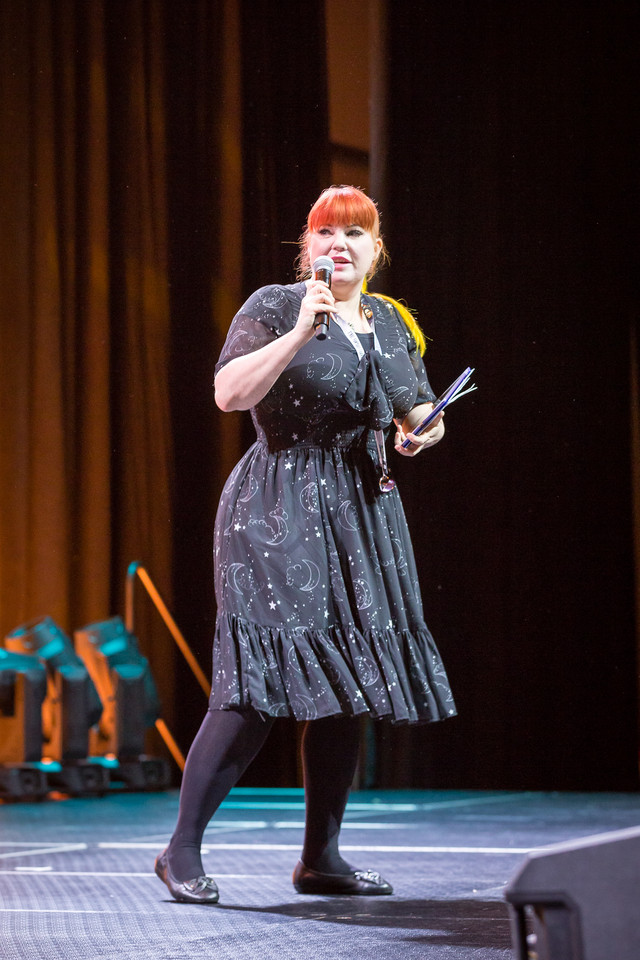 Charlene Ingram at the Crunchyroll Expo Masquerade 2019
With decades of cosplay and masquerade experience, Ingram, Grivich, and Roth are no strangers to the work it takes to manage an event like this. Ingram and Grivich actually helped run the masquerade for the last few years at Crunchyroll Expo, but when they were approached about the idea of running a virtual contest, plenty of questions came up. Ingram described the planning as an "iceberg."

"We're all publicly seen at the top of it, but there's a whole lot under the surface going into the planning, and yes, it was structured originally as an in-person event at Crunchyroll Expo," Ingram said. "At first, when I saw that, I'll be honest I was a bit scared because the world of virtual events is brand new. I wanted to think about what can be done virtually that can't be done in person, and used that as the starting point of finding everything that can really highlight and play into what we can do virtually. I really felt it was important to the fanbase, and based on feedback especially from last year's show, to preserve that performance aspect."


"In making this a virtual event, where the performance is also virtual, it has a huge ability to expand the creativity of like what are you going to do," Grivich said. "You have this huge opportunity to break the fourth wall and be really creative with your space and your objects and your performance that you really can't do when you're on a masquerade stage because you can't control the lights or the sound or the audience interaction."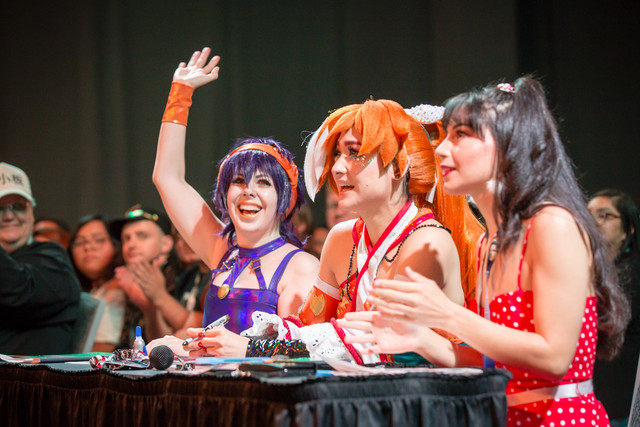 The judge's table at the Crunchyroll Expo Masquerade 2019
"This is a very expensive place to be and travel to, so it really limits a lot of people from participating, and now we have this expansion of who can do it and the creative options that they can do for their performance," Grivich added.
Roth said that he is a big fan of the skits, and is particularly interested in seeing how people adapt to the digital format with their character performances. "The goal should be [to] go in there and blow them away. Outdo yourself, try to give the best that you can, leave the stage knowing that you gave 110% and you killed it, regardless of what anyone says," Roth said. "It's like they say on RuPaul's Drag Race All-Stars, 'you are still a winner, baby. Even if you just showed up, you won, you've made it.'"
Ingram emphasized the core aspects judges will be looking at for all competitors, which she described as "The Three Pillars": Construction, Performance, and Innovation. "With this being virtual, we expect to see the innovation just turned up to 11, and I know everyone is very excited to see what these fans bring to the table," Ingram said. "I think even we are going to learn some fantastic new things, and I just can't wait until some of these entries come in."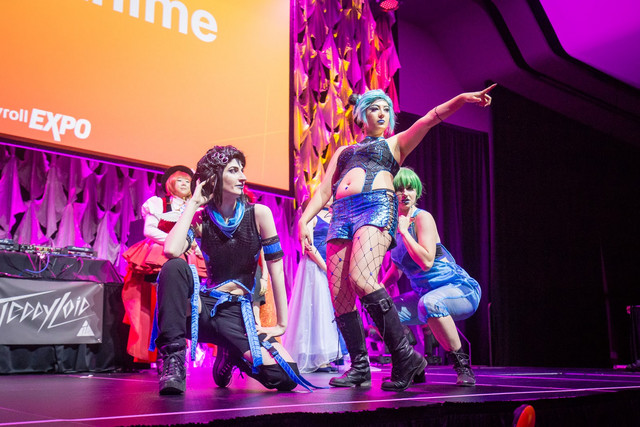 JoJo's Bizarre Adventure Cosplayers
For the initial selection, participants will be asked to submit a private portfolio of the costume they will be presenting, asking for details on the series or character the cosplay is from, ideas for the presentation, progress, and more, which will lead to the construction judging pillar. "Your pitch is key," Ingram said. "To use a TV term, this is your chance to pitch your show, if you're going to get into the Fall lineup."
"Really use the opportunity this presents to break the mold that masquerades can be very limiting," Grivich said. "This gives the opportunity to completely knock it out of the park with your inventiveness."
Participants will be able to enter in Beginner, Intermediate, and Advanced categories for their costumes, with prizes in each category including Director's Choice and Best In Show. The deadline for pitch portfolios is Sunday, July 26, 2020 no later than 11:59PM PDT, with more details on the
Cosplay Cup Rules Website
in terms of materials needed for the pitch. For the lucky participants who are chosen as finalists, Ingram said that is when details regarding video, format, and more will be explained.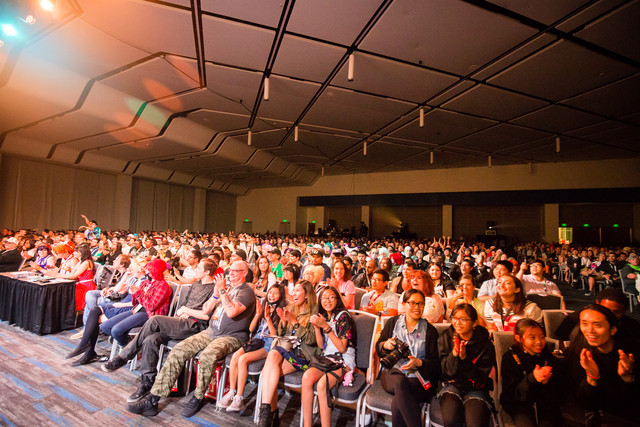 The audience at Crunchyroll Expo Masquerade 2019
Beginner and Intermediate entries will also be eligible for "Crunchyroll-Hime's Rising Star" award, one that Ingram is particularly interested in. "This is something to really foster those newer cosplayers and kick their craft into high gear," Ingram said. "Sometimes I've seen in the past...that fans are scared to enter because they see these big names in the competition and they feel like they're not good enough. No. Not at all. I have seen absolute novices come into a competition and completely wipe the floor with all of the old guard. Having that Rising Star award is really to encourage people new to the hobby to come and show those folks who have been doing it for a while to give them something to strive for."
With the big task ahead of them, Ingram, Grivich, and Roth said they are especially excited to see how people use the new format to showcase their costumes in new and creative ways, and that this format can truly present a way forward for future cosplay masquerades.
"This is a very expensive place to be and travel to, so it really limits a lot of people from participating," Grivich said. "Now we have this expansion of who can do it and the creative options that they can do for their performance."
"I'm always excited to see what changes a masquerade because I've seen so many variations and to have a wonderful tour de force like Crunchyroll behind it and someone like [Charlene], who always gives 110% with her shining energy behind it," Roth said.
"This is just the beginning of a new legend, and we have been taking the fan feedback, the contestant feedback, absolutely to heart," Ingram said. "We're really committed to building the best of the best show, and I'm so thankful to the team at Crunchyroll Expo and the team at Crunchyroll for believing in the cosplay competition, and really empowering us to build the best show possible for the fans. This is only the beginning, baby!"
---

You can find more details on how to submit your application and rules for Crunchyroll-Hime's Cosplay Cup right here.
You can follow Charlene on Twitter and Instagram at @tristencitrine, Judy Grivich can be found on Instagram at @allfrockedup, and Jez Roth can be found across social media at @Jezeroth.
Kyle Cardine is an Editor at Crunchyroll. You can find his Twitter

here

!