Crunchyroll News speaks with Kyoto Animation President Hideaki Hatta one year after the arson attack on the studio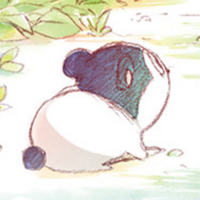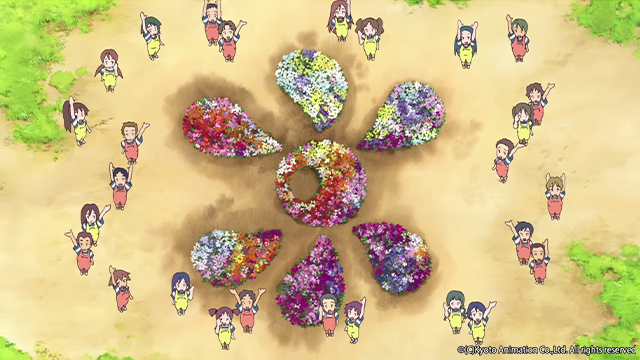 This article is part of Crunchyroll News' KyoAni Month celebration. Check out the rest of our KyoAni features HERE.
Additional reporting by Cayla Coats and Daryl Harding

In the year since the incident, Kyoto Animation President Hideaki Hatta has had to manage a lot, from recovering the materials impacted in the fire, to hosting a memorial service in November 2019, and the ever-changing schedule of the Violet Evergarden movie due to the effects of COVID-19. Needless to say, it is hard to imagine handling the aftermath of such an event on top of the evolving landscape the year 2020 has brought to Japan and the world itself.
He is not letting any of that stop Kyoto Animation's creative mission.

In coordination with the Crunchyroll News Month of Kyoto Animation, Crunchyroll News had an opportunity to speak with President Hatta over email correspondence to ask how he — and Kyoto Animation as a whole — are doing one year after the incident, their thoughts on the future of the studio and more.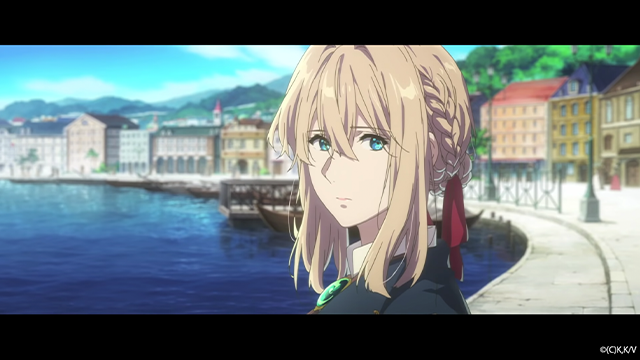 Violet Evergarden (Image via Kyoto Animation)

There are various numbers that could start this article: 36 lives taken, with 33 more suffering injuries. Over $30 million raised in global donations, including $2.3 Million raised by Sentai Filmworks. Studio 1. But there is also the unquantifiable: the pain of not having a loved one in your life anymore. The number of times your heart sinks when seeing the name of someone lost or rewatching a piece of art with their credits. And the countless messages, tweets, letters, and words of support Kyoto Animation received after the arson attack on July 18, 2019.

"It was an incredible amount of support," Hatta told Crunchyroll News. "I deeply thank you all."

If there is one thing Hatta has been steadfast in his messaging since the incident, it is that, despite the attack, Kyoto Animation will not stop continuing to create art. In a postcard given to visitors of the memorial service last November, one of the last lines reads: "We will continue to create animation for people all over the world to help them have dreams, hopes, and impress them." Hatta emphasized the same message when speaking with Crunchyroll News.

"I'm doing well thanks to the support of everyone over the last year," he said. "While my heart is heavy every day, we will continue to make animation."
Kyoto Animation's Resonating Spirit

While Attorney at Law Daisuke Okeda met Hatta at one of his lectures ten years prior, the lawyer stood as an insurmountable part of the studio's front-facing team after the arson, becoming one of the main sources of info and updates on the studio in the aftermath. "Since then, I've been acquainted with [Hatta] not as his lawyer, but as another person involved in the anime industry," Okeda said when speaking with Crunchyroll News.

"I am not a member of the company. I am not a producer. I have no big funds. What I can do is protect them," Okeda told The Hollywood Reporter in December 2019.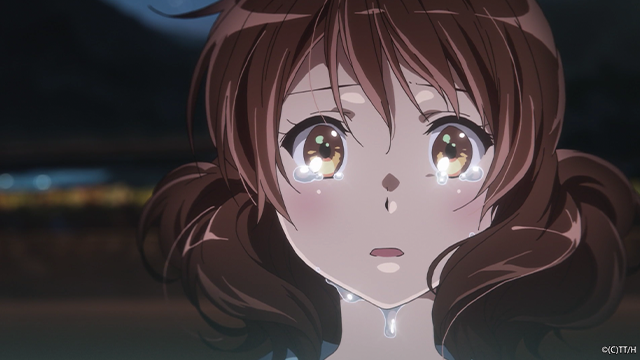 Kumiko Oumae from Sound! Euphonium

"Everyone in the Kyoto Animation staff believed in creating the best they could with their peers and having everyone enjoy their work as much as they can," Okeda told Crunchyroll News. "They were all very passionate about their work and they never gave up. At the same time, I knew that there are many, many people across the world who love Kyoto Animation. I believe that all of the love and passion that the Kyoto Animation staff puts into their work resonated with everyone."
Okeda's job was no small task. In the immediate aftermath, he went to work coordinating the various charities towards Kyoto Animation (of which the Japanese government would eventually give tax breaks) to eventually the heightened relationship he would have with the local authorities and media trying to cover the story.

"They all had the potential to become even greater creators"

In August 2019, the Kyoto Prefectural Police released the names of 35 victims of the attack in two separate reports. "Despite repeated requests from bereaved family members, it is extremely regrettable that the names were released," Okeda said in a tweet on August 27, 2019. Shortly after the attack, there was a rush from domestic and international outlets alike to try to find out the names. Some were previously released by different sources, with various confirmation from family members.

[Editor's Note: Per the request of President Hatta and Kyoto Animation, we are withholding from disclosing the names of those lost in this article.]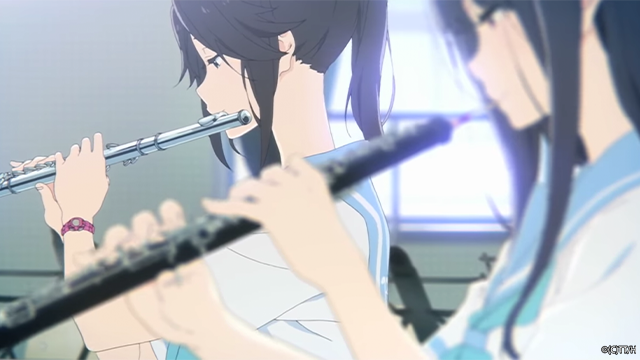 Liz and the Blue Bird (Image via Kyoto Animation)
When asked what the media can do better in the future in covering events such as these, Okeda said in his opinion "I believe that they should report the truth. They need to be able to separate the truth from claims, respect the legal rights of those who they are reporting on, not go against one's clearly-stated intentions, and they should've been prepared in advance, as they always should be." Despite this, Okeda said his relationship with the media has not changed since last year.

"Each and every one of them were some of the greatest creators Japan had ever seen, and they all had the potential to become even greater creators. I cannot emphasize that enough," Hatta told Crunchyroll News.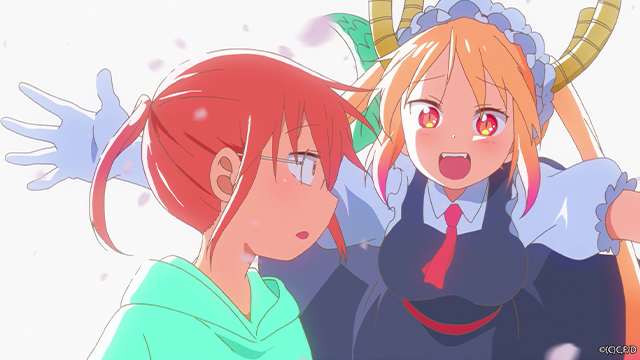 Miss Kobayashi's Dragon Maid

Hatta announced at a press conference in October 2019 that 27 of the 33 staff members injured during the attack returned to work. One 52-year-old employee told the Nikkei he even returned six days after the attack, adding that "continuing to create is the biggest counterattack against the criminals."

The Mainichi Shimbun also reported in January 2020 that families and victims of the arson will get worker's compensation, with money also coming from the donations received directly to the studio. The Kyoto Shimbun reported on July 11that victims of the arson, even those not injured, and their families have received donations in some way from worldwide fans to fully pay their medical bills and receive uniform compensation. The committee organized with allocating the funds in large part decided to distribute the money to every victim, regardless of injury, from reading notes left on donation forms from fans across the world.

When asked what kept Hatta and the team going during the time after the attack, he said it was "The smiles. And for the friends who had to undergo medical treatments to come back to work."

"I heard that some were even practicing their drawing while in the hospital," Hatta added.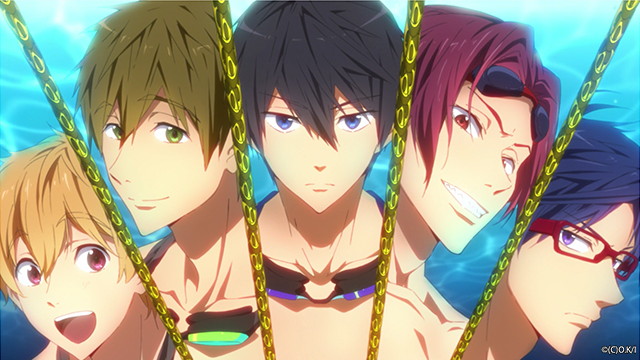 Free! Iwatobi Swim Club

As of June 30, Kyoto Animation opened up applications for a wide variety of positions, including 3D animators and managerial roles. The Animation DO's training course school also opened up applications for classes starting in October 2020 through September of next year. Hatta commented when asked about applications to the school that "We are doing our best to get through everything despite the incident."

Hatta also told Crunchyroll News the studio is taking the current capacity into mind when working with the staff that has been able to return to work, including continuing to be cautious and implementing measures to prevent the spread of COVID-19.

The Remaining Site of Studio 1

Demolition of Studio 1 was officially completed on April 28, an empty lot left where the outstanding wreckage stood. Many ideas have been forwarded in terms of what to do with the site now, whether that be a memorial site or even a public park — an idea Hatta proposed some days after the attack. But those ideas don't come without complications: residents in the surrounding neighborhood have forwarded concerns about drawing more attention to the area, according to the Mainichi News. Okada told the NHK in April, "I would like to discuss with the bereaved families and local officials, and make a comprehensive judgment based on their circumstances."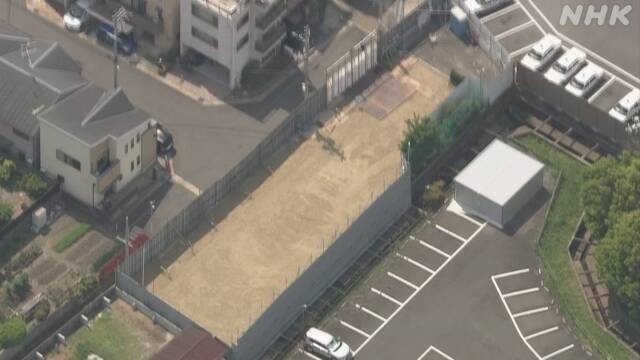 The current site of Studio 1 (Image via NHK)

Hatta also confirmed with Crunchyroll News there are "no plans currently" for a newly constructed memorial site nor a replacement for Studio 1.

But the studio is fully aware of the remaining site and how members of the public may come to it as a place of mourning. Kyoto Animation announced on August 19, 2019 they had removed the initial memorial in front of Studio 1 with no future plans to set up a similarly established memorial area. The announcement added, "The first studio is located in a residential area, therefore please refrain from taking any actions which may affect the residents' daily lives such as visiting the studio or taking photos in the area." Crunchyroll News Japan Correspondent Daryl Harding also encountered the same after the memorial service in November: you could not get close even if you wanted to.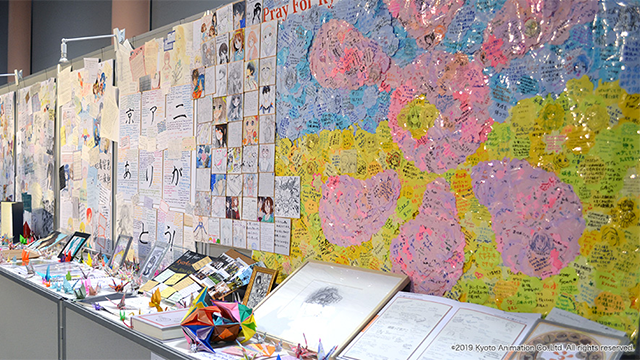 Image from the Kyoto Animation memorial service (Image via Kyoto Animation)

The studio even released two statements — one on July 3 and another on July 17 — requesting fans not to visit the Studio 1 site on July 18 for consideration of the local residents, including not giving monetary gifts or flowers. While there were original plans for an in-person memorial, in light of the spread of COVID-19 the studio will stream a memorial service on July 18 from 10:30 AM to 10:40 AM JST on their Youtube channel, five minutes of which will be a moment of silence.

While the fourth KyoAni and Do Fan Days event originally scheduled for November 3-4 last year was initially planned to be held as a public memorial, the event was canceled in September, with the official public memorial still held at the Kyoto Miyako Messe. When asked about a return of the "KyoAni and Do Fan Days" event, Hatta said, "Eventually, we would like to plan the event again."

The Growing Path Forward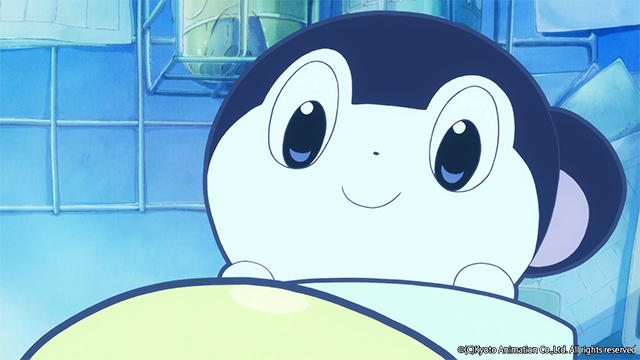 Kyoto Animation's mascot Baja (Image via Kyoto Animation)

For many fans, there may be outstanding questions in terms of what can be done to continue to help Kyoto Animation. For Okeda and Hatta, the answer has not changed. "It is for the fans to continue to watch and enjoy Kyoto Animation projects," Okeda said. "That is the biggest support we can receive. If you respect and enjoy everything that Kyoto Animation has to offer, please continue to support us."

Looking back at the past year, Okeda said it was the worldwide support that stands out to him the most. "The fact that there was an unbelievable amount of people all over the world that were grieving due to the tragedy that occurred at Kyoto Animation. They mourned for the victims, and then they tried to do everything they could to help get Kyoto Animation back on its feet and console us.
"It was at that moment that I realized that even in this world where people are becoming more and more divided and confusion is spreading, animation has the power to connect people from all over the world and has the potential of becoming a seed of hope to spread understanding and empathy."

For Hatta, the answer for helping Kyoto Animation is even broader: "Animation is the greatest form of expression, and the greatest support we could receive is for people to continue watching and appreciating animation as a whole."

And one doesn't have to look far for Kyoto Animation works coming soon with Baja's Studio - Baja and the Sea scheduled to broadcast worldwide on July 23 on NHK World Premium and streamed on NHK World Japan in August, as well as the long-awaited Violet Evergarden movie scheduled for September 18, 2020.
When asked what Hatta is looking forward to the most in the future, he replied "For people to grow, and for those people to continue to create, and that process to grow as well. That's what I look forward to."
---
Kyle Cardine is an Editor for Crunchyroll. You can find his Twitter here.

Cayla Coats is the Editor-in-Chief of Crunchyroll News. She tweets @ceicocat.

Daryl Harding is a Japan Correspondent for Crunchyroll News. He also runs a YouTube channel about Japan stuff called TheDoctorDazza, tweets at @DoctorDazza, and posts photos of his travels on Instagram.