That we should crunch these numbers is a fate chosen by this world!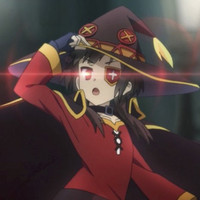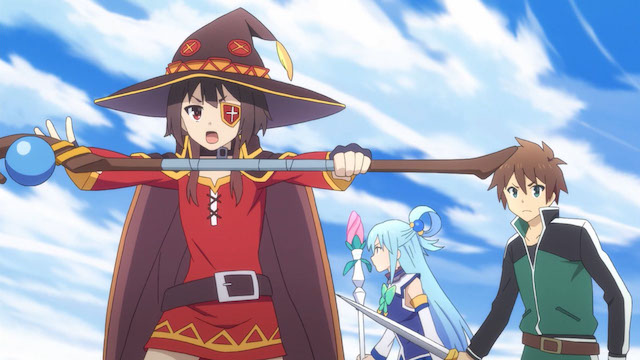 KONOSUBA is full of memorable characters, each with their own ridiculous quirks that make them an indispensable member of the main party. In the case of Megumin, who could possibly turn down the benefits that come along with her absurdly powerful Explosion magic? After all, it's literally the only magic she'll use, and she typically completely passes out after a single bombastic casting. Okay, maybe this doesn't sound like such a great deal after all, but Megumin's obsession with explosions inspired us to run the numbers and see just how useful this technique can be.
In this highly scientific study, I rewatched all of Kono Subarashii Sekai ni Shukufuku o! and took note of every time Megumin says "Explosion!" That wasn't enough, though, so I factored in what she exploded in each episode, if she destroyed or just damaged it, and whether or not she had any assistance.
Unfortunately, we go completely Megumin-less until almost 10 minutes into the second episode, where we first get to witness her supreme power as an Archwizard of the Crimson Demon Clan. So, with that in mind, let's see how much havoc her Explosion magic wreaks in Season 1.
Charting Megumin's Explosions by Season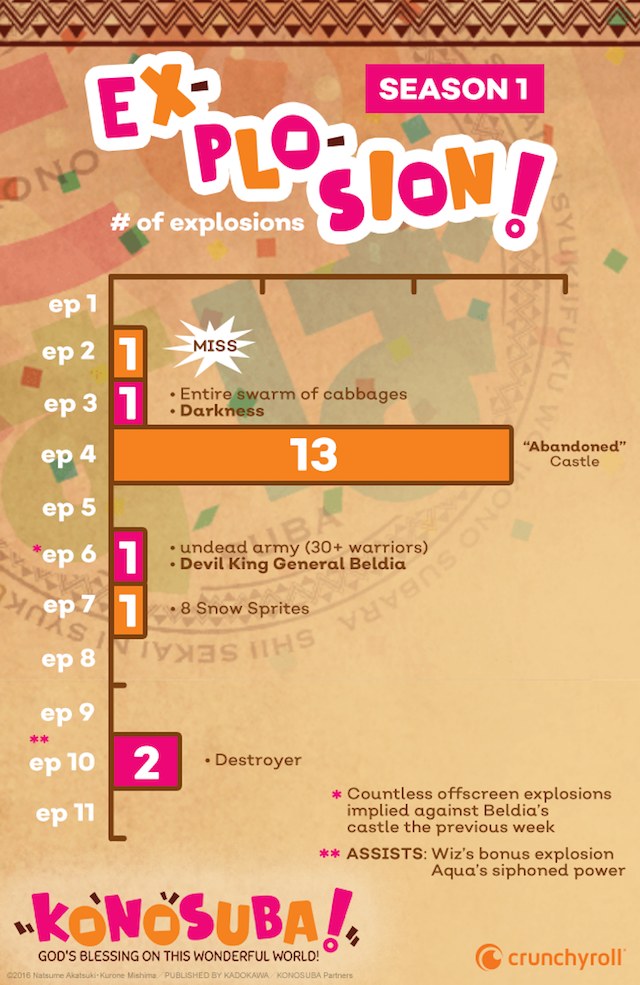 The second season throws some interesting wrinkles into the mix. It's not just about how many times she blows something up or how badly she damages it, so don't let the numbers trip you up.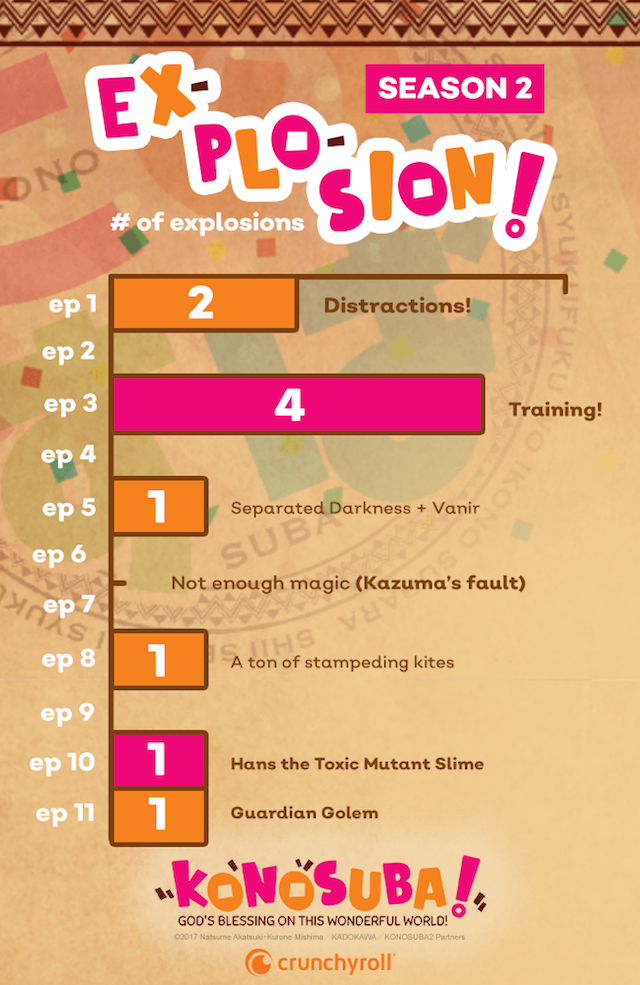 As a bonus round, here's a chart marking each exact moment Megumin cast her mighty spell in the KONOSUBA: Legend of Crimson anime film: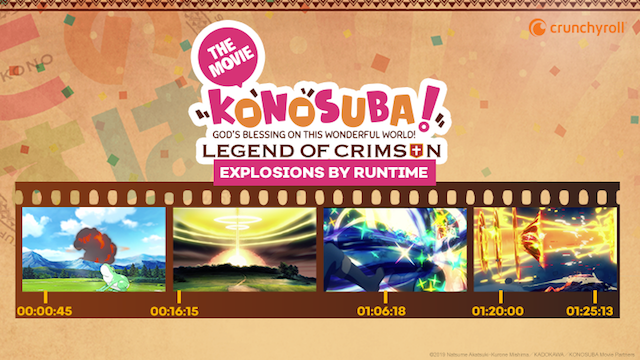 At first glance, it may seem as if KONOSUBA Season 2 had fewer explosions, which would mean that Megumin isn't at the top of her game, right? This couldn't be further from the truth! When you look at what Megumin did with her explosions, from training on things that aren't occupied castles to using them as distractions and taking down or damaging enemies, they were much more purposeful and precise.
Megumin's level-up can be seen toward the end of Season 1 with the incapacitation of the Destroyer. She is way less reckless in Season 2, and her explosions are typically used as part of a — shock of shocks — strategy the entire party devised. WHAT IS GOING ON, KONOSUBA? Even when she messed up and couldn't fire off her explosion in Episode 6, it was because Kazuma drained her of some of her magic.
In short, by the end of the second season, Megumin isn't just powerful … she's extremely useful!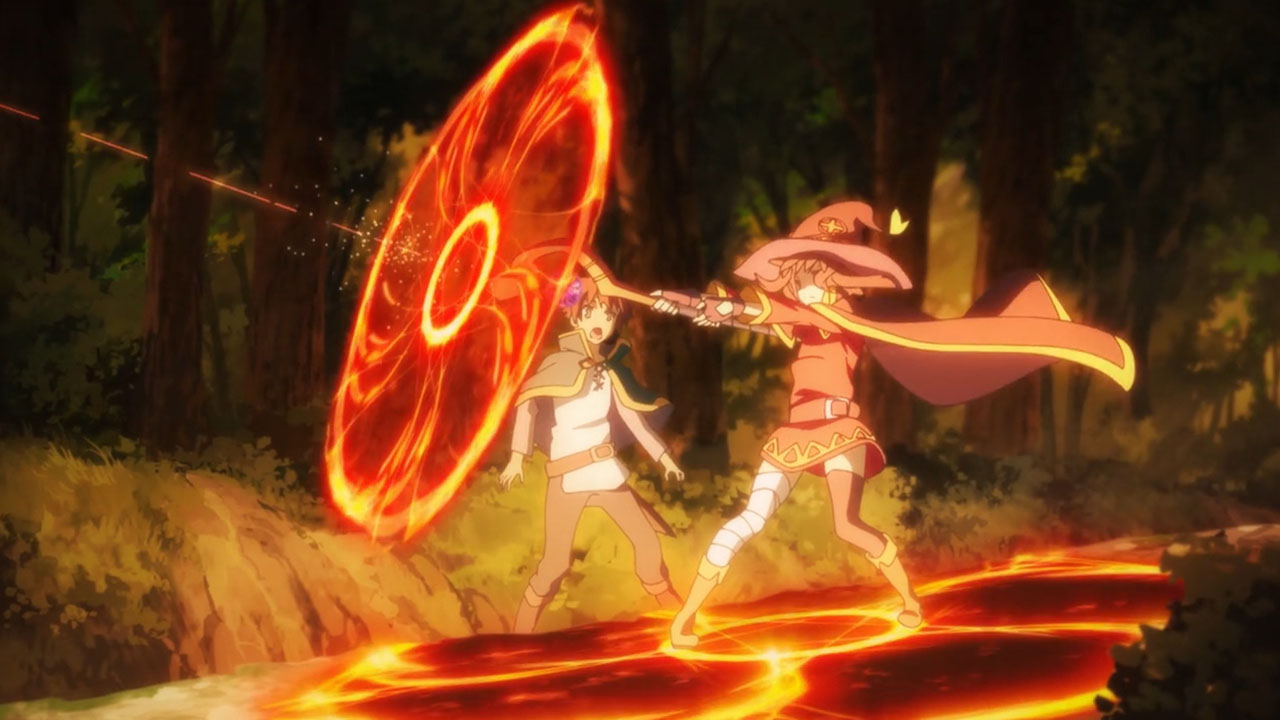 Megumin's Explosion: Damage vs. Destruction
When it comes to the effectiveness of Megumin's power, you can get an idea of the damage she does with each casting throughout the series. Let's take a look at a quick overview of her damage vs. destruction ratio. I considered foes (and friends) "damaged" when they were able to walk away from the battle and live to fight another day. "Destroyed" means, essentially, that they're dead or otherwise no longer functional. Large groups are bundled into single targets. Then we have a third category: The rare "Miss" or "No Target."
I'm not going to take the off-screen implied explosions into account, but rest assured I'm literally always thinking about them. Note: In some cases, single explosions both damaged targets and destroyed others, so the numbers won't add up perfectly.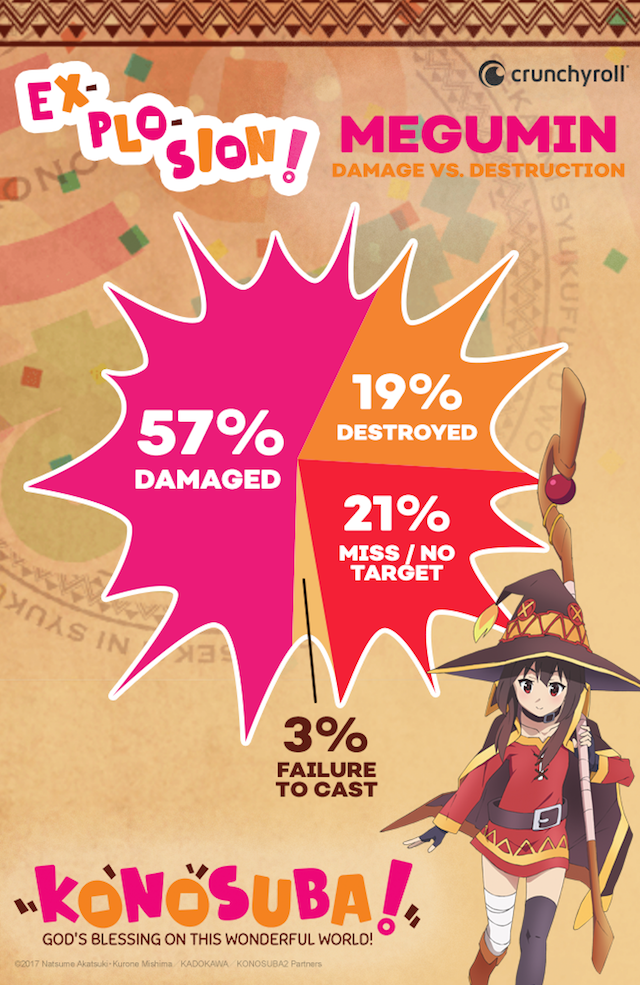 So, what's the big takeaway here? It may not look like Megumin has a ton of accuracy or control at her disposal, but it's impossible to overlook just how essential she is to the party as a whole. As helpful as these charts may be, though, you really need to see Megumin in action for yourself to appreciate her overwhelming power. If you haven't watched KONOSUBA, there's no better time than the present. And if you have watched it, just do what I've been doing: Watch it over and over again from beginning to end!
What's your favorite EXPLOSION? Tell us in the comments!

---
Joseph Luster is the Games and Web editor at Otaku USA Magazine. You can read his webcomic, BIG DUMB FIGHTING IDIOTS at subhumanzoids. Follow him on Twitter @Moldilox.