It's a wild world out there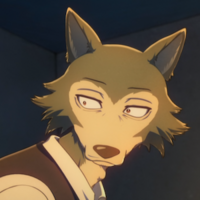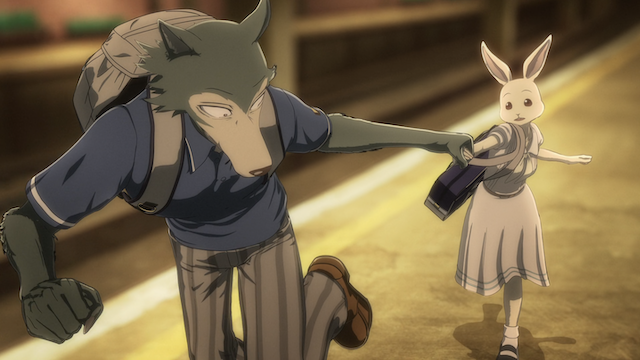 After an argument, Legoshi runs with Haru away from an officer
Image via Netflix
If there's anything stories about animals tend to tell us, it's that people aren't any better.
Paru Itagaki's 2016 hit manga series Beastars, adapted by studio Orange in 2019, tells the tale of a sophomore wolf named Legoshi at Cherryton Academy. Unlike your typical high school, this school is occupied by a mix of herbivore and carnivore animal students. Home economics with a chicken who sells her own eggs, anyone? But underneath the novelty of herbivores and carnivores peacefully coexisting is a brutally honest story about desire and self-image. To be a carnivore among herbivores means coping — and finding any means possible to ignore instincts to maim and kill. And Legoshi couldn't be any more ashamed of how poorly he manages. What's a wolf to do?
Appearances Are Everything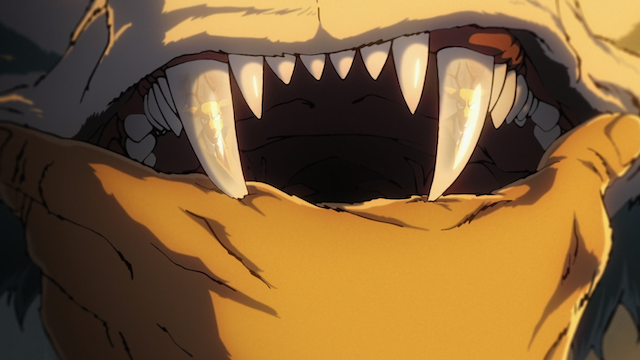 Legoshi demanded by Louis to bite him
Image via Netflix
At its heart, Beastars' animal cast shares all the standard anxieties of average, moody young adults. Haru, a white dwarf rabbit who feels like she only has autonomy via intercourse and her petite body, struggles with objectification like many young women. Legoshi is at odds with his own primal desires to hunt, an implied "herbivore fetish," and sexual frustration. But instead of allowing the punchline to simply state that all wolves are violent, or that all rabbits want to breed, Beastars sincerely portrays these qualities as analogies to real adolescent problems. That is, not being happy with society's limited expectations of you.
After a student is killed by a feral carnivore in the drama club, a shadow of anxiety divides the two herbivore/carnivore groups of Cherryton. Legoshi, who already feels ashamed for having already given in to his hunting instincts before, becomes so awkward with herbivores it ends in a severe social handicap. Like the tall and powerful stage lights he operates, he'd rather draw attention to anyone but himself. To put it frankly, Legoshi has major self-image problems, but refuses to acknowledge the giant furry, fanged elephant (erm, wolf?) in the room.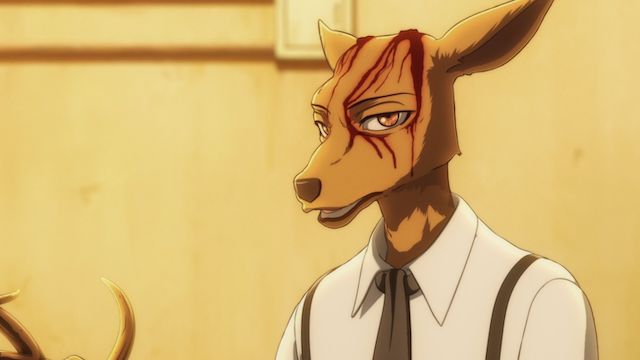 Louis without his antlers
Image via Netflix
But despite all the clout, one may think a carnivore has in this world, it turns out even those kinds of "natural" images are artifice. The lion mayor himself admits to Legoshi that he underwent "a small fortune" of plastic surgery to replace his fangs with normal teeth before college. Even Louis, student herbivore actor heartthrob and future "Beastar" of the Academy, loses his antlers freshman year and now wears prosthetics. Just like our world, the animal world heavily revolves on self-image and the meticulous upkeep of it. What's an anxiety-burdened, gangly, big-jaw wolf to do about it? That's right, talk to herbivore girls. The horror.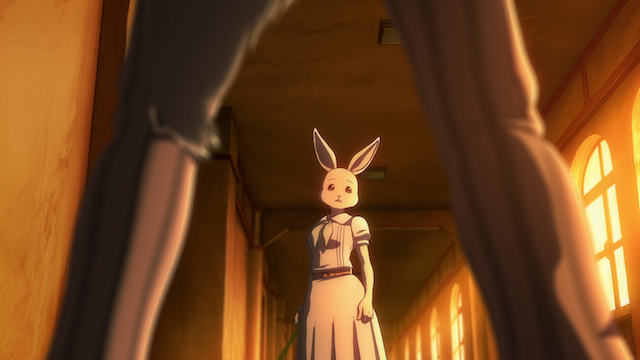 Haru encounters Legoshi in the hall
Image via Netflix
Nature and Destiny
For all the pain it causes him, Legoshi falls in love with little Haru. Haru, who has already been with carnivores, can tell right away Legoshi is uncomfortable in his own skin. Painfully so. Although both of them suffer from the same problem, they come from entirely different worlds: Haru is a woman, an herbivore, and a "common" dwarf rabbit. Legoshi is a man, carnivore, and a cool "representative canine" species. If Legoshi has a problem with self-image, then, in theory, he can at least defend himself. But Haru, pulling a page straight from Watership Down, has already accepted the entire world is her enemy. And still, somehow, they can't resist each other. Is their love doomed? As it turns out, Haru and Legoshi's insecurities may end up being the mutually beneficial solutions they need.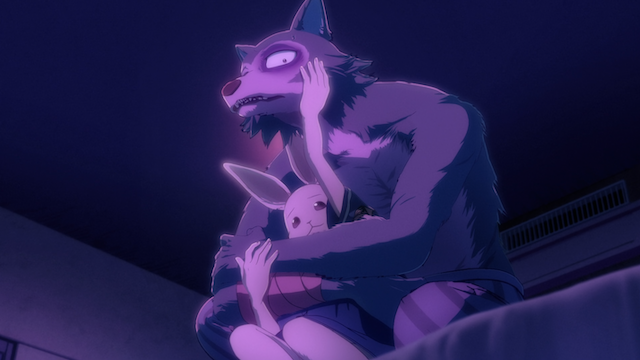 Haru encourages Legoshi in bed at a love hotel
Image via Netflix
If a carnivore is intimidating, it's because he has sharp fangs, claws, and an imposing stature. An herbivore is small and defenseless. Yet, that doesn't necessarily mean that's the only form of power in Beastars. If you can't be it, act it. Literally. Louis makes up for his lack of carnivore status with his confidence and an unflinching dedication to acting. Sure, you can be born a carnivore, but you aren't born powerful or charming, either. Louis and Haru first meet after Louis is caught hiding in the campus flower shop, bleeding because his antlers have fallen — without them no one will take him seriously. He offers Haru money, but she refuses and instead offers to take care of his wounds. From there, their friendship (and eventual romance) begins between two herbivores, who mutually understand the stigma of appearing weak. Haru finally learns something Legoshi doesn't know: that nature isn't necessarily destiny, that alternatives to the status quo exist.
Finding Your Niche
But for Legoshi, his solutions aren't so easy to come by. If furry plastic surgery isn't an option, if he has no control over his unyielding appearance, then he only has one option left: embrace being a wolf. "Accept yourself" is a cliche — can it really be that easy? While Haru suggests he lean into his wolfish nature, both understand the risks inherent to being an inter-species couple. With incidents of carnivore attacks increasing on the rise, even minor couple spats end up attracting unwanted attention. Soon the relationship is in jeopardy because wolves simply can't control themselves, right? Of course, not all wolves are like this. But that doesn't do anything to mitigate Legoshi's anxiety. If he can't cope, then how do other wolves do it?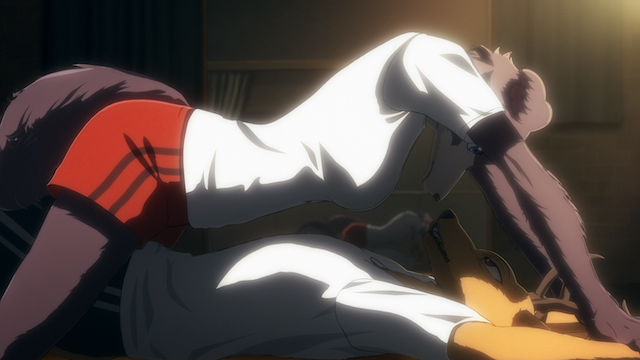 Juno tackles Louis to the ground during late-night practice
Image via Netflix
Freshman student Juno fully embraces her wolfness, even weaponizing it to her advantage to threaten Louis for the title of "Beastar." She perfectly foils what Legoshi can't accept himself — she knows she's attractive and a carnivore, and accepts that without hesitation. If anything, Juno's climb toward confidence after overcoming prior bullying shows that self-image does improve, with effort. She essentially knows what Haru knows from a wolf's perspective: if you want to be accepted, flaunt your gifts. Just like in nature, animals have a niche, and clearly the sticky social jungle of high school is hardly any different.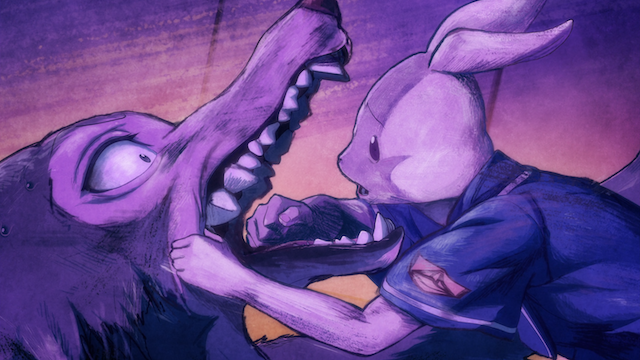 "I know ... it's my rabbit insticts fighting back. Telling me it's a terrible mistake."
Image via Netflix
Accepting yourself requires changing your most basic definition of yourself, in Legoshi's case. If he's going to accept being a vicious wolf, he'll do so for Haru's sake, for love. It's a messy, hard decision, but it's a new dynamic he must gradually grow into as their relationship blossoms. After finally admitting to Haru he was the carnivore that attacked her, their relationship is changed forever. If their bodies instinctively know they are predator and prey, then they must either fully embrace fate, or walk away without compromise. Only time will tell. With Beastars' highly anticipated second season in the works, it's only a matter of time before we see where Legoshi's newly accepted path of wolfness leads.

---
Blake P. is a weekly columnist for Crunchyroll Features. He respects the furry theatre kid community. His twitter is @_dispossessed. His bylines include Fanbyte, VRV, Unwinnable, and more.
Do you love writing? Do you love anime? If you have an idea for a features story, pitch it to Crunchyroll Features!