"Cruising the Crunchy-Catalog" checks out a Fall 2017 title that goes full "meta"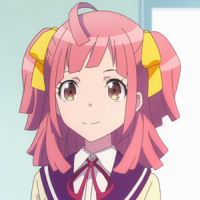 Out with the new, in with the old, as the saying certainly doesn't go! It's a new year and "Cruising the Crunchy-Catalog" is resolved to leaving 2020 in the dust by cleaning up our respective queues and watching a few anime series that we may have missed back when they were initially broadcasting.
Join us this week as we check out Anime-Gataris, a fall 2017 TV anime that takes a simple premise — a group of high school students form an anime club and then try to protect it from a student council that wants to shut it down — and flips the whole thing on its head with increasingly fourth-wall-breaking humor.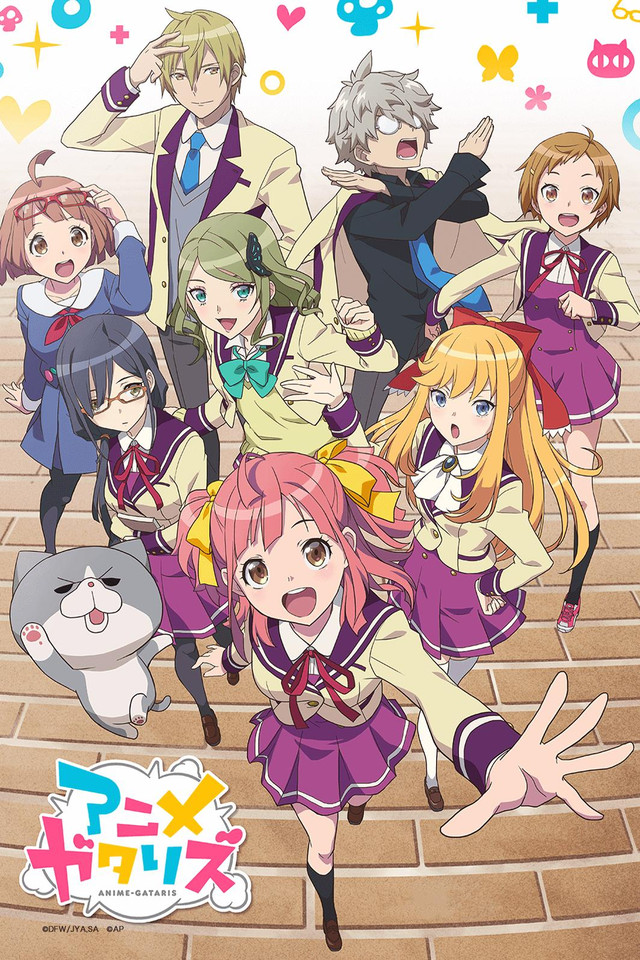 What's Anime-Gataris?
Anime-Gataris is a 2017 TV anime with direction by Kenichirou Morii and animation production by Wao World. Crunchyroll describes the story of the series as follows:
Just as soon as she enters Sakaneko Private High School, Asagaya Minoa is dragged into the anime club by her classmate, Kamiigusa Alice, even though she knows next to nothing about anime. A classmate, Kouenji Miko, along with other anime-loving senpais, quickly turn her into an anime fan. Fighting off the incessant shut-down threats of the student council, and completely oblivious to the coming apocalypse, the anime club talks about anime in the club, at Akihabara, at anime Meccas, and at hot springs.
Written in katakana, gatari can mean "talk" or "recital" (i.e. chatting about anime), but it can also refer to the sound of clashing and banging around, so Anime-Gataris is a series that begins with some pleasant conversation and builds to an explosion of absurd situations and scenarios.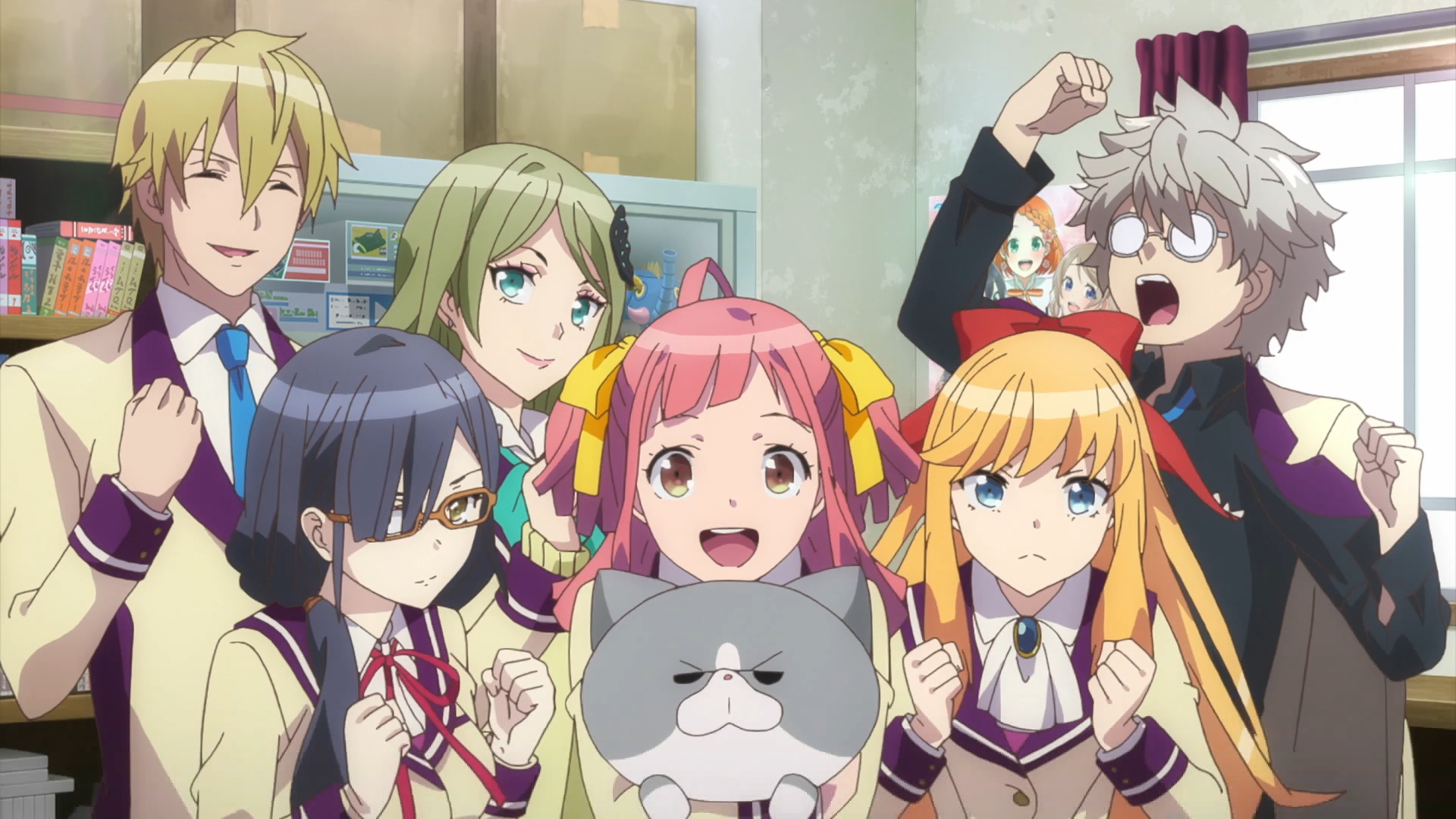 Fandom Clubs.
The primary layer of comedy in Anime-Gataris is observational humor. The series begins with the protagonist, Minoa, trying to remember the name of an anime that she saw as a kid based only on a loose description of the climactic final scene, and her efforts to track down this tidbit of trivia result in her getting press-ganged into the local anime scene.
Having run a high school anime club myself many years ago, I can say with authority that Anime-Gataris perfectly captures the exact sort of goofy arguments and clashing personalities that such an organization attracts. The series also spoofs anime-adjacent activities (such as idol culture and cosplay), so if you want to see your favorite pastimes get gently roasted, be sure to tune in.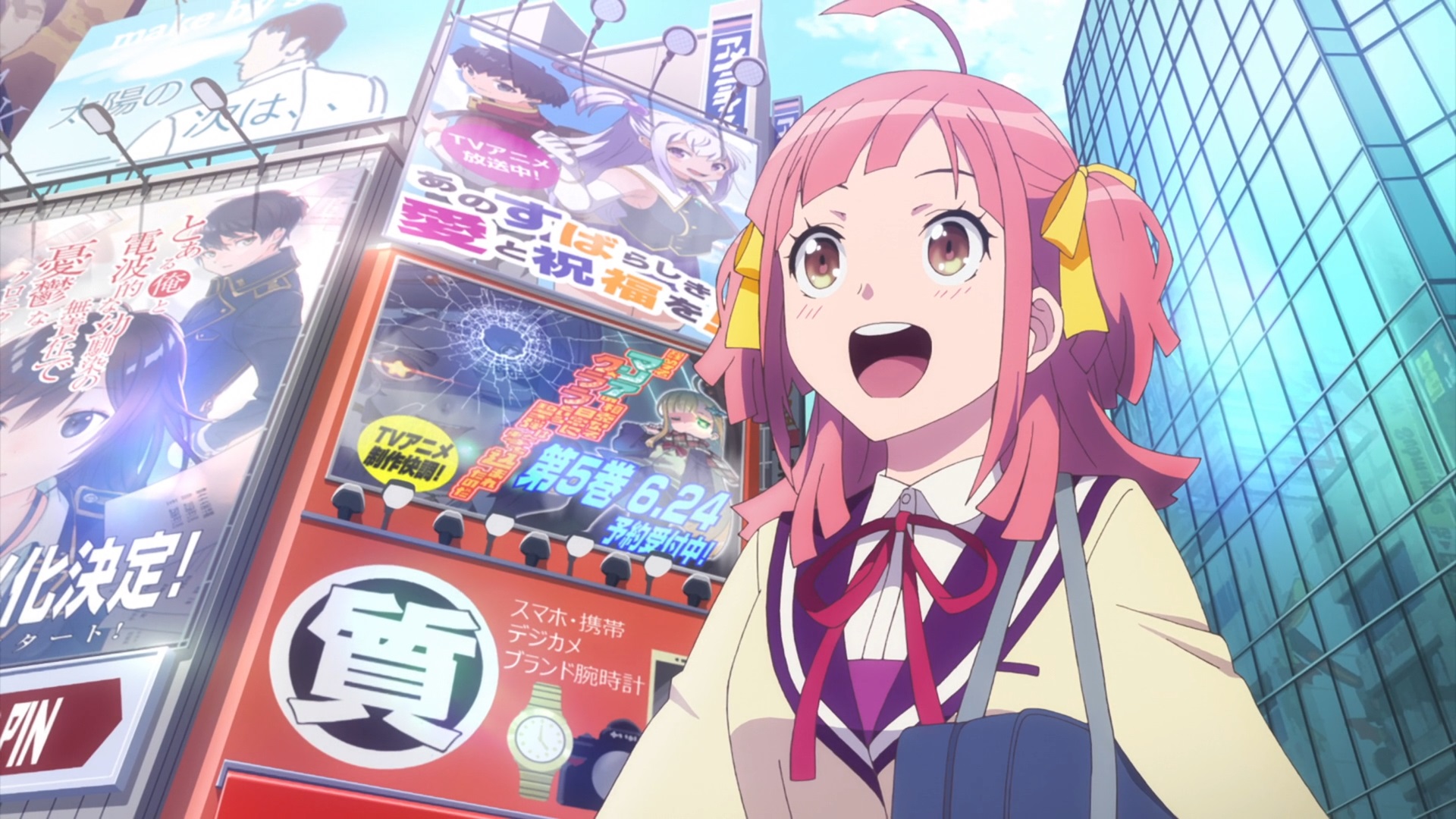 Anime Hearts.
Anime-Gataris doesn't confine its humor to simply chronicling fan spaces, fan interests, and fan behaviors. The series also digs into the technical side of anime production, promotion, and distribution in an effort to tickle the funny bone, in the process tackling subjects such as anime tourism pilgrimages and even the dreaded challenge that is Summer Comiket.
Anime-Gataris celebrates the artistic achievements that anime creators strive for while also emphasizing the tremendous amount of work and crushingly tight schedules that are involved in anime production. Even the janky, no budget flash anime that the club produces for the school festival involves months of back-breaking labor and coordinated effort, and Anime-Gataris mines plenty of grim jokes from this process.
Weirdness in Spades.
Anime-Gataris really ramps up when it dives headlong into meta-textual humor with jokes that poke fun at the conventions of the anime medium and the foibles of its fandom. Within the context of the show, this is explained by the "reality" of anime bleeding into the everyday life of Minoa and her friends, resulting in innumerable sight, structural, and situational gags.
It's easy to include jokes that break the fourth wall, but Anime-Gataris plays the invasion of anime tropes into the real world like a brush with existential horror as Minoa reacts with increasing distress at each bizarre escalation, such as when her friends' faces spontaneously assume '90s-style character designs. The shape of the series itself — its narrative structure, character designs, pacing, etc. — becomes part of the gag.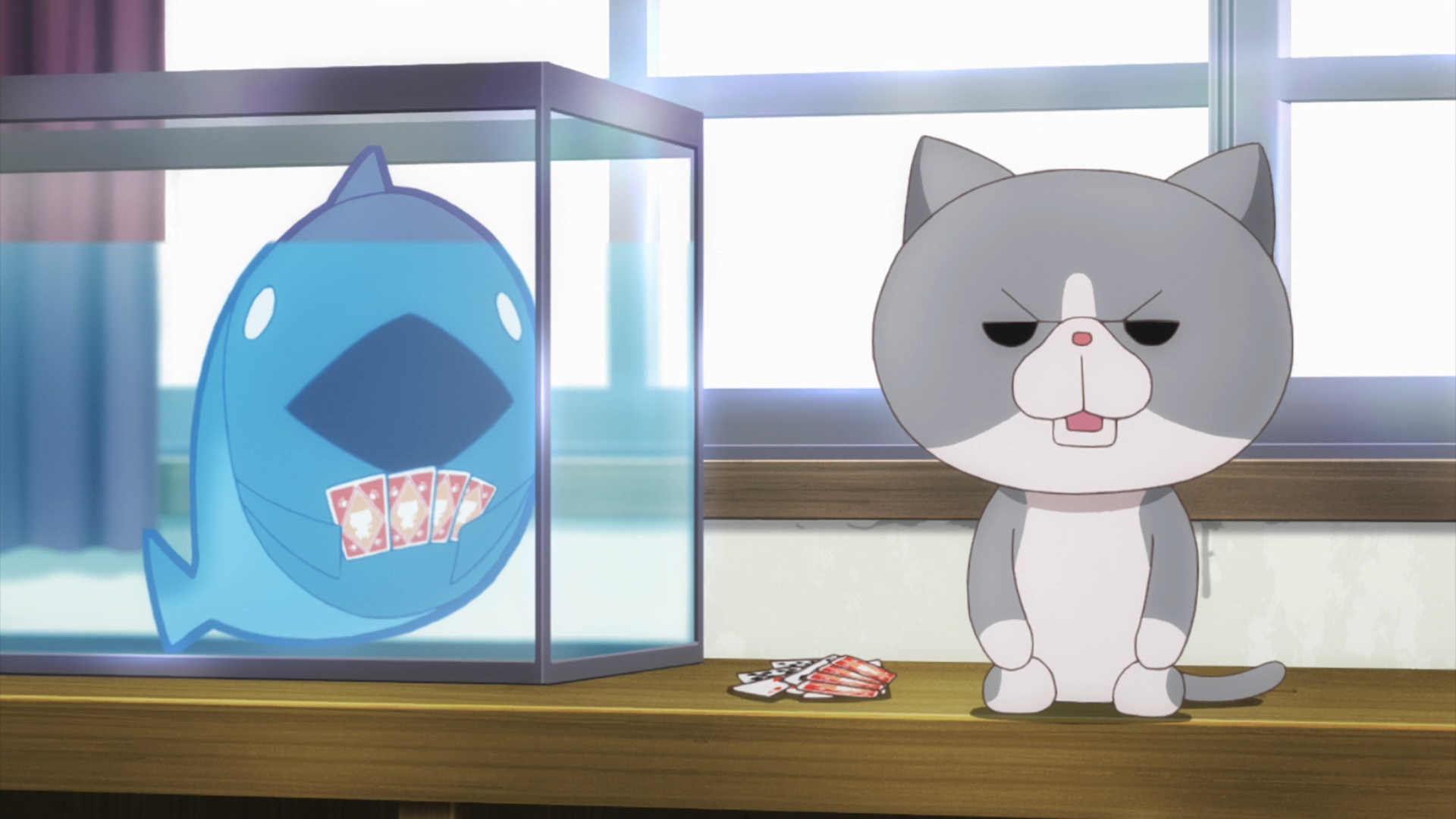 The Gift of Gab.
Crunchyroll currently streams Anime-Gataris in 51 territories worldwide. The series is available in the original Japanese language with subtitles in English, Latin American Spanish, and Portuguese. The series is also released on Bluray in the United States by Funimation, and this home video version includes an English language dub.
Although it takes a bit for the series to fully rev up and begin firing on all cylinders, if you stick with it, Anime-Gataris becomes a transformative comedy experience whose later developments will rattle your brain and force you to look at the earlier episodes in a completely different light. If that kind of meta-textual humor appeals to you, and if the series is available in your area, then please consider giving Anime-Gataris a try.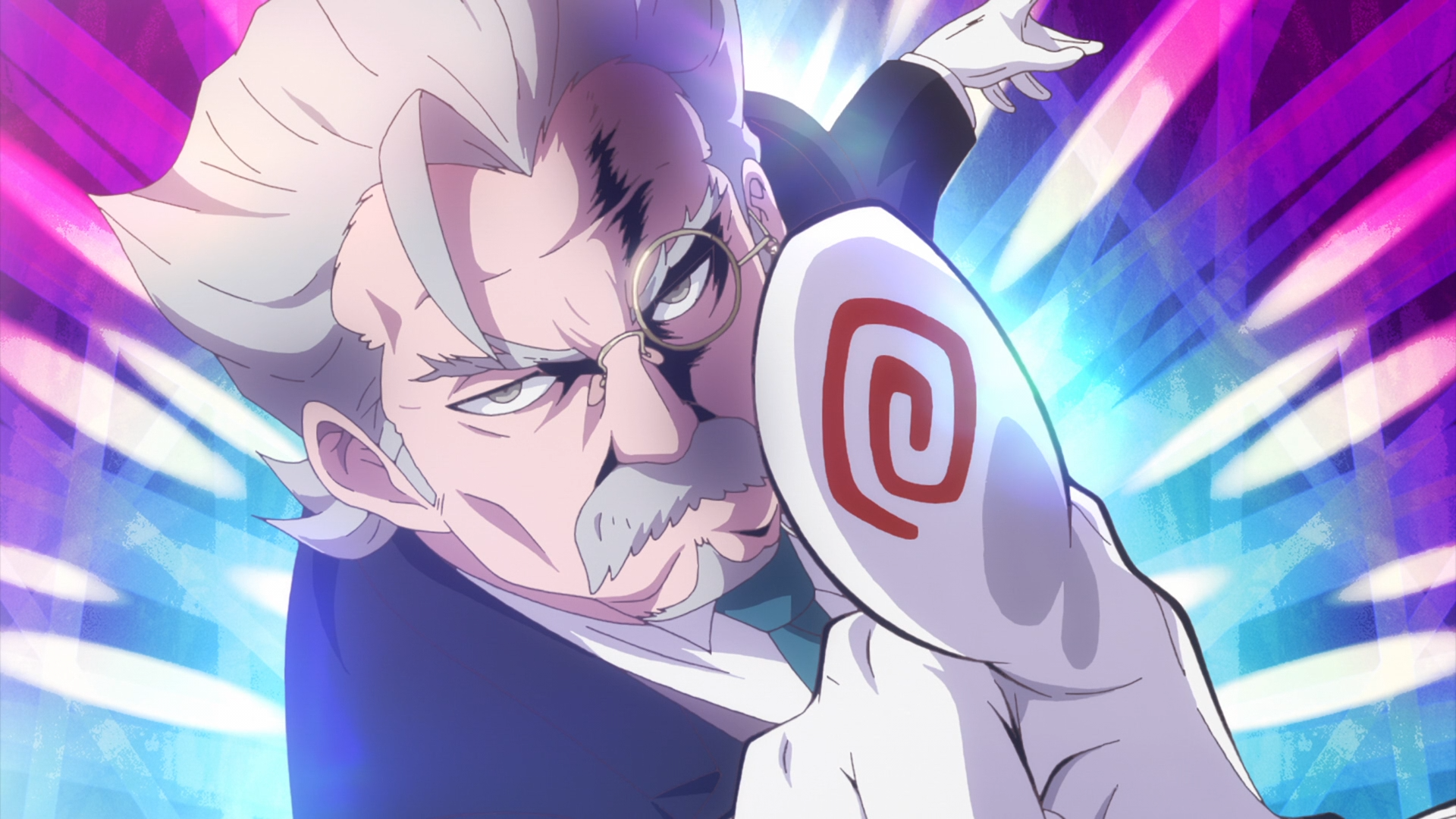 Thanks for joining us for the most recent entry of "Cruising the Crunchy-Catalog". Be sure to tune in next time, when we set sail for adventure with a look back at High School Fleet, a spring 2016 TV anime that puts the moe in mutiny.
Is there a series in Crunchyroll's catalog that you think needs some more love and attention? Please send in your suggestions via email to [email protected] or post a Tweet to @gooberzilla. Your pick could inspire the next installment of "Cruising the Crunchy-Catalog!"

---
Paul Chapman is the host of The Greatest Movie EVER! Podcast and GME! Anime Fun Time.

Do you love writing? Do you love anime? If you have an idea for a features story, pitch it to Crunchyroll Features!