"Cruising the Crunchy-Catalog" flashes back to fall of 2013 for a look at a light novel adaptation from Kyoto Animation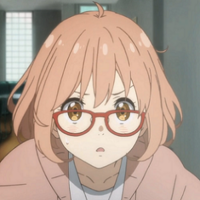 It's a new year full of new possibilities, but that doesn't mean that we as anime fans should neglect the past works that laid the foundation for our present circumstances, and so "Cruising the Crunchy-Catalog" is back for another round of catalog recommendations to help connect new fans with older titles that they may have missed the first time around.
This week, we're traveling back in time to the fall of 2013 to take in a tale of youthful romance, high school shenanigans, and martial violence of a spiritual nature. Please join us as we check out Beyond the Boundary.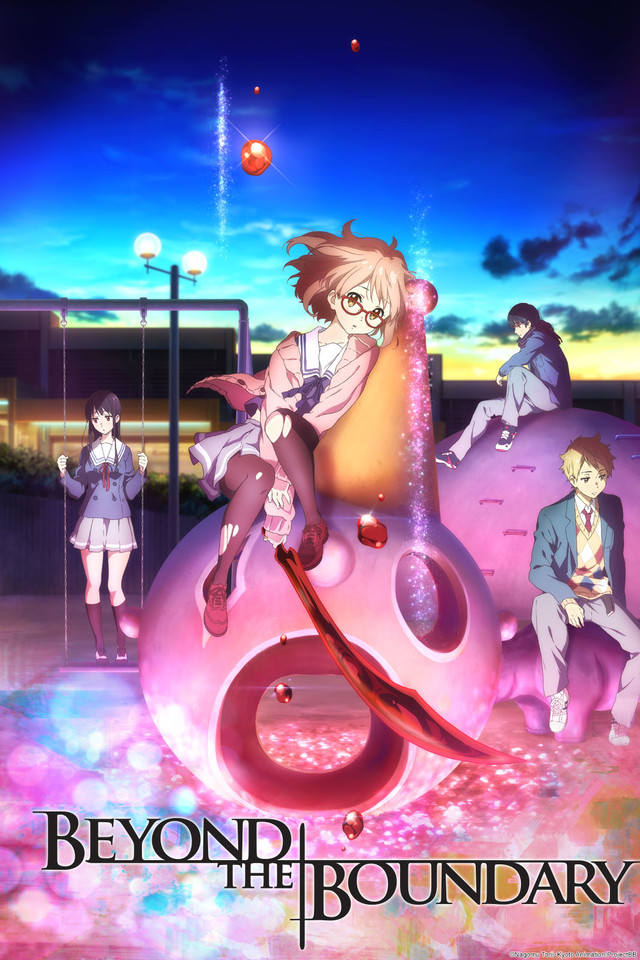 What's Beyond the Boundary?
Based on the light novel series written by Nagomu Torii and illustrated by Tomoyo Kamoi, Beyond the Boundary is a spring 2013 TV anime with direction by Taichi Ishidate and animation production by Kyoto Animation. Crunchyroll describes the story of the series as follows:
"There is a girl who is the last surviving member of a 'certain clan' and a 'half-youmu' boy who shouldn't exist... This is their story.
Beyond the Boundary follows the romcom misadventures of Akihito Kanbara, a second-year high school student and the above-described half-youmu boy, and Mirai Kuriyama, a first-year high school student who moonlights as a Spirit World Warrior.
Spirit World Warriors protect the mundane world from supernatural threats, while youmu comprise those supernatural threats, so the "meet-cute" moment between these two would-be high school sweethearts involves Mirai attempting to run Akihito through with a magic sword made from her own accursed blood.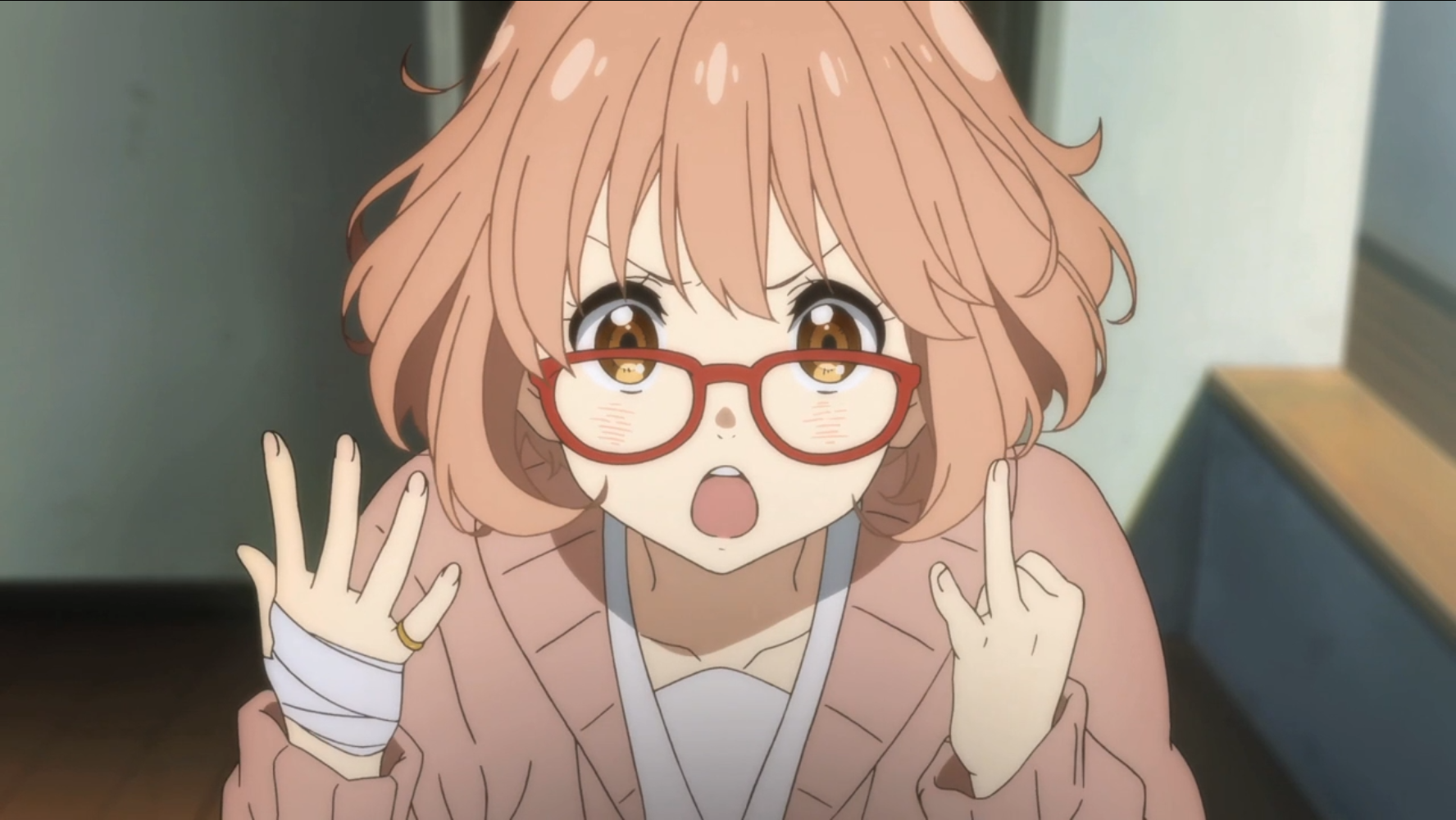 Phantom World.
Rather than being a work of "magical realism," Beyond the Boundary is more "realistically magical." While the main characters exist in a mostly mundane setting centered around their high school, they also regularly engage in climactic battles against youmu, otherworldly entities spawned by negative human emotions.
While the youmu can affect the human world, they are entirely invisible to ordinary human beings. Only the spiritually gifted are able to see and interact with youmu, and so Beyond the Boundary functions on two levels: as a straightforward story of magical combat, but also as a metaphor for the teenage troubles and adolescent anxieties that are largely unseen by the adult world.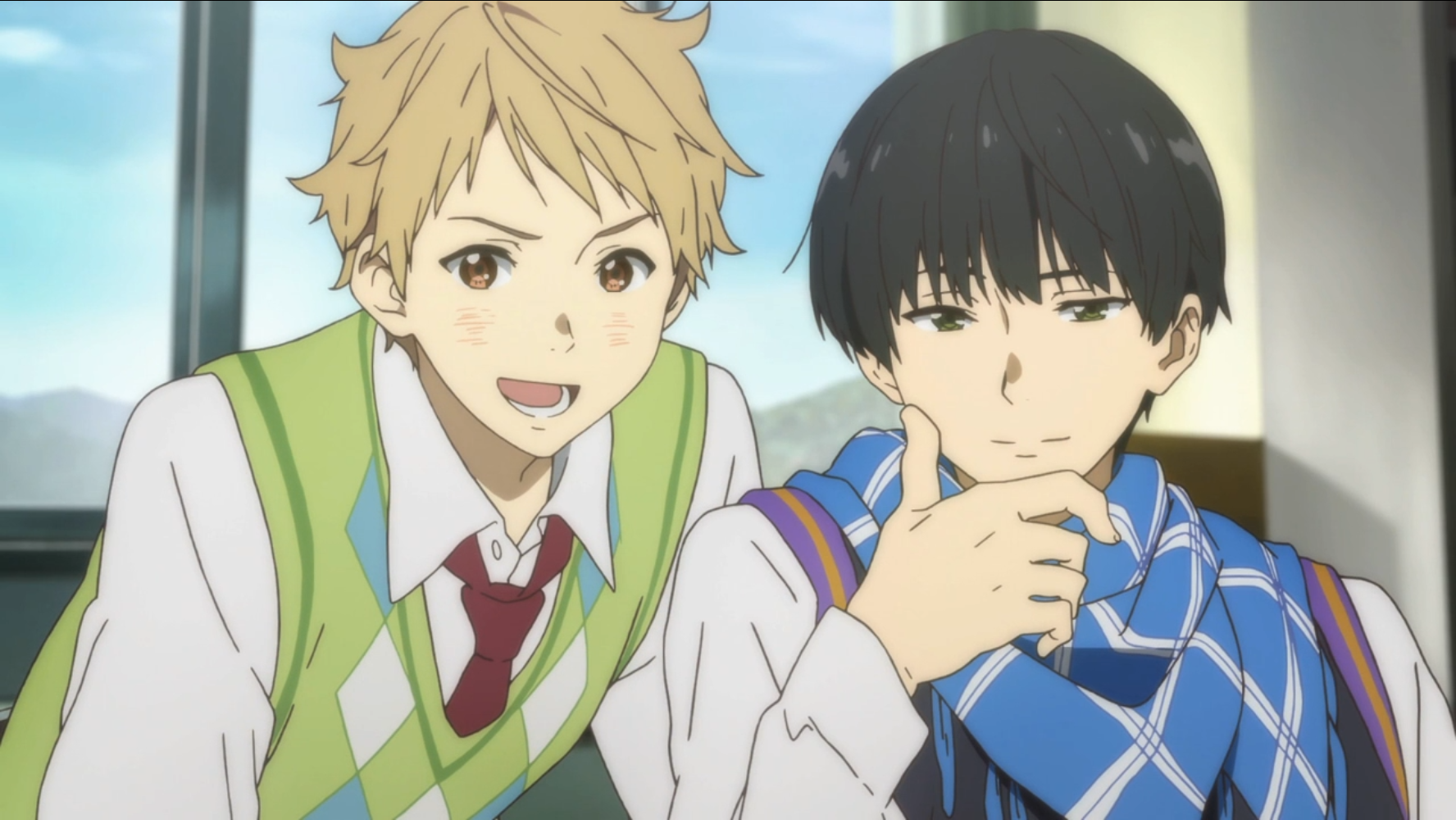 Love & Chunibyo.
Despite the high concept magical premise, Akihito, Mirai, and the rest of the gang spend a lot of the series goofing around like ordinary teenagers, and just like ordinary teenagers, they are crackling with all of the unbridled but directionless energy and laser-focused horniness that so often define the adolescent experience.
While the Spirit World Warriors are dealing with massive magical crises, Akihito and his friends are more concerned with managing the day-to-day business of the high school literature club, awkwardly attempting to woo one another, and earning enough money to maintain a steady snack supply. The juxtaposition between high stakes fantasy and everyday high school romantic comedy makes Beyond the Boundary a more mellow viewing experience than if it were nonstop drama and action.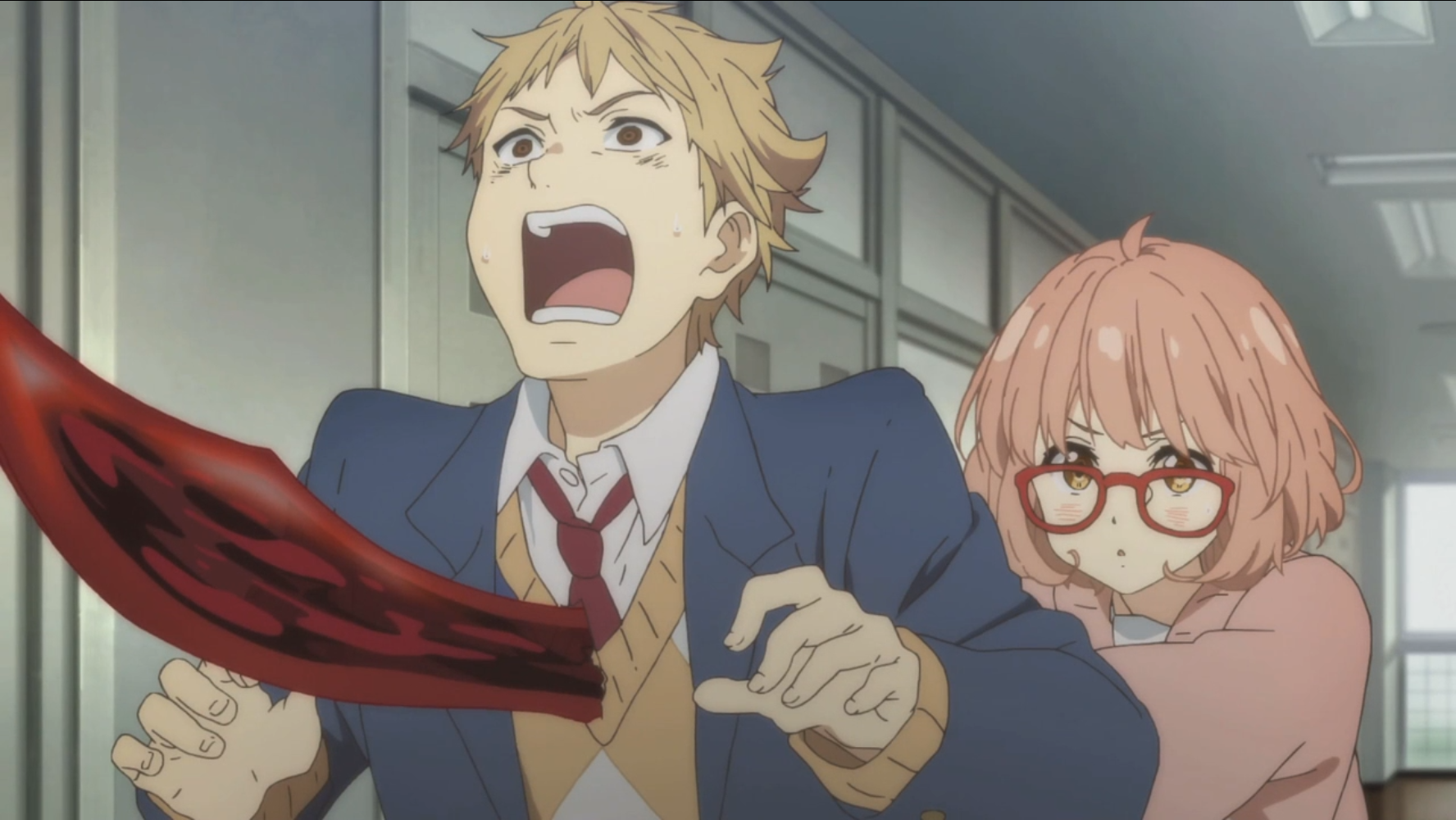 Commonplace Supernatural Battles.
From a technical perspective, the standout feature for Beyond the Boundary is the conflict with the youmu, and Kyoto Animation pulls out all of the stops to animate this series. Even nearly eight years after its initial broadcast, the visual aesthetic of the show is simply stunning, with dynamic fight choreography, smooth character animation, and mind-boggling special effects.
What Kyoto Animation was able to accomplish here on a TV production schedule and budget is absolutely breath-taking, and even if you're not a fan of romantic comedy scenarios, if you crave top-notch supernatural action, then Beyond the Boundary is the show for you.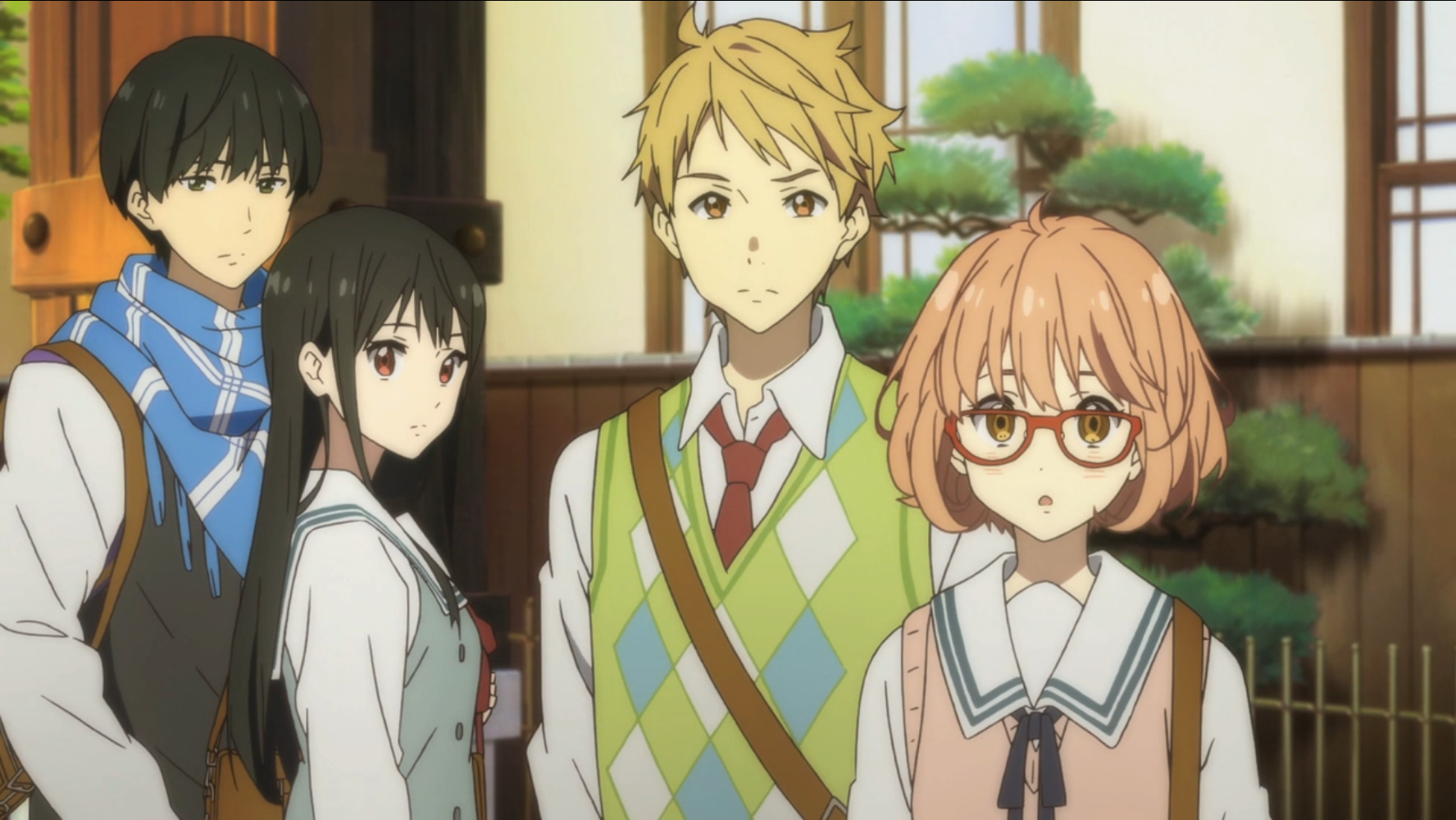 School's in Session.
Crunchyroll currently streams Beyond the Boundary in regions such as the United States, Canada, Puerto Rico, Australia, New Zealand, and American Samoa. The series is available in the original Japanese language with subtitles in English. Beyond the Boundary is also released on home video in the United States by Sentai Filmworks.
With outstanding visuals, an off-kilter sense of humor, fantastical action sequences, and just enough intrigue to keep the audience guessing, Beyond the Boundary is a great choice for novice and experienced light novel fans alike. If high school romance and supernatural exploits are your cup of tea, and if the series is available in your area, then please consider giving Beyond the Boundary a try.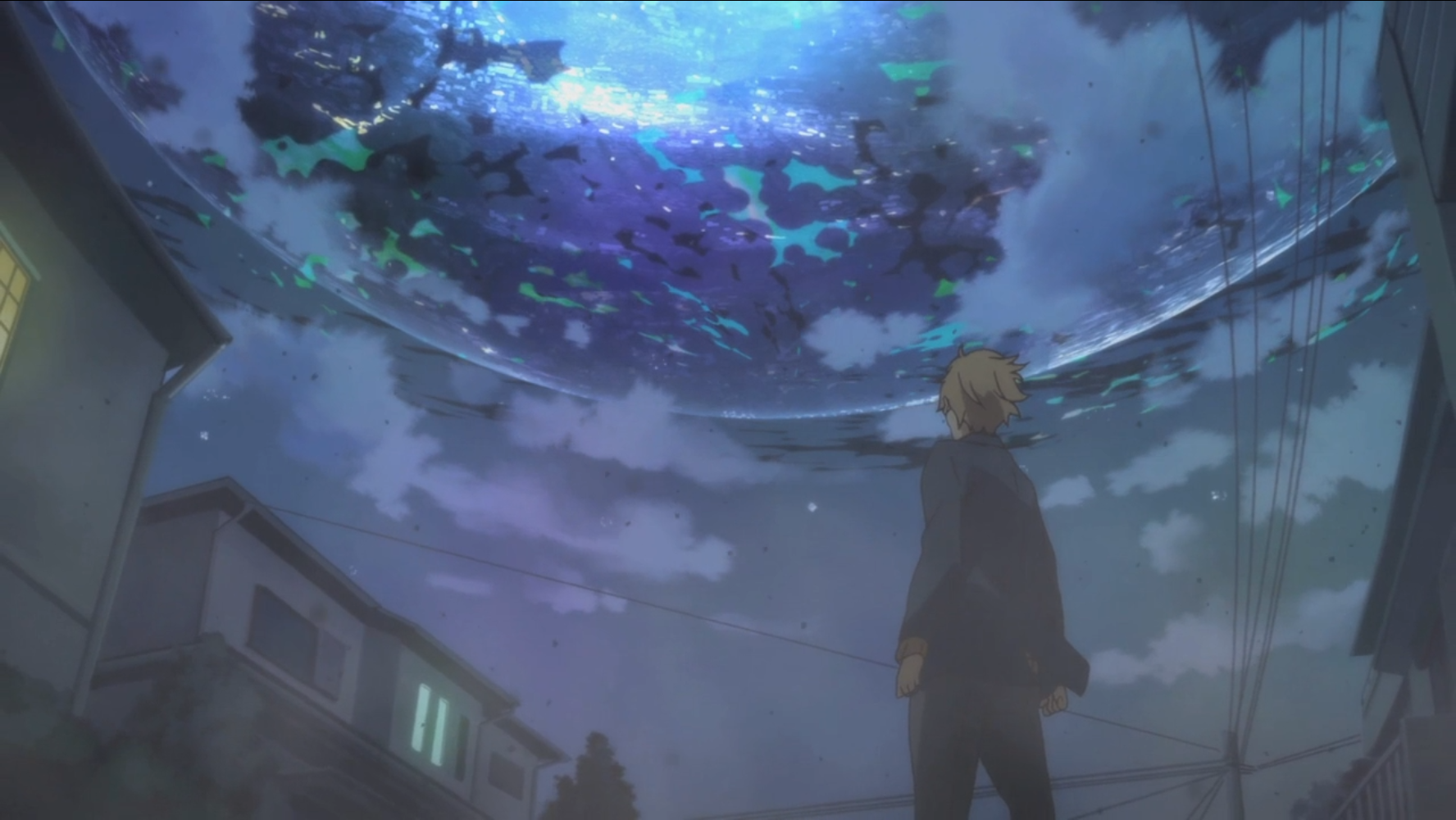 Thanks for joining us for this week's installment of "Cruising the Crunchy-Catalog." Be sure to tune in next time when we tackle the family drama and gourmet delights of a recently widowed dad trying to learn to cook for his young daughter with a look back at the summer 2016 TV anime, sweetness & lightning.
Is there a series in Crunchyroll's catalog that you think needs some more love and attention? Please send in your suggestions via email to [email protected] or post a Tweet to @gooberzilla. Your pick could inspire the next installment of "Cruising the Crunchy-Catalog!"

---
Paul Chapman is the host of The Greatest Movie EVER! Podcast and GME! Anime Fun Time.

Do you love writing? Do you love anime? If you have an idea for a features story, pitch it to Crunchyroll Features!