I literally got to drink my own waifu!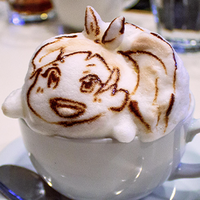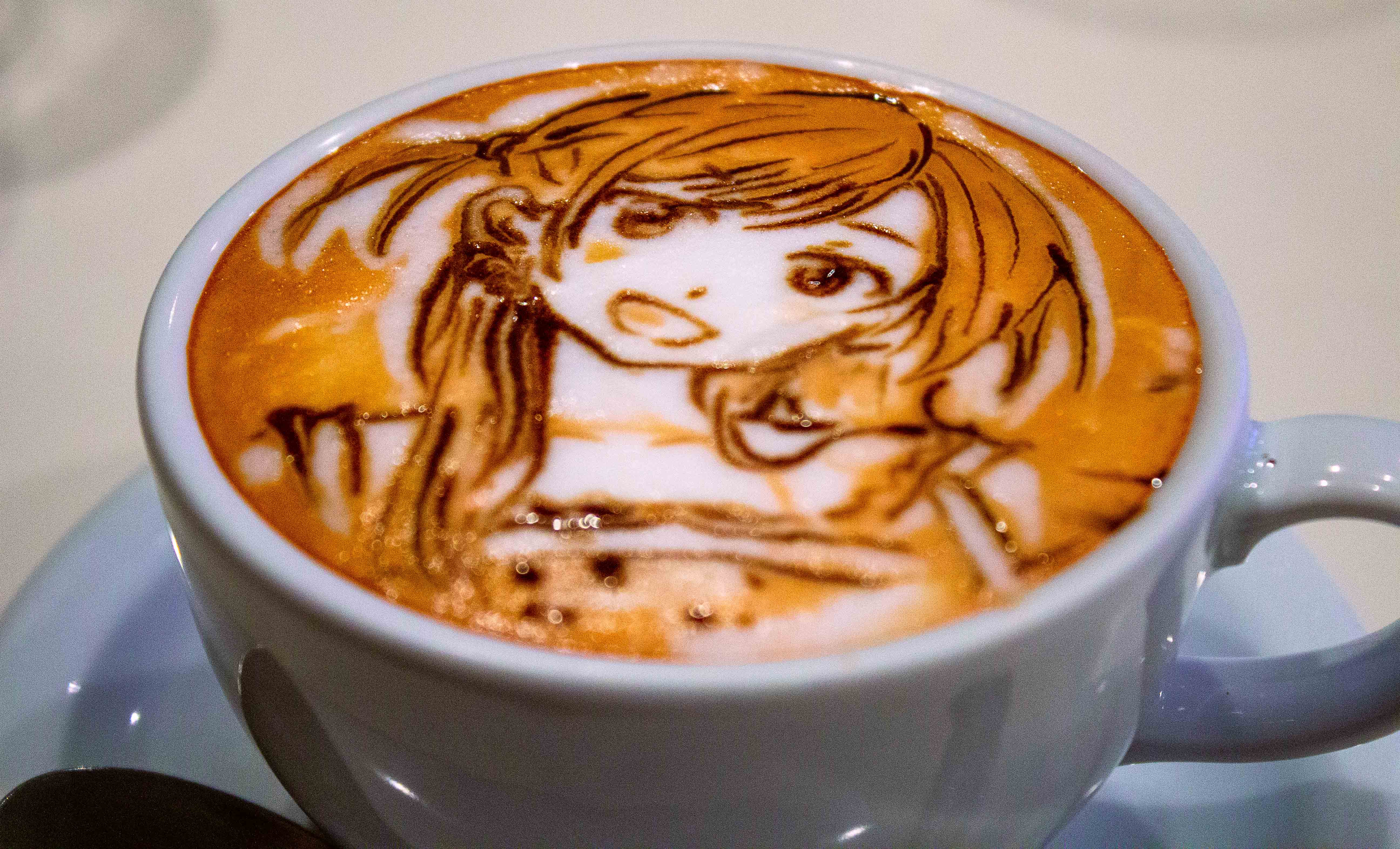 A note on safety: The following report undertook strict safety procedures in Japan. We strongly urge everyone to follow the recommended safety protocol in your country — not just for your sake, but everyone else's as well.
If you've been on coffee Twitter or anime Instagram in the last five or so years, you've no doubt seen some intricately detailed anime latte art. One of the leading artists you may have come across is George, a Japanese coffee creative who has racked up over 400k followers on Twitter thanks to his caffeinated designs. This brilliant barista runs a Reissue cafe in Harajuku where he delights visitors with both his 2D and 3D latte art and helps guide the next generation of latte artists.
I got the chance to sip some of George's masterpieces at the cafe in Harajuku last month while conducting an interview with Anime Award Judge Kaho Shibuya. Not letting the chance pass me by, I snapped some pics, (social distantly) spoke with the owner, and let the smell of freshly brewed coffee overtake my senses.

How Cafe Reissue in Harajuku Got Started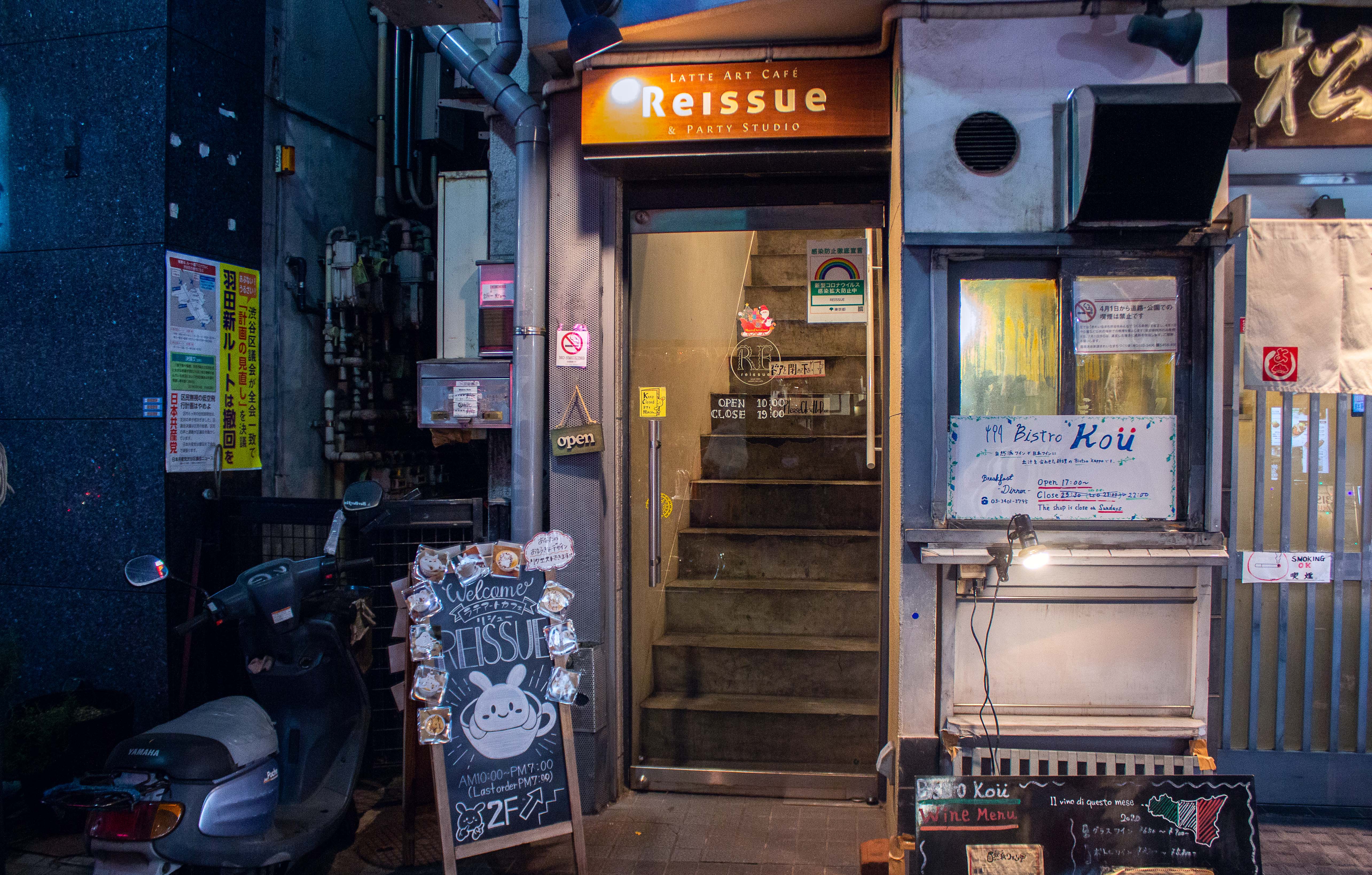 As someone who grew up surrounded by great coffee, lived in one of the top coffee cities in the world (according to the BBC and CNN), and certified in brewing beans (though admittedly very rusty), living in Tokyo has made my coffee-loving heart bleed with the poor excuse for what is called coffee in this country. Even LeBlanc can't compare.
Thankfully, Reissue's brew combines both my love of good coffee, and my love of anime into one cup, and thanks to George's artistry, I could literally drink my own waifu (Mio from K-ON! for those playing at home).
本日の暇カプチーノ、『コダック』。 pic.twitter.com/iudZrhC229

— じょーじ☕ (@george_10g) February 5, 2021
George also grew up around coffee. His father owned a coffee shop in Okayama, and wanting to follow in his footsteps, George also began brewing but wanted to add his own twist to make his drinks stand out — 3D latte art. In 2011, after George had moved to Tokyo, he started posting his 3D latte art on Twitter and quickly drew the attention of thousands who flew George out to countries such as Hong Kong, Macau, Sweden, New York, France, and Germany for events.
After being flown around the world, a friend of George's was opening up a cafe and told him "I'm trying to start a café in Harajuku, and I'd like to leave the daytime cafe hours to you." George was basically given no choice in the matter but did want to take the plunge and took up his friend's offer. In late 2017, Reissue was born.
Since then, George has helped two aspiring latte artists grow alongside the store, with one of his apprentices, Runa, becoming the store manager.
Creating All Might 3D latte art
\ 私が来た!!!!!! / pic.twitter.com/R8wFLFNekJ

— 加藤瑠菜@Latteart☕.◦*.*。???????? (@RunaPocket) January 31, 2021
The First Sip of 3D Latte Art
The friendly atmosphere of the cafe helps comfort those — like me at the time — who may be a bit nervous about trying out a new location or are on holiday and don't speak a lick of Japanese. To order, all one must do is choose what flavor drink you'd like, whether you'd like 3D or 2D art, and then show the server an image of what one would like drawn on the latte.
Of course, me being me, the first image I decided on was Chizuru from Rent-a-Girlfriend in 2D form on top of a sweet Raspberry Latte.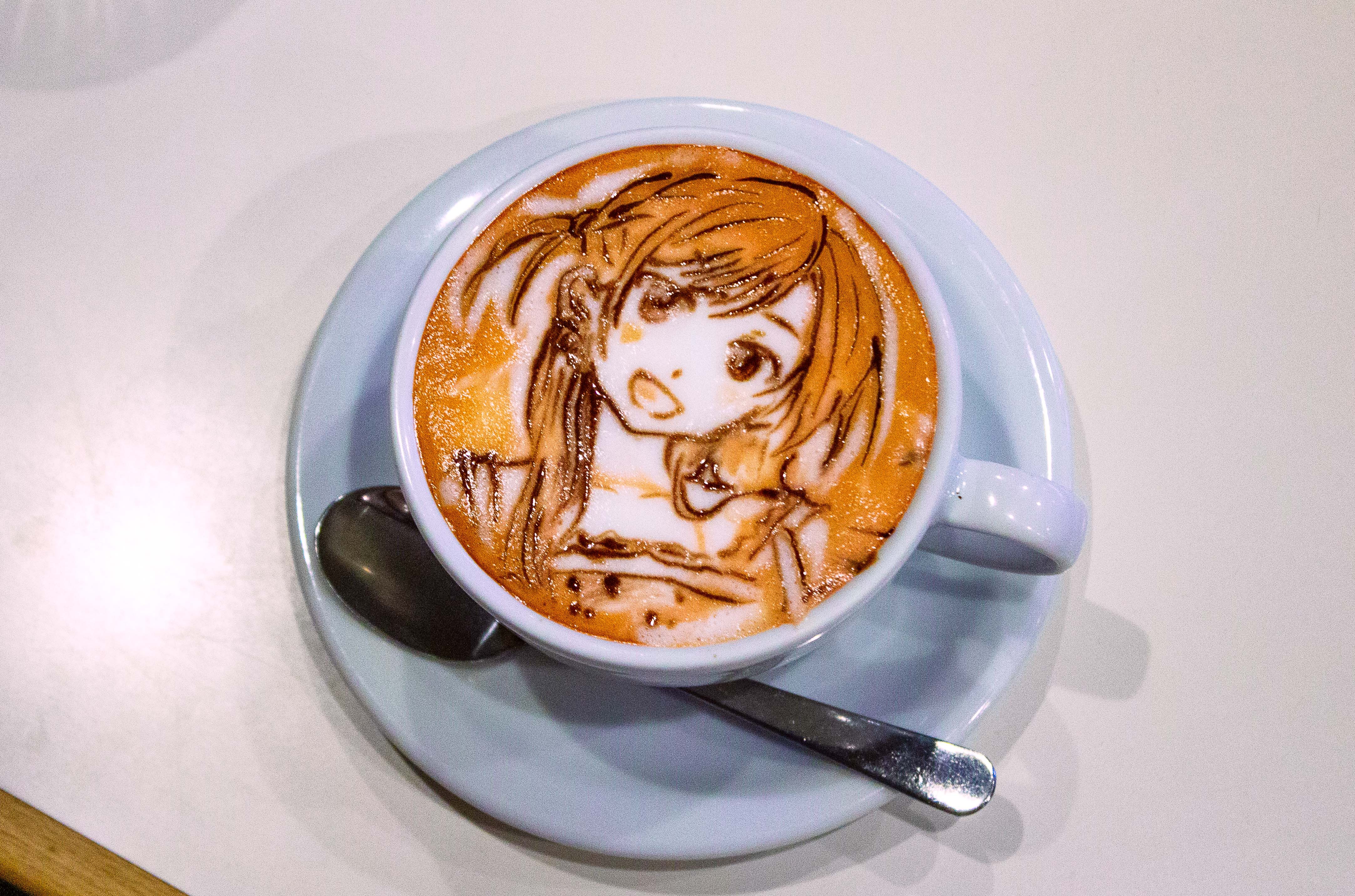 The details on Chizuru were amazing. I almost didn't want to drink it!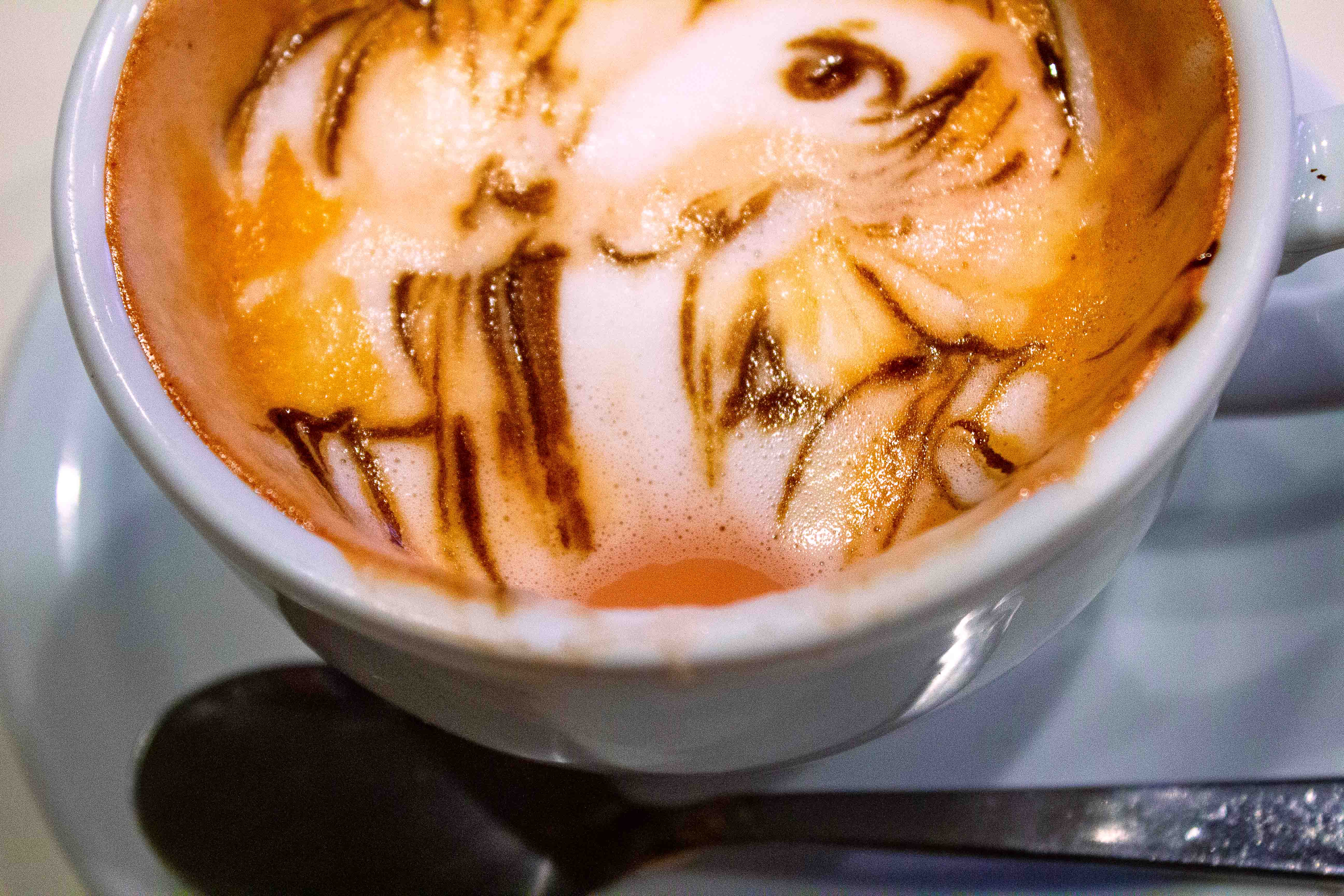 Having a taste of Chizuru
But of course, I had to, and I was thankful for it! The hint of raspberry in the otherwise mild latte made for a subtly sweet flavor that I personally really enjoyed.
On the other hand, my partner in caffeine had a 3D latte of the cute Crunchyroll mascot Crunchyroll-Hime!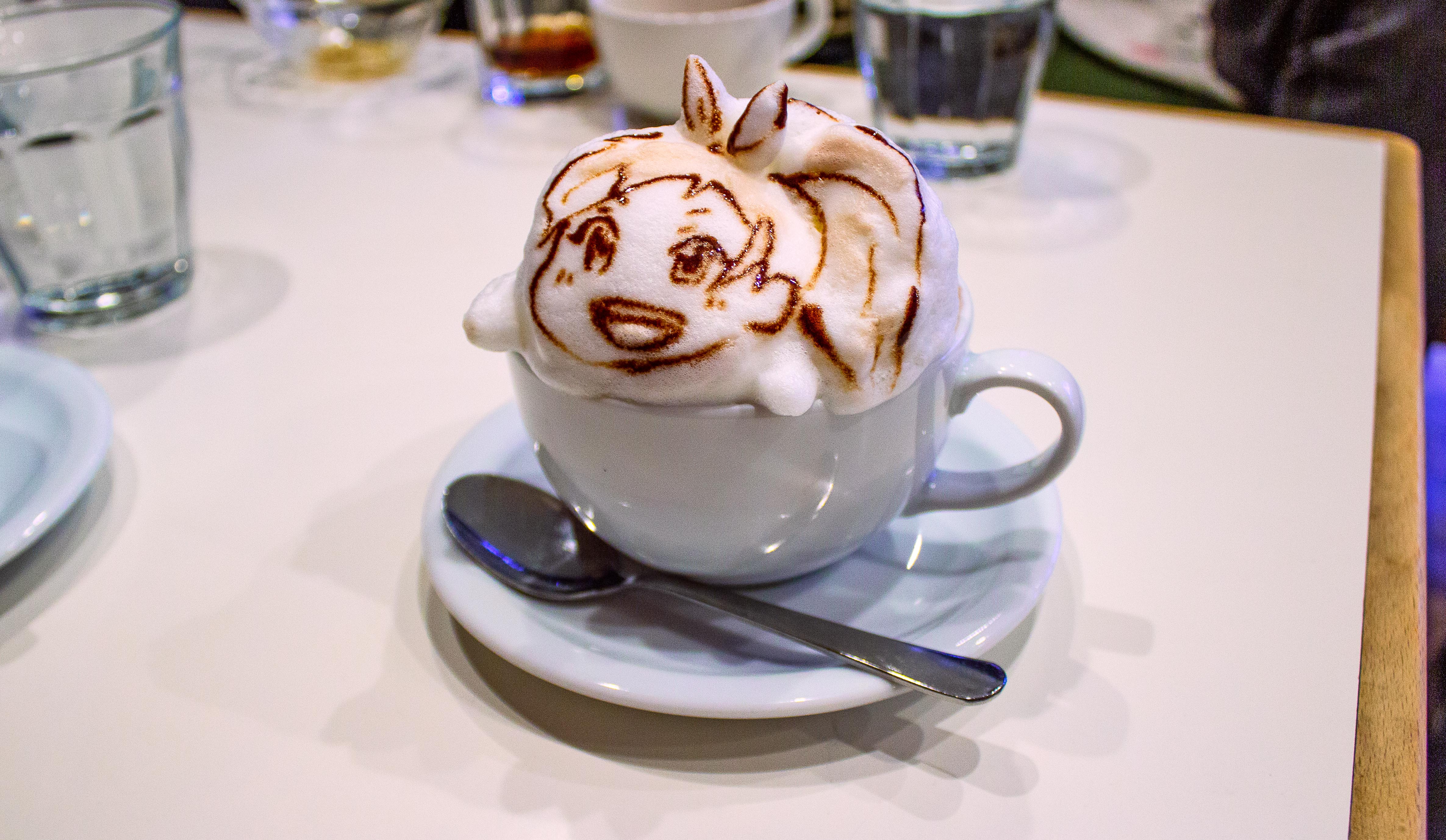 It was almost a shame that Kaho had to drink poor adorable Hime away!

How the Anime Latte is Made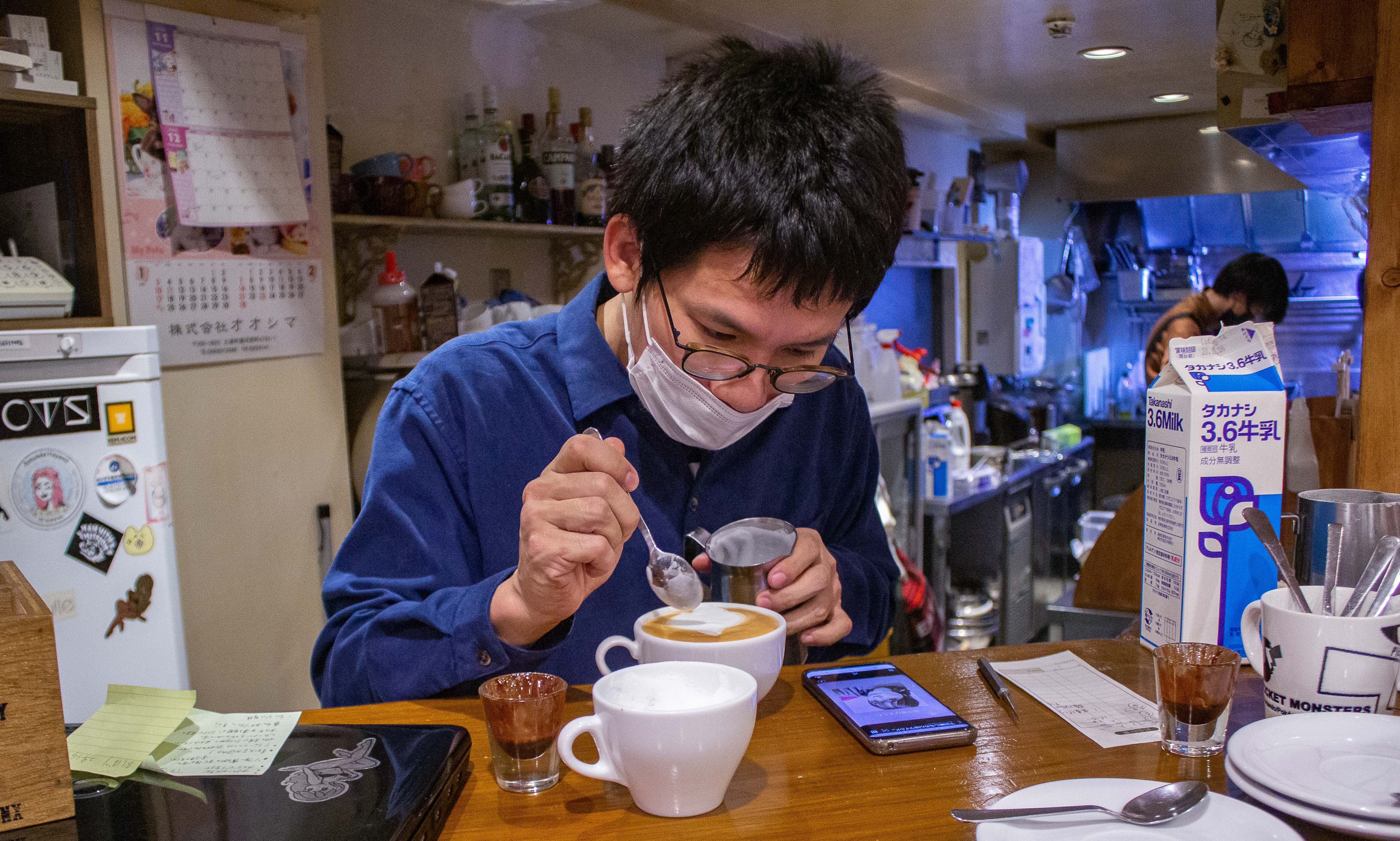 George explained that the key to making the 3D latte art was to whip up three times the amount of foam that a barista usually would making the latte. He'd put the foam to the side, finish up the drink, and then re-add the excess foam to the top of the drink using two spoons to craft the shape and apply chocolate sauce to make the line art.
I asked George what his favorite drink at Reissue was and he chose the Cafe Mocha. He enjoys it because "the chocolate sauce is also used in the latte art, so the flavors match very nicely together." And due to his love of manga, his favorite anime character to draw at the moment is Itadori from JUJUTSU KAISEN.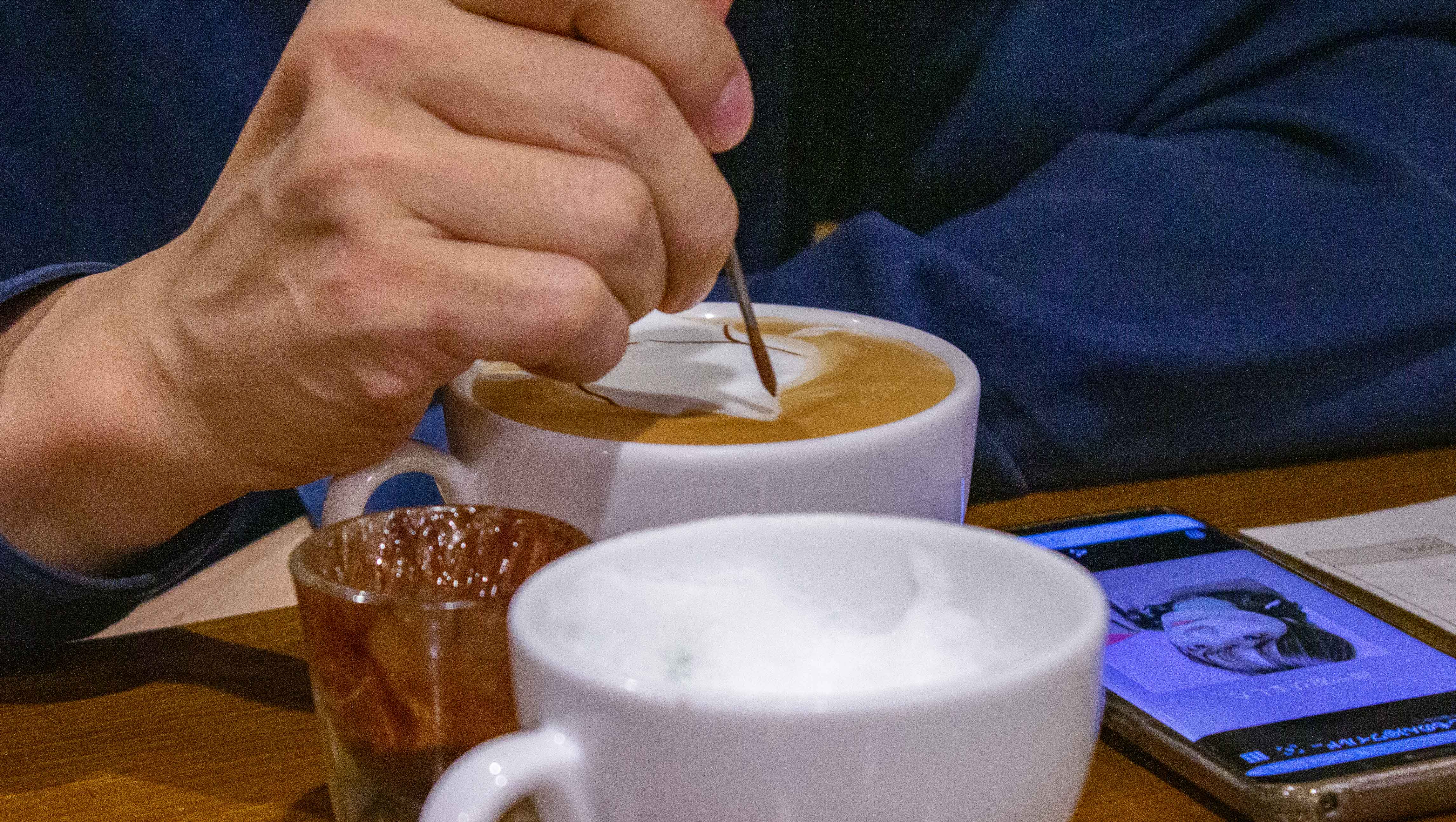 The Next Taste of 2D Anime Latte



For my next drink, I wanted to keep my caffeine buzz going so I grabbed a chocolate latte, which is much like a cafe latte, but funnily enough, with less chocolate. For the design this time around, I got Mio from K-ON!, which was all the sweetness I needed for the latte.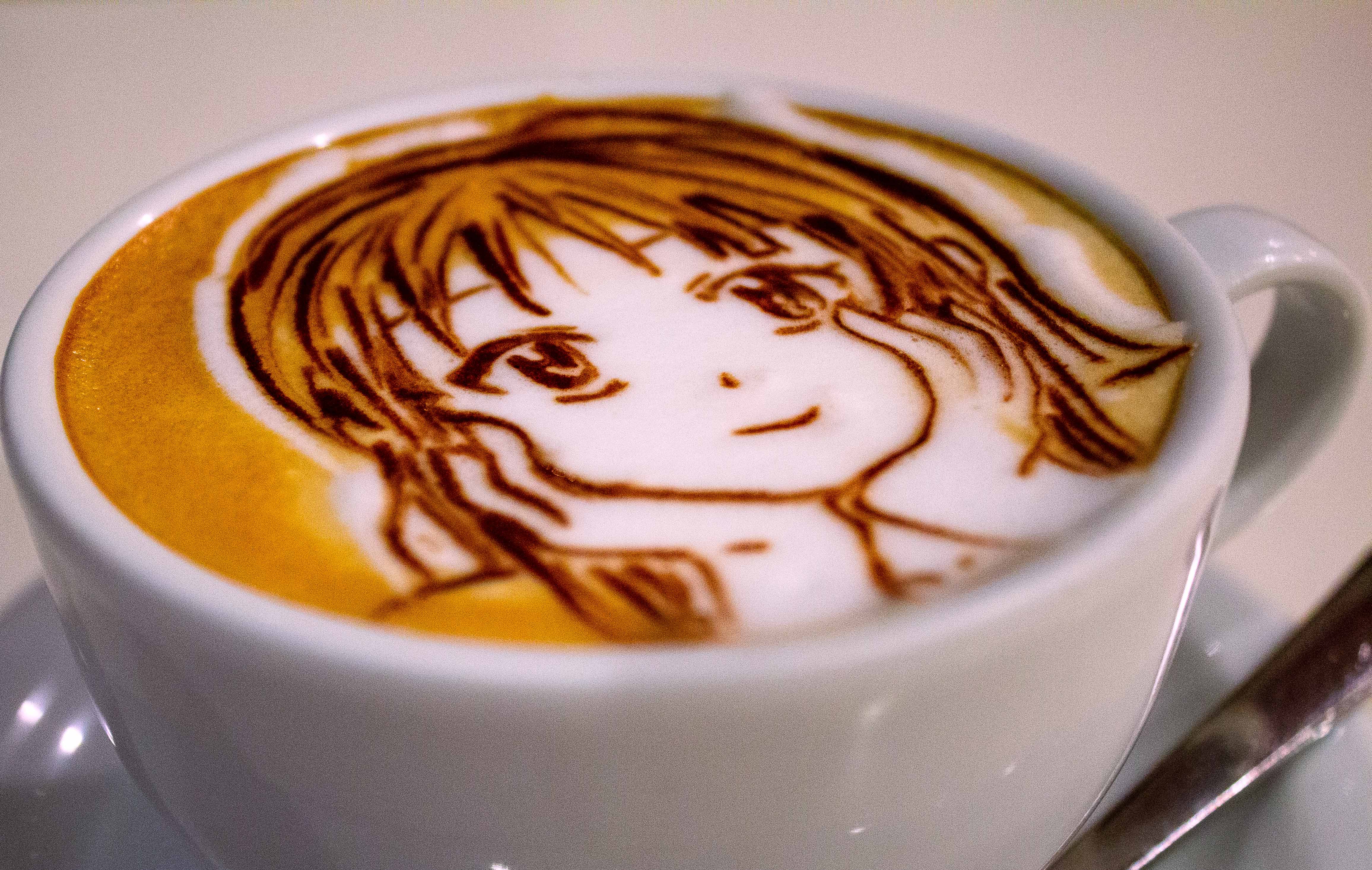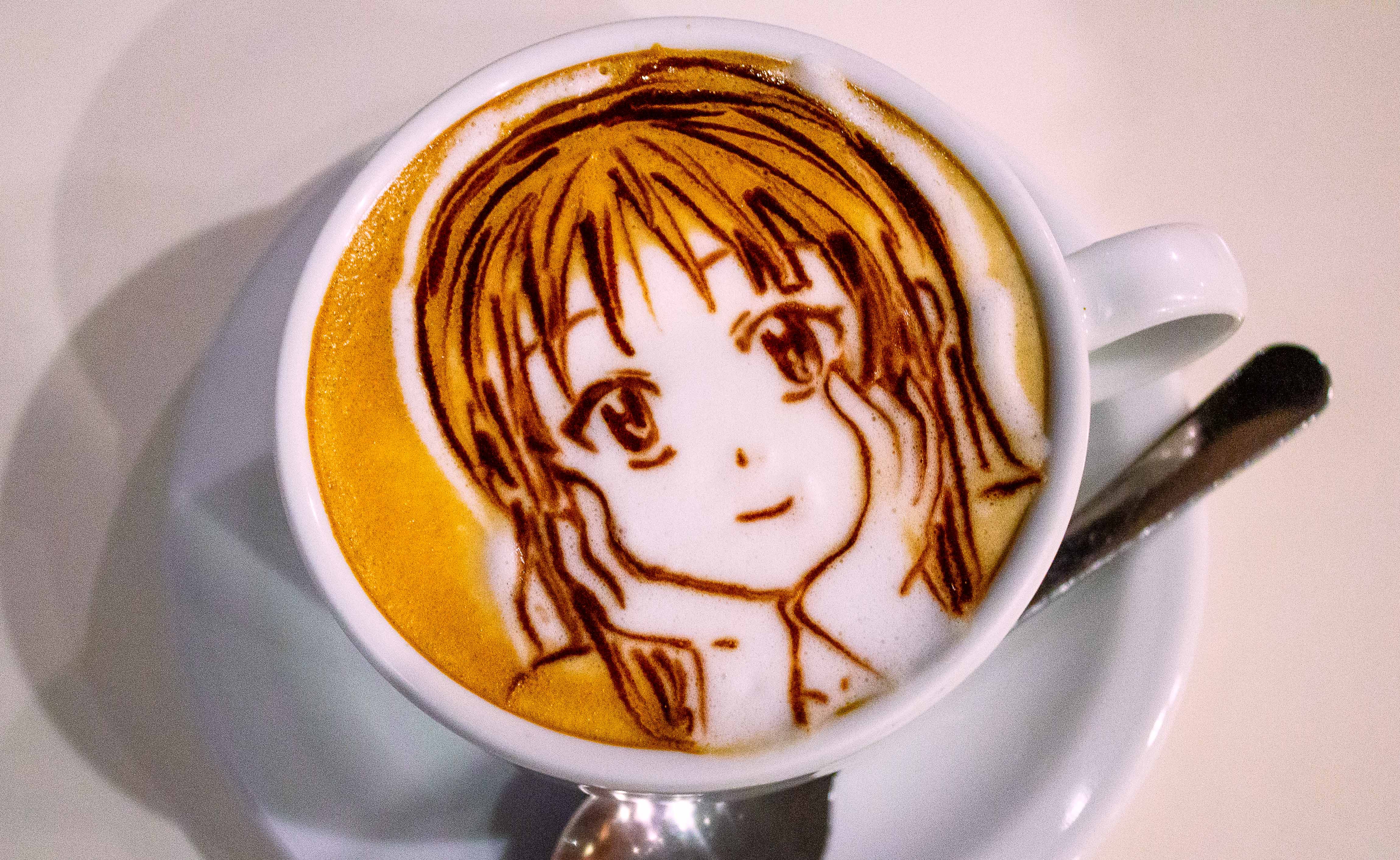 Reissue is open from 10 AM to 7 PM most days in the heart of the Urahara area of Harajuku, making it a great place to relax while looking around. At this time, the cafe is still open despite what is happening in the world, but working together with Runa, in George's own words "it seems that we will be able to fight off corona for now and continue the cafe, but … we have to stay on our toes!"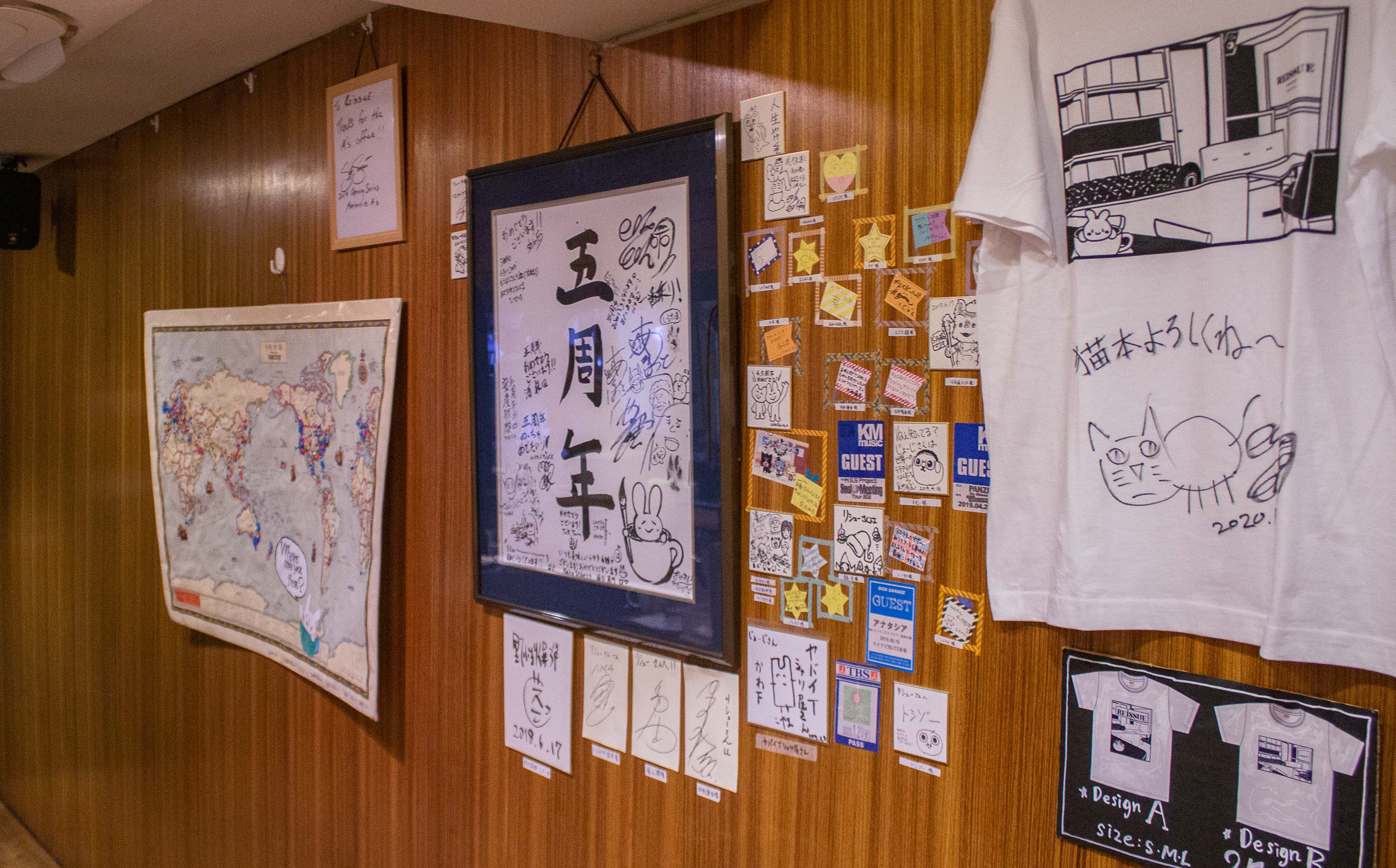 International visitors can put a sticker on their hometown on the world map!
I want to thank Kaho Shibuya for introducing me to the cafe and helping to facilitate the interview! You can find her on Twitter.
You can also find out more information on Reissue on the cafe's website, and see delectable latte designs on George's Twitter account and Runa's Twitter and Instagram accounts.
All photos by Daryl Harding

---
Daryl Harding is a Japan Correspondent for Crunchyroll News. He also runs a YouTube channel about Japan stuff called TheDoctorDazza, tweets at @DoctorDazza, and posts photos of his travels on Instagram.
Do you love writing? Do you love anime? If you have an idea for a features story, pitch it to Crunchyroll Features.