Crunchyroll All-Stars speaks with the Minnesota Vikings Defensive End Ifeadi Odenigbo!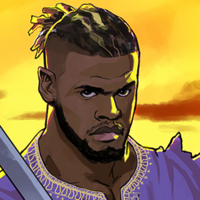 Anime fans come from all walks of life and in all shapes and sizes. Some are students, some are scientists, some are doctors, some are artists, and some are even well-known musicians! Crunchyroll All-Stars is a series of interviews highlighting elite professionals who harbor a passion both for their art and for anime.
Today's profile is on Ifeadi Odenigbo, a Defensive End who currently plays for the Minnesota Vikings. Odenigbo's anime journey began by watching Toonami and led to him using the lessons he learned both on the field and eventually in his philosophy classes at Northwestern University! We spoke with Odenigbo about his trips to Japan, learning about different perspectives through all the shows he has watched, and more! Also be sure to check out Odennigbo's player card which includes added details representing his Nigerian heritage!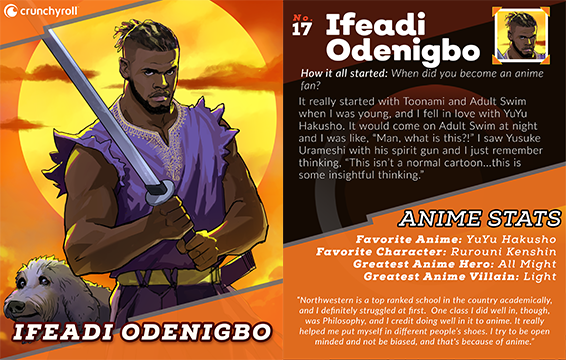 When did you become an anime fan? Was there a specific moment that affected you or changed the way you felt about something?
It really started with Toonami and Adult Swim when I was young, and I fell in love with YuYu Hakusho. It would come on Adult Swim at night and I was like, "Man, what is this?!" I remember seeing Yusuke Urameshi with his spirit gun and I just remember thinking, "This isn't a normal cartoon...this is some insightful thinking." Shows like YuYu Hakusho and Rurouni Kenshin got me into anime, but I really didn't have anyone to talk to about it. I kept to myself about it. There were people who watched more popular anime in the United States like Dragon Ball Z and Pokemon, but, aside from my little brother who watched these shows with me, I really didn't have anyone to talk to about the anime we enjoyed.

I always wanted to go to Japan as a kid growing up — it is safe to say anime sparked my interest in and curiosity about Japanese culture. With normal cartoons, you encounter the classic good guy/bad guy tropes, but with anime, there's always that gray area — that humanizing effect — with the villain. You see many different perspectives and are able to discover how a "villain" may have become nefarious. Watching anime helped me develop stronger emotional intelligence and empathy.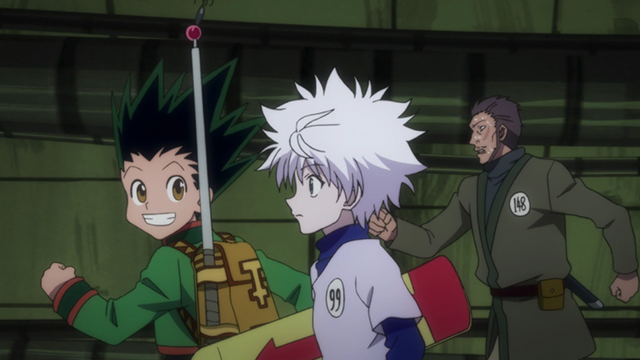 Are there any ways you engage with your favorite anime series or characters aside from watching them?
I come from a Nigerian family and my parents weren't big on us watching TV. We had to watch anime in secrecy.

Thinking about collectibles, I remember Naruto had the frog purse with the coins, and I remember ordering that when I was younger, keeping all my money in it and thinking I was so cool.

As I got older, I started collecting more merchandise. I also went to Tokyo with some of my teammates two years ago and got 2-3 handmade Gundams, which are pretty cool. I got my little brother a Hunter x Hunter figure as well.

Have you ever bonded with someone else over anime?
During my freshman year at college at Northwestern University, I remember being in the dorms with all of the freshman football players, and one of the players was always on his laptop watching videos. So, I went over to him to see what he was watching, and he closed his laptop. It turned out he was watching anime. I was like "Yo, I know how it is, but I love anime!" He was watching Inuyasha, and I remember us bonding over that.

What's your favorite anime series of all time?
It's got to be YuYu Hakusho. I'll still go back and watch it, with the dark tournament! To be from the 90s and still be that great with the production and look...crazy. In my opinion, I feel like it really paved the way for so many anime.

Who's your favorite anime character of all time?
Rurouni Kenshin was the first time I watched a story about a samurai, a wanderer, a man with a mysterious past. He killed a lot of people in his past and realized he wanted to change, so he found his loved ones and turned his life around. That has always resonated with me.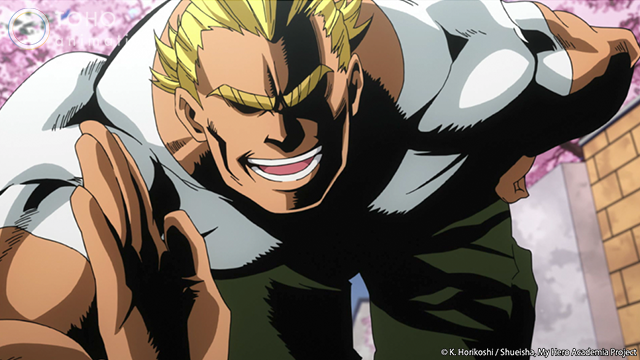 Who would you rank as the top anime hero ever?
All Might. He's a symbol of hope and peace. Always keeps smiling.

Who would you rank as the top anime villain ever?
I would say Light from Death Note. Man, that whole plot twist was crazy! To have a main character who was kind of a genius...that whole show was a mind twist. He was so methodical about it, and the fact that he erased his own mind to help him look innocent...it was just genius.

Have you ever taken any elements or learnings from anime and implemented them into your daily life?
Northwestern is a top-ranked school in the country academically, and I definitely struggled at first. One class I did well in, though, was Philosophy, and I credit doing well in it to anime. It really helped me put myself in different people's shoes. I try to be open-minded and not be biased, and that's because of anime.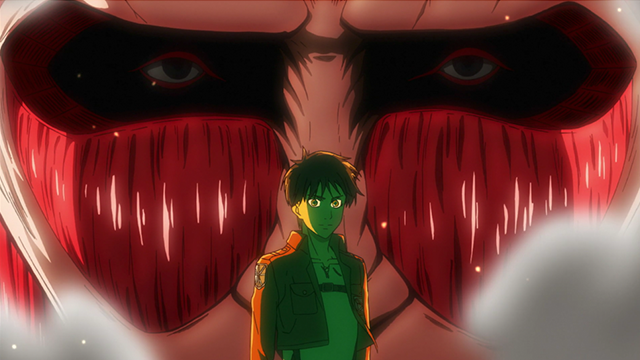 It feels like more and more athletes are showcasing their love for anime — what's anime fandom like in NFL culture? And what do you think it is about anime that attracts athletes?
A lot of anime classics like Dragon Ball Z have characters with superpowers, and in our society, professional athletes are often perceived as having extraordinary speed, strength, and mobility, which to some, may be the closest thing to superpowers.

I believe that the way we've been conditioned to see superpowers as incredible physical and mental skill relates to the way many athletes feel about the abilities they've developed through intense and dedicated training. This has really made me gravitate towards anime where the characters have unique powers since when I'm on the field, I feel like I have to activate my powers to excel.


What would your message be to someone who recently discovered anime and was thinking about getting into it?
For the people who are newer to anime and thinking about getting into it, I think they should start with something like a My Hero Academia and Attack on Titan. You'll likely get into it and start to explore other anime that fits what you're into. I'll also say, in general, once you start an anime you have to finish it! Towards the end of seasons, there's always a mind twist you didn't see coming.