Summer is finally here, so dive into the season with some sunny shows and moments from anime!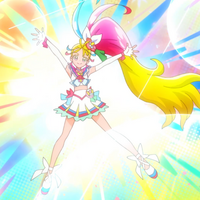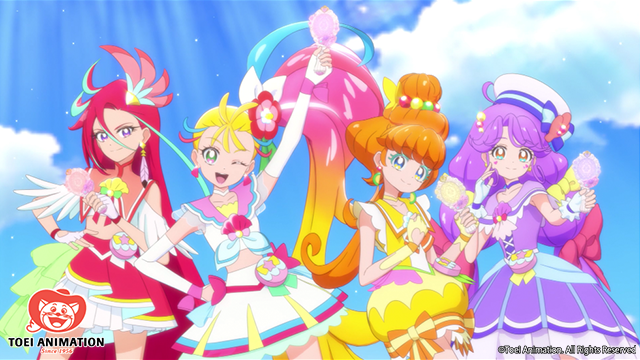 Summer is finally here! That means sunshine, vacation from classes, and lazy days. But of course, nothing screams summer fun quite like anime! Between beach episodes, watermelon antics, fireworks, and a certain anime centered around swimming, there's no shortage of shows and episodes that celebrate summer in style!
Whether you're trying to get into a new series to binge throughout the season or just want some short bursts of sun and surf, Crunchyroll has plenty of content to help you bask in summer glow. If you're fixing to get in the summer mood, check out our list of summer anime and episodes!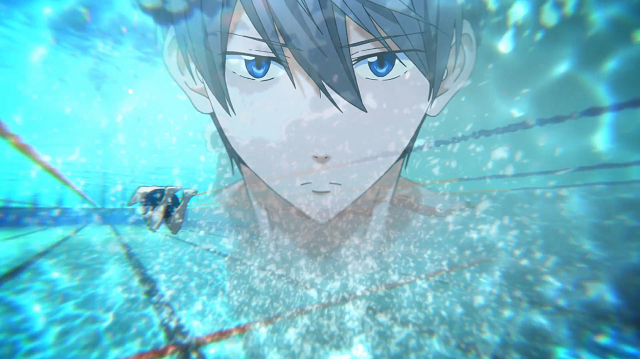 Few things embody the spirit of summer quite like taking a swim in the pool on a hot day! And few anime celebrate swimming in style quite like Free! - Iwatboi Swim Club What started off as essentially a tech demo for a studio called Animation Do became one of Kyoto Animation's most popular works.
In Free, high schooler Haruka Nanase rekindles a childhood rivalry with Rin Matsuoka as the two compete in their respective high school swimming teams. Through intense training, Haruka slowly but surely forms a strong bond with his teammates and makes a name for themselves in competitive swimming.
It's impossible to understate the popularity of Free, what with its gorgeous animation and catchy first ending with over 9.5 million views on YouTube. There's no better way to get into the summer mood than by taking a dip with the Iwatobi High School swim team! All three seasons are currently streaming now!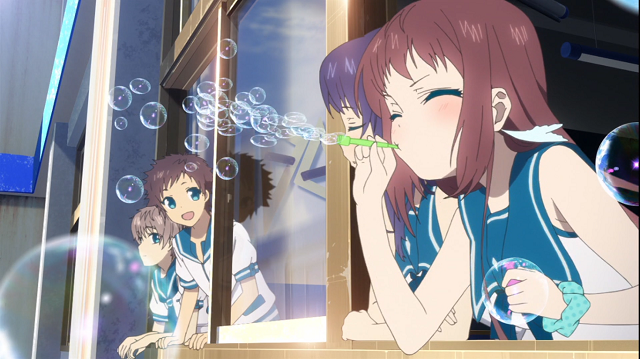 The ocean and the summer season go hand in hand. So why not spend some time with denizens of the sea in the world of Nagi-Asu?
As a literal fish-out-of-water story, a close group of middle school students who live in an underwater civilization are forced to attend school on the surface world. As they struggle to adjust to their new lives, these adolescent ocean dwellers navigate their increasingly complicated feelings in a world marred by the social conflict between sea and land.
Much like The Little Mermaid before it, this is a coming-of-age anime that captures the essence of summer with its sunny, oceanic aesthetic. It provides the perfect backdrop for young middle schoolers to discover their feelings and come to terms with the end of their childhoods.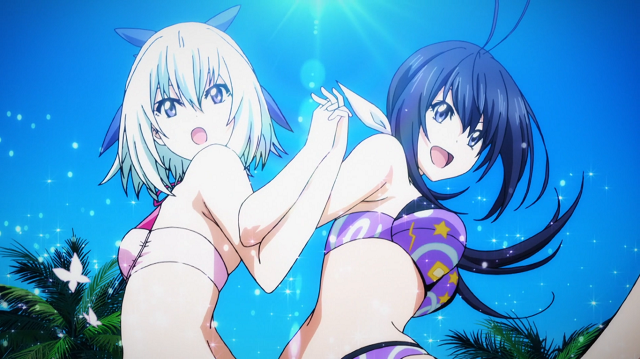 Not many anime dare to blend together sports drama, comedy, and quirky fanservice all with a summer twist. But then again, not many anime are Keijo!!!!!!!!
In this outlandish and irreverent sports anime, women participate in a game where players must knock their opponent off a floating platform and into the water below. The catch? They must use their rear ends or their breasts to do so. Olympic athletes, judo champions, and women from all walks of life enter this outrageous competition to achieve fame and fortune in a battle of butt supremacy.
This 12-episode anime has plenty of charm, laughs, and over-the-top action to keep fans sated throughout the summer season. If you can get past its ridiculous premise, there's something in Keijo!!!!!!!! for everyone.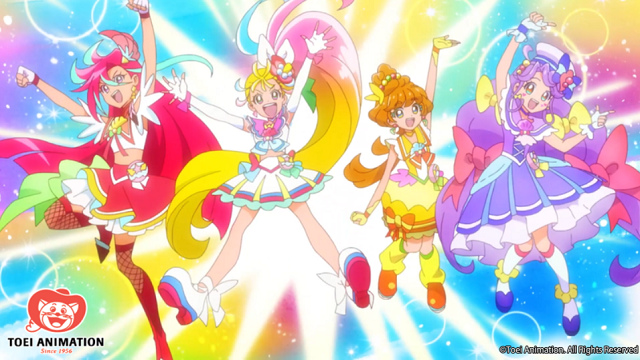 The latest installment of the long-running magical girl franchise receives a summer splash in Tropical-Rouge! Pretty Cure!
Manatsu Natsuumi has just moved to beachside Aozora City to start a new school semester. But one day, she meets Laura, a beautiful mermaid charged with finding the legendary warriors of her home kingdom, Grand Ocean. Upon recruiting Manatsu and three more girls at her new school, they team up to transform and fight against the evil forces of the Witch of Delays, who seek to steal Motivation Power from the surface world.
For those looking for some light and fun magical girl action with a sunny twist, look no further. Tropical-Rouge features plenty of inspiring scenes, glittery action, and summer fun to celebrate the season! You can catch up to the ongoing series, with new episodes premiering every Saturday night at 11:30 pm.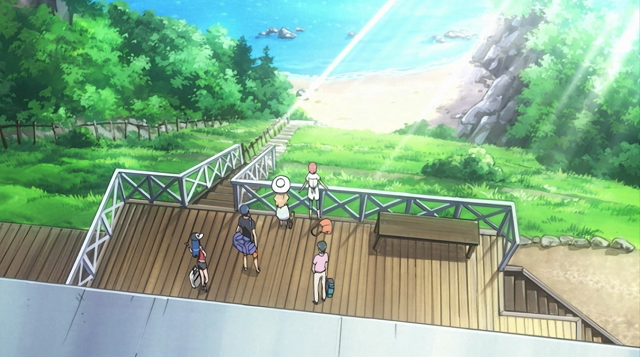 A wildly popular romcom anime wouldn't be complete without a couple of beach episodes to boot.
The sharp-gazed but gentle-hearted Ryuji Takasu finds himself at odds with the reputably dangerous Taiga Aisaka in a slice of life anime of crossed wires and unexpected romance. Their antics eventually lead them to a beach house, where Ryuji and Taiga compete to see who will help who in their friends' love lives.
There's plenty of summer fun to be had in these episodes. Between casual sports, makeshift tests of courage, and a nice fireworks display to cap things off. For a short burst of romcom shenanigans and summer flavor, look no further than Toradora's beach episodes.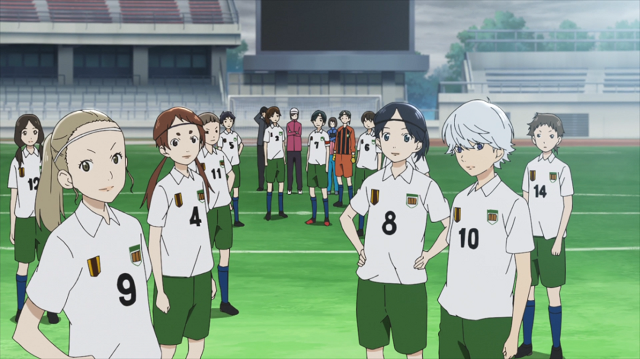 If you need some regular ol' sports drama in your anime rotation, try adding Farewell, My Dear Cramer to your summer binging list.
In this standard soccer sports anime, Sumire Suou and Midori Soshizaki have made names for themselves in the girls' soccer teams of their respective high schools. As they enter the same high school, they aim to drag up the school's low-ranking soccer team to new heights. Guided by a former professional soccer player turned coach, they take on anyone from nationally ranked soccer teams to pushback from the school administration.
This 2021 anime has just wrapped up at 13 episodes and a prequel movie premiered in Japan in June.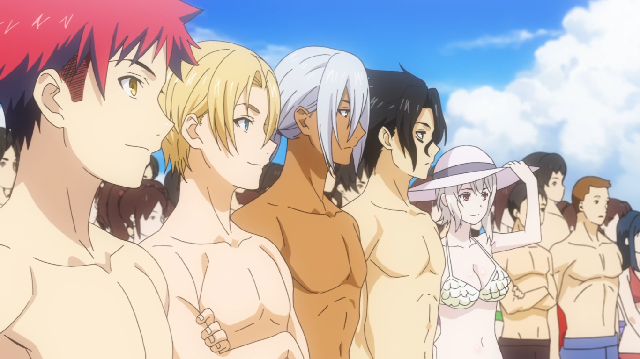 What are some summer food staples? Burgers and hot dogs at a barbecue? Ice cream? For the cook-savvy kids in Food Wars: The Fifth Plate, it's yakisoba.
The fifth season of the popular cooking anime saw aspiring chef Soma Yukihara and his classmates are tasked with renovating an abandoned beach restaurant and turning a profit in three days as part of their final exams. The renovations took up two days on its own, leaving only one day to cook up a 3 million yen profit. But thanks to the team's unique take on yakisoba, they were able to meet their quota just in time.
Yakisoba may not be typical summer cuisine, even in Japan. But when you're celebrating a successful night of beachside cooking, any food sounds like great summer eating!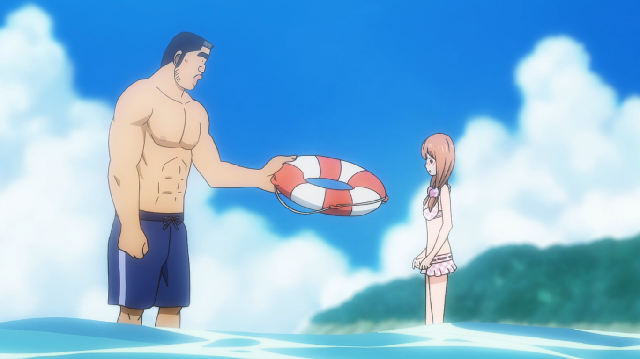 As previously mentioned, romcom anime and beach episodes go hand in hand. The same goes for My Love Story!!
Based on the critically-acclaimed manga, My Love Story!! follows the budding love story of gentle giant Takeo Goda and the tiny but sweet Rinko Yamato. In Episode 11, Rinko invites Takeo on a beach trip. Romantic antics ensue as Rinko's friends encourage her to wear a swimsuit to impress Takeo. Meanwhile, Takeo spends the trip determined not to look at her in an effort to avoid looking creepy.
My Love Story!! is chock-full of awkward romantic gestures and touching moments between its two star-crossed lovers. As far as beach episodes go, there's nothing more heartfelt than an awkward couple sharing a romantic view of the sunset at the end of a trip to the shore.
If you're not getting any sun and surf for the summer, you're probably hitting up an amusement park for rides, roller coasters, and cotton candy. If that's the case, Amagi Brilliant Park may just scratch that itch.
Perfectionist and entertainment expert Seiya Kanie is forced by a strange girl to visit a dilapidated amusement park. He soon discovers, however, that the park is a front for a magical kingdom whose inhabitants survive off the enjoyment found in the human realm. Before the park is set to be condemned, Seiya becomes the park's new manager. With new coworkers and his newfound magical abilities, Seiya puts his entertainment skills to the test in keeping the park open, all while trying to reignite the passion for the industry he'd long since lost.
A trip to an amusement park is definitely a summer staple, and Amagi drives home the magic in a fantastical way.
What are your plans for the summer? Planning on binging any anime during the season? Comment and let us know!

---
Carlos (aka Callie) is a freelance features writer for Crunchyroll. Their favorite genres range from magical girls to over-the-top robot action, yet their favorite characters are always the obscure ones. Check out some of their pop culture pieces on Popdust and Looper as well as their satirical work on The Hard Times.
Do you love writing? Do you love anime? If you have an idea for a features story, pitch it to Crunchyroll Features!