I ain't afraid of no ghost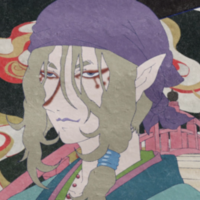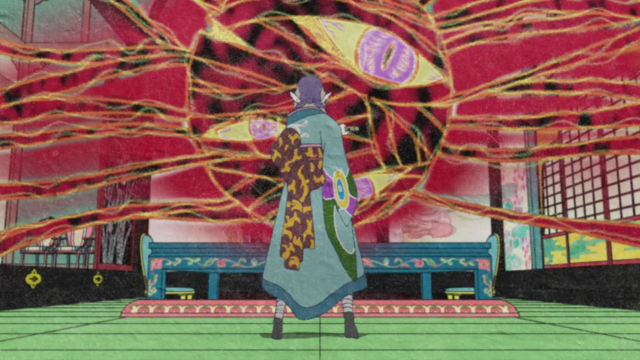 No matter the time or place, the folklore and myths of the past always persist. The same can also be said for anime, especially when it comes to horror. Certain franchises, such as Shigeru Mizuki's classic GeGeGe no Kitaro, have solidified the omnipresent status of traditional Japanese folk monsters in popular culture. Other series, such as Osamu Tezuka's Dororo interpret traditional folklore in relation to historical periods and changing attitudes toward religion. More recently, series from the 2010s and 2000s, such as Bakemonogatari and Ghost Stories, interpret the classics with modern sensibilities. When it comes to stories with a penchant for horror, it would be far more surprising if they didn't allude to a shared supernatural mythology — the ubiquity is the point.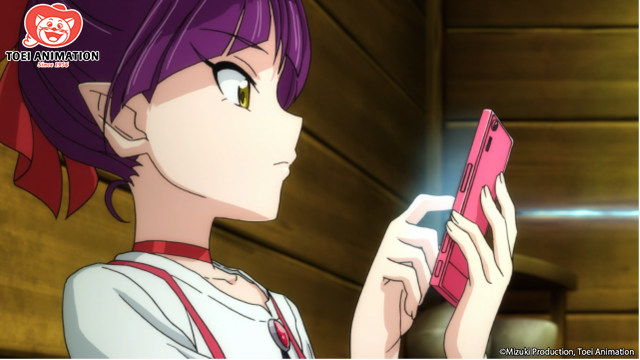 Neko-Musume on her smartphone

The best horror always tries to do something new. While creatures like yōkai (a wide umbrella of supernatural entities) are well-known among English-speaking fans today thanks to series like Yokai Watch, these re-imaginings always tend to play fast and loose with fidelity. Wouldn't it be boring if every vampire movie started and ended with Dracula? In a 2016 interview with The Comics Journal, veteran manga translator Zack Davisson emphasizes this important tendency to re-contextualize old folklore:
"It's a tricky question, as it is impossible to say what is 'actual folklore.' Vampires bursting into flame is considered 'authentic,' but that actually comes from the films, not folkloric sources. Folklore evolves and [Shigeru] Mizuki is an important part of that evolution. If you trace them back, most yokai we know come from Toriyama Sekien, who also just made things up. In fact, I would say that making up yokai is part of the grand tradition of yokai! If you are a writer/artist working with yokai and not making up at least a few of your own, you are missing the point!"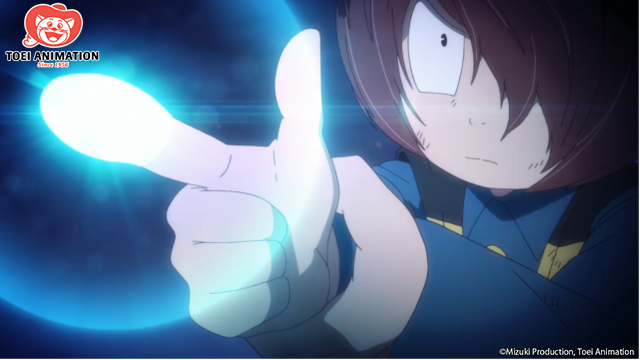 The original spirit gun
So that's all to say — there really is no such thing as a definitive, one-to-one story based on centuries of tradition. Yōkai, as endearing as they are, are also just one part of the equation. Long-running anime such as Folktales from Japan and fantasy series Inuyasha-continuation Yashahime: Princess Half-Demon either re-tell or draw inspiration from that folklore. But that's beyond the scope of this piece. Whether it be adaptations of urban legends about school bathrooms or vengeful spirits, I hope this round-up helps any casual or long-time anime fan appreciate how these series reimagine supernatural traditions.
Fantastic Folklore: GeGeGe no Kitaro & Mononoke
The late Shigeru Mizuki's most influential character, Kitaro, hardly needs any introduction. In their book Yokai Attack! The Japanese Monster Survival Guide, Hiroko Yoda and Matt Alt describe yōkai as "the attempts of the fertile human imagination to impose meaning and rationality on a chaotic, unpredictable, often difficult-to-explain world." Many yōkai are quite strange and sometimes even comedic. Scholar-artists, such as the previously mentioned Toriyama Sekien, are largely credited with inspiring their uncanny visual representations, making them the perfect subject matter for an accessible series.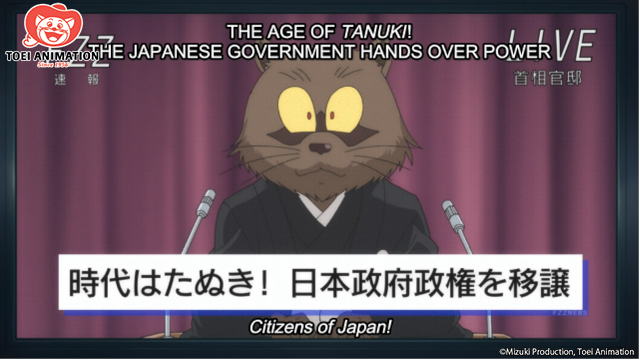 The tanuki plot world domination

The titular Kitaro himself is a half-human, half-yōkai one-eyed boy who travels between the human and spirit world to resolve monster-of-the-day conflicts with his friends. Although Mizuki's Kitaro as we know it began serialization in 1960, Mizuki originally received permission to re-imagine the character from Masami Itō, who first created Kitaro in the 1930s in pre-war Japan. The most recent 2018 anime series re-establishes Kitaro in a modern setting, yet still adapts many of the most iconic stories. Characters such as Neko-Musume, based on volatile cat spirits called bakeneko, are updated with new designs while Kitaro mostly remains the same. Mizuki's older creations, such as the jubokko (vampire tree) yōkai, are still featured alongside a new re-imagining of the "wall monster" nurikabe — inspired by the discovery of an Edo manuscript in 2007. The appeal of Kitaro isn't so much the meticulous adherence to yōkai mythos, but rather Mizuki's continual improvisation of the folklore-informed monster-making tradition.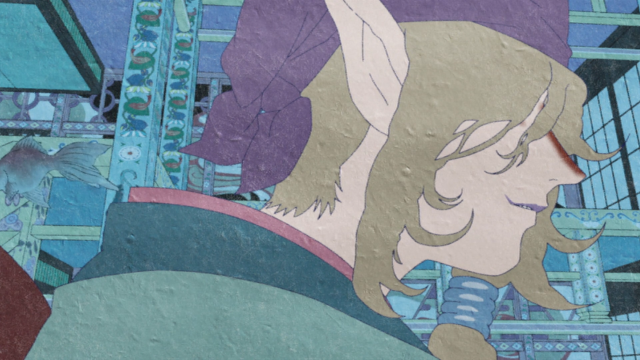 The Medicine Seller

Beyond Kitaro, other series, such as 2006's Mononoke, dedicate entire storylines to a wider category of ayakashi (sea-bound yōkai) and funayūrei (boat spirits) written by none other than Chiaki J. Konaka. Later episodes feature bakeneko and nue (chimera monsters), but with a twist. The term mononoke itself refers to a variety of yōkai specifically referring to vengeful spirits possessing people or things. When it comes to series taking a more "fantastical" approach to folklore, both Mononoke and Kitaro thankfully never dissolve into simple rogue galleries of monsters — their (mostly) human protagonists largely remain the heart of their chilling saga.
Horror-Historical: Osamu Tezuka's Dororo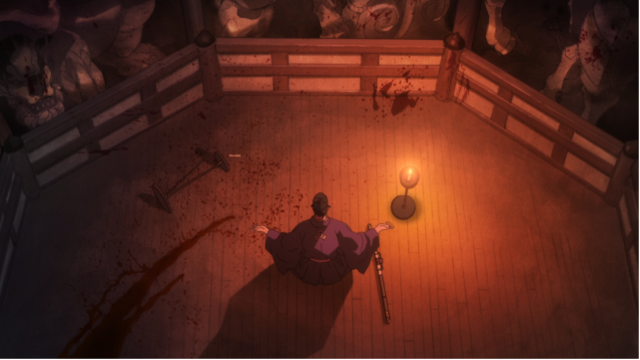 Lord Kagemitsu Daigo makes a pact with the demons (Source: Amazon)
In Anime and Its Roots in Early Japanese Monster Art scholar Zília Papp comments Mizuki's "Kitaro characters became synonymous with yōkai in the postwar period, continuing to the present time" compared to his peers like Tezuka. But if Kitaro made yōkai big in comedic manga, then Tezuka's short-lived Dororo manga drove this interest toward the historical context of the Sengoku Period, or the "warring states" era of feudal Japan.
Rather than depicting spirits as purely whimsical mischief-makers, Dororo's inciting event is a feudal lord of the fictional Daigo clan forging a pact with 48 demons, who persist to hunt his son long after the pact is forged. In his feature The History Behind Osamu Tezuka's Dororo, Marco Oliveros comments that by depicting yōkai during this period, Dororo draws inspiration from actual shifts in changing Buddhist attitudes toward these entities:
"One of the foremost examples of this change to yokai is the tengu. Wrathful and demonic, the avian creature tricked and assaulted Buddhist clerics and civilians alike, becoming characterized as the sworn enemy of Buddhism. The apparent hostility of these yokai to Buddhism makes their dark deals with Dororo's Daigo an unsurprising turn of events for the Sengoku Jidai era."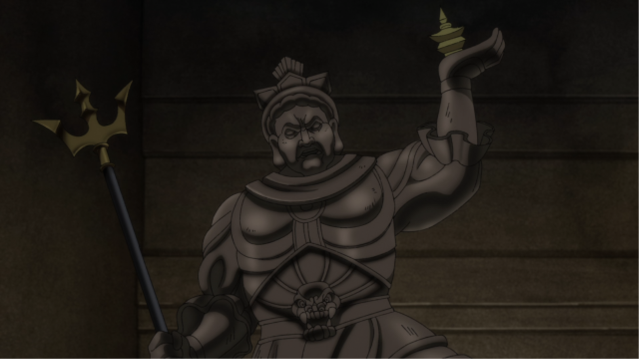 The Amanojaku is captured and sealed inside a Buddhist temple (Source: Amazon)
Hiroko Yoda and Matt Alt's 2016 translation of Japandemonium Illustrated: The Yokai Encyclopedias of Toriyama Sekien describes the tengu (mask-wearing entities usually depicted as half-man half-bird) as "deeply associated with the religion of Shugendō," which originated during the Heian period; however they were depicted very differently in major Buddhist sects of the same era. Unlike solely "fantastical" stories of the supernatural without much acknowledgment to historical context, Dororo is interested in this context regarding capricious attitudes of spirits of people alike. Impressive malevolent entities such as kyūbi (nine-tailed foxes) also fight against Dororo's protagonist, Hyakkimaru, typical of supernatural jidaigeki (period drama) horror stories set in feudal Japan.
However, Dororo also features lesser entities such as amanojaku (tiny, goblin-like demons). According to the influential illustrated encyclopedia Wakan Sansai Zue compiled by Sekien-predecessor Terajima Ryōan, amanojaku and tengu were described as paired descendants of the evil goddess Amanozako (literally "tengu god"). According to scholar Haruko Wakabayashi in The Seven Tengu Scrolls: Evil and the Rhetoric of Legitimacy in Medieval Japanese Buddhism, tengu were symbolically invoked in inter-personal and religious feuds amongst Buddhist sects during the Heian period. The amanojaku depicted in Dororo is minor. But with a (simplified) understanding of its affiliation with tengu's pre-Heian origins and its subsequent disavowal by influential Buddhist sects, Dororo's amanojaku cameo is an undeniable nod toward its theme of "old ways" impacted by a "new" institutionalized status quo.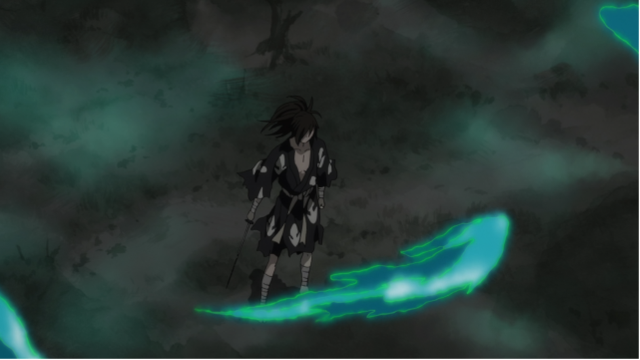 Hyakkimaru battles the nine-tailed fox spirit in its spectral form (Source: Amazon)
While the nine-tailed fox spirit is flashy, Dororo's amanojaku ends up pathetically sealed inside a Buddhist temple. Ironically, the amanojaku trapping scene pans from the top of a Buddhist statue, ending with the cartoonish amanojaku crushed underneath to visually imply its irrelevancy. Dororo is a story about the cultural and religious tensions brewing during this violent episode in history — making Hyakkimaru's journey one that doesn't simply depict supernatural folkloric tradition in stasis, but as something always under complicated socio-political stakes.
Modern Ghoul School: Ghost Stories & Bakemonogatari
What do you do if you can't solve your evil spirit problems with a sword? For the most part, classics like Kitaro and Dororo take place in the past, or at least worlds very unlike our own. A traveling demon slayer never has to deal with student council or smartphones.
In a previous article, From Bakeneko to Bakemonogatari, I discussed all the possible lineages of the catgirl character archetype. In that piece, I claimed one of the more accurate representations of the bakeneko today was Bakemonogatari's Tsubasa Hanekawa's cat spirit-possessed alter-ego. It's not simply because she is a supernatural catgirl, but rather her portrayal was obviously informed by the wider context of pre-existing bakeneko mythos. Is it possible for a "modern-day" series to tackle yesterday's folktales while still preserving the uncanniness of the past?

The spirits possessing Bakemonogatari's cast, referred to as "oddities," all nearly function like vengeful mononoke spirits. For example, Bakemonogatari's first arc, Hitagi Crab, features a crab "oddity" haunting classmate Hitagi Senjougahara. The existence of heikekani (face-shaped crabs allegedly the spirits of drowned Heike warriors from the Sengoku Period), might be a parallel, considering the arc's theme of unresolved conflict. Another arc, Suruga Monkey, features an "oddity" taking the form of a beastly paw growing on classmate Kanbaru Suruga's arm. Senjougahara and Suruga's crab/monkey relationship can be read as alluding to the well-known Buddhist tale "The Monkey and the Crab." According to The National Gallery of Art on its 2019 The Life of Animals in Japanese Art exhibit, the monkey and crab are usually depicted as friends, then compete until they either make amends or resolve their conflict. Often the subject of artistic interpretation, it's no surprise this tale found its way into anime as a metaphor for teen drama.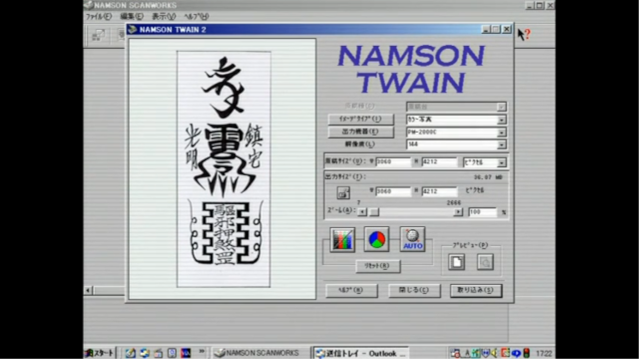 The kids scan a talisman and e-mail it to exorcise internet demons. Yes, this really happens.
In comparison, the 2000 series Ghost Stories is best known to English-speaking audiences for being an edgy comedy. However, its original source material, a book series titled Gakkō no Kaidan (School Ghost Stories), is more akin to a heavily researched Goose Bumps. Written by folklore scholar Toru Tsunametsu, the series showcases various urban myths and monsters, most famously "Hanako" a ghost girl who haunts school bathrooms. A 2014 NPR piece describes the most popular version of Hanako being a schoolgirl in WWII "using the bathroom when a bomb fell on top of the building." Although Hanako gained enough popularity from the books to warrant her own spin-off anime series in 1994, she only makes a handful of cameos in the 2000 series. Entities like the previously mentioned amanojaku also appear, alongside shinigami (death gods) depicted in many other anime.

How to channel your ghost powers for success (Source: Funimation)
Hanako, because of her relatively modern backstory, is just as ubiquitous. Versions of Hanako appear in an episode of the 2018 Kitaro and most recently in the 2020 series Toilet Bound Hanako-kun. Tsunametsu currently edits the Folklore Society of Japan's official academic journal, no doubt a testament to his priceless contributions to folklore representation in anime.
Who You Gonna Call?
There's no way to tell the same ghost story twice. With such a layered history, contemporary anime have a nearly endless well of folkloric material to pull from. Recent series like the hit Demon Slayer: Kimetsu no Yaiba and Toilet Bound Hanako-kun prove that fans will never get enough of the supernatural, just as long as things stay fresh.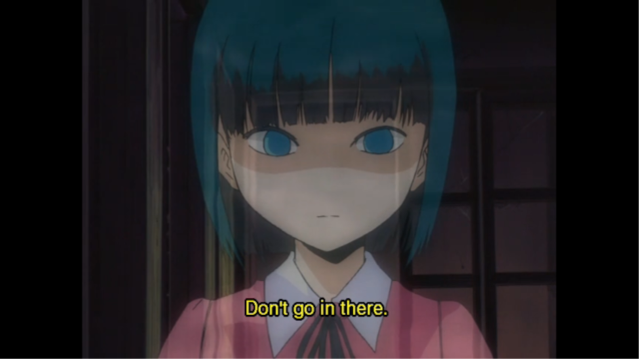 Hanako politely warns the ghost-hunting kids
Long live artistic liberty and specters trying to watch you pee.

---
Blake P. is a weekly columnist for Crunchyroll Features. His twitter is @_dispossessed. His bylines include Fanbyte, VRV, Unwinnable, and more. He'd like a tiny yōkai cat.
Do you love writing? Do you love anime? If you have an idea for a features story, pitch it to Crunchyroll Features!