Crunchyroll All-Stars speaks with singer Kristian Kostov!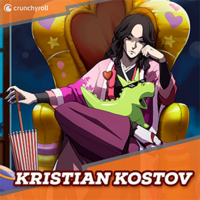 Anime fans come from all walks of life and in all shapes and sizes. Some are students, some are scientists, some are doctors, some are artists, and some are even well-known athletes! Crunchyroll All-Stars is a series of interviews highlighting elite professionals who harbor a passion both for their art and for anime.
Today's profile is on Kristian Kostov, a Bulgarian-Russian singer. Kostov has appeared in front of a wide variety of audiences, including performances on The Voice Kids Russia, X Factor Bulgaria and even representing Bulgaria in the Eurovision Song Contest 2017. We spoke with Kostov about their love of cosplay, learning to try out different anime genres to learn more about niche sports, and much more!
You can also watch the brand new music video of Kostov's song "Built Different" right here!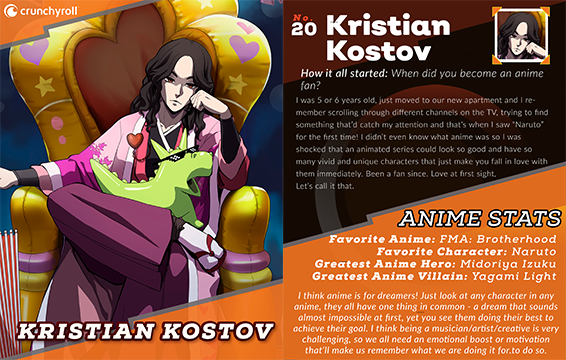 When did you become an anime fan? Was there a specific moment that affected you or changed the way you felt about something?
I was 5 or 6 years old, just moved to our new apartment and I remember scrolling through different channels on the TV, trying to find something that'd catch my attention and that's when I saw Naruto for the first time! I didn't even know what anime was so I was shocked that an animated series could look so good and have so many vivid and unique characters that just make you fall in love with them immediately. Been a fan since. Love at first sight, let's call it that.

Are there any ways you engage with your favorite anime series or characters aside from watching them?
Absolutely! First of all, I'm a huge fan of cosplays and I am lucky to know some of the best/most known cosplayers in the world. I, myself, have only recently started trying out cosplaying and it's super fun and I'll definitely do more. Also, my friends know about my love for anime, so every birthday/holiday I get at least 4-6 anime presents. For my birthday I got 2 dakimakuras with Todoroki Shoto in a Akatsuki uniform from Naruto, and the Japanese edition of Tokyo Ghoul manga (14 books).

I love supporting my favorite shows, so I occasionally buy merch pieces, as well.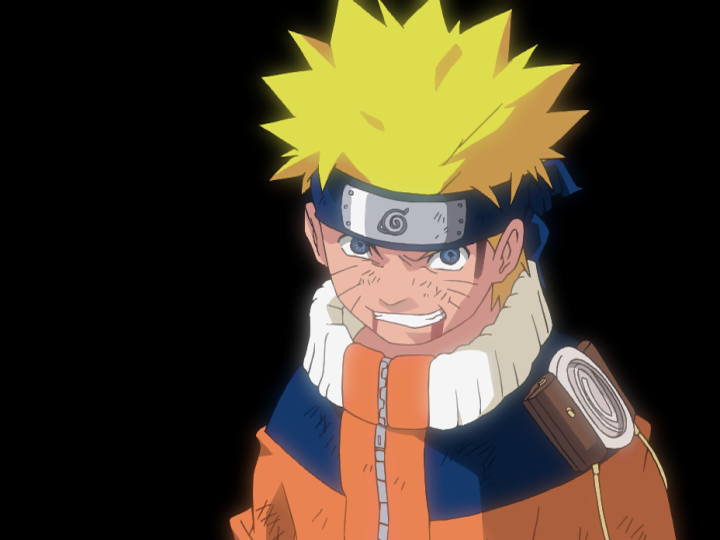 Have you ever bonded with someone else over anime?
"You are who you surround yourself with," right? Somehow most of my friends and even a lot of my relatives love anime! My most vivid memory of watching anime together with someone is tied with Maquia: When the Promised Flower Blooms. My brother, his wife and I had recently moved to Vienna, Austria and all of us were still getting used to the new environment we'd plunged ourselves into. We cried, then laughed, then cried again and came out refreshed by the show's philosophy of "everything's gonna be fine...even if it isn't."

What's your favorite anime series of all time?
Oooh, this is a hard one, considering I've watched hundreds of titles… I guess today I'll go with Fullmetal Alchemist: Brotherhood, because there is not a single filler episode, character growth is phenomenal and the plot is an emotional roller coaster and a masterpiece, overall. Rewatched it like 5 or 6 times. 

Who's your favorite anime character of all time?
I guess I'll go with a cliché answer that is Naruto. He introduced me to something that I treasure a lot today and for that, I am forever grateful to Kishimoto-sensei.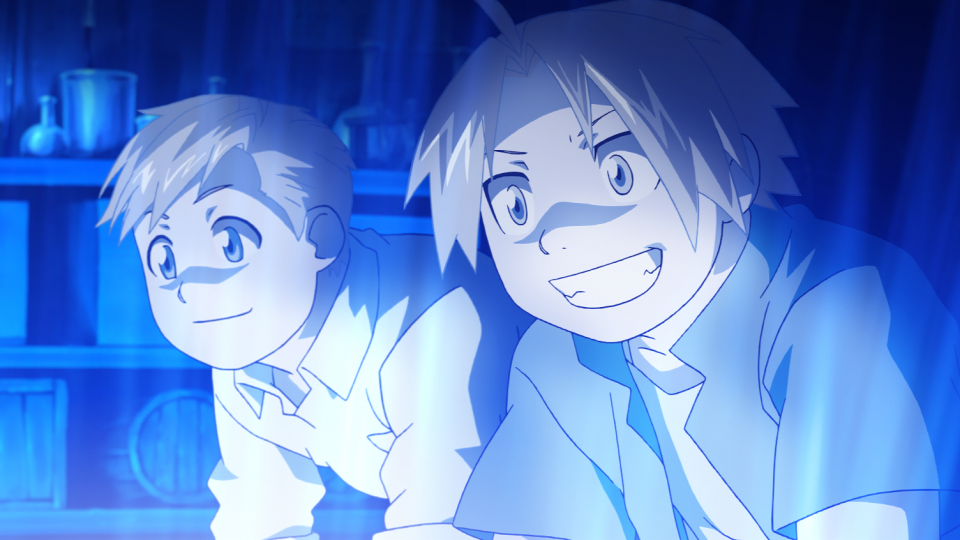 Who would you rank as the top anime hero ever?
Midoriya Izuku. I think that My Hero Academia is a very good title in general, but the MC is a perfectly good role model for kids and a very relatable character for teenagers and young adults. Deku is not afraid of being weak and grows stronger as a result, which is a rare quality to find, even in fiction. Can't wait to see how he becomes the number one hero!

Who would you rank as the top anime villain ever?
Yagami Light. I love the fact that one of the most prominent anime ever, Death Note, has a main character who is actually the villain. It's easy to judge someone who is evil, but when a villain has such a strong will and ideology, it's sometimes hard to still view things as black or white.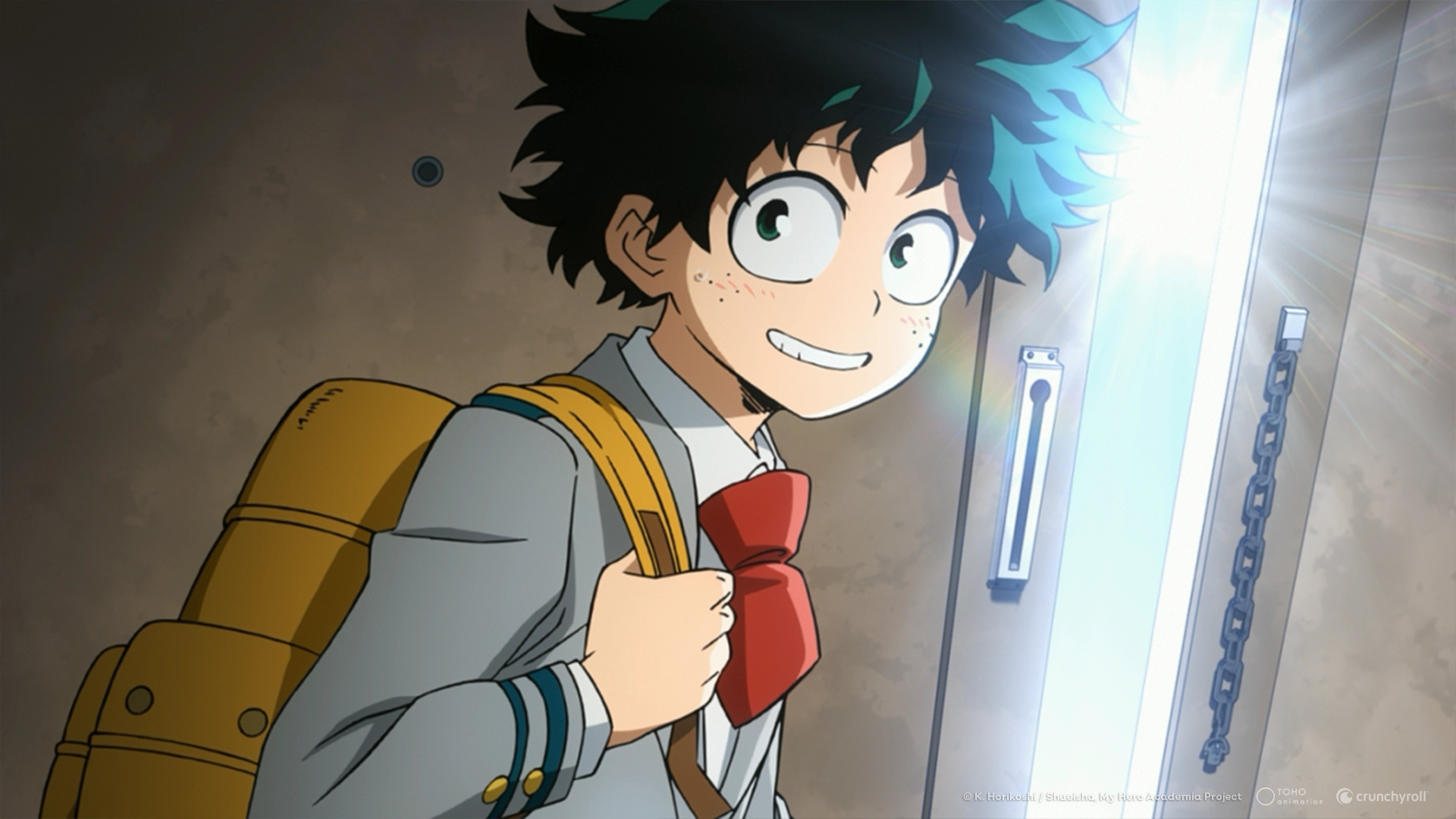 Have you ever taken any elements or learnings from anime and implemented them into your daily life?
I think my personality has changed a lot because of my "trying-to-be-the-certain-main-character" type of behavior, haha. I've learned a lot from certain "niche" anime about various sports. For example, I'm not a fan of boxing, like, at all, but thanks to Hajime no Ippo, I now know a thing or two about it! Same with Haikyu!!, One Outs or Kuroko's Basketball.
It feels like more and more musicians are showcasing their love for anime — what's anime fandom like in music culture? And what do you think it is about anime that attracts musicians and creatives?
I think anime is for dreamers! Just look at any character in any anime, they all have one thing in common — a dream that sounds almost impossible at first, yet you see them doing their best to achieve their goal. I think being a musician/artist/creative is very challenging, so we all need an emotional boost or motivation that'll make us remember what we are doing it for. Nothing beats seeing your favorite character overcome their problems, it makes you believe in yourself even when it's harder than ever to do so. Maybe it sounds childish, but, if it helps, why not?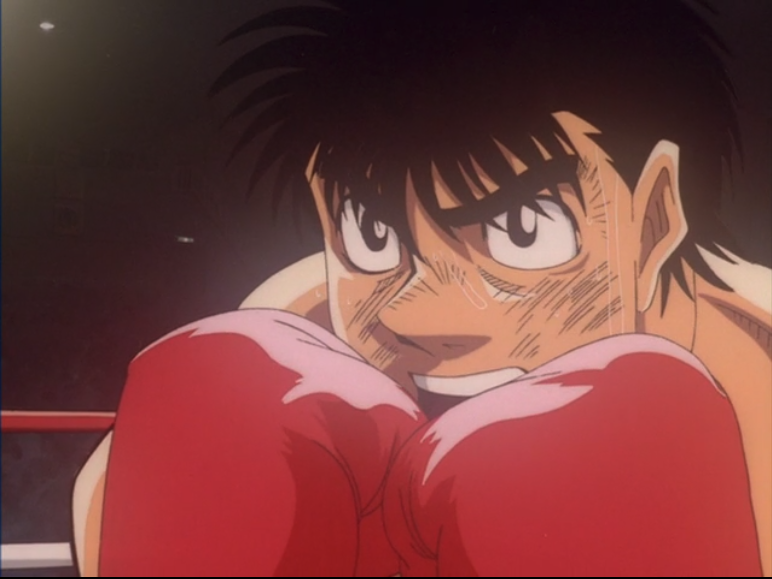 What would your message be to someone who recently discovered anime and was thinking about getting into it?
1. Don't be surprised by random tone or animation changes (for example when characters become chibi/small versions of themselves, apparently a lot of people get weirded out at first), you'll get used to it and start loving it a lot, actually!
2. Ask a friend for suggestions, there are a lot of titles and you'll probably get intimidated by the amount of "omg you should definitely watch this next !!!!!" online.
3. Explore! Try different genres and see what suits your liking more. I never knew that I'd enjoy watching an anime about "Shogi", but March Comes in like a Lion is such a gem that you fall in love with it at first sight