We're spending Black History Month highlighting the amazing Black creators, influencers, artists, and industry professionals behind the anime community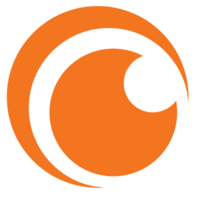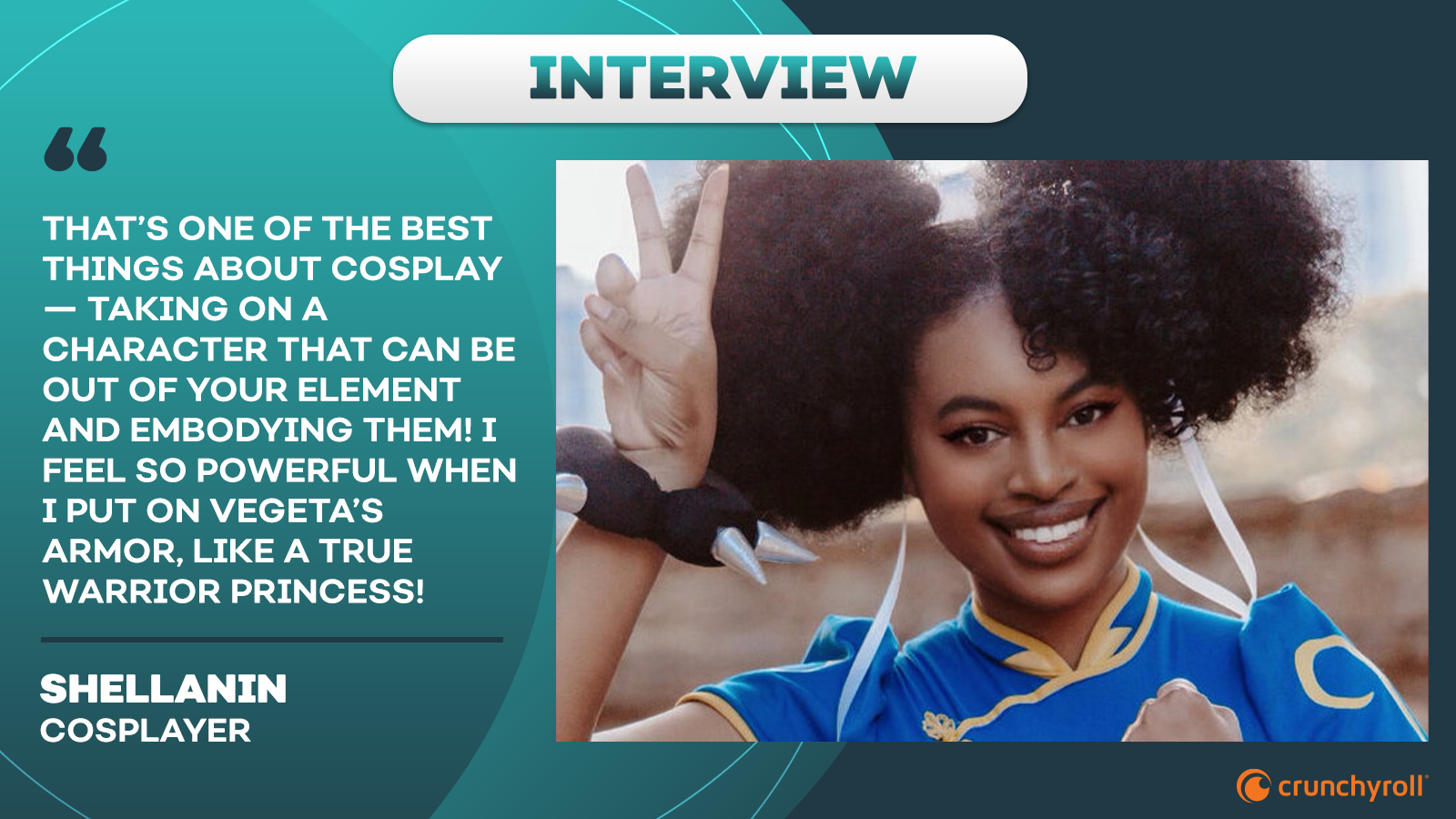 February is Black History Month, and we're spending the next few weeks highlighting the amazing Black creators, influencers, voice actors, artists, and industry professionals who help make the anime community the incredibly special place it is. We had the pleasure of sitting down with six people who work in the anime industry and/or community and asked them about their experiences and what anime means to them.
You can read other articles in the series below:
Additionally, Crunchyroll will be donating to Concerned Black Men of Los Angeles, a non-profit dedicated to empowering the next generation of Black youth through education and mentoring.
This week we're featuring podcaster Victoria Johnson, cosplayer Shellanin, artist Jazmin Anita, Crunchycast host and YouTuber Curtis Richardson, translator and journalist Mercedez Clewis, and CEO of LAN Party Studios Gregory Apollon.
---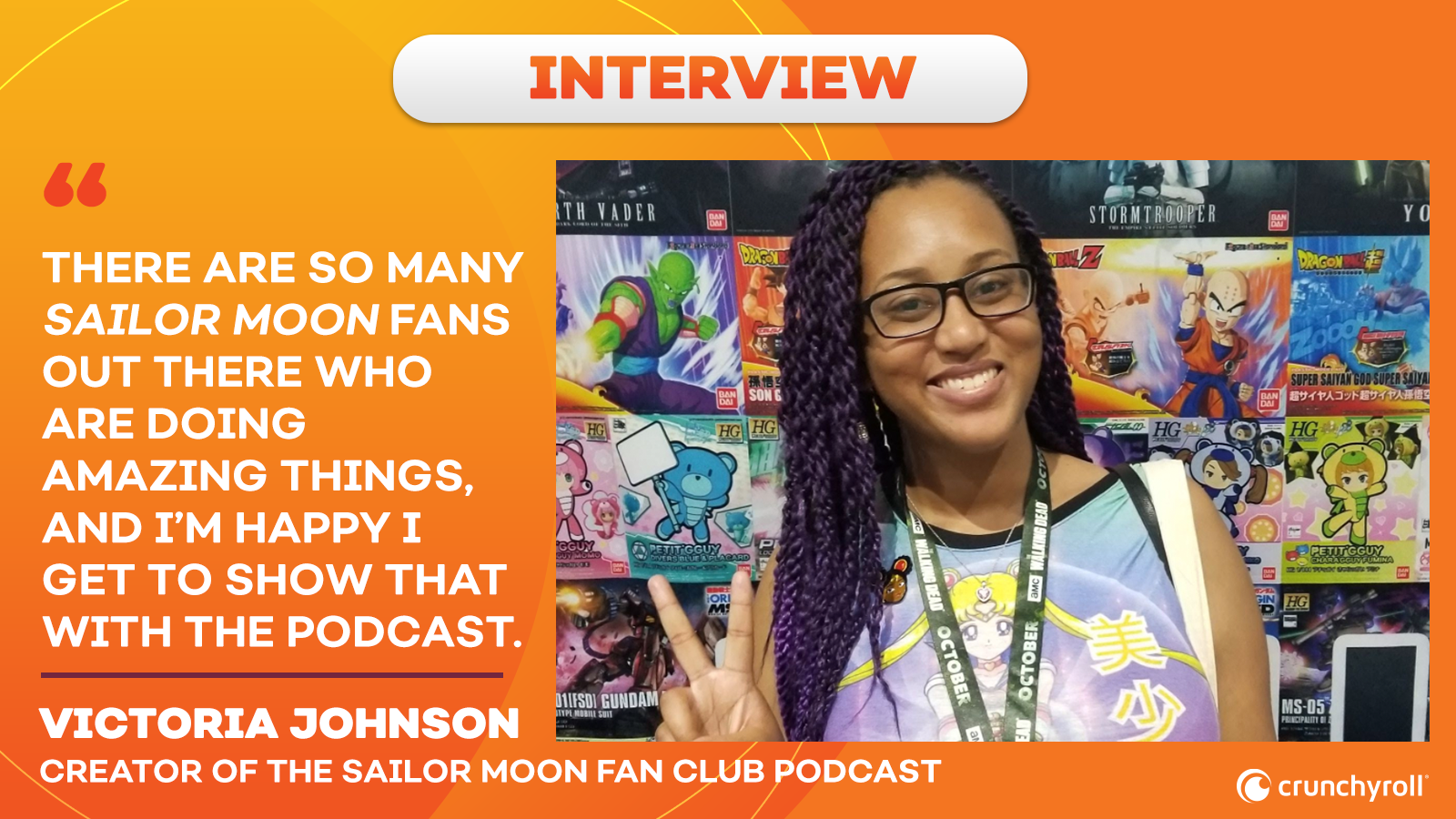 Victoria Johnson
Creator of the Sailor Moon Fan Club Podcast (Listen to the Podcast, Follow Victoria's Personal Twitter)
How did you get into anime?
I first got into anime when my older brother told me to "check out a new show that was starting" after school one day. It ended up being Sailor Moon and I've been hooked ever since. From that day on, I tuned in every day during the Toonami block on Cartoon Network after school. I would watch Sailor Moon, Dragon Ball Z, and Tenchi Muyo.
After my early days of watching anime in elementary school, I started seeking out anime as a teenager. The first anime I finished after learning about anime was Claymore, and from then I was hooked on anime for life.
What inspired you to start a podcast?
Before starting the Sailor Moon Fan Club podcast, a friend asked me to join as a co-host for a podcast he wanted to do called Nerds on Hip-Hop. I love nerdy things and hip-hop, and thought it would be fun to do. I never thought about starting a podcast until he asked, so thanks TheWolvesDen! Doing that podcast for four years made me more interested in making podcasts and inspired me to keep going in this medium.
With the Sailor Moon Fan Club podcast, I originally wanted to create a magical girls podcast that would highlight some of the many magical girl shows that don't get as much shine as shonen series. But in the end, I realized that it would take so much research and time to do that podcast justice, and most of the guests I wanted to have on were mostly familiar with Sailor Moon. So, I ended up restructuring the podcast, and everything just clicked from there. I really just wanted to create a space where I can talk to some of my favorite people and creatives about one of my favorite shows of all time. I also wanted to show just how expansive the fandom is. There are so many Sailor Moon fans out there who are doing amazing things, and I'm happy I get to show that with the podcast.
What about anime do you love/resonate with?
There is something really comforting about watching anime— I'm still not sure why that is. But I also love stories about underdogs like Deku in My Hero Academia, Simon in Gurren Lagann, Luffy in One Piece, or even Usagi in Sailor Moon. I love to watch stories about characters who overcome any challenge especially when it's for the care of others. It's so inspiring and makes me feel like I can accomplish anything!
Do you have any advice for anime fans who want to start a podcast/YouTube channel/etc but don't know how to start?
To start a podcast, you need a good mic, a computer, editing software (there's a lot of free ones online), and a podcast host to put the show on streaming platforms like Apple Podcasts and Spotify. For YouTube, you may need a camera too, but overall, just do it! There are so many resources out there to help and Google can be your best friend for learning how to edit or do anything!
---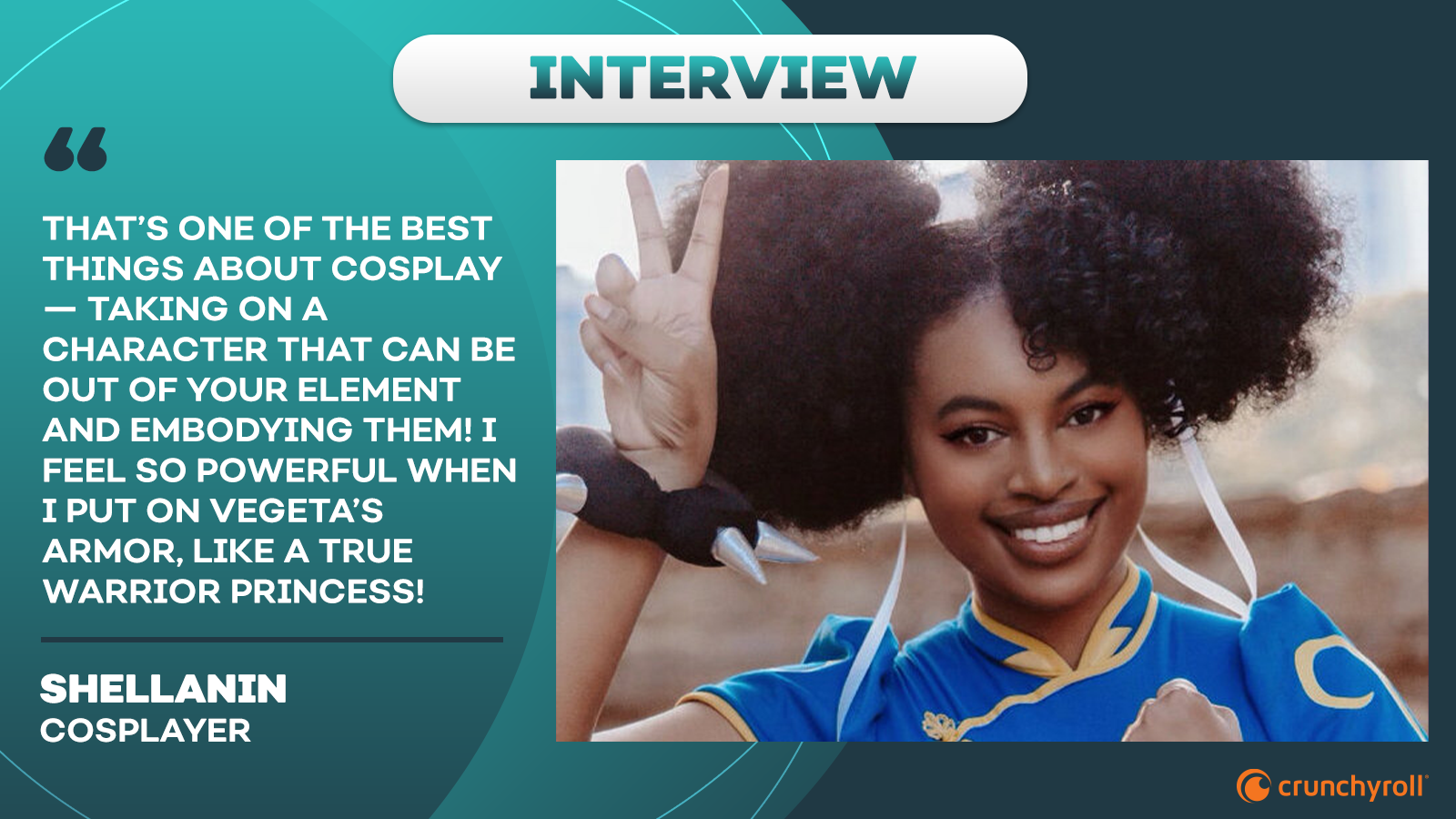 Shellanin
Cosplayer (Instagram, Twitter, Patreon, Ko-Fi, Website)
How did you get into cosplay?
I've always been into cartoons, anime, and video games since I was a kid and I always reimagined myself as my favorite characters when I would play! I even used to draw myself as my favorite characters, reimagining them with brown skin and thick hair like my own. Halloween was, of course, my favorite holiday because I could finally dress up as these characters! So when I got older and learned about cosplay, I knew I had to do it! I was like, "wait, I don't have to wait until Halloween to dress up as my favs?!" And now I just do it all year round! Now instead of drawing myself as my favorite characters I'm able to actually become my favorite characters through my hashtag #CurlyCosplay! I love putting myself into every cosplay I do by picturing how the character would look if they had curls instead.

How does it feel when you're cosplaying a character you love?

It always feels amazing cosplaying a character I love, even if my personality doesn't match theirs! Like when I cosplay Vegeta, I love him very much but I'm COMPLETELY out of my element. He's the Prince of Saiyans, a warrior, and I'm so very shy and quiet. But that's one of the best things about cosplay — taking on a character that can be out of your element and embodying them! I feel so powerful when I put on Vegeta's armor, like a true warrior princess!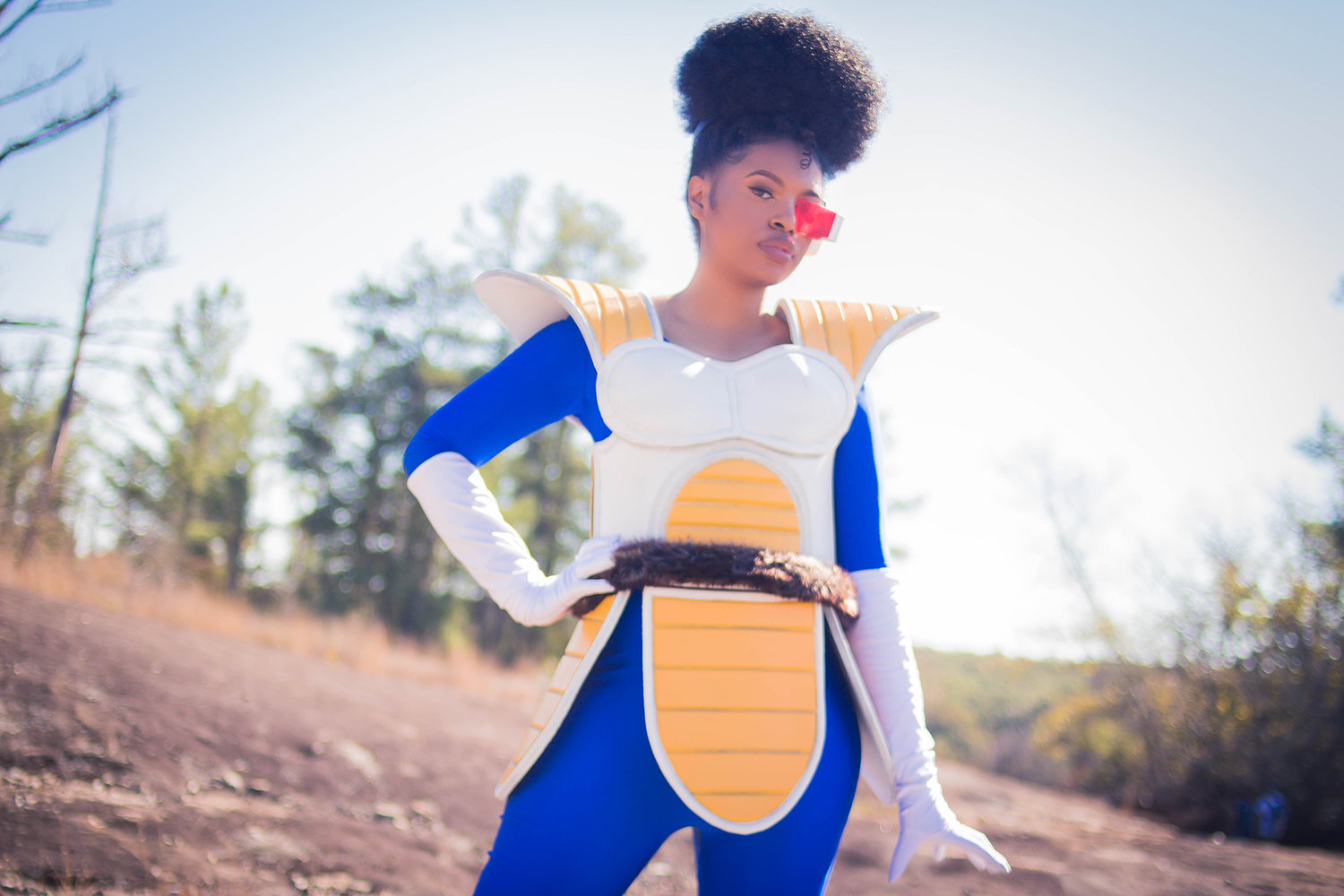 What about anime do you love or resonate with?

I love how anime is a one-way ticket to a completely different world filled with characters I can't help but love. Anime can be so immersive and it's amazing how there are so many different kinds of worlds and characters to fall in love with. I'm always so excited to check out new anime and bond with a new set of characters.

Do you have advice for anyone who wants to cosplay but might be too scared to try?

I always say just go for it! There are so many ways to cosplay from making it yourself to commissioning others and just buying it online! You can aim for accuracy or you can use creative freedom like I do with my Curly Cosplay! Try not to let stigmas hold you back from doing the things you want to do, have fun, and cosplay in your own way!
---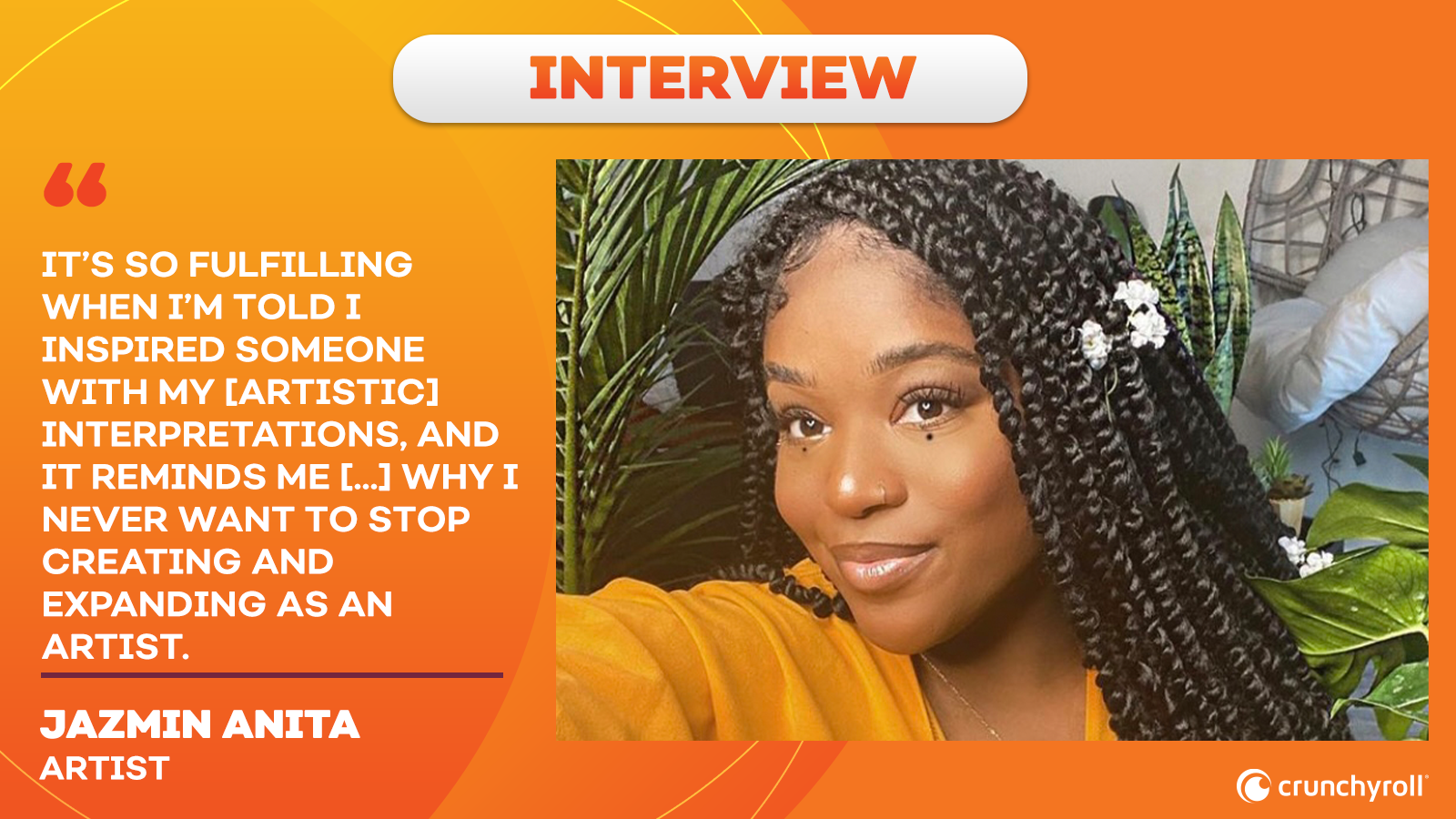 Jazmin Anita
Artist (Website, Instagram, Twitter)
How did you become interested in creating art?
I've been doing traditional art for as long as I can remember, but crossed over to digital art in 2017 while I was traveling with the military. I loved the versatility of digital art and the way I could finish whole pieces of art in multiple styles while on the go! It took some time to get used to the program and I'm still learning, but I'm enjoying the journey my art is taking me on. I feel as though I grow with every piece and documenting my growth has been such a treat.
What about anime do you love/resonate with?
For me, anime has always been my gateway to other worlds and possibilities. My friends and I would pass around a single manga volume during school and I'd spend hours upon hours drawing my favorite characters from Shonen Jump and Pokémon from the Pokédex. I was drawn to the colors of anime like Sailor Moon, and the drama of Inuyasha. I loved watching characters in Naruto grow from children to teenagers, and couldn't help but think that I was growing alongside them all, traveling to magical worlds alongside my closest friends with superpowers and an iron will. It was a dream to me, and one of my favorite forms of escapism. As I morphed into an adult, the feeling of nostalgia and safety never left me, and so I used my acquired skills and experience to create a version of those worlds I could see myself in.
What inspires you to create art?
Representation is a driving factor in my art, especially as it pertains to the anime world. Black anime characters were rarely seen in anime while I was growing up and if they were, they were often poorly represented. That's one of the reasons why I love to recreate anime characters that show all the ways we can fit into our favorite universes. It's so fulfilling when I'm told I inspired someone with my interpretations, and it reminds me of where I was in the very beginning of this journey and why I never want to stop creating and expanding as an artist.
Do you have any advice for aspiring artists who might be afraid to share their art with the world?
For aspiring artists who feel afraid of sharing their art with the world, I'll share some advice I wish I'd heeded when I first started: don't rush! You have to enjoy the journey and be patient with yourself because those doodles and sketches don't have to be masterpieces and you're not going to be a master overnight. Its so easy to get caught up in where we want to be as creatives that sometimes we forget to celebrate the little victories, so remember you make the rules in this journey. Have fun with it and just trust yourself!
---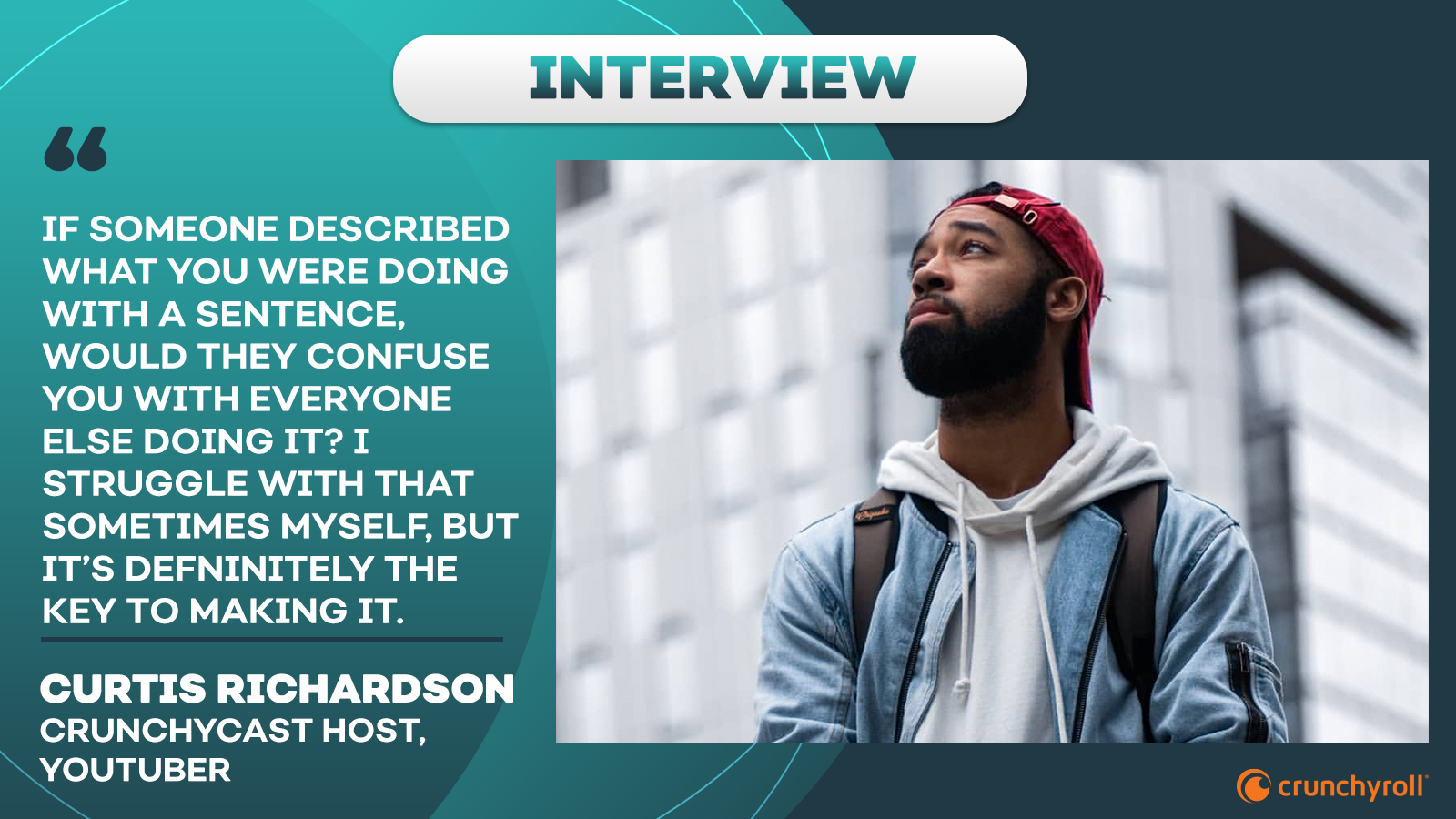 Curtis Richardson
Crunchycast Host, YouTuber (Crunchycast, Recreyo, Personal YouTube Channel, Instagram, Twitter)
How did you get into anime?
Oddly enough, I feel unlike a lot of anime fans, I got into anime because of my dad ... not because he knew what it was or anything like that. One day after school, he set me up with a DVD of a show he used to watch as a kid that he said he loved called Speed Racer. From that day I was hooked, and got put on to more anime from friends and cousins who actually knew what it was. Although I doubt my dad thought him showing me one SCS over a decade ago would put me down the route i'm on now.

What inspired you to get into hosting/podcasting/YouTube-ing?

YouTube was always one of my passions even as a kid. I was trying to make it work since I was like 12 years old. I grew up on RWJ, Swoozie, and SMOSH, and ... I dont know ... the idea of doing what they were doing always stuck with me. To the point that I'd hop on my mom's behemoth of a laptop because it was the only thing that had a camera in the house, and I'd record my own videos. Not to mention, my house has always been an opinionated one. Especially with the things we cared about. So putting out my anime opinions into the universe for people to agree (mostly yell) or not was always going to be in the cards. Whether I was working a 9-5 or not. Things just happened to work out, which really still blows my mind to this day.

What about anime do you love/resonate with?

See, maybe a few years ago I'd have no idea how to answer this question. Mostly because "it's just cool" was really my only frame of reference of why I liked it. That was until I finegaled my non anime watching roommate, into sitting in the living room with me and watching the first episode of FMA: Brotherhood. He fell in love with the show, and immediately told me, "man, anime has some of the most crazy cool concepts in media I swear."-- and I completely agreed, to the point where I realized then why I kept coming back to it. I mean even with FMA. Two kids try to resurrect their mom using a forbidden technique, lose their legs AND BODY, and go on a journey to find a mythical rock that bypasses the laws of science, while uncovering a conspiracy enveloping all of the world. Things like that just resonate with me. That's not even going into animation, style, the general vibes of anime. There's really a lot but that's probably the front runner of my personal reasonings.
Do you have any advice for people who want to make a living out of their love for anime?

Ok, so some genuine advice I can give about people who want to talk about your love of anime for a living. First and foremost, a lot of the cliche stuff ... well its true. You have to just be you. If you want to create — create. Go out and do, and that's the first step. Cliche stuff aside, something I learned about halfway through that I wish I knew out the gate that would change the pace I did this — identify what makes you and/or your take different. What makes what you're putting out into the world, your take, your style, your format, what makes it different. Finding that appeal is really the key (in my eyes) for having people connect with you more. Basically, if someone described what you were doing with a sentence, would they confuse you with everyone else doing it? I struggle with that sometimes myself, but it's definitely the key to making it.
---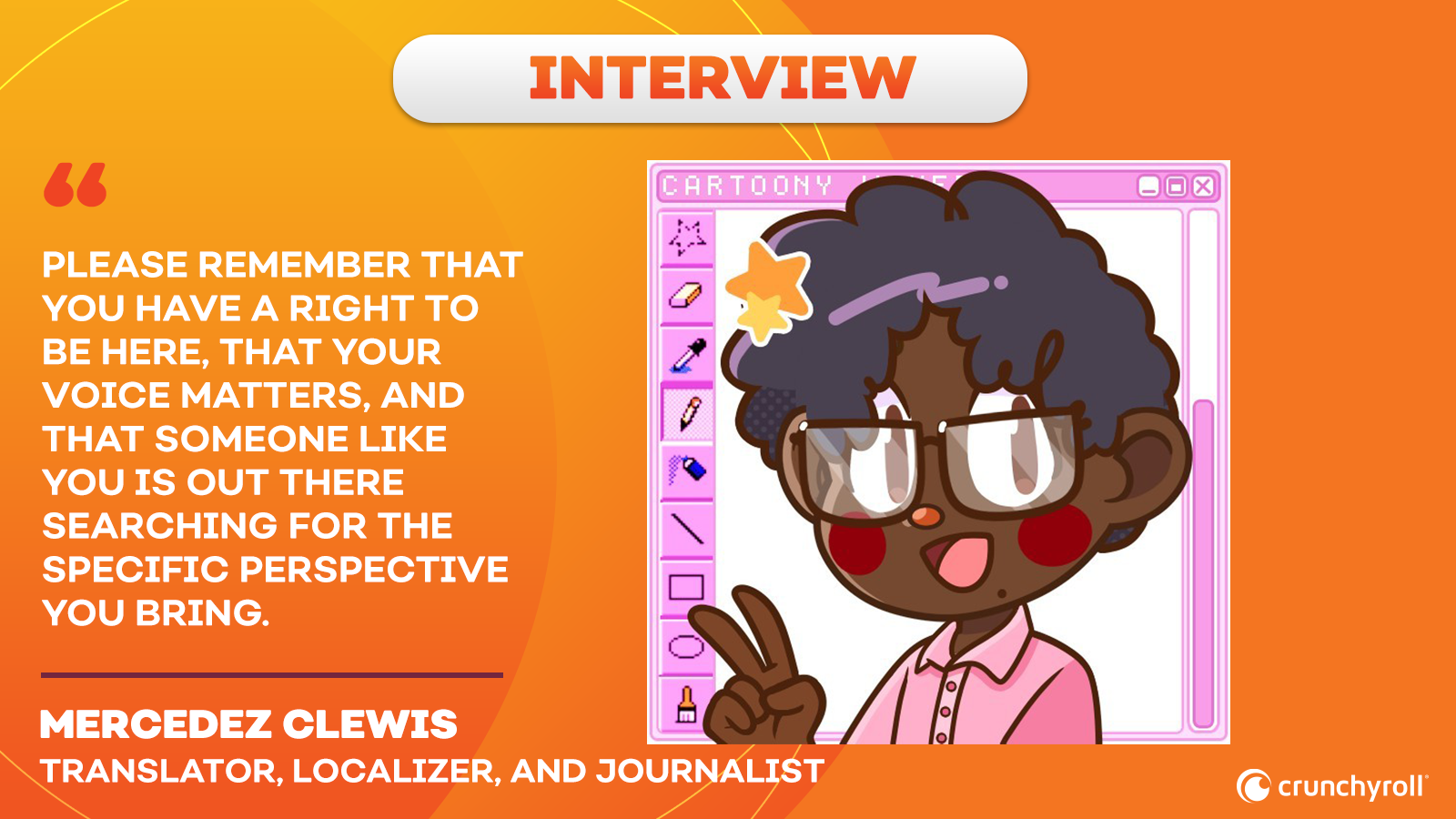 Mercedez Clewis
Translator, Localizer, Journalist (Twitter, Website)
Profile artwork by Woudi (via Picrew)
How did you get into anime/manga/light novels?

The first anime I vividly remember seeing was the Pokémon anime, back when it initially ran on Cartoon Network in 1997. I still remember the pilot episode: the thing that stands out was the final few seconds where we see Ho-Oh, which at the time, was a completely unannounced Pokémon. There was something magic about seeing a kid go on this grand adventure without his parents: it made the world seem like such a bigger place. A year later, I ended up getting Pokémon Yellow and an atomic purple Game Boy Color, which meant I got to become Ash Ketchum and literally catch 'em all. To this day, that's still one of my favorite games: I still really love the franchise too!
When it comes to manga, I really think the first manga that stuck with me was probably Inuyasha, which I read when I was ten, a.k.a way too young. I think it stuck with me because I've always liked romance series, and being honest... Inuyasha and his hot brother Sesshomaru — and Koga, too — were all my first anime crushes. The series is still one of my favorites, enough that I bought the A6 size Inuyasha hobonichi in 2021 because it still impacts a lot of my tastes in media and how I write and engage with fandom.
For light novels, I can definitively say The Melancholy of Haruhi Suzumiya is the series that got me into reading Japanese fiction. I can't really put my finger on why I liked Haruhi so much: I've actually never finished the series, though at one point in high school, I had a huge collection of Haruhi merch. I even learned the "Hare Hare Yukai" choreography, and still remember every single step to this day. What I can say is that the series felt fresh to me: in a time of samey YA titles with white protagonists falling for white love interests, stepping into someone non-white's world helped me feel less lonely. Haruhi and the SOS Brigade felt like my friends, even if the line between us — reality versus fiction — was clear. They sparked a love of light novels that led me to ultimately become a light novel editor, which is my day job and something I hope to do for the rest of my life.

What inspired you to pursue translation in the industry/anime journalism?

When I was a teenager, I dreamed of working for Funimation: at that time, I wanted to become a voice actor, but it was ultimately something I never pursued. However, my love for the industry by and large never went away. Cut to 2019: I'm in Japan working for the JET Program in Fukushima Prefecture, my second home. I was starting to face the fact that my time in JET would eventually come to an end, which meant asking myself a significant question: "What do I do now?" More specifically: "What do I do after JET?" It's a question everyone in the program faces because JET is built to be temporary: that's a huge component of how it functions. Still, I had to face facts and make a decision, whether or not I decided to stay in Japan.
I liked teaching a lot, but I knew after four years it probably wasn't going to be my forever job. I like mentoring more, and I like being a part of a team even more than that. So, I made a snap decision, perhaps the first in my life: I was going to try and enter the translation industry. That prompted me to get back on Twitter in 2019 and shout into the void about wanting to potentially become a Japanese to English translator, which resulted in a lot of translators and localization specialist in and outside of Japan following me and reaching out to me. Words can't describe how immensely grateful I was: at that time, I felt so aimless, but translation slowly started to seem like a more viable thing.
That said, it wasn't until February 2020 that I actually got work as a translator: I worked for Siliconera as a Japanese to English news reporter for a few months, which greatly helped me survive the first leg of the pandemic. Though my time there was brief, I really came to understand what translation entailed, enough that I knew the translations and localization field was where I wanted to land, enough that I started to dip my toes into other aspects of the field, eventually landing as a J-E editor for light novels and visual novels, as well as doujinshi and manga from time to time.
When it comes to my work as an anime journalist and critic, I can think of one indivudal who deserves a lot of thanks: Chiaki Hirai of Anime Feminist. Chiaki was deeply instrumental in me becoming a journalist, which is something I had wanted to do as a high school student, but gave up in exchange for pursuing a History major in college. Chiaki approached me initially to do a podcast about femininity and gender in Japan, but unfortunately, due to scheduling and topicality, the episode never aired. Mind you, we recorded when the news of multiple university scandals in Japan surrouding lowered or altered test scores for cis women was still fresh on everyone's mind: because the episode wouldn't air until later in the year, it was mutually cancelled. However, not long after that, Chiaki offered me a position as a staff editor for AniFem, and while I'd never been an editor, Chiaki and the team took a chance on me, which resulted in me not only becoming an editor, but a reviewer as well. I can still remember my first three reviews: Japan Sinks 2020, Lapis Re:LiGHTS, and Monster Girl Doctor. While they may no longer be my best work, they'll always be my favorites because they were my first reviews.
Honestly, I can track everything that's happened over the past twenty months back to Anime Feminist, and to the moment everyone on the team took a chance on me. They gave me a voice and helped me realize that not only did I have something important to say: I had something to add to the conversation as a fat, Black, queer, non-binary journalist and feminist. I'm eternally grateful for each and every member of the team: Anime Feminist will always be my writing home, especially when it comes to feminist critique.
What about anime do you love/resonate with?
Out of all the things I love about anime, my favorite is the escapism: not in the sense of shutting out the world, but in the sense of diving deep into a world centered on specific things. Really, what I love is the cute girls doing cute things sub-genre of slice of life, which is overall my favorite genre. Why? I love the minutia and domestic details of the human experience, and I'm really into the notion of young people — often cis girls in a lot of series — getting to hyperfixated on a specific craft. Take Let's Make a Mug, Too, which is specifically about pottery: sometimes it's as simple as the girls throwing clay, sometimes the series get technical, and sometimes, it's just youthful folly. At all times, it's really great, and it captures a modern-moe aesthetic that feels reclamatory versus sexualized moe, which I'm not into at all.
What also resonates with me is idol anime, a genre that I'm particular passionate about. There's something lovely about idol anime, and about how much unchecked optimism there is in series like Love Live! and even a more serious take like Idoly Pride: there's something really powerful about femininity being welcomed and utilized as a way to create happiness. Idol anime are worlds where it's alright to be sweet and cutesy, where femininity is a net positive.
That said, idol anime are a fraught genre because, at base, it's a sexist industry that has caused a lot of young women harm, which is something I choose to not untangle from my critque and engagement. It's not even a question: idol culture is fraught because it's deeply entangled with parasocial relationships, youth, and fantasy. That said, there's a lot of room for reclamation, both for the inudstry — anime and the actual IRL idol industry — and for the future of idols. I look forward to hopefully seeing that future come about in Japan as marginalized genders in the larger music industry change the landscape of what being a musician looks like, idols included.
Do you have any advice for people aspiring to work in the anime industry who may not know where to start?

My biggest piece of advice is to get on Twitter and network with as many folks as you can: forget LinkedIn, let go of Facebook. You gotta get on Twitter. There's loads of us on there, including journalists, critics, reviewers, voice actors, ADR directors, subtitlers, translators, and more. In fact, Twitter is how I do a lot of my networking: it's also how I do my outreach and work as a public feminist.
I would encourage you to follow BIPOC folks in the industry first and foremost: that's not to say that our white contemporaries aren't skilled. They are, and I deeply respect the work a lot of my friends and collegues do. However, I think that it's really critical to uplift the non-white voices in our field. There's three that come to mind: Anairis Quiñones, who's one of my favorite dub VAs, Briana Lawrence, who does amazing work and critic with anime and manga, and Kate Sanchez, who helms But Why Tho?, is a good friend, and one of my Top Five critiques. I definitely recommend keeping an eye on Kate: I think she's going to be one of the most important voices of this decade, and I'm not just saying that because I had the joy of being on an Anime Feminist podcast about the live-action Cowboy Bebop with her.
And when you feel the time is right, take a chance: apply to places. The worst you can get is a no, and while no's can be gut-wrenching and devastating, they're also a part of the process. Plus, you've got the entirity of a bunch of nerds here to uplift you: I know I'm certaintly here to pick folks up when they're down. You'll find your stride, though I'll tell you this: it'll take some time. Yet I've found that every step in my work as a localization specialist, an anime journalist, and a public feminist have absolutely been worth it.
My final piece of advice is this: there are going to be days where you feel like you don't have a place, where the weight of the world rests on your shoulders and you ask yourself, "What the heck am I doing here?" Please remember that you have a right to be here, that your voice matters, and that someone like you is out there searching for the specific perspective you bring to media, ready to see themselves and see another seat at the table. Is it easy? No. It's hard to be the only one, or one of a few, or a handful. But I can tell you this: now that I've got a seat, I'm about to do everything I can to make sure whomever comes next doesn't have to do it alone.
And at the end of the day, that's why I love my work: there's a community out here that's helped me go through the hard times in unision rather than alone. In fact, you don't have to go through it alone: I'll be everyone's non-binary Black auntie if necessary because no one should have to go at it alone. That's been the beauty of my experience: having a community, moving through victories and missteps and highs and lows with others, and celebrating it all together. I think that's why I can soundly say that after being in this industry since October 2020, it's absolutely worth it. I hope that I can pay that feeling forward as frequently as I can this year.
---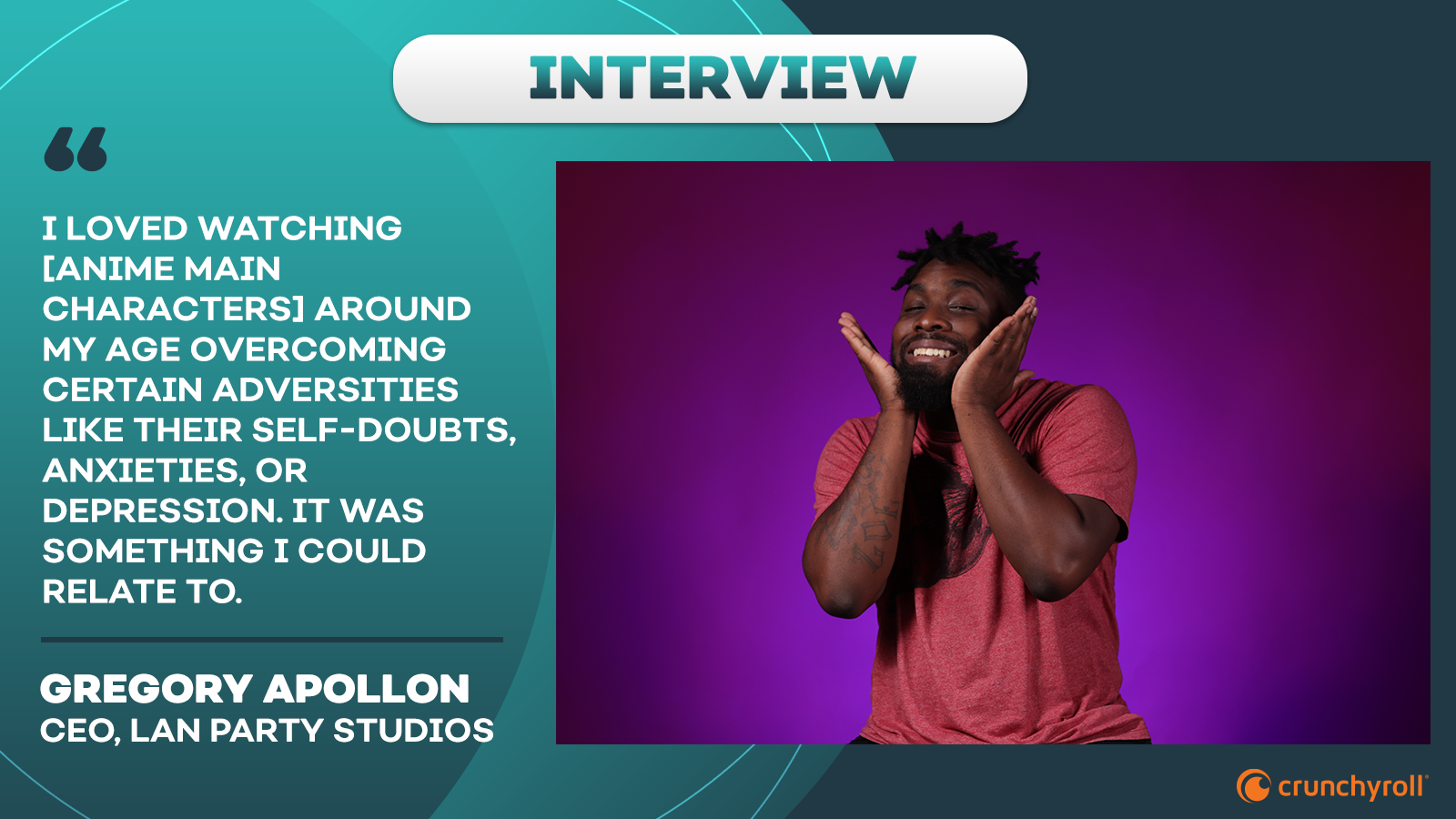 Gregory Apollon
CEO, LAN Party Studios (Twitter, Instagram)
How did you get into anime?
I've been watching anime since I was a kid, I would wake up in the morning getting ready for school, and watch Hamtaro, Zoids, DBZ, and Sailor Moon.
How did you end up creating the media group known as LAN Party?

Sheesh lol! I started LAN Party with my best friend Luther and my soul sister Imani. We started out as a podcast cause we wanted to talk about the things we love. We noticed NYC didn't have much reputation within the nerd space as we progressed. So we've decided to put NYC on the map! we've teamed up with some great content creators such as Chibith0t, Vantablack, Xerogravity, Thouartanuli (just to name a few).

What about anime do you resonate with/love?

I loved watching MCs around my age overcome certain adversities like their self-doubts, anxieties, or depression. It was something I was able to relate to.
Do you have any advice for people who want to make a career out of their love for anime?

Do it for the love of anime. Money is cool and all, but when people see you doing something they love, it just hits different.