Oh, the places you'll go!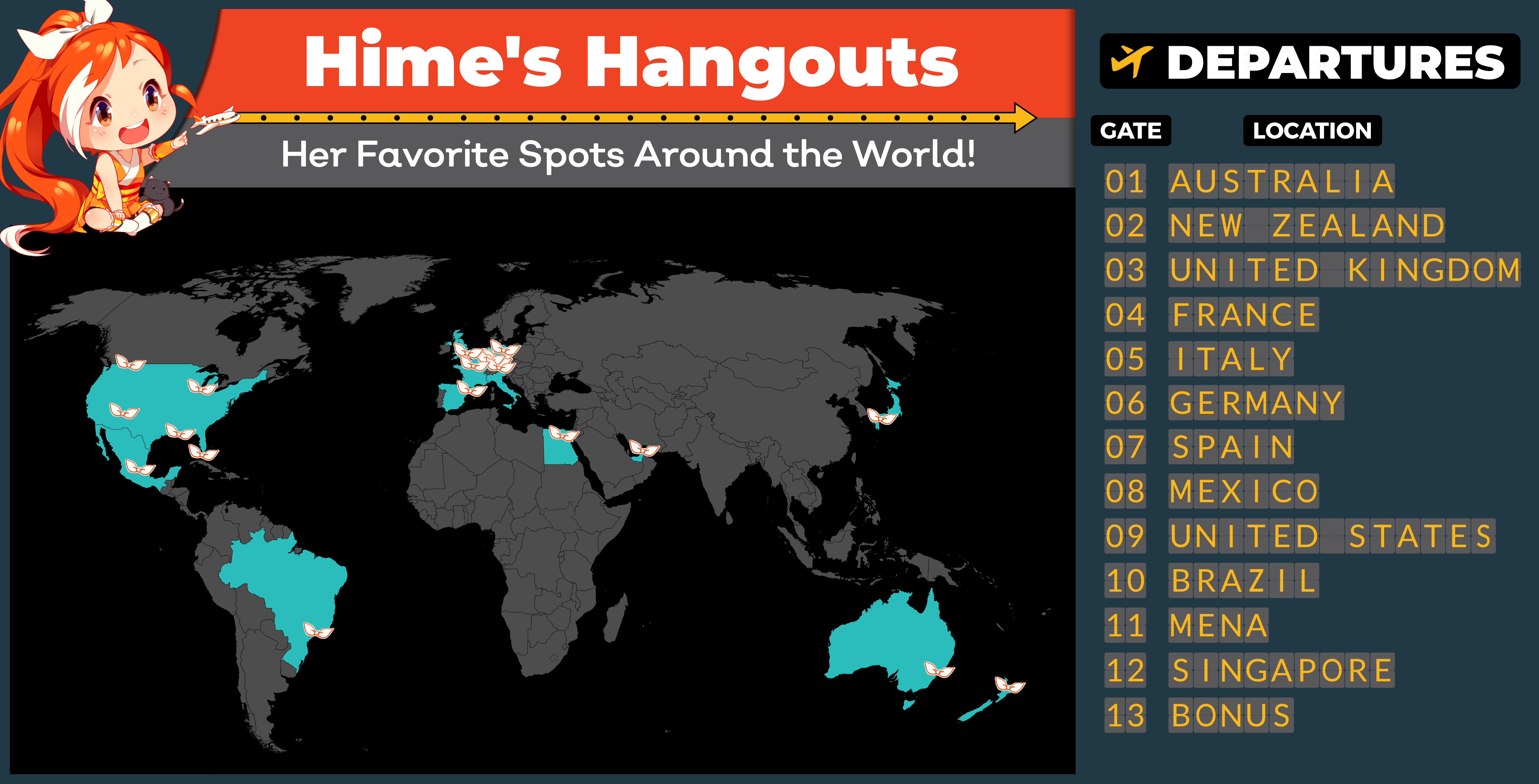 It's June 6, Crunchyroll-Hime's Birthday! On this day 116 years ago, Hime took her first steps out into the world. She grew to serve as the bright, radiant face of Crunchyroll, and in that time, she's worked tirelessly to spread her infectious love of anime to every part of the globe she can reach!
But even the boundlessly energetic Hime needs to kick back and unwind on her adventures. Thankfully, with all the experience she's built up over the years, she knows just where to go for whatever mood she's in. So, for her birthday, we're rounding up all of the places Hime loves to hang out all over the world!
Pack your bags and put on some comfy clothes, we're about to embark on a globe-trotting birthday-celebrating journey through Hime's Hangouts — Her Favorite Spots Around the World!
---

Across the Pacific Ocean in Australia, Hime regularly goes to and from Circular Quay, which is home to the familiar Sydney Opera House and Harbor Bridge.
What's lesser-known, however, is that a Luna Park is just a short ferry trip across the bay, where Hime enjoys riding the Big Dipper — Australia's tallest and fastest multi-launch coaster — over and over!
---

With its cinematic landscapes and handy Hobbit holes, New Zealand is never off Hime's radar. As she traverses the Thermal Explorer Highway beside all the brightly colored pools, Hime likes to pretend she's been transported to Namek and do the Kamehameha in time with the geyser eruptions.
---

It'd take an unbelievably long time to see it all in the United Kingdom, so Hime settles for the next best thing: getting a kaiju's-eye view of the nation's sprawling capital on the London Eye, provided it's one of the two days a year it isn't cloudy.
---

Even when she needs a break from work, Hime can't help but drop by the Grand Rex theater when she's in Paris to catch a nighttime screening of whatever anime film is currently playing. I mean, what better way is there to see all the high-octane action of JUJUTSU KAISEN 0 than in the biggest theater room in all of Europe?
---

She, Crunchyroll-Hime, has a dream… To fly into the Naples Airport and visit Poggioreale Prison, Piazza Garibaldi, Piazza Vittoria, il Maschio Angioino and the Naples Funicular… for no particular reason.*
* Not sponsored by JoJo's Bizarre Adventure: Golden Wind
---

A more ambitious dream of Hime's would be to rent out Neuschwanstein Castle for a rescue mission, but she sadly doesn't have an adorable gremlin daughter and world peace to justify the expense.
Instead, she lives out her fantasy of being an isekai protagonist by strolling through the picturesque streets of Rothenburg ob der Tauber and Nördlingen before dropping in on the Sony Center in Berlin to admire its Mt. Fuji-adorned rooftop.
---

For another short trip down memory lane (with a side of churros), Hime heads to the Plaza de Espana in Seville, whose outstretched wings are reminiscent of the academy in 2016's Magic-kyun! Renaissance, just without the harem of bishonen idols.
With its majestic pathways and bridges that were also featured in several Hollywood films, Hime wastes the day away trying to get the perfect glamor shot for her socials.
---

Hime is a big piazza fanatic, if you hadn't realized by now, so she'd be the first to tell you that they're not exclusive to Europe. Back in North America, Mexico's Santiago de Querétaro still retains a lot of its Spanish architecture, which includes a plaza that was featured in the Crayon Shin-chan: My Moving Story movie!
You'll most often find Hime there engaging with the locals and being the first to start dancing if any festivities are on.
---

There's so much to see in a country that strongly distinguishes its north and south and its east and west, so Hime has a spot in every corner for an easy escape from the crowds whenever she needs some alone time on the con circuit.
The Glacier National Park near the Canadian border in the north and the Grand Canyon in the west provide stunning vistas for Hime to try her hand at Laid-Back Camp-ing. And to dive into some delicious dishes after, she'll head south to New Orleans for a comprehensive foodie, music and fun tour.
And finally, in the east, it's none other than Cloud Gate, because it reminds Hime of the classic Riding Bean OVA set in Chicago — and how much she loves pressing Yuzu's itty-bitty paws.
---

When she isn't out scouting exotic locales like those seen in series like Michiko & Hatchin and Great Pretender, Liberdade District in São Paulo, otherwise known as the Japantown of Brazil, is Hime's go-to spot for all her anime merch and Japanese cuisine needs in South America.
---

MENA (Middle East and North Africa) is home to both ancient cultures and some of the fastest-growing cities, best pictured through the iconic Pyramids of Giza and, yes, the monumental Dubai Frame in the United Arab Emirates.
Hime always keeps an eye out for her own little Mii-kun on her frequent visits to Egypt, but for now, she just settles for a bandage-wrapped Yuzu.
---

Changi Airport in Singapore is one of Hime's favorites to fly into, on account of its stunning natural installations and internal Pokémon Centre. She also goes out of her way to see Merlion Park whenever she's there to reflect on old memories of hanging out with friends by the water, just like Faye in Cowboy Bebop.
---
While Hime gets distracted by the sheer number of cats on Japan's Ao Island, Yuzu sneaks off to have secret meetings with his feline comrades about who knows what. World domination? It's possible… even likely.
Or if that's out of paw's reach, there's always the Ernest Hemingway Home and Museum in Key West off the coast of Florida, which houses 60 polydactyl (six-toed) cats that are exceptional at playing piano.
And, of course, Yuzu loves cozy hangout spots, so topping off his trip at the Santa Monica Pier in California is perfect for some lounging about in the sun!

Der shy man behind @Shymander, Liam is a timezone-fluid Aussie with a distinct fondness for anime, Eurovision and creating odd stats projects despite hating math.