Okura talks with us about the importance of quiet, happy LGBTQ stories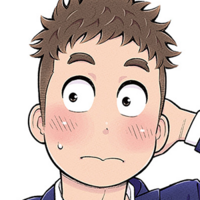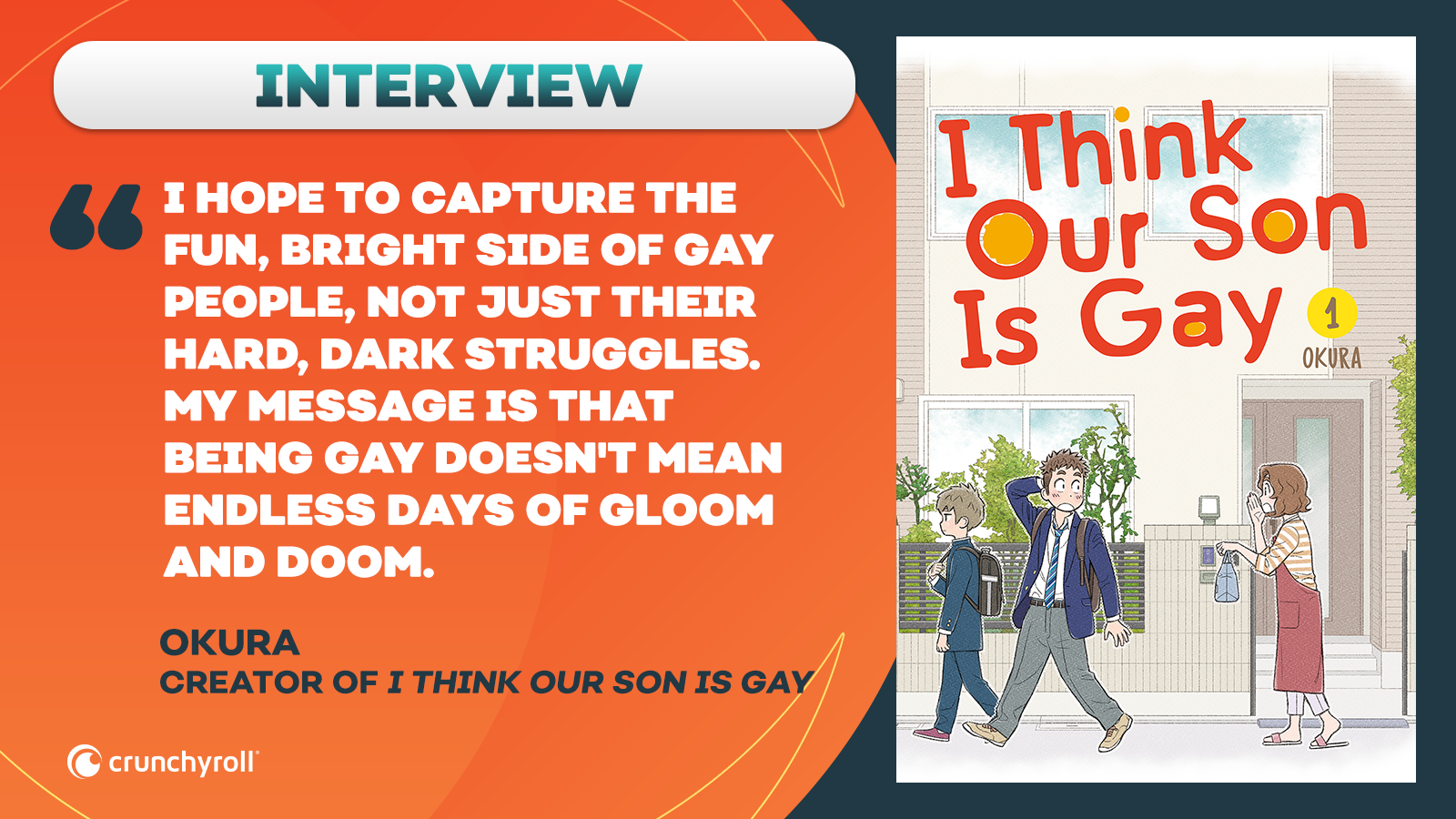 Okura's manga series exist in worlds that are softer and kinder than the one we live in. In That Blue Sky Feeling, transfer student Noshiro befriends and grows closer to loner Sanada, while I Think Our Son Is Gay is told from the perspective of a mother quietly supporting a son who she begins to suspect is gay. These characters face hardships because of their attraction of course, but these series are much more concerned with depicting the quiet victories and small joys of everyday life as a boy who likes other boys. Instead of intense trauma and pain, we get to live with these characters in a much more relaxed, peaceful narrative space. It's really refreshing!
With help from our friends at Square-Enix Manga, we had the amazing opportunity to interview Okura about both of these series, the importance of depicting support systems for LGBTQ characters, and the creative drive to depict gay characters living a happy, comfortable life. Read the full interview below followed by an excerpt from Chapter 1 of I Think Our Son Is Gay!
---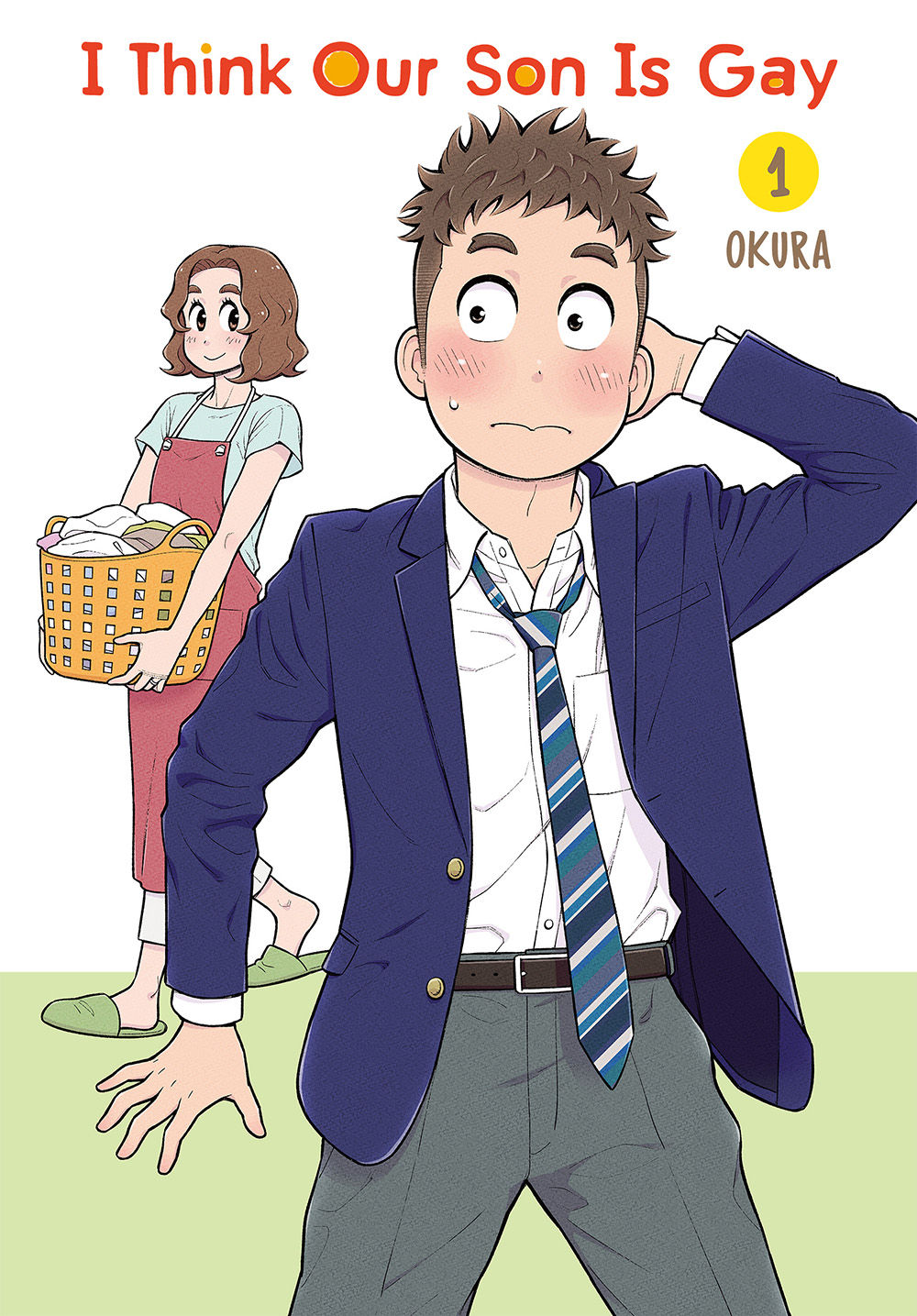 Crunchyroll: What led you to become a manga artist? Were you interested in turning your stories into manga from the beginning?
Okura: My mother loves reading books, so growing up I had a lot of picture books and manga at home. I loved reading them, as well as drawing pictures. I think I was about six to eight years old when I started drawing manga based on the stories I came up with.
Even today, there aren't very many stories about homosexuality or LGBTQ issues. What made you want to create manga that centers around gay relationships?
Okura: I've always felt that gay people in manga and drama are often portrayed as either comic relief or someone with struggles and hardship. I wanted to draw what I consider to be natural, ordinary gay people.
In That Blue Sky Feeling, you describe how microaggressions and unconscious harassment can make young gay people feel alienated from other people. Was it important for you to portray that side of Sanada?
Okura: Sanada isn't being bullied by others around him. Rather, he's voluntarily keeping a distance from them.
It was important for me to show that one of the reasons why he feels uncomfortable with others is the curious glances and unconscious prejudice.
Noshiro can be a dumb bunny and dense, but he has the depth as a character to face his prejudice and work out his feelings. What inspired you to create a character like him?
Okura: I drew Noshiro as someone who can be genuinely interested in someone without looking down or teasing them about being gay. It came out of my wish that someone like him were around me when I was in school. Noshiro doesn't know anything about gay people, and by seeing things from his perspective, it allowed me to face my own unconscious prejudice toward gay people.
I Think Our Son Is Gay is more slice-of-life compared to That Blue Sky Feeling. What made you choose a more laid-back atmosphere for I Think Our Son Is Gay?
I Think Our Son Is Gay started out on Twitter. Since you can only upload four pictures per tweet, that's why one chapter has four pictures. I made each story short so that the readers could view and enjoy it in one tweet.
I Think Our Son Is Gay is especially interesting because the story is told from the mother's point of view. What prompted you to make her the narrator of the story?
That Blue Sky Feeling is a story about boys thinking for themselves and arriving to their own conclusions. So I didn't portray their families. But the presence of parents and siblings is huge for adolescents. I kept thinking that perhaps it was unnatural that families were not touched upon in That Blue Sky Feeling. I had never portrayed a story of a parent and a child before, so I wanted to try and incorporate the viewpoint of the family that I didn't get to include in the previous title.
Your work is overall positive, but the themes of prejudice and bullying do get mentioned in your stories. How do you balance the light-hearted, easygoing tone with the serious subject matter?
I want to illustrate that even if the characters experience something sad or upsetting, something equally amazing and wonderful does happen to them. In I Think Our Son Is Gay, there are many positive characters. So I try to keep the story positive as well.
One of the appeals of your work is that there are many families and friends who support the gay protagonists. Was it important for you to include these supportive characters in the story?
Yes, it was. It also reflects my wish that it becomes the norm.
What do you hope to achieve through your work? What are the messages you want the readers to get out of your work?
I hope to capture the fun, bright side of gay people, not just their hard, dark struggles. My message is that being gay doesn't mean endless days of gloom and doom.
Lastly, do you have any message for your fans and the fans of LGBTQ manga?

Thank you very much for reading my manga! I hope you enjoy it. Currently, I'm drawing a manga about a boy who's trying really hard to stay in the closet. I can't help but wish that there will come a day when readers read this manga and say, "Why is he trying to hide being gay? There's nothing wrong with that."
---
Here is an excerpt from Chapter 1 of I Think Our Son Is Gay courtesy of Square-Enix: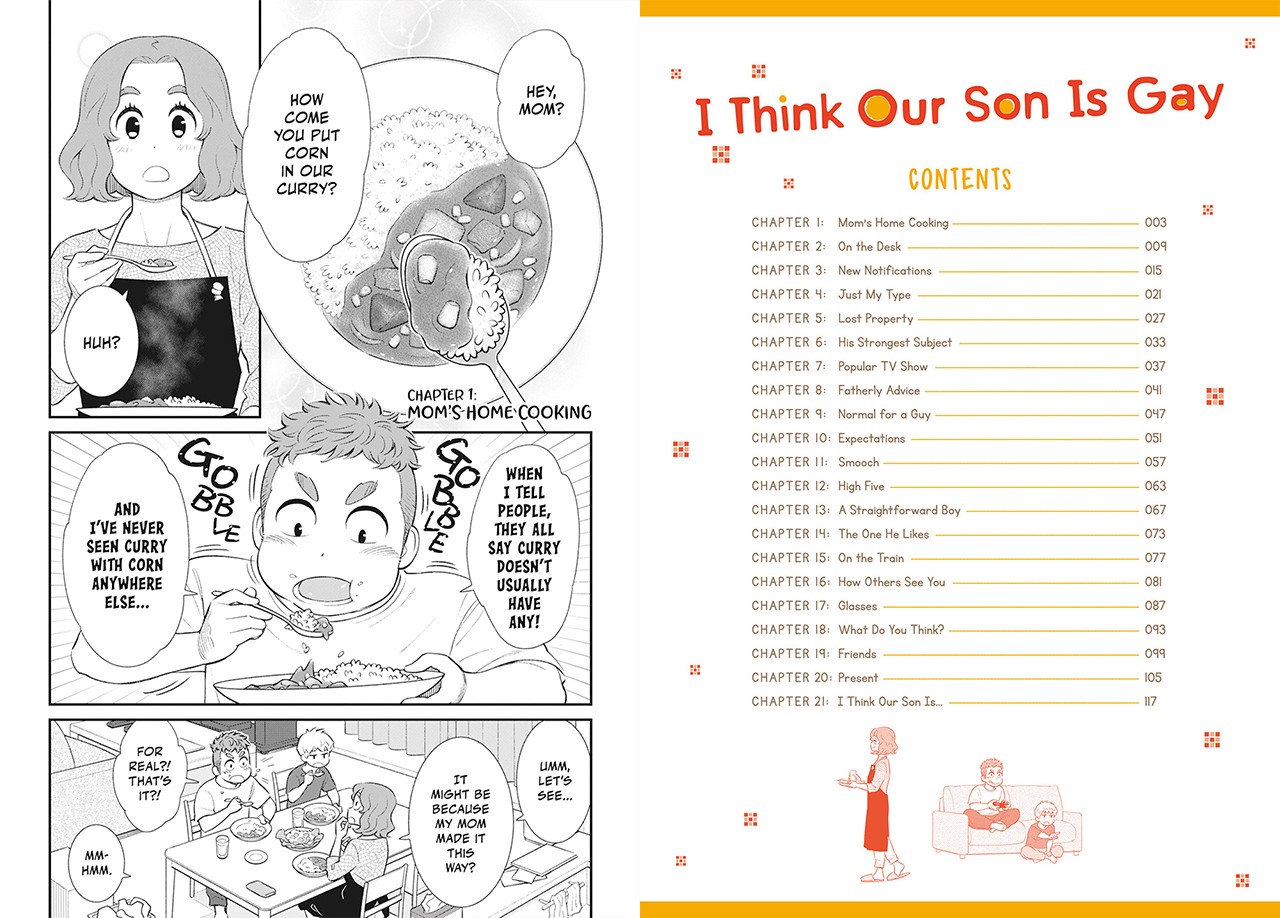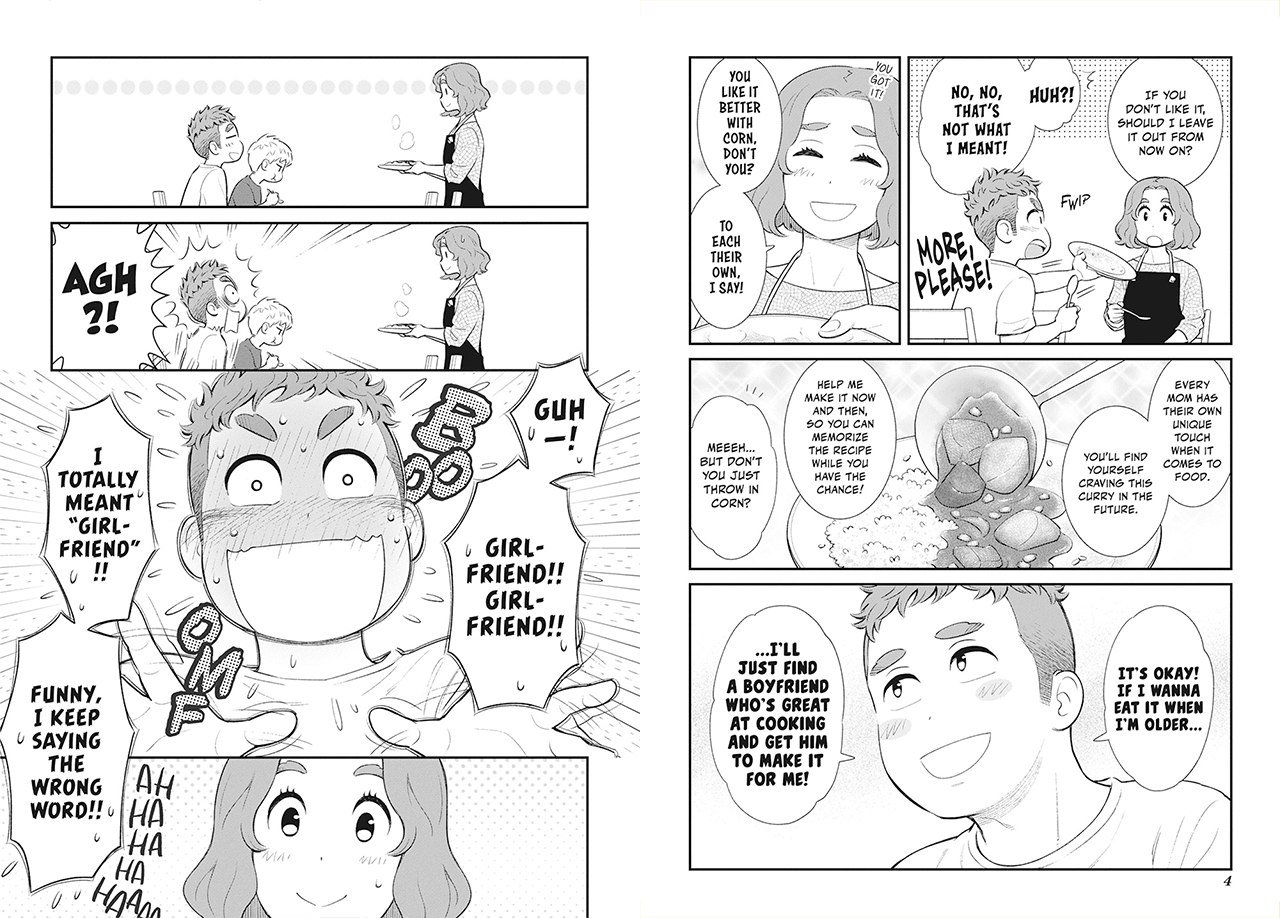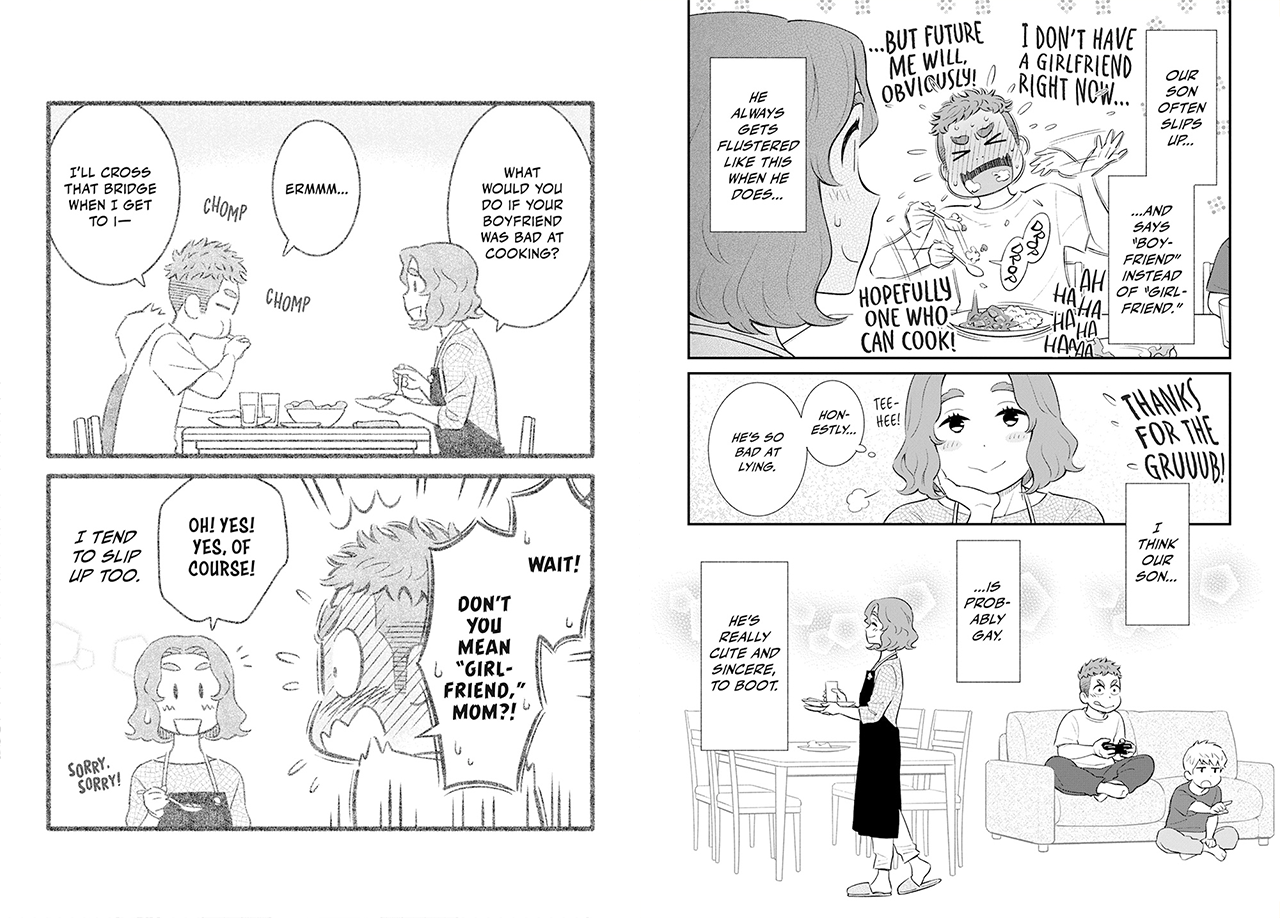 ©Okura/SQUARE ENIX CO., LTD.
---
---

---
Cayla Coats tweets @ceicocat. You can watch her rarely updated YouTube channel here.