Everything you need to know before diving into RWBY: Ice Queendom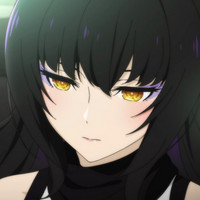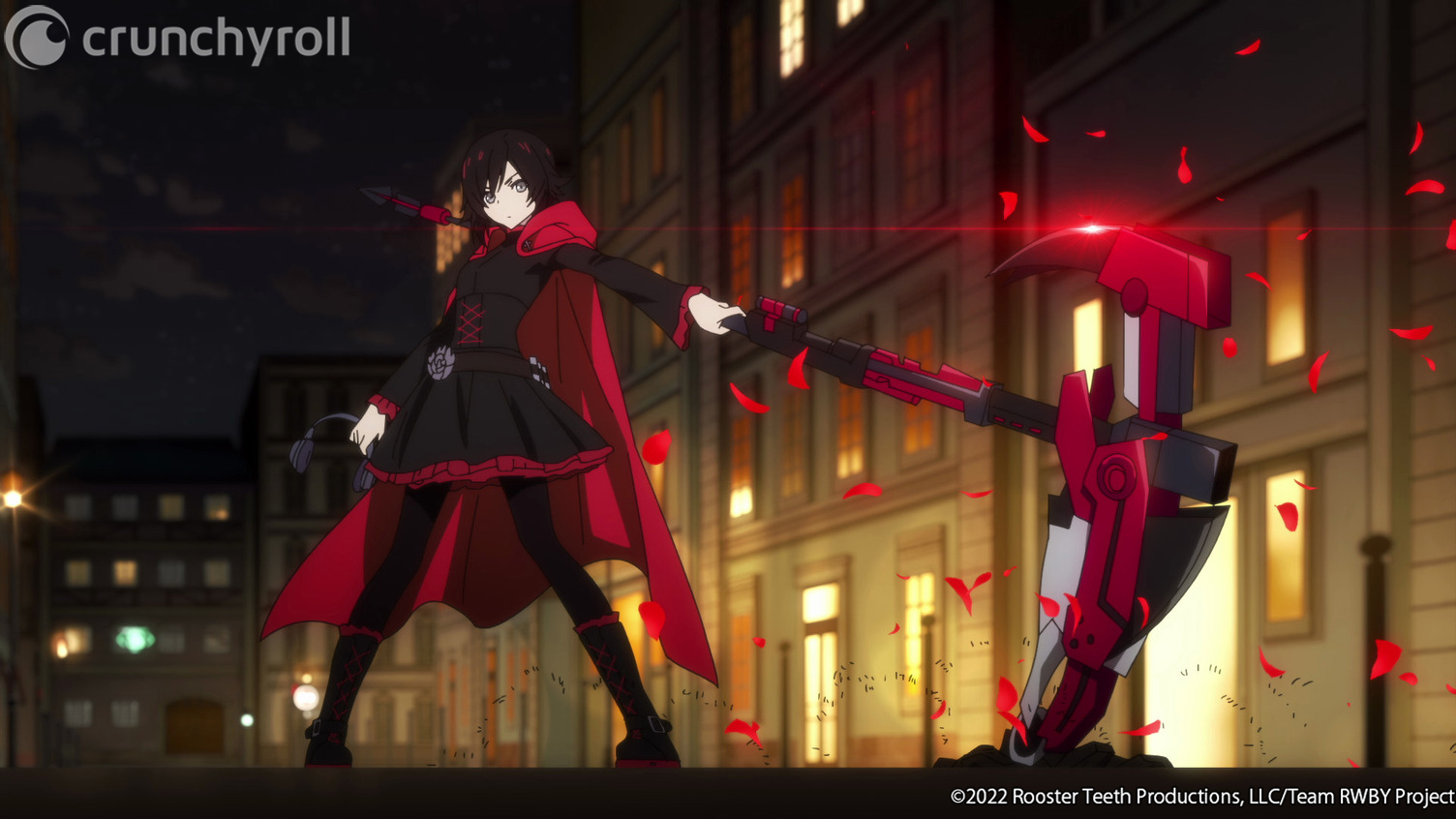 In November 2012, Rooster Teeth, the company best known for Red Vs. Blue released a teaser trailer for their upcoming series RWBY, created by Monty Oum. The trailer, which showcased character Ruby Rose using a gun-scythe hybrid weapon to take out shadow-like wolf creatures known as Beowolfs, took Rooster Teeth fans, anime lovers and a lot of the internet by storm — toting Oum's signature badass fight scene stylings, anime-esque action, music and unique weapons/character designs and the promise of more character trailers to come, each fitting with the colors/letters that make up the title.
In July of 2013, RWBY officially premiered, and since then, the series has taken off as a hit among anime fans, eventually making history as an anime from the US that was exported to Japan and dubbed into Japanese. RWBY made history again with the debut of RWBY: Ice Queendom, an original 2D anime from Studio SHAFT, which sees the series make an official anime debut. To celebrate RWBY's new anime, and to get those interested in the series up to speed, here's everything you need to know about RWBY before watching Ice Queendom.
What is RWBY?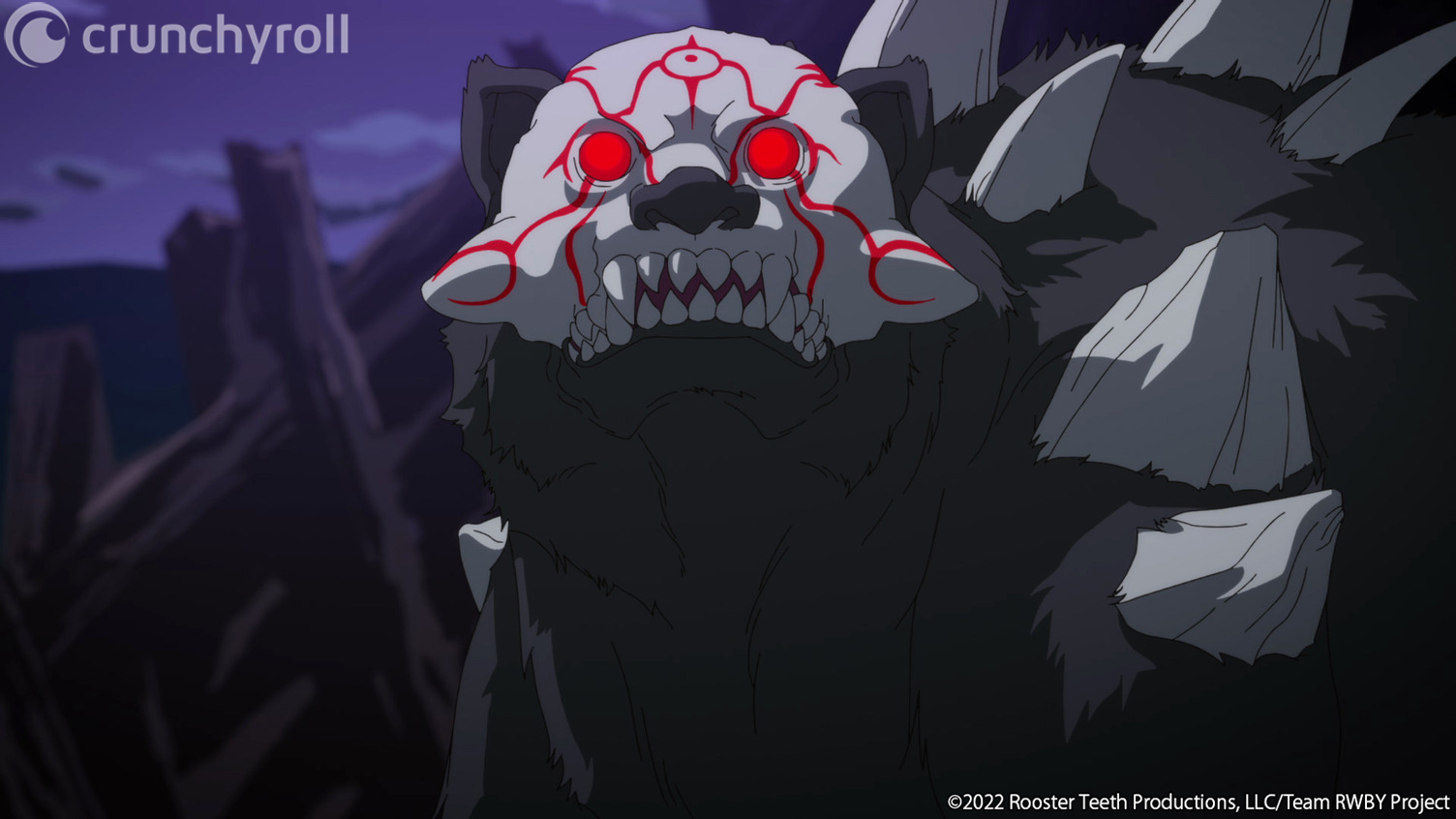 If you're new to RWBY, you might just be asking yourself what the heck RWBY is. RWBY (pronounced "ruby") follows Ruby Rose, a fighting prodigy who uses a combination scythe/sniper rifle to hunt Grimm (dark beasts that roam the land) and the evil forces that threaten the world of Remnant. Due to her fighting prowess, Ruby is inducted into Beacon academy alongside heiress Weiss Schnee, runaway Blake Belladonna, and Ruby's older sister Yang Xiao Long. Together they learn to become huntresses as team RWBY, hence the series title.
The series first sees the team learning to be huntresses at Beacon, but as a looming threat rises, they are forced to learn fast, grow up faster, suffer loss and seek the help of the other kingdoms to defeat the growing evil. RWBY originally aired in July of 2013 and has been going on for eight seasons, with a ninth on the way soon, standing as one of the most popular anime-influenced American animated series in recent history. Much of its popularity comes from its unique world full of fantastical lore crafted by Oum and continued on by the series writers after Oum's passing.

The World of RWBY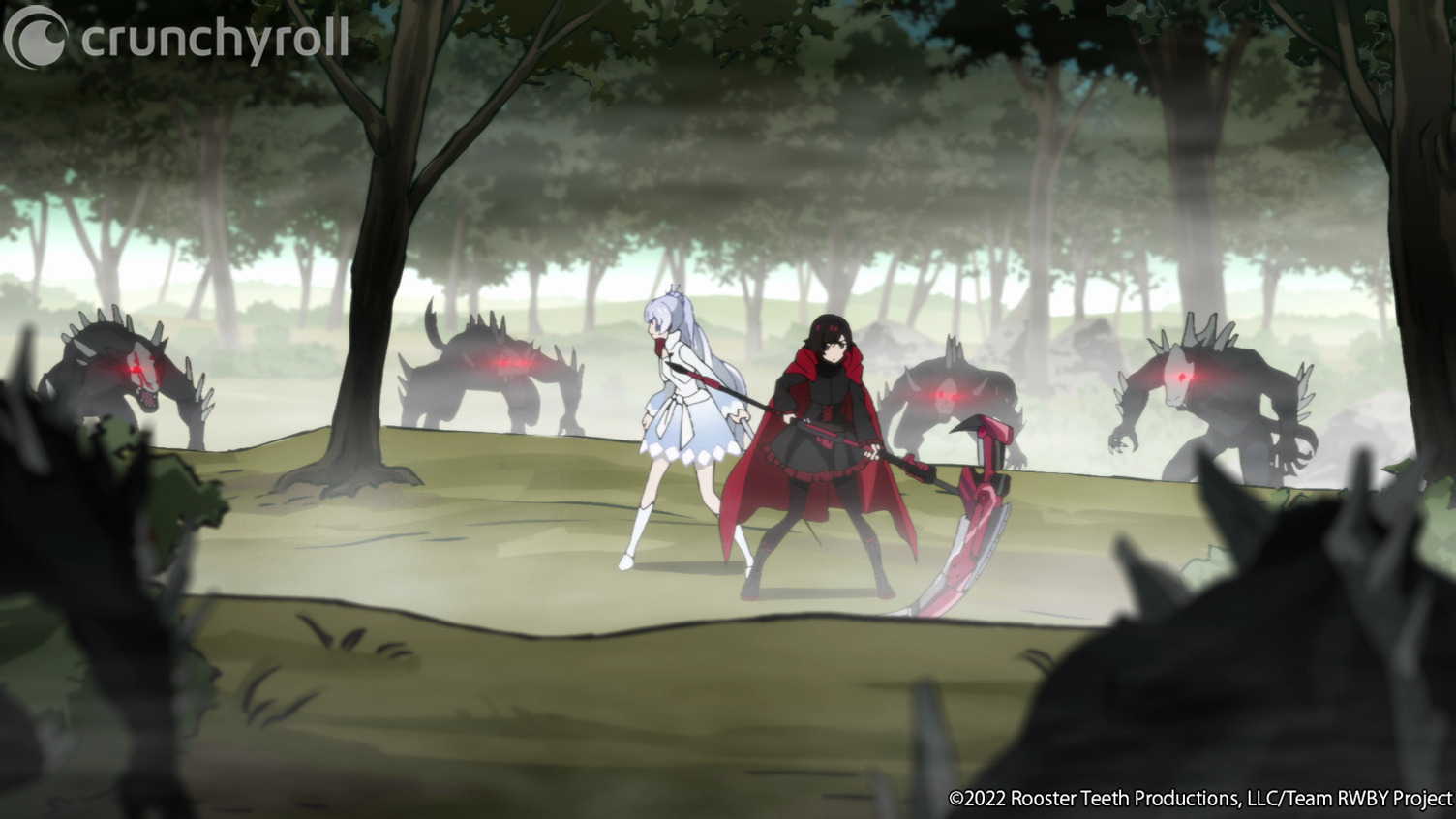 The world of RWBY is heavily inspired by anime and fairy tales. In fact, Ruby, Weiss, Blake and Yang are based on different fairy tale characters: Red Riding Hood, Snow White, Belle of Beauty and the Beast, and Goldilocks, respectively. The young huntresses take on the beasts of Grimm, dark, shadowy monsters that take the forms of different animals and require specialized weapons, training, power and insight in order to defeat.
This is where the unique and fascinating anime-esque lore and world of RWBY shines: in its hunters and huntresses. Every hunter and huntress carries a unique weapon, usually some kind of medieval weapon combined with a firearm as a means of adding momentum to attacks — like Ruby's Crescent Rose, which uses the rifle shots to increase the pull of the scythe blade. These unique weapons are accompanied by unique powers in the form of Auras and Semblances. Auras are the inner magical energy of each hunter and huntress, capable of providing them with a damage shield and manifesting as a unique power in each individual, known as a Semblance.
Ruby's Semblance is super speed, Yang's is the ability to absorb damage as power for her own attacks, Blake's allows her to leave behind clones to take a hit, and Weiss' glyphs grant her a number of different magic abilities. Hunter and huntresses use their semblances and weapons to keep their respective kingdoms safe from the Grimm, and as RWBY progresses, we learn that it's not just the magical beasts they have to fear…

What's new in Ice Queendom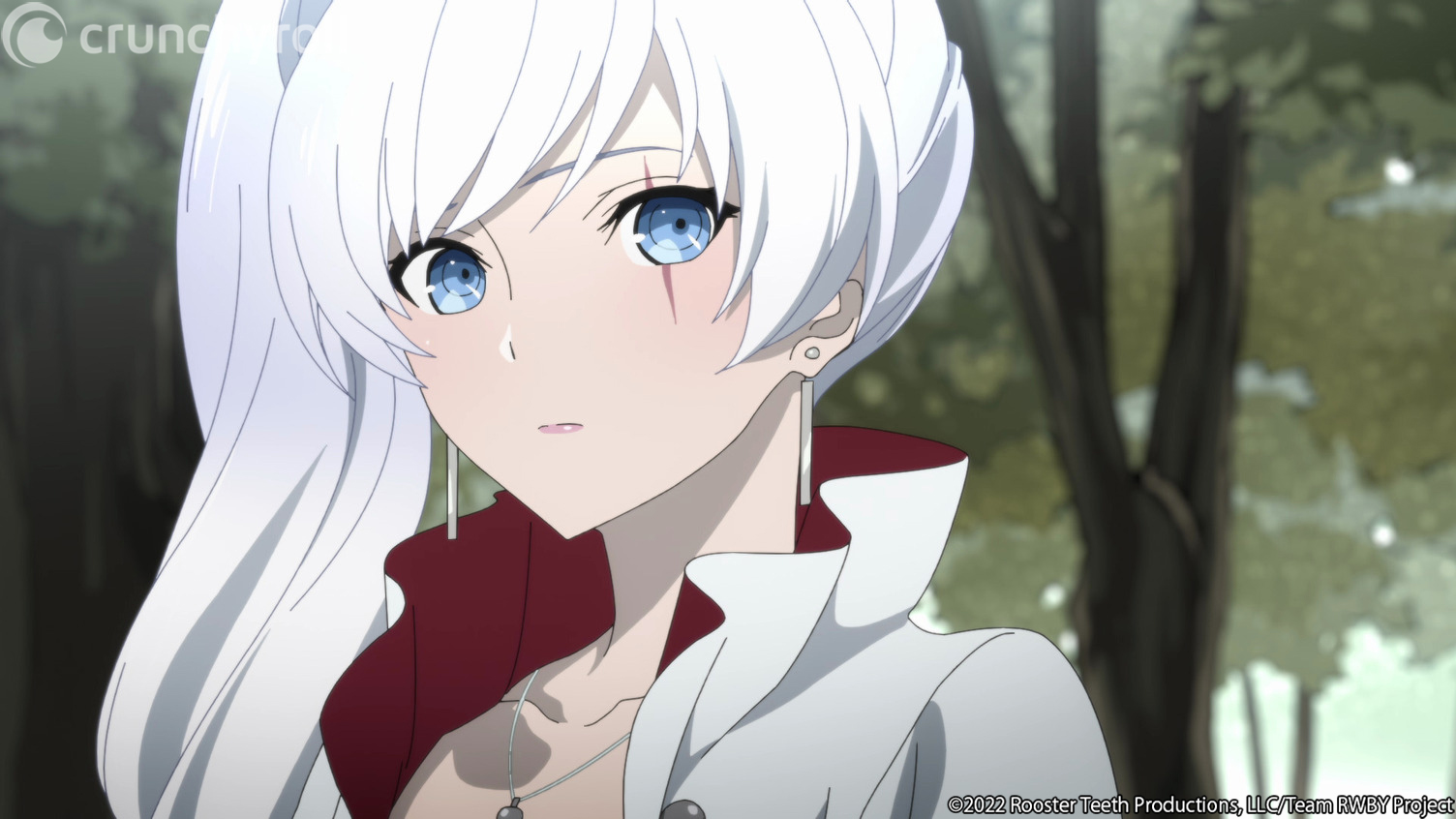 On top of several manga adaptations, a comic series from DC comics and a Justice League "crossover" that saw Remnant versions of the league members team up with team RWBY to defeat Starro and save the multiverse, RWBY has its latest franchise spin-off, RWBY: Ice Queendom. According to Rooster Teeth's website, Ice Queendom is "canon adjacent," serving a similar role as anime films do to anime series — not addressed in the main canon but it can fit within it. The first two episodes have recapped the first two volumes and the following episodes will move into new, original territory focusing on a Weiss-centric story and sitting in between volumes 2 and 3 in the series' timeline. The series will also receive a manga adaptation from Kumiko Suekane, published in Kadokawa's Monthly Comic Dengeki Daioh.
You can expect the return of the Japanese voice actors who dubbed the series in Japan, including Saori Hayami (Ruby), Yōko Hikasa (Weiss), Yū Shimamura (Blake) and Ami Koshimizu (Yang) as the members of team RWBY. Additionally, the series will be dubbed in English, with all of the original VAs returning: Lindsay Jones as Ruby, Kara Eberle as Weiss, Arryn Zech as Blake and Barbara Dunkleman as Yang. Also returning from the original RWBY staff are Erin Winn (concept artist) and Kerry Shawcross (writer), who serve as consultants for the adaptation, and Mason Lieberman, a cellist for the soundtrack.
Rwby: Ice Queendom is sure to give the original series an awesome adaptation and provide plenty of fantastical adventures in the world of Remnant.

---
Sean Aitchison is a writer and researcher from LA who watches too much anime and knows too much about Sonic the Hedgehog. Follow him on twitter @Sean8UrSon for his work and listen to his podcast, Sonic Podcast Adventure (@SonicPod).