What does the embodiment of hope itself think about her time with hololive?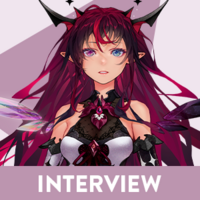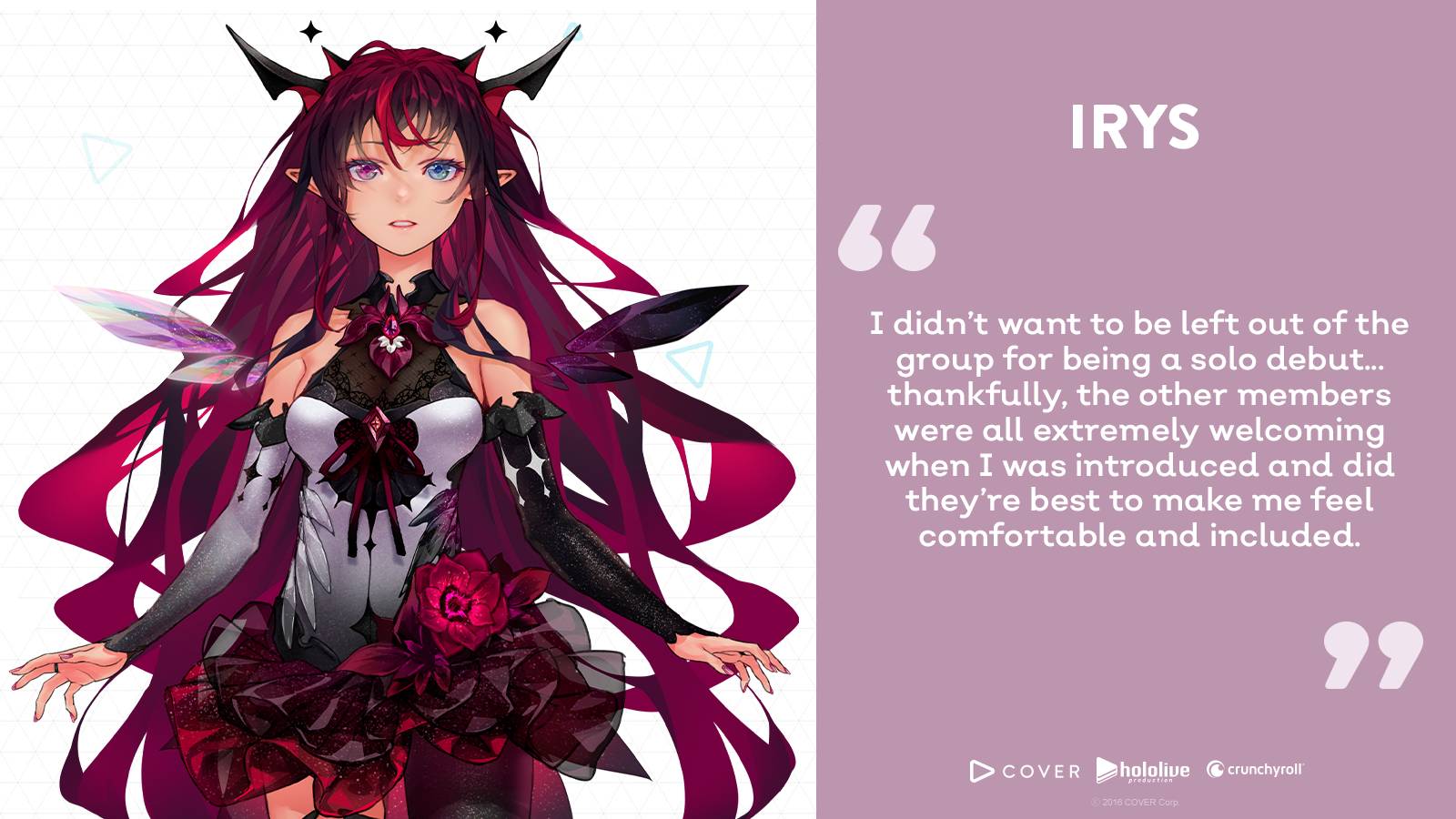 This interview is part of our series of articles and interviews with hololive VTubers IRyS and the members of -Myth-! This series includes interviews and recommendation lists from some of the world's most well known VTubers. You can read IRyS' Top 10 Anime list here, and you can see all of the upcoming articles below!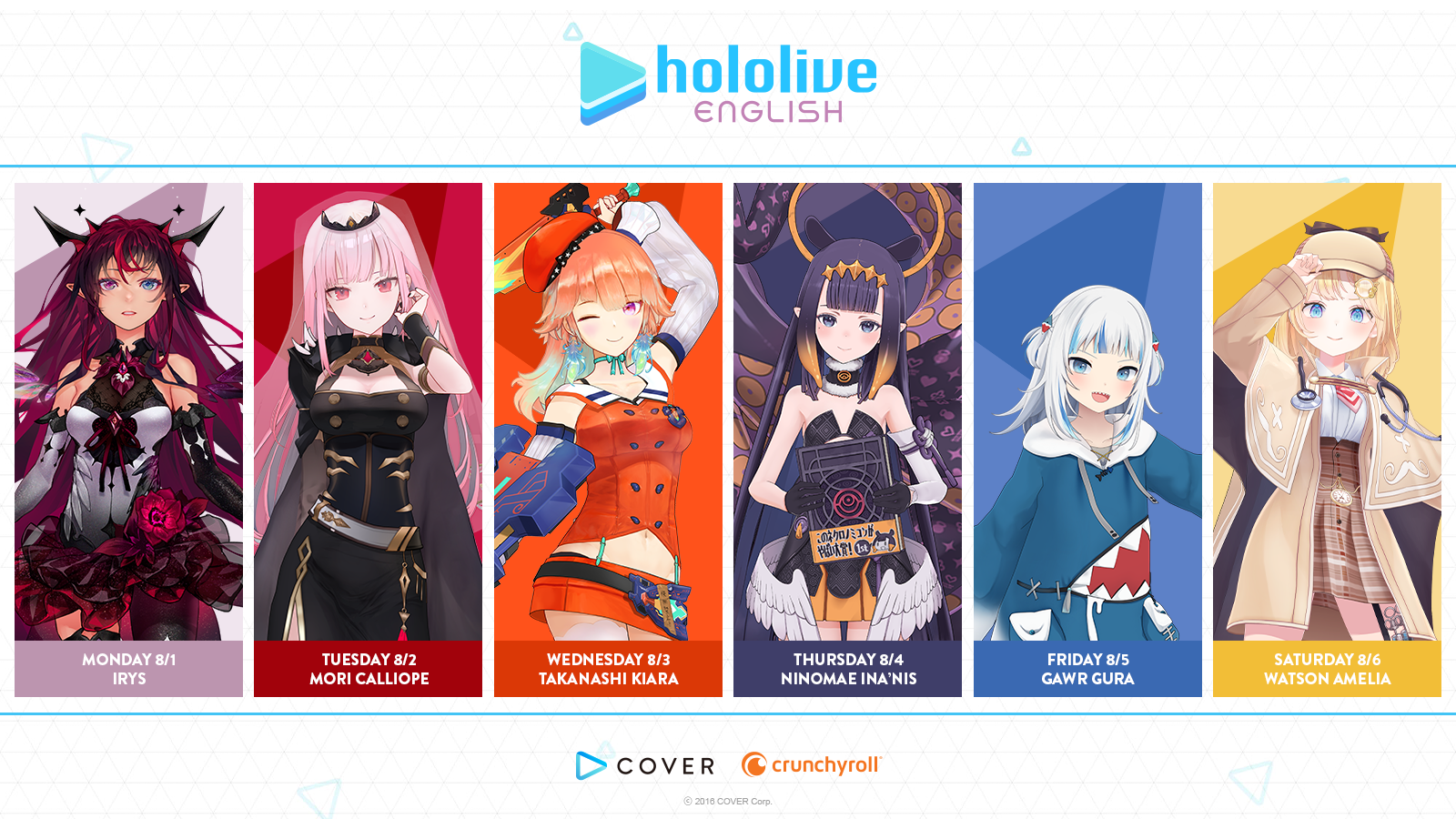 hololive -Myth-, the VTubing company's first official English language branch, debuted in October 2020 to massive success, introducing the world to five new talents ranging from the grim reaper's apprentice to a half-human Atlantean. Half a year later, a newcomer joined them: IRyS the Nephilim, of Project: HOPE. Since her debut, she's released three EPs, gained over 800,000 subscribers on YouTube, and is bringing hope back to the world.
We asked her to fly over to Crunchyroll to answer a few questions for us about music production, her goals, and how she feels about being the only solo debut in hololive English thus far.
---
Crunchyroll: Could you please introduce yourself to our readers?
IRyS: HiRyS! It's IRyS!! I am hololive English's Vtuber, also a Nephilim (half angel and half demon), hope incarnate and your fellow otaku, IRyS! I have descended to this world to bring hope to people through singing! As a Vsinger, singing is my passion but I am also just as passionate about anime and manga as well!
As a Nephilim, you are half angel and half demon. What can you tell us about your family?
IRyS: I do not remember my birth parents, but I have been in the care of a pair of lovely human parents and an older sister since my descent to the human world! My parents and sister both love me but they are just normal humans. My family is very supportive about my career and I love them very much. My dad goes beyond the word supportive and is a huge card collector and ever since I joined hololive, he has been very driven to collect every single card that has me on it.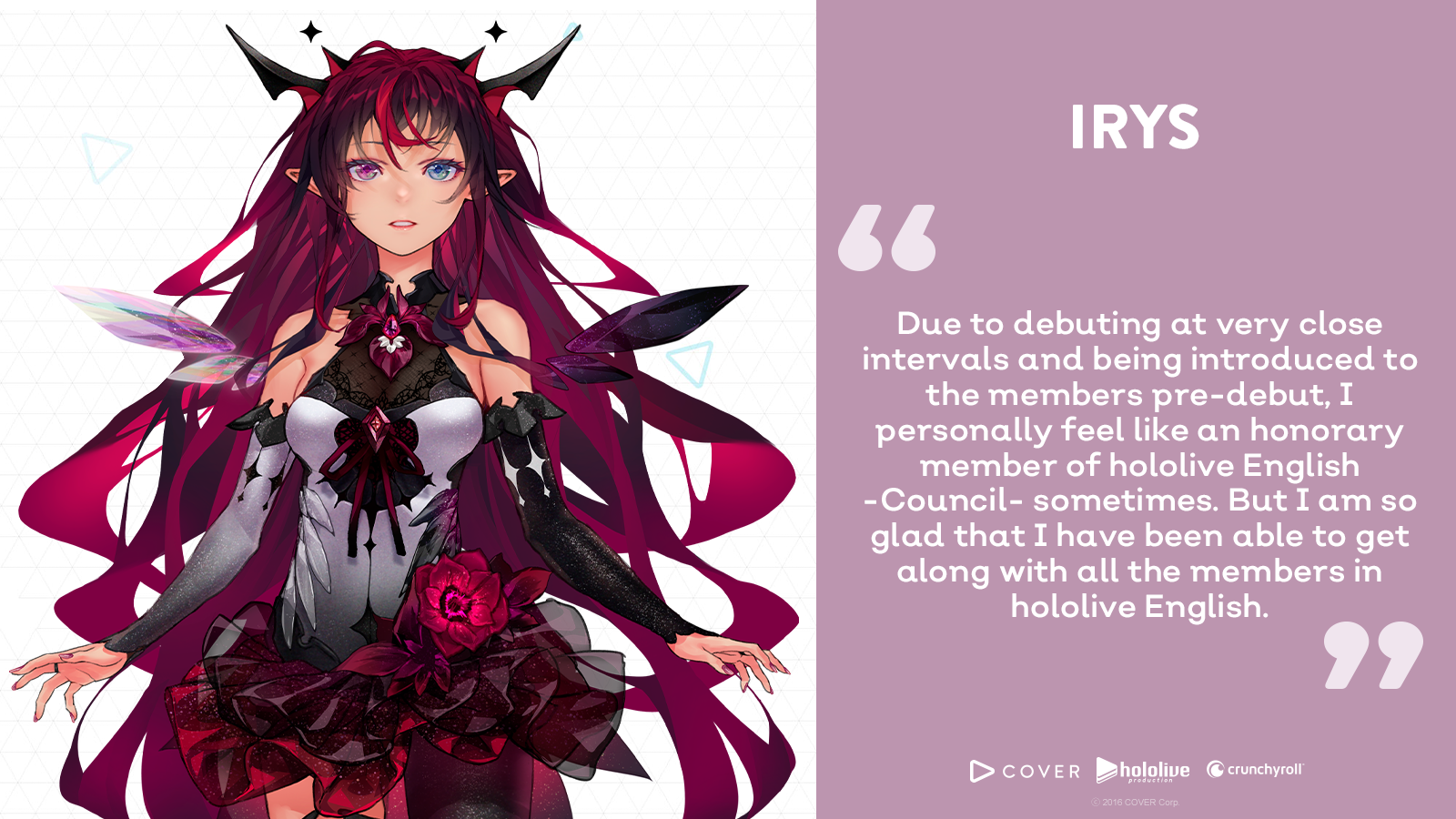 How has the balance of hope and despair changed since you descended?
IRyS: I believe that the amount of hope has escalated by about 22.5% this past year since I descended with a 12% decline in despair! "Where did I get these numbers," you ask? Of course, it has been meticulously calculated using my supreme nephilim powers and I assure you that my calculations are very accurate. If I say so myself, I think this is a huge achievement in itself and I can't wait to raise that hope percentage throughout my career!
What were your thoughts and feelings as you neared your debut, especially given that you were the first, and to date only, member of hololive English with a solo debut?
IRyS: Solo debuts are very rare in hololive production (as you have mentioned, I am the sole member in hololive English with a solo debut), and to be honest, I was very worried about how things would turn out. I didn't want to be left out of the group for being a solo debut and was honestly terrified of the expectations people would have on me when I was announced. Thankfully, the other members were all extremely welcoming when I was introduced and did their best to make me feel comfortable and included and I am very grateful for that to this day.
How did debuting alone affect your relationships and interactions with hololive English -Myth- and -Council-, if at all?
IRyS: Honestly, I don't think debuting alone has ever negatively impacted my relationship with both hololive English -Myth- and -Council-. I would say that being a solo debut does have its cons, such as not being able to be a part of a lot of "same-generation" projects run by the company and whatnot. But I believe that the other talents do their best to make sure that I don't feel like the odd one out to the best of their abilities and I love them to bits. To be honest, due to debuting at very close intervals and being introduced to the members pre-debut, I personally feel like an honorary member of hololive English -Council- sometimes. But I am so glad that I have been able to get along with all the members in hololive English. In conclusion, I really feel like a part of the hololive English group as a whole thanks to the wonderful community built up by the talents, and can't ask for more. <3
The community has deeply associated you with Hakos Baelz, to the point of referring to you as "wives!" What are your thoughts on that association?
IRyS: It's honestly hard to think about what my "thoughts" are on this association, as the situation generally started in a natural course. Almost as naturally as how magnets attract each other unconsciously! Bae and I both most probably didn't think that we would end up being in this sort of relationship back when we debuted but I have been saved by her so often throughout and can't ask for a better ex-wife (We are currently divorced due to disagreements about booba at the time of answering the questions on this article). It's hard to explain it but our relationship really just…happened ever so naturally lol. And I can't deny that it is one of the best happenings that has occurred to me since joining hololive production.
The music video for IRyS' song "HERE COMES HOPE"
As its only currently known member, what can you tell us about Project: HOPE? How did it feel to perform a concert for a live audience, as opposed to a karaoke stream?
IRyS: I think Project: HOPE is a project centered around making a Vtuber that can bring hope and joy to people, with the name of the project coming from my status as the incarnation of Hope. I have only had the opportunity to perform in front of a live audience once since my debut and that was at an anime convention that was held in Germany called DoKomi. I was so much more nervous about performing in front of a live audience compared to my singing streams, probably because I could actually see the live reactions of the audience through my performance and singing. But it was extremely rewarding to hear the applause and cheers of a live crowd and made me feel like I was genuinely able to make people happy through my singing and was very moved that so many people came to the concert hall just to listen to me. Obviously, I have a huge sense of gratitude for so many people coming to listen to me sing on my karaoke streams as well, but I do say that reality really hits strong when I can actually hear the reactions of the audience audibly and visually.
What kinds of songs would you like to make, but haven't been able to yet?
IRyS: I have been extremely into the eurobeat genre, specifically after I binge-watched the Initial D anime series. Ever since, I have been wanting to make a eurobeat song that would make people want to go wild behind the wheel (which I obviously do not encourage, it is just a figure of speech). I currently have a habit of listening to eurobeat while doing household chores to make the errands bearable.
Do you have any musical training for vocals or playing instruments?
IRyS: I sadly cannot play any instruments, nor can I read sheet music. I am completely self-taught when it comes to singing, something that I do want to change in the future if I ever get to meet a vocal teacher that fits my singing traits and personality. I personally really want to know if I am properly singing from my diaphragm or not lol xD.
For anyone curious about music production, can you describe the process of making an original song, from initial idea to public release?
IRyS: I work with the music production department in hololive production when it comes to creating original music, and it usually goes two ways. When it comes to albums, usually the staff would come up with the general theme or genre of the album, and I would then pitch in ideas on lyric concepts after listening to the demo instrumentals of said songs. Once the lyrics come in, I would check and ask for as many revisions as possible/necessary and would receive a vocal demo to practice the song. I would then go to a recording studio and would be directed on how I should sing the song during the session. Finally, I would receive mixes for the song and would ask for changes and revisions I deem necessary. In certain cases, I would directly participate in track-down sessions (live mixing sessions) to relay specific concerns and changes I want to the sound engineer.
For monthly song releases, staff would usually ask me what sort of genre I would like to sing, and then they would narrow down the pool of genres to whatever fits the current circumstances of the music team. They would then bring up a certain amount of demo songs and would have me choose the ones that I preferred the most and would then discuss what is the best song to go with overall. The remainder of this process is pretty much like what I mentioned above.
One of your original goals was to collaborate with every member of hololive production. Can you tell us how that is going, and talk about any priority collabs you still want to do?
IRyS: Oh… yes I have been doing my best in that regard. I think this goal has been slowly coming to completion, with mainly some members from hololive JP left! As for priority collabs, I personally really want to do singing collaborations that involve other music-focused hololive production members such as Hoshimachi Suisei senpai, Calli (Calliope Mori), and AZKi senpai as a fellow music-focused member, and I personally have been greatly influenced by their music since before joining hololive production!
What advice can you give to people thinking about getting into VTubing, or live streaming in general?
IRyS: Vtubing is partially about becoming something you've always wanted to be so my advice is to cherish and hone whatever hobby or skill that you have a passion for! It is always good to have a distinctive trait considering how there are so many different Vtubers out there, and I believe that it is extremely hard to continue Vtubing for a long period of time if it doesn't involve your own personal ambitions and likes. As for live streaming, it is very nerve-wracking and probably hard to talk to an audience naturally at the start, but is definitely something that you will get used to and improve on if you do it frequently!
Can you give any hints as to what's in the works at the moment? Collabs, songs, unique projects, etc?
IRyS: There are plenty of songs that I am really excited about as a Vsinger! It's really hard to give out hints without it being a major spoiler but I do have an exciting collaboration with a wonderful senpai of mine that I am working on at the moment. I cannot wait to have you all listen to it when it gets released!
Is there anything else you would like to share with your fans before we end?
IRyS: Thank you so much for reading everything and I am sorry if my English is sus every here and there lol. I hope you had a fun time reading and got to know me a bit more from this article! Off to wrangling my brain to somehow rank my favorite animes for a separate Crunchyroll article. ByeRyS!!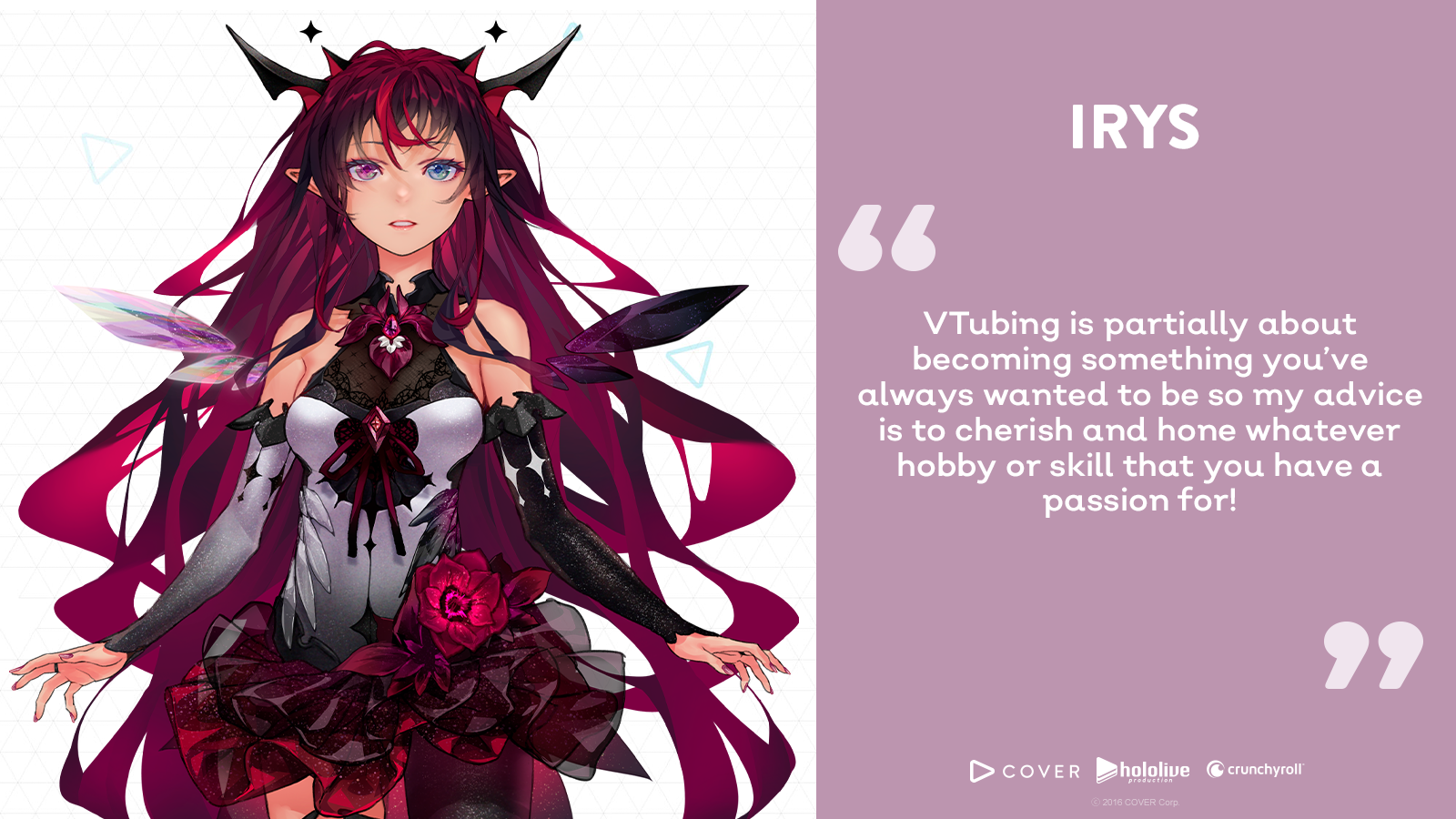 ---
Other articles in this series:










ⓒ 2016 COVER Corp.
---

---
Kevin Matyi is a freelance features writer for Crunchyroll. He's been watching anime for as long as he can remember, and his favorite shows tend to be shonen and other action series.