We take a look into the most successful One Piece movie to date!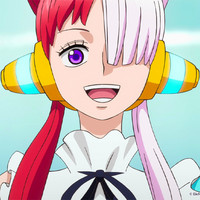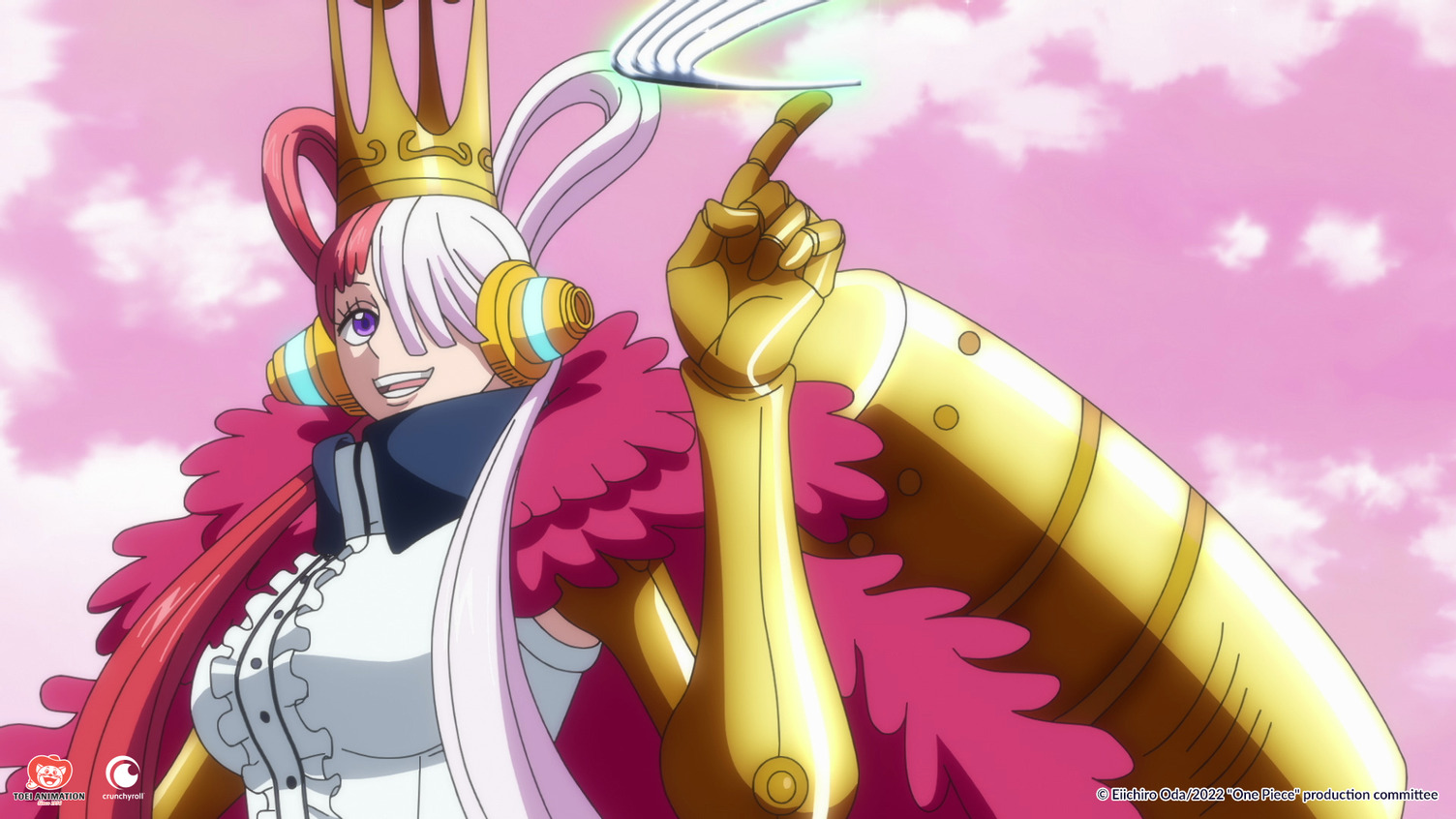 Before One Piece Film Red even opened in theaters in Japan, the idol adventure film was poised to do well, but even the best box office analysts couldn't imagine it would sail into the top ten films of all time in Japan, rivaling the likes of Hayao Miyazaki and Makoto Shinkai's anime flicks.
As of this writing, One Piece Film Red has grossed over 19.35 billion yen (US$138.38 million), reaching 9th on the top ten all-time Japanese box office list. This milestone pushed Harry Potter and the Chamber of Secrets out of the top ten and saw it passing other top Hollywood films like Avatar.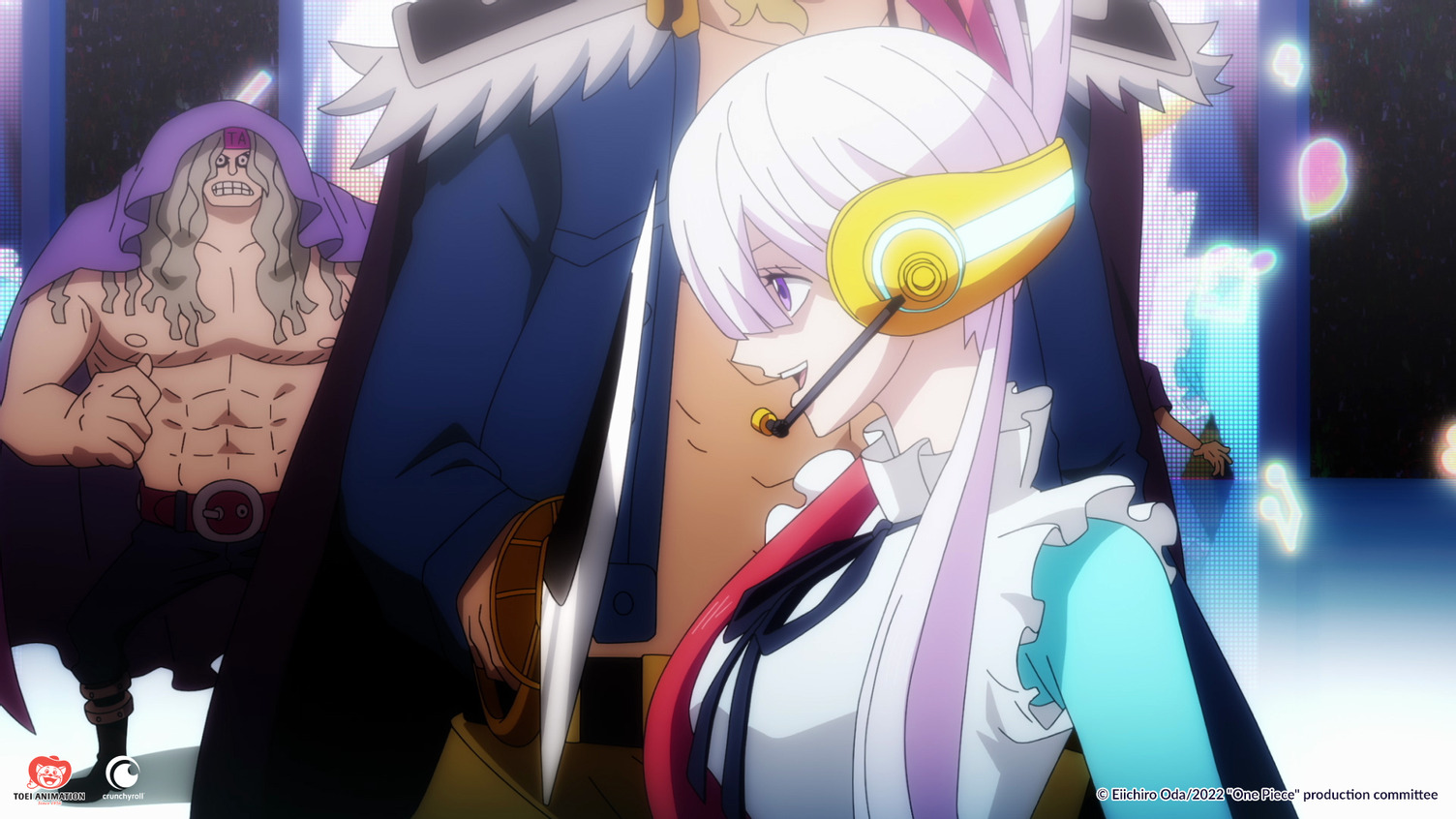 Film Red is now certainly a phenomenon, but how did it find such success compared to previous One Piece releases? While the franchise has always been popular, the timing was right for Film Red to break into the mainstream. Adding in the sparkle that was Ado as Uta was the push to see the One Piece film sail to the top.
Anime's Recent History at Japan's Box Office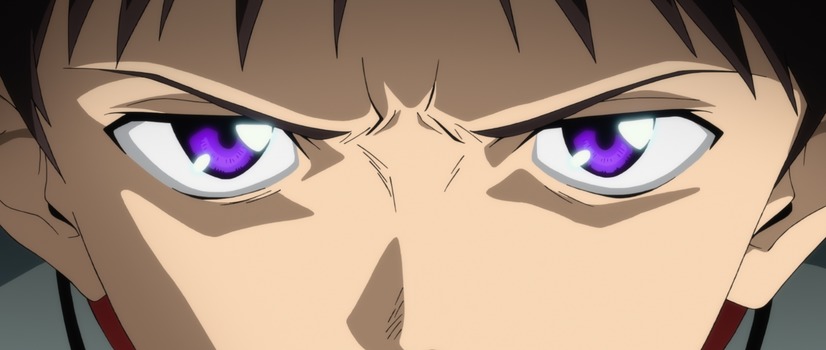 It's no surprise anime dominates in its domestic country. For the rest of the world though, outside of a few smash hits from Disney and Illumination, it's very rare for an animated film to be at the top of the box office for a yearly period. Japan though, this is very commonplace, though a more recent trend.
Ever since Weathering With You in 2019, all the highest-grossing films for those yearly periods have been anime, and not just a Studio Ghibli film or a yearly Detective Conan movie. Demon Slayer -Kimetsu no Yaiba- The Movie: Mugen Train the biggest in 2020, the first film to break 40 billion yen and the first Weekly Shonen Jump adaptation to top the box office in a given year (and by extension, to reach the top ten, historically topping it). Evangelion 3.0+1.01: Thrice Upon a Time followed in 2021 with over 10 billion yen, a film from a hardcore anime fan franchise where its previous films had barely broken 5 billion yen. 2022 saw that trend continue with One Piece Film Red.
Before 2019, the only non-Studio Ghibli anime film to top the Japanese box office was Your Name. in 2016, becoming a phenomenon in its own right. The Makoto Shinkai film helped push non-Ghibli anime into a more mainstream place in Japanese theatergoing culture, as well as change trends in not only how anime films were made but also how they were promoted.
At the forefront of Your Name.'s marketing was the music by RADWIMPS. You couldn't walk down the street in Tokyo without hearing music from the film blaring out of stores and speakers.
Since then, there has been a clear change in the way films are presented in Japan. Fireworks tried the same marketing strategy the year after, ultimately failing to deliver box office-wise, but gave people a great music video by Daoko and Kenshi Yonezu with an accumulated over 530 million views to date. Weathering With You mimicked the strategy with the RADWIMPS release "Grand Escape" and Suzume also followed the same playbook with the band's latest release, "KANATAHALUKA."
The gains with a music tie-in even accompanied Mugen Train's success with LiSA's "Homura," which was already helped by her Demon Slayer: Kimetsu no Yaiba season one theme already making a huge splash the year before.
With the mainstream success and strategies of Your Name., then followed by Demon Slayer's record-setting moves, it opened the doors—and wallets—for modern Shonen Jump adaptations to perform, as also evidenced by JUJUTSU KAISEN 0 ranking at number eight on the all-time anime box office charts in Japan (ahead of One Piece Film Red's release) and sixth worldwide for highest grossing Japanese films.
The History of One Piece Movies in Japan
One Piece permeates through Japanese pop culture in the same way as Pokémon or The Simpsons seemingly do in the West. Its constant presence blends into the background of Japan's cityscapes, products and more, but that doesn't always translate to great box office takings. Take Pokémon for example, where the series' film releases have drawn fewer viewers each year. However, Detective Conan's films seem to be the outliers with the yearly children's films continuing to perform better every year.
After the switch to the "Film Color" format with Strong World in 2009, One Piece's films have been doing above average at the box office, averaging around 5.5 billion yen.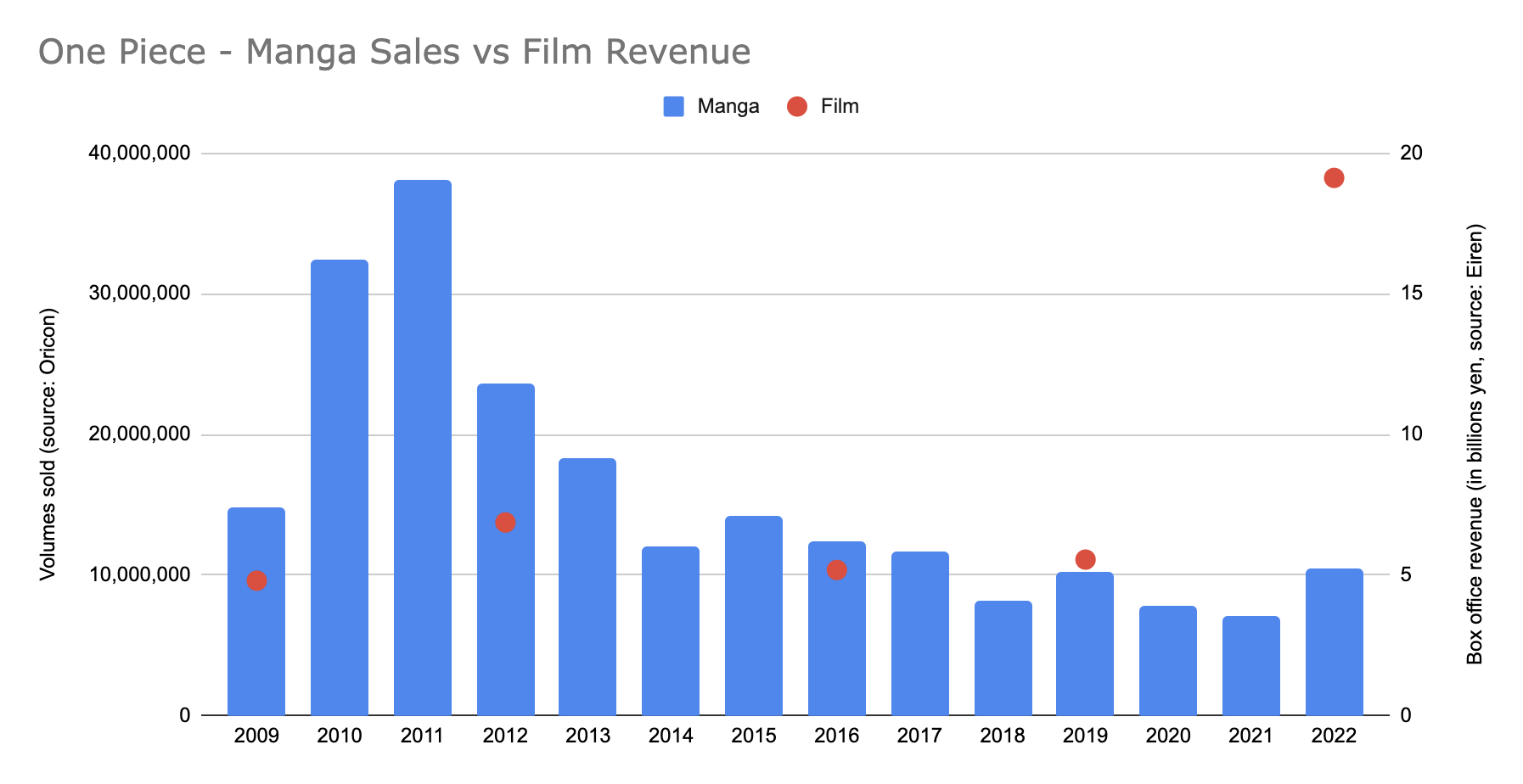 Before Film Red, Film Z in 2012 was the highest-grossing One Piece film at 6.87 billion yen. This came out at the same time the manga was doing gangbusters in Japan thanks to the time skip and big 15th-anniversary push. 2010 to 2012 was just massive for the One Piece manga, where sales now have dipped compared to those franchise highs, though 2022 did see the manga jump up past 10 million copies sold for the first time since 2019, likely thanks to Film Red's popularity and the end of the Wano Kuni Arc.
One Piece Film Red and Ado
Ado, a viral Japanese pop sensation, was announced as the voice of the new character Uta in Film Red on June 8. After only having her professional debut in October 2020, Ado's first major single "Usseewa" became a hit almost overnight, currently with over 260 million views, and a voice for a disenfranchised generation that has felt for years that they haven't even had the chance to speak out. The song pushed Ado from the Vocaloid space and into a household name among music fans spanning all genres.
Coming from the generation of Vocaloid producers that spawned in the early days of Nico Nico Douga, Ado represents a cultural shift in the music industry at large, following in the footsteps of Mafumafu and others. As part of this, Ado rarely shows her face or does music videos with herself in them, unlike a majority of traditional musical artists.
This is possibly one factor in why "Usseewa" worked so well. Ado had no discernable face, the listener could insert themselves as the singer when they watched the music video.
This all led to Ado being the perfect singing voice for Uta. Alongside her established credibility within music circles that may not be paying attention to One Piece and previous success now seen replicated by Uta herself, the bass to her voice then rocked cinema speakers. Listening to Ado's singing in One Piece Film Red made my heart bounce from the sheer gravitas alone.
Uta Spreads Her Wings in Japanese Pop Culture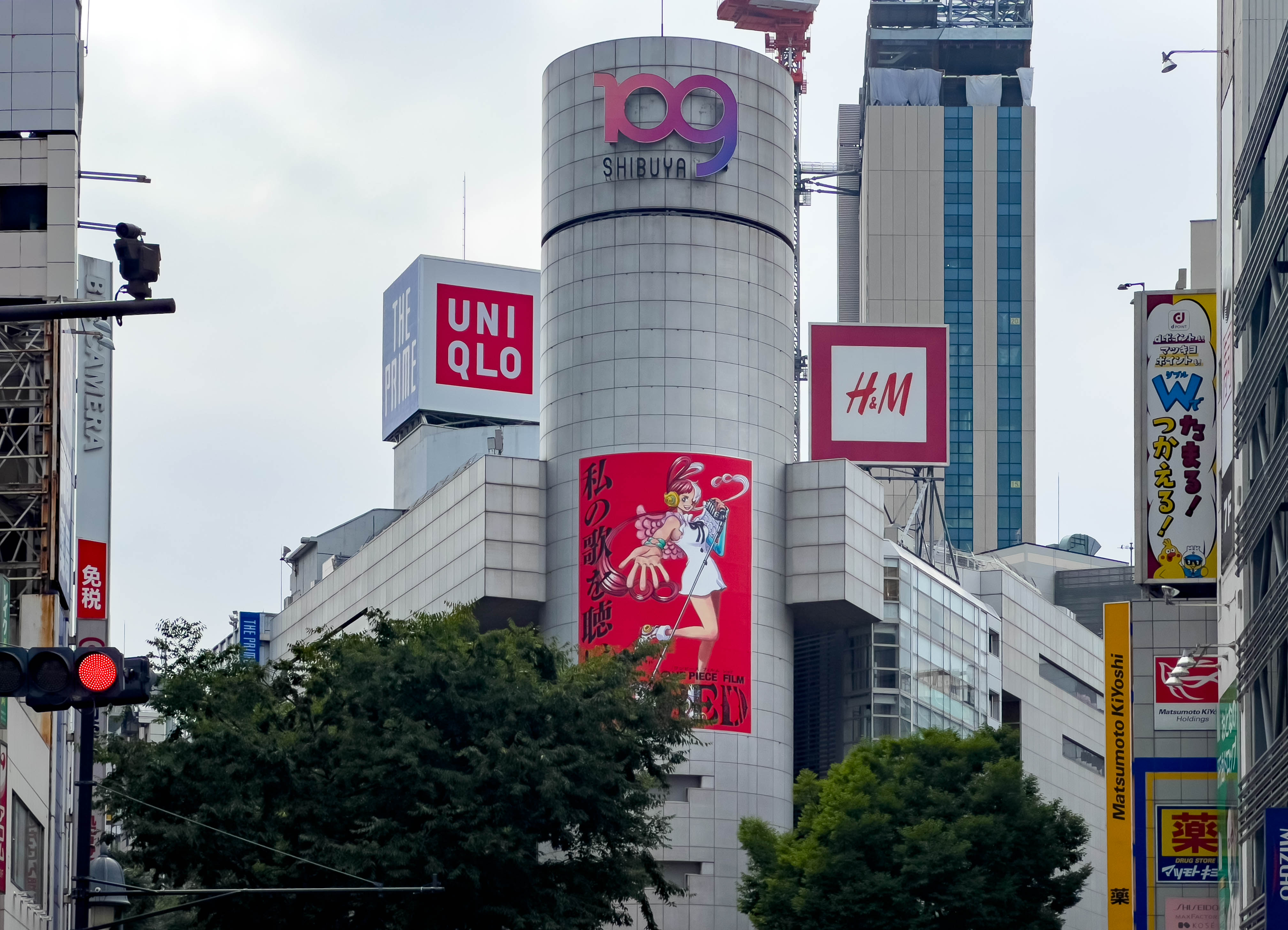 Photo: Daryl Harding
But it wasn't just Ado's voice propping up the film, there was also Uta: the singer has become a star in her own right outside of the fictional universe, taking over Japanese pop culture in a way not seen since RADWIMPS and Your Name. Though, unlike the more traditional band atmosphere of RADWIMPS, Uta was created to tap into the same audience that Ado did in 2020.
This came down to how Uta was presented to the public. While One Piece Film Red billboards donned the landscape of Tokyo's main area, Uta was presented alongside the bands she collaborated with in the backstreets of Shibuya. These Uta billboards weren't next to kid's shops or on the paths families would usually take, but rather next to clubs, bars and adult entertainment establishments. Uta wasn't just for kids, she was for everyone.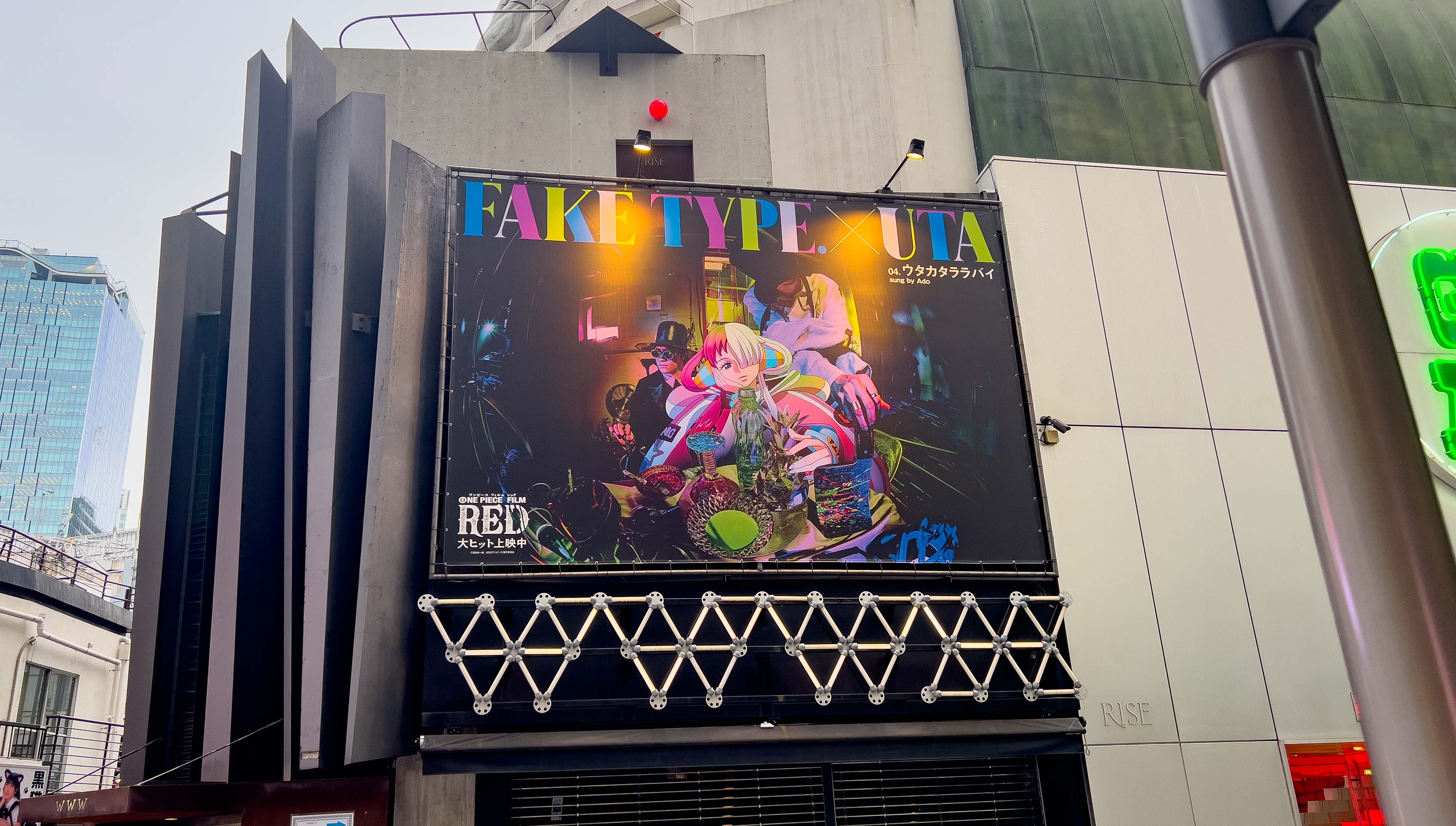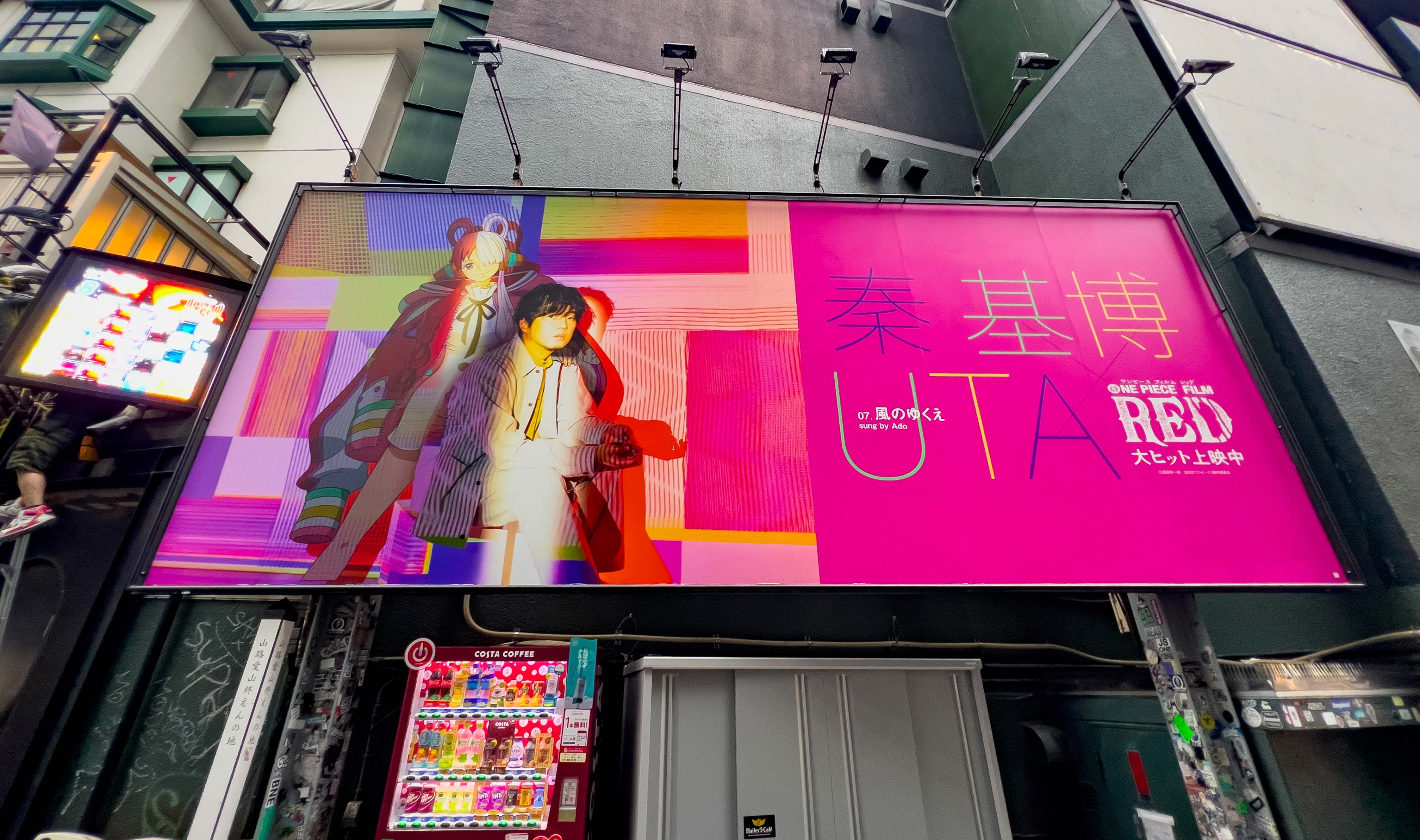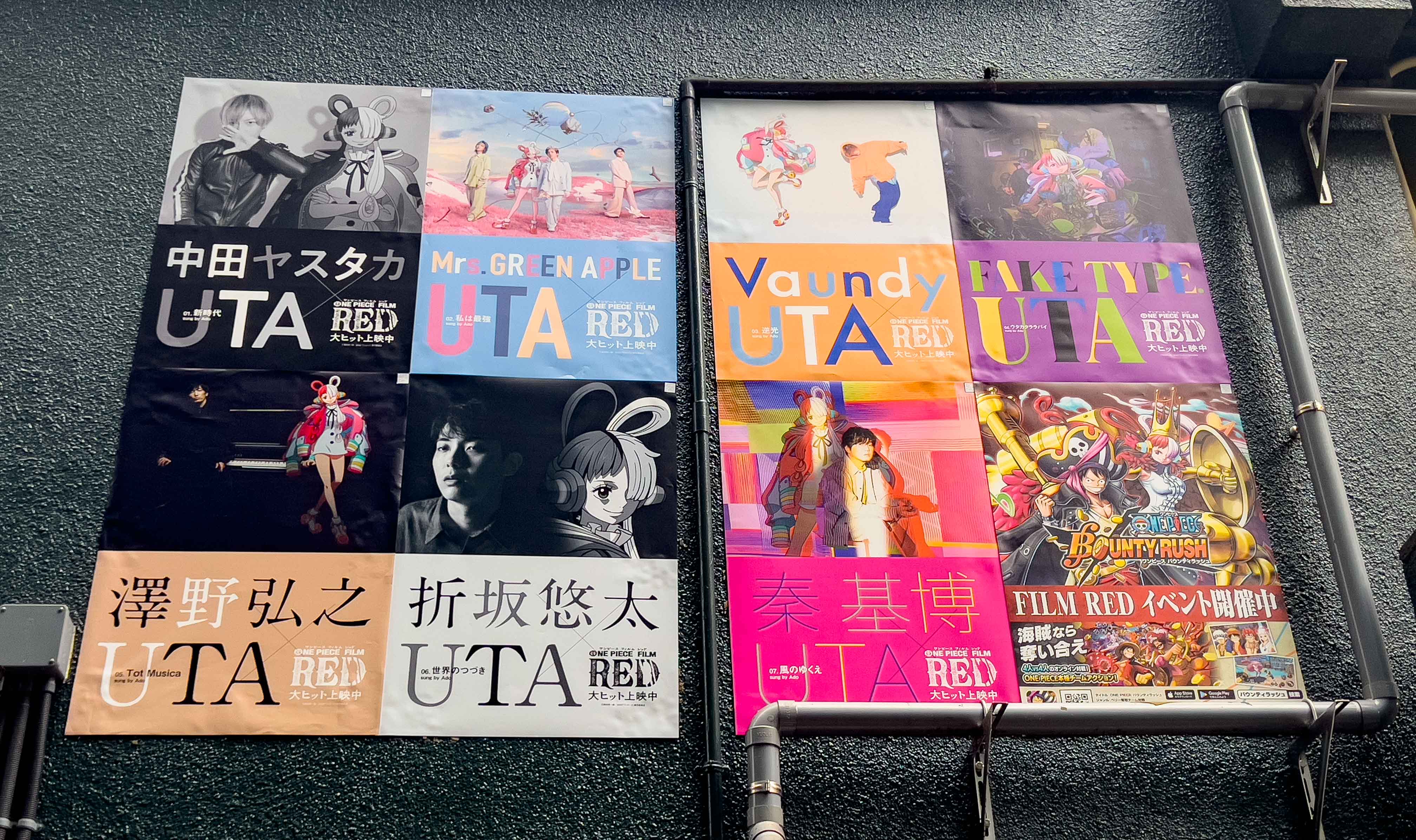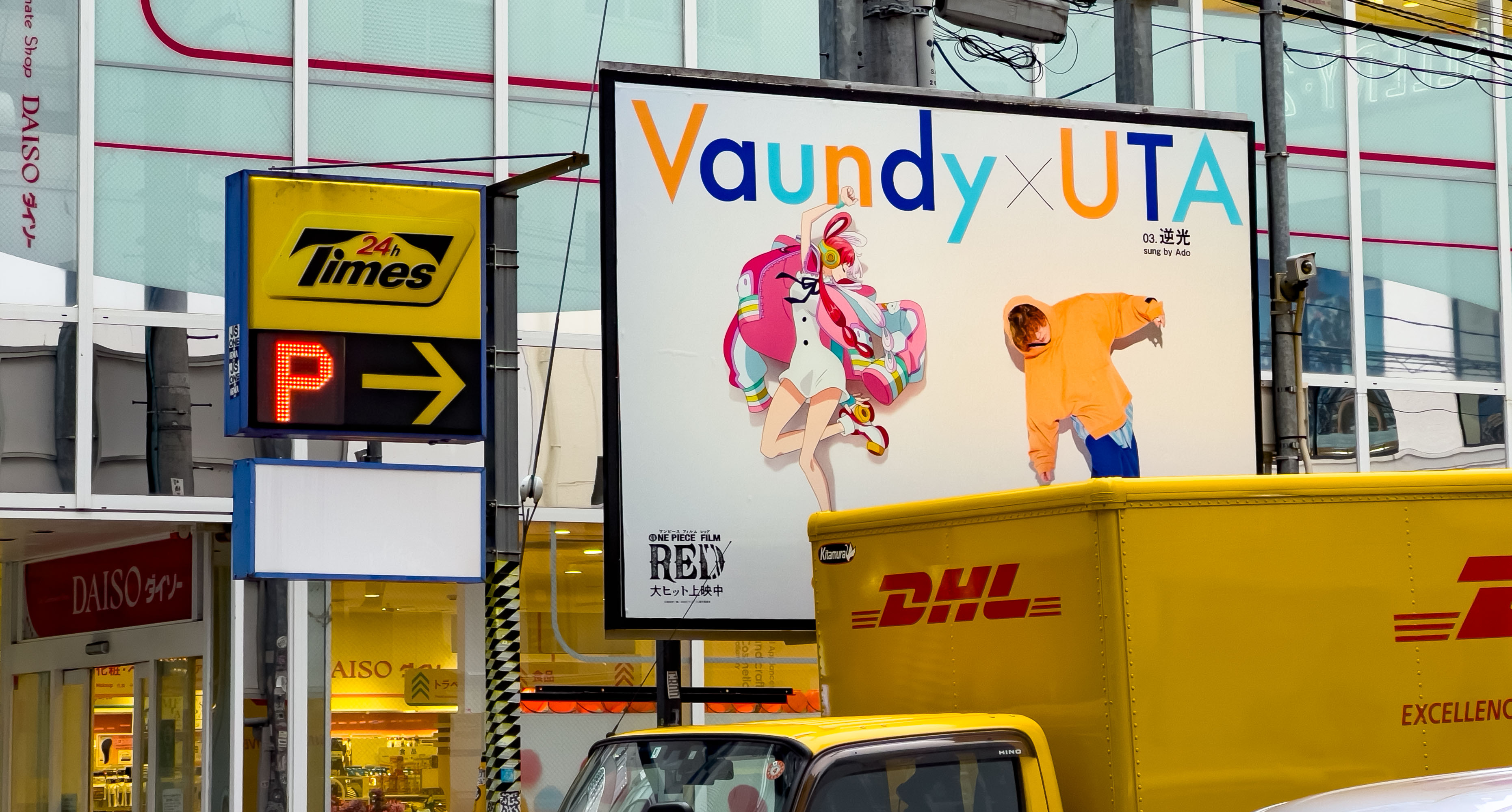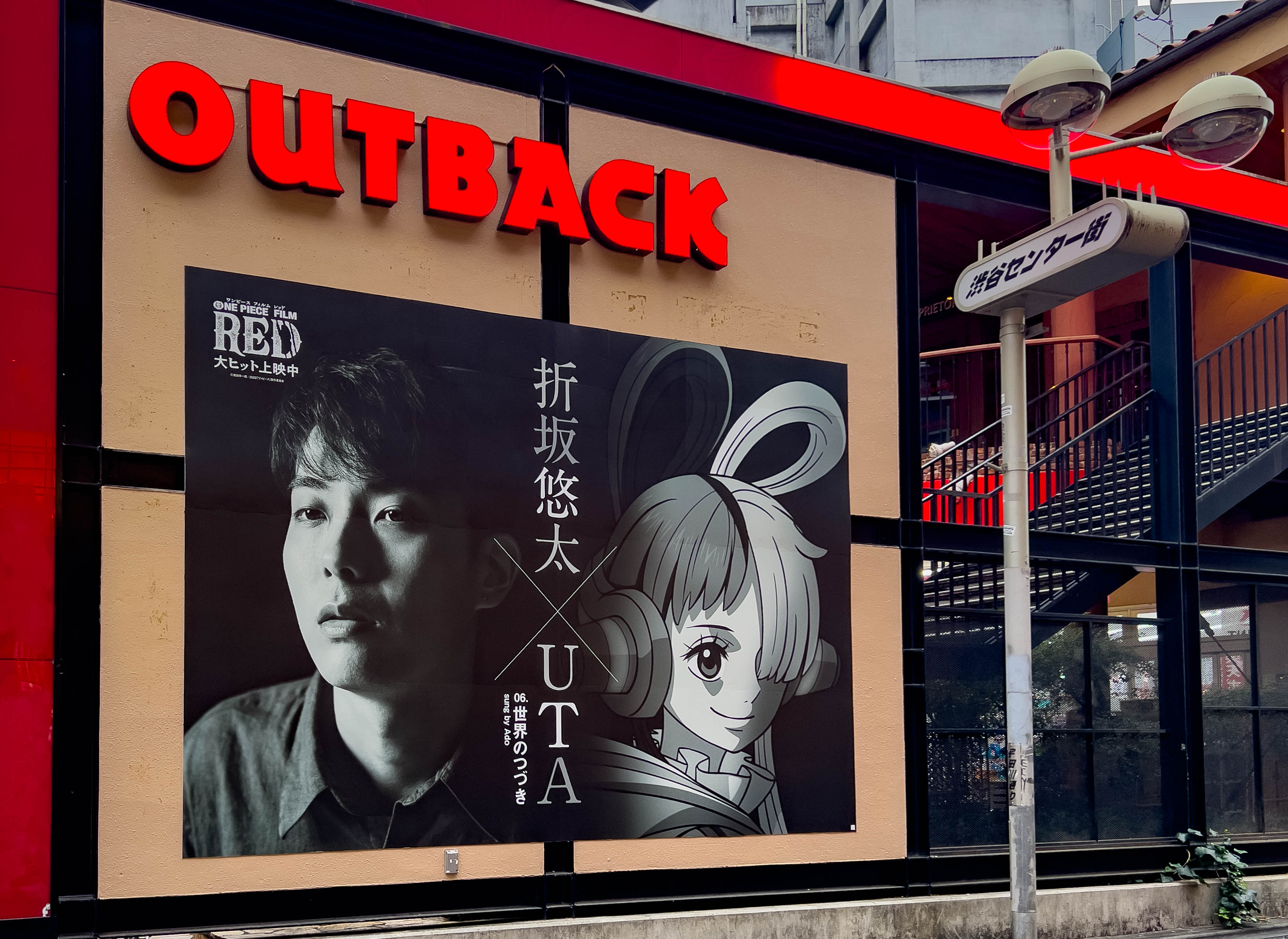 Uta advertised alongside her music-writing partners in Shibuya
Photos: Daryl Harding
The essence of the character being for everyone was only exemplified by Uta collaborating with some of Japan's most popular, yet also less mainstream, artists. By uta-lising the talents of Mrs. GREEN APPLE, Vaundy, Hiroyuki Sawano and more to write songs for the movie, Uta was introduced to the fans all of these artists and embraced.
Releasing the music videos in the lead-up to the film's release let everyone get the songs in their head and want to see them performed "live" in the theater. Concerts and musicals usually do quite well at the Japanese box office: ARASHI Anniversary Tour 5x20 FILM Record of Memories was still playing in some Japanese theaters well into the end of 2022 and was the top live-action film at the box office in 2021.
Uta didn't stop there. Her now trademark hip shake became a trend on TikTok for weeks following the release of the movie with Uta's logo proudly displayed on jackets across the world—though not with her own song. Her own music started popping up as the music was uploaded to platforms to be allowed to be used for short videos.
By Toei Animation (and Universal Music) not only allowing Uta's music to be used and remixed on TikTok and YouTube Shorts, fans were able to gain a bit of ownership over the music by dancing to it themselves and being part of the movement to not only spread Uta's music, but by extension, the film itself, aiding in its great box office gross.
On TikTok alone, over 120 thousand videos feature "New Genesis" as the sound, with likely 10s of millions of views between them all, if not more. While it's hard to quantify ticket sales to TikTok plays, there's a growing trend of vitality on the platform and how successful a product is. That's why a lot of anime openings now have a short dance section to try and replicate that success. We can thank Chika for that.
Uta Makes History
Taking over yearly pop culture is one thing, but being part of the cultural zeitgeist is another. By December, nearly six months after the release of One Piece Film Red and the film continues to place in the weekly box office charts despite the competition of Suzume, THE FIRST SLAM DUNK and Black Panther Wakanda Forever, the virtual singer solidified herself as a major part of Japan's 2022.
To celebrate her success, Uta went on a tour of Japan's biggest music shows in person, a first for a virtual singer. She first appeared at Fuji TV's FNS Music Festival, then in a worldwide video at Jump Festa and capped it off with an appearance at NHK's yearly New Year's singing competition Kohaku Uta Gassen.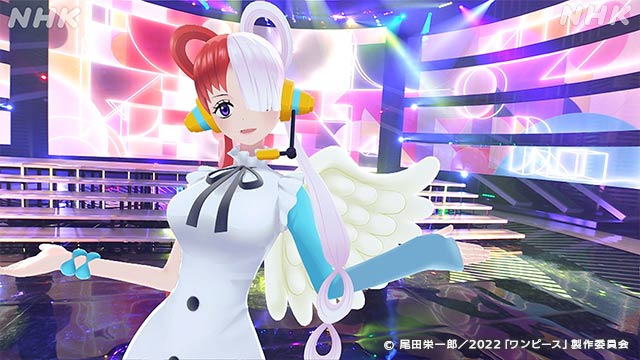 Image via NHK
It's hard to explain how culturally significant and exclusive is it to perform at Kohaku, with only the biggest and most well-connected singers asked to perform—it's by far one of the most watched events of the year with 34.3% of households watching it across Japan over New Year's, not counting the number of families who watch it together. Unlike the Jump Festa performance, Uta performed "in person" at NHK Hall alongside Sakurazaka46 and other acts. It was also Ado's first appearance at Kohaku, marking a historic moment for the singer.
But you don't need to take my word for the musical success of One Piece Film Red. The Chairman of the Japan Academy Film Prize, the Japanese equivalent to the Academy Awards, is honoring the film's music team with the Chairman's Distinguished Service Award, which is only given out to a person or group whose work helped a movie achieve an outstanding box office performance. This award solidifies not only the team that brought Uta to life but the character itself in Japanese film history.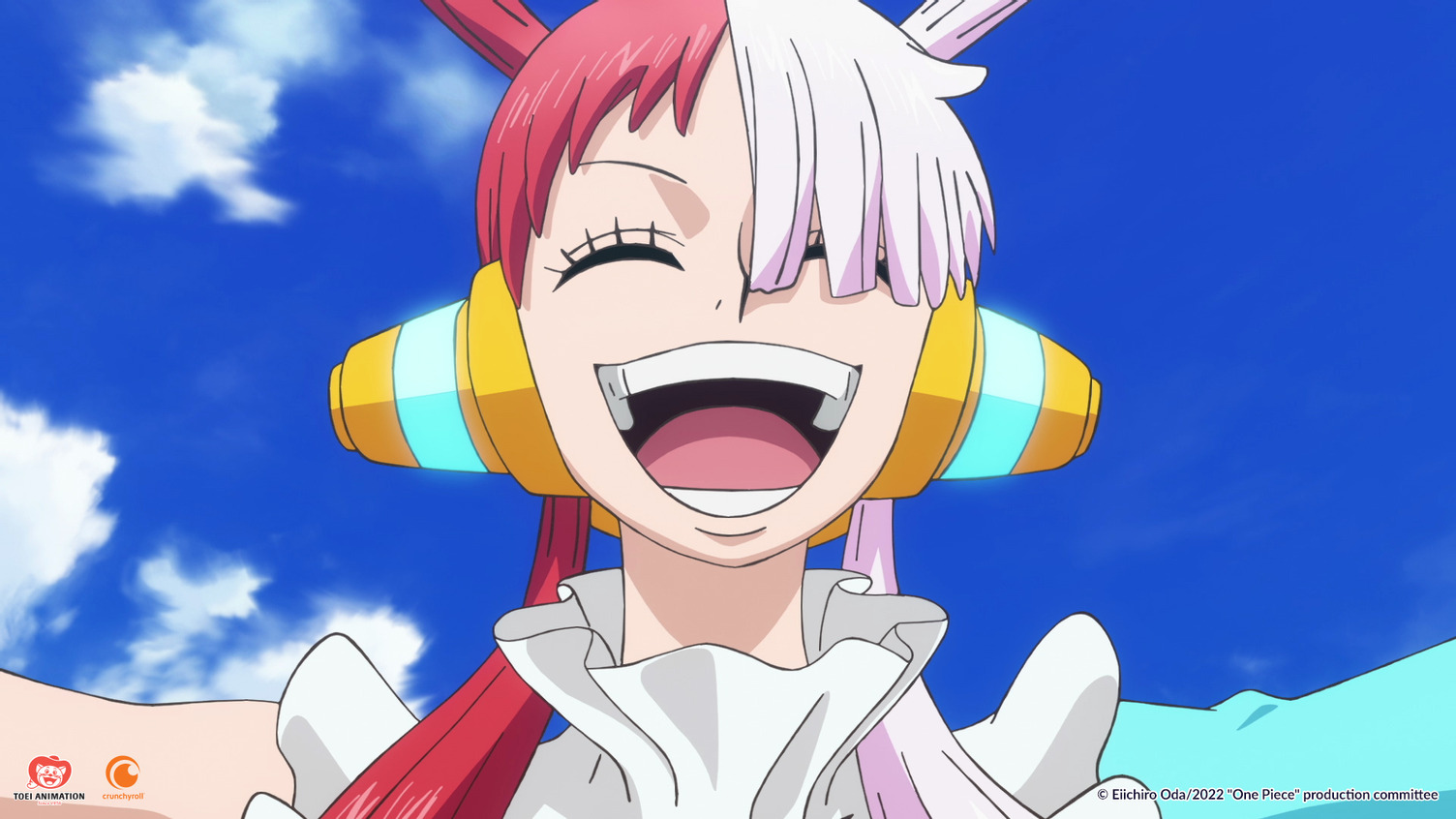 Both the character Uta and her music's success, even outside of the box office, has no doubt helped One Piece Film Red in a way that no other advertising campaign could. There's a reason why Film Red is now the 6th highest-grossing film of all time in Japan and it's not because it's solely One Piece. But Film Red also couldn't have gotten here without previous films showing what's possible at the Japanese box office.
Sail to the grand line Thousand Sunny, cause you've already past the blockbuster line!

---
Daryl Harding is a Senior Japan Correspondent for Crunchyroll News. He also runs a YouTube channel about Japan stuff called TheDoctorDazza, tweets at @DoctorDazza, and posts photos of his travels on Instagram. Film Red was the One Piece we found along the way.