Uploading 28.000 files,"Wanted to be famous"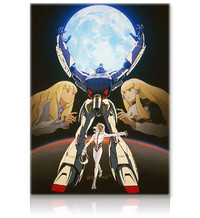 A Japanese public-service corporation,The Association of Copyright for Computer Software(ACCS) reported on April 20 that the Safety Life Planning Division of Hyogo Prefectural Police Department and Kakogawa station have referred a 25 years-old unemployed man to Kobe District Public Prosecutors Office's Himeji branch.
The man was arrested on April 4 on suspicion of using Share file-sharing software to upload the 50th episode of ∀Gundam which owned by Sunrise on the Internet without the copyright holders' permission. The report revealed the man had uploaded 28.000 files (300 titles) of anime and manga illegally. He stated that he wanted to make download speed steady and also wanted to be famous.
Source:ACCS via Anime!Anime!biz
∀Gundam image © Sotsu / Sunrise