Superhero-inspired J-pop group unleashes their first single!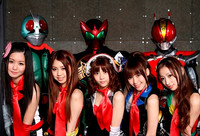 Kamen Rider is a long-lived superhero entertainment franchise in Japan, popular with children and discriminating gentlemen of good taste since its debut 40 years ago in 1971. Girls… (thankfully) don't require nearly as much introduction! You probably know what they are already! Combine them both then say hello to the new all-singing, all-dancing, ten-legged groove machine known as… THE KAMEN RIDER GIRLS.
An officially licensed tie-in group created to promote the new movie OOO, Den-O, All Riders: Let's Go Kamen Riders, the Kamen Rider Girls provide the film's soul-stirring theme song, "Let's Go RiderKick! 2011". Inspired by the original classic Kamen Rider theme, this warp-speed stunner also seems to owe something of a debt to the current wave of club-ready K-pop (ala Girl's Generation) now storming the Japanese charts.
The five young lasses who make up the Kamen Rider Girls – who range in age from 19 to 21 years old – have been outfitted in costumes meant to invoke specific characters from the Kamen Rider universe. Note their transforming "henshin belts", flowing red scarves, and a dazzling array of bizarre headgear. I'll leave it to the real fanatics to match up specific Riders to specific girls…
The press notes in Japan claims the Kamen Rider girls will be active in events ranging from media campaigns, hero shows, and (of course) tirelessly schilling the single of "Let's Go RiderKick! 2011", which was released on April 20th. Either way, after years of ikeman "pretty boys" hogging the spotlight, it's nice to see some female sex appeal brought back to the Kamen Rider franchise. Let's hope they don't get abducted by the forces of evil anytime soon… by which I mean obsessive fans!
The full length video for "Let's Go RiderKick! 2011" has yet to leak on-line, but here's a clip of the girls performing their hearts out - or simply as best they can! - at their live debut. PREPARE TO BE BLOWN AWAY BY ALL THAT TALENT!
© Ishimori Pro - TV Asashi - ADK - Toei