Japanese superhero themed restaurant opens in Tokyo on April 27.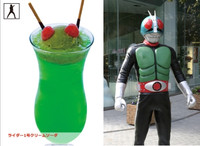 Here's two great tastes that go great together: Japanese superheroes from the Kamen Rider series and curious-looking food and drinks from the new theme restaurant KAMEN RIDER THE DINER.
Opening on April 27 in Tokyo's Nishi Ikebukuro neighborhood, KAMEN RIDER THE DINER seems to be taking a few cues from Bandai's popular Gundam Café in Akihabara by offering patrons an over-the-top experience involving food, folks, and ever-popular characters. Big crowds are expected, which is why the Pasela company who is operating the diner, is accepting on-line reservations for seats.
While photos of the interior haven't yet made it on-line (the place hasn't even opened, after all), the official KAMEN RIDER THE DINER web site has posted plenty of pictures of mind-bogging menu items.
They range from loco moco dishes shaped like Kamen Rider no. 1's familiar grasshopper shaped head…
…to black rice risotto plates cast in the fearsome visage of evil Shocker henchmen...
...to fruity Kamen Rider 000 parfaits!
The Kamen Rider TV franchise is celebrating it's 40th anniversary this year, which helps explain recent exploits like The Kamen Rider Girls J-pop unit the new film OOO, Den-O, All Riders: Let's Go Kamen Riders.
KAMEN RIDER THE DINER Official Site
Related:
Invasion of the Kamen Rider Girls
©Ishimori Production / TV ASAHI / ADK / TOEI VIDEO / TOEI. © Pasela Resorts.