Bestselling picture book turned into short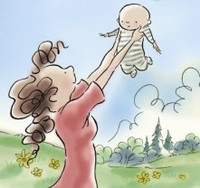 Alison McGhee's Someday was originally published in 2007, and went on to become a New York Times #1 bestseller. The picture book's story focuses on a mother, her love for her child, and her hopes for her child's future. Now, anime studio Pierrot Plus has turned Someday into an animated short.
Pierrot Plus—having produced shows like Letter Bee and Beelzebub in the past—placed Kooji Nanke in charge of directing, storyboarding, shooting, and drawing key animation frames for their adaptation. The original book featured illustrations by Peter Reynolds, and was translated for Japan by Chihiro Nakagawa.
The final result is a 10-minute short narrated by actress Narumi Yasuda, who, among other things, is known for performing the theme song to Hayao Miyazaki's Nausicaä of the Valley of the Wind. Pony Canyon will be releasing the DVD in Japan on Wednesday.
© Pippin Properties, Inc. 2007 © 2011 Chiisana Anata e Production Committee