Daisuke "Pixel" Amaya's platformer goes three-dimensional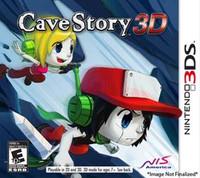 Cave Story has been on one wild ride since its 2004 release on PC. Created by one man, Daisuke "Pixel" Amaya, the exploration-platformer (think Metroid or Castlevania in map design) has since been dolled up for Nintendo's WiiWare service, with redone music and enhanced graphics. The next step: Going 3-D for its August 9, 2011 debut on Nintendo 3DS.
NIS America is publishing the game, and they'll be bringing the PAL version as well in September. If you've yet to try out Cave Story in any of its incarnations, now's your chance. Personally, it's one of the best games I've ever played in the genre, and platformers just so happen to be my favorite type of game. Here's a (not yet finalized) screenshot from the 3DS version.
Hopefully the 3-D facelift won't do anything to detract from the title's charm, though it would take some serious siphoning to suck out even a small amount of appeal from Amaya's masterpiece.
NIS America's official Cave Story 3D site