Now they have their name, Kirara Awano & Mai Takano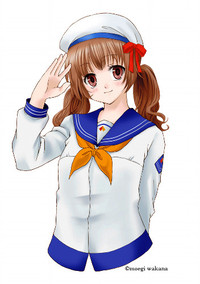 Nankai Ferry, a ferry company connecting Wakayama in the main island of Honshu and Tokushima in the fourth largest Japanese island, Shikoku, announced the names of their promotional campaign girls on April 21. They are, indeed, two fictional high school girls. One girl who lives in Wakayama named Kirara Takano, and the other girl who lives in Tokushima is named Mai Awano.
Takano is taken from the name of mountains in Wakayama and Awa is Tokushima's ancient name.
The ferry company has seen a 25 percent profit decline since March 2009 when the government started highway toll discounts for encouraging people to drive their cars around the country. They decided to use so-called Moe characters for pushing up passenger numbers in January 2011.
Two Bishoujo characters were drawn by Wakayama-based illustrator, Moegi Wakana. Nankai Ferry has been inviting suggestions for names for the girls from the public. 
Nankai Ferry is planning to produce merchandise (towel, cell-phone strap, etc) of Kirara and Mai to attract younger customers. Is this a wholly wise marketing move? It's Japan, so I say yes.
Kirara Takano
Mai Awano
Source: Sankei, Nankai Ferry official site
© Moegi Wakana