Rape blossom fairy serves for the ancient god in the region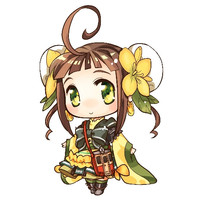 TINAMI, a communication site for anime/manga creators, announced the winner of the official character contest for Isumi Railway in Chiba Prefecture, Japan, on May 10. The chosen character is Isumi Kazusa, drawn by Saya Gettei, a Hokkaido-born illustrator. The contest was held from January to March 2011 and there were 131 entries in total.
Isumi Railway has operated the Isumi line, which runs through the center eastern the Boso Peninsula in Chiba. The railway has been run behindhand for years and was once considered for closure in 2007. This new Moe Chara project expects to appeal to more young users in the area. The railway is planning to display the Isumi Kazusa posters in each stations and to sell her character goods.
Related:
Moe Girls Can Save Struggling Ferry Company
New Moe-Chara Project to Appeal Local Japan
Source: Oricon Life
© Saya Gettei / TINAMI / Isumi Railway