Limited time promotion includes original goods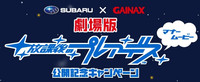 An original manners movie of the Subaru X Gainax youtube web anime Hokago no Pleiades is being created for the United Cinemas theater chain in Japan. A manners movie is the film that plays before the actual movie in a cinema that reminds movie-goers of proper manners and sometimes promotes the cinema's other ways of making money such as the shop and concession stand. The manners movie is exclusive to United Cinemas and will be playing from June 4th till July 1st.
As part of this, they are going to be making original Hokago no Pleiades merchandise such as notebooks, postcards, and clear files available at the cinema's store before anywhere else. They also have a concessions promotion where a 500 yen Hokago no Pleiades set gets you a small soft drink and one of six exclusive film style clear bookmark.
Pictures and details are available at the United Cinemas Hokago no Pleiades Website
via Temple Knights
Image ©FUJI HEAVY INDUSTRIES Ltd. / GAINAX / SxG アニメプロジェクト実行委員会 ©United Cinemas