Short enough for one sentence, not short enough to miss.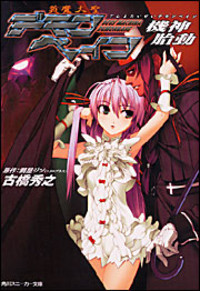 This week's theme is headlines that are being announced in future. What? Today isn't Sunday? That's because this is going up in the future too!
From Wotaku Sokuhou comes news that Ah My Goddess! (CRああっ女神さまっFF and CRああっ女神さまっSS) and King of Braves: GaoGaiGar (CR勇者王ガオガイガーMWB and CR勇者王ガオガイガーMWC) themed pachinko machines are coming after they showed up as having been certified.
From Moe Ota News Sokuhou comes a picture from what appears to be CoroCoro Comic stating the "CoroCoro x Gundam Project Begins" and "In July, you will witness the future." This picture should be from this weeks CoroCoro Comic and the July issue of CoroCoro comes out on June 15th. CoroCoro Comic is the magazine that runs Doraemon, Pokemon, and other stuff for young boys.
The Hayate no Gotoku: Heaven is a Place on Earth and Mahou Sensei Negima! Anime Final movies will be opening on August 27th as a double feature says a picture of this week's Weekly Shonen Magazine and Weekly Shonen Sunday covers. (via Moe Ota News Sokuhou )
(18+) @JastUSA has announced that Nitroplus's adult game Deus Machina Demonbane is finally shipping. "Download edition available very soon."
Boku wa Tomodachi ga Sukunai has an announcement on the 18th. (via Moe Ota News Sokuhou (NSFW))
Lantis has an announcement on May 24th about the "birth of an anime song idol." (via Saishin Anime Jouhou)
Image ©Nitroplus / Kadokawa Shoten