Chiptune artists create mock game to accompany soundtrack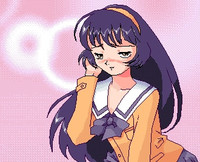 This is one of those cases of something being so authentic that you would have no reason to doubt it unless told otherwise. Chiptune composers surasshu and coda have teamed up to create the soundtrack to a fake Japanese eroge/dating sim game called Tree of Knowledge. The results are eerily authentic.
What's most impressive is the level of detail put into making this tribute album seem legit. Head to the official site and you'll be treated to a loading screen, the game's title, and the option to sample some of the visuals Tree of Knowledge has to offer. Here's the real deal from the info page:
"We are two Western composers, who have taken a great deal of inspiration from Japanese pop and game music. When we heard the music for eroge on the PC-98 in the 90s (particularly "Kono Yo no Hate de Koi wo Utau Shoujo YU-NO" by Ryu Shimada and Ryu Umemoto), we were amazed by the sound quality of the songs and their catchy and sophisticated style.
Because this music doesn't get much attention in the west, we decided we should make a tribute album to this sort of music. We asked Swedish artist Diana Jakobsson to draw us characters and American pixel artist Jordan Chewning to provide us with authentic PC-98 style cover art. We hope you enjoy it!"
The "soundtrack" is available as both a physical disc ($12) and digital download ($10) via Bandcamp. You can also stream the album in its entirety there should you just want to listen to some sweet tunes. It's definitely worth it.