Small screen version stars Yusuke Yamamoto and Haruna Kawaguchi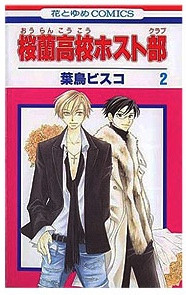 You thought you were done with the cross-dressing antics of Bisco Hatori's Ouran High School Host Club, didn't you? Not by a long shot! The manga, which was adapted into a 26-episode anime in 2006, is now going to be a live-action television series to air on the TBS network in Japan this July.
This take on the material will star Yusuke Yamamoto (Kamen Rider Kabuto, Hana Zakari no Kimi-tachi e) as Tamaki Suo, the Host Club president, with Haruna Kawaguchi (Yankee-kun to Megane-chan, Moshidora) in the role of heroine Haruhi Fujioka. It's Haruhi who infiltrates the wealthy school's Host Club by dressing up as a boy. What starts as an attempt to pay off a mighty $80,000 debt turns into a long-running charade.
News of the series is formally announced in next Tuesday's July issue of Hakusensha's LaLa magazine.
Source [Moe Ota-News Sokuho via ANN]
© Bisco Hatori / Hakusensha