Anywhere kids need them, they will show up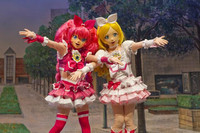 The Pretty Cure series is definitely the most popular and successful anime series for girls (and for some adults) in Japan today. Not only the anime and the toys, the live action show and the musical show have also been tremendously well-received. Because of the popularity, sometimes they are invited from a little odd places, such as horse racecourse and traditional Japanese temple.
Kyoto Racecourse will hold the Suite Pretty Cure Show, featuring the newest TV anime series, on its event stage on May 29 and Tokyo Racecourse will also hold the show on June 6. Of course the Japanese law prohibits minors from gambling on horses, but not from entering the racecourse and its facilities. 
Nowadays many Japanese parents bring their kids to the racecourse with them.  While the parents having fun
with the gamble, their kids need their own entertainment. So there is a need for the Pretty Cure and other TV hero's shows.
In the case of Bukkoji Buddhist Temple, the situation is a little different. Bukkoji Buddhist Temple is a Shin Buddhism temple in Kyoto and was founded and officially opened in 1324. The temple commemorated the 750th memorial of their founder, Shinran Shonin, in May this year. As a part of the ceremony, they held some charity events for the Great East Japan earthquake. The Suite Pretty Cure show was a program of the events on May 21, as well as the Gokaiger show and Ichiro Mizuki's anime song concert.
I do not know if racecourse or Christian Church hold Power Rangers or Teenage Mutant Ninja Turtles show in foreign countries.
If you have seen any, please let me know.
Source: Syu's quiz blog
© ABC/TOEI ANIMATION