Take a chance on Danger!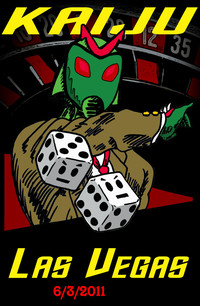 Primarily east-coast based man-in-suit giant monster movie inspired pro-wrestling troupe Kaiju Big Battel will be making its Las Vegas debut with Kaiju Big Battel: Leveling Las Vegas!-- at Plaza Hotel & Casino on June 3, 2011.

Come experience the national cult phenomenon known as Kaiju Big Batttel as a hoard of monsters, aliens, and Heroes conspire to bring the city of Las Vegas to its knees through urban destruction, white-knuckled action, and seismic surprises. Leveling Las Vegas! will also feature Kaiju Jumbotrons, the patented Kaiju Big Ring, and over 40 blocks of crushable cityscape. Special guest, Pheydan from onell design is also scheduled to appear.

Where:Plaza Hotel & Casino, Las Vegas, NV
When: 8:00 doors 9:00 showtime Fri, June 3, 2011
Tickets: On Sale Now

All Ages. Tickets also available at the box office on show day pending availability.



The schedule of events for Leveling Las Vegas!:
- Super fun Kaiju slide-show
- Introductory Video Feature "What Is Kaiju?"
- Battel 1: "Dusto Bunny vs Grudyin"
- Battel 2: "Sun Buster vs Hell Monkey"
- Battel 3: "Yarsminko vs Cycloptopuss"
- Battel 4: "Pheyden vs Cycloptopuss"
- Battel 5: Mystery Hero Re-Debut Battel: ??? Vs ???
- Battel 6: "Uchu Chu vs Unibouzu"
- Battel 7: Kaiju Championship Belt Contest: "American Beetle vs Number 13"