Like the Voices of a Distant Star Auteur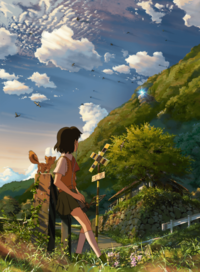 An official CoMix Wave Films / Makoto Shinkai Facebook page has launched at http://www.facebook.com/cwfilms. Content on the page currently includes an English subtitled trailer for Makoto Shinkai's new film Children Who Chase Lost Voices from Deep Below (Hoshi O Ou Kodomo).
CoMix introduces themselves
We began in creative contracting and currently engages in animated movie production, distribution and package sales as well as overseas sales.

With a small number of highly skilled people, we hope to create works that will both fully display its creators' abilities and stand the test of time.

Our mission is to work with imaginative artists to deliver heartfelt works to the people all over the world.
Other CoMix projects include
Makoto Shinkai: Voices of a Distant Star, The Place Promised in Our Early Days, 5 Centimeters per Second
Ryoichi Mori: Peeping Life
Jun Awazu: NEGADON: The Monster from Mars, PLANZET
YamatoWorks (Shuhei Morita and Daisuke Sajiki): Kakurenbo
Akitaro Daichi: Grrl Power!: Makasete Iruka
Kengo Takeuchi: Yonna in the Solitary Fortless
Toshikazu Matsubara/Akio Watanabe: Hoshizora Kiseki
Naoto Iwakiri: Kaede Newtown
Tact Aoki: The Asylum Session
Chang Hyung Yun: My Dear Coffee Samurai
Shinkai made his mark with 2002's sci-fi informed relationship story Voices of a Distant Star. The anime followed a decidedly normal relationship between a teen boy and girl, bent by the girl serving in the anime-typical role of piloting a robot against alien adversaries. The two keep in touch through texts, but the time between messages from her grows more protracted as she travels into space at relativistic speeds. It was a nice, effecting story, told over the course of 25 minutes, taken as a real artistic statement due to the story of its production; Voices was originally written, directed and produced by Shinkai on his Power Mac G4, with characters voiced by Shinkai with his wife.
His works continued to impress with their beautifully rendered backgrounds and touching relationship stories.